This article was published in our 2021 Resource Guide. Read it and other articles from this issue in the digital edition of our latest Resource Guide.
From nearly every angle, the pet food and treat industry is trending upward. Globally, pet food sales grew 8.6% according to market research provider Euromonitor International. In the United States, sales for the overall pet care market, which includes pet food and treats, reached just over $100 billion in 2020 for the first time ever according to the American Pet Products Association (APPA). Pet food and treats accounted for $42 billion of that record breaking total and represented a 9.7% increase from 2019.
Thanks in part to the US-China Phase One trade agreement in early 2020, pet food exports totaled $1.7 billion in 2020 which was an increase of 5.6% over 2019, according to US Census Bureau figures.

APPA reports 70% of US households owned at least one pet in 2020 and pet owners, especially younger ones, are increasingly interested in what they are feeding their pets. This growing interest is leading to a broadening of the pet food formats pets are fed. This can be seen in the stagnant growth of dry pet food, with dry dog food declining in sales by 3.5% and dry cat food staying even with a 0.1% increase between August 2020 and August 2021, according to Chicago-based market research firm IRI. This is in contrast to the growth of wet dog food at 10.8% and wet cat food at 6.0% over the same time frame. Growth of specialty formats, although a smaller segment of the market, are outpacing the growth of wet pet foods. Refrigerated and frozen dog food grew 29.0% and refrigerated and frozen cat food grew 14.5%.
Although dry dog food remains dominate in the market with 57% of the sales, NielsenIQ looked at several of the specialty formats and reported that dehydrated dog food sales in 2020 grew by 10.7% over 2019 sales and totaled $239.9 million. Looking a little closer at frozen and refrigerated pet foods, NielsenIQ found frozen pet food sales were up 14% for a total of $236.1 million, and fresh and refrigerated pet food sales grew an impressive 20.7% for a total of $78.3 million in 2020.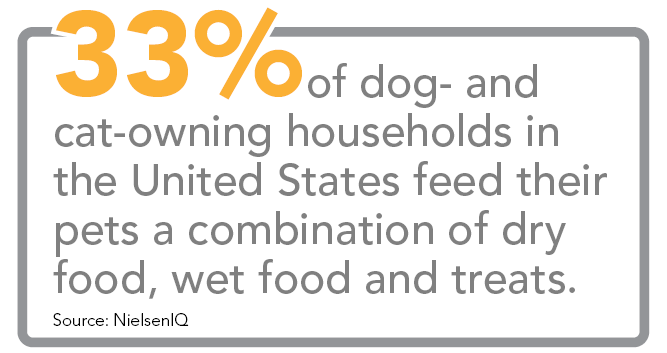 Another tidbit from NielsenIQ shows interest from pet owners in feeding multiple formats to their pets. NielsenIQ found that dog owners tend to lean toward dry food and treats, while cat owners skew toward dry and wet foods with fewer tendencies for treats. However, roughly 33% of dog and cat households purchase all three formats and feed their pets a combination of dry food, wet food and treats.
Spending on pace
Pet owners appear to be willing to spend more this year than they did last year on pet food and treats. All product categories showed an increase in per unit price according to IRI. Couple that with the increase in sales for all categories except dry, plus APPA found that 35% of pet owners reported spending more on pet food, wellness-related products and other pet supplies over the last 12 months than in previous years. Consumer preferences for ethically sourced, environmentally friendly products remain high, with APPA reporting 51% of pet owners said they are willing to pay more for these kinds of pet care products.
The positive numbers the pet food industry is delivering has manufacturers and investors going all in on the future growth of pet food and treats. New processing facility construction and expansions have been abundant in recent months. Companies such as Mars Petcare, Nestlé Purina PetCare, Red Collar Pet Foods, Royal Canin, The Honest Kitchen, Simmons Pet Foods, Hill's Pet Nutrition and several others have announced sizeable capital investments so far this year. These plans — including brand-new facilities and expansions to existing ones — represent a total investment amount of at least $1.3 billion, approximately 1.4 million additional square feet, and the creation of an estimated 1,269 jobs in the United States.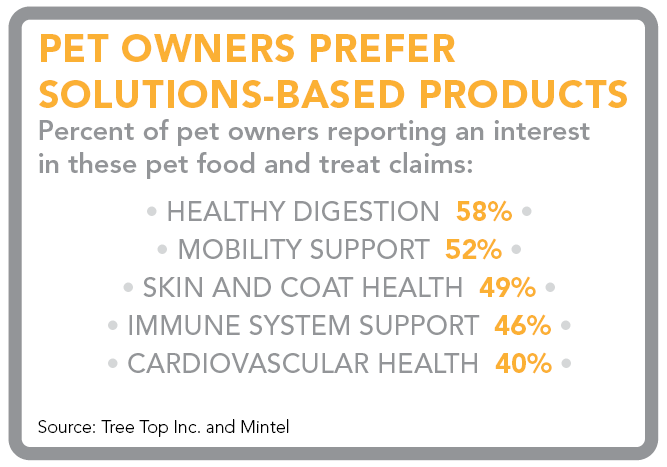 Mergers and acquisitions are making the news as well. Whether the goal is to expand production capabilities, international reach, increase capital or mark their territory in today's lucrative pet market, pet food and treat manufacturers are joining forces with each other and private equity firms to grow their businesses. So far in 2021, more than 20 mergers and acquisitions have been announced among manufacturers alone, with another 10 or so retailer or distributor acquisitions. One of the larger deals is ADM's plan to acquire a $600 million private label pet treat fleet.
Suppliers are investing to keep up with market demand as well. Twenty-five new facilities and expansions have been announced by pet food and treat industry suppliers so far this year. Highlighting the diversity in pet food and treat formulations, some of the larger supplier investments have been in freeze-drying facilities, fishmeal processing, insect protein and cultured protein technology.
Spotlight on sustainability
As in other industries, sustainability continues to be a driver of innovation. In the pet food industry, sustainability drives innovation in ingredients, packaging and manufacturing practices. On the ingredient side, sustainability is found in more environmentally friendly ingredients, regenerative farming and perennial crops. This focus has introduced ingredients such as Miscanthus grass, insect protein and cultured proteins from fermented yeast into pet food and treat formulations.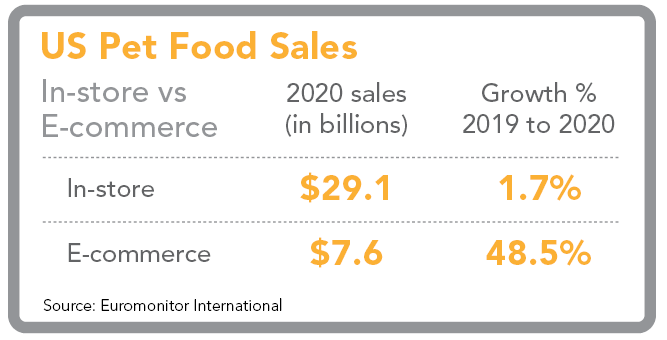 Prominent brands are launching new lines that feature strong sustainability stories. Freshpet launched Spring & Sprout, its first 100% vegetarian dog food line. The diets feature plant-based proteins, cage-free eggs, fruits and vegetables. Canidae created an eco-friendly pet food line they call Canidae Sustain™ that is formulated with responsibly sourced proteins and ingredients grown through regenerative farming methods. Plus, packaging for this line is made from 40% post-consumer recycled materials.
Additionally, insect protein and other cultured proteins are finding success with pets. Mars Petcare now offers a 100% insect-based cat food formula exclusively in the United Kingdom called Lovebug. Because, Animals' Harmless Hunt™ Mouse Cookies for Cats feature humanely sourced cultured meat and alternative ingredients. The Association of American Feed Control Officials (AAFCO) voted in August to tentatively approve the use of dried black soldier fly larvae (BSFL) in adult dog food. The growth and incorporation of these non-traditional protein ingredients indicates pet owners' willingness to select products that potentially offer environmental sustainability benefits.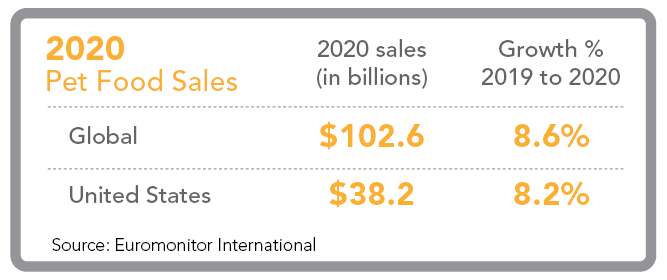 On the manufacturing side, not only are processors embracing sustainable ingredients and packaging, but they are achieving no waste-to-landfill goals, reducing and reusing water and conserving energy, and incorporating renewable energy. Importantly, the pet food and treat industry also plays a significant role in the sustainability of many human food industries by using secondary ingredient streams and reducing waste in human food manufacturing.
Upcycled ingredients may be a new name but it's not a new game for the pet food industry. The pet food and treat industry has proudly contributed to the overall sustainability of the human food supply chain since pets became pets. More recently, some brands are working with innovative programs to prevent food waste by creating new, high-quality products out of surplus food ingredients. One example of this is a dog treat line from Phelps Pet Products called Table Scraps™ that features the use of upcycled food ingredients.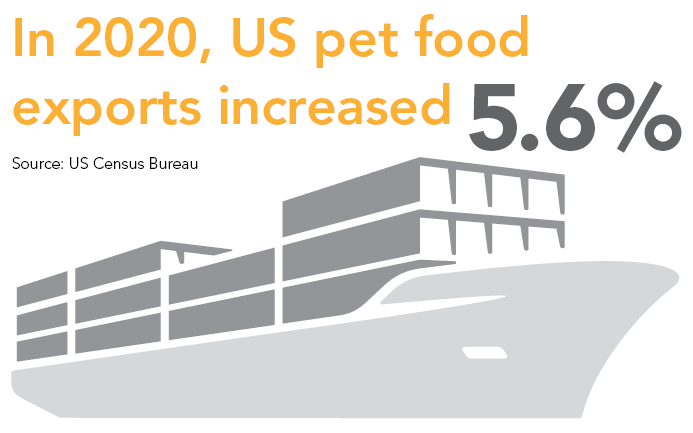 Looking at packaging, the Pet Sustainability Coalition (PSC) estimates that 99% of pet food packages in the United States wind up in landfills rather than recycling streams. Brands are under pressure to consider the extended producer responsibility, or EPR, of the packaging materials they select. This includes producers embedding the cost of recycling into their product prices, as well as adjusting packaging materials and choices to become more recyclable.
This pressure to reduce packaging waste and, in general, to offer environmentally sustainable products is not unique to the pet industry. And despite facing similar challenges as other food industries, namely supply chain constraints, workforce availability and consumer purchasing adjustments, the pet food and treat industry as a whole has delivered another strong year.
Keep up with the latest pet food trends on our Trends page.