This article was first published in our October 2020 Resource Guide. Read it and other articles from this issue in the Resource Guide digital edition.
In uncertain times, pet food and treat sales are providing some certainty. Looking at the first seven months of 2020, Nielsen reports pet food sales are up 4.3% compared to the same period in 2019. This industry has been a growth market for more than 10 years now. An exclusive survey conducted by Pet Food Processing in March and May further indicated the resilience of this category with 73% of pet food and treat processors who responded reporting COVID-19 had not adversely impacted their sales.
Reshaping retail
According to APPA's pet ownership report, 43% of dog owners and 41% of cat owners buy premium pet foods. To meet consumers where they shop, brands have shifted where premium products are offered. This has favored Food, Drug and Mass and e-commerce retailers over independent pet specialty retailers for the past few years, a trend that has only accelerated during COVID-19.

While time will tell what lasting impact the pandemic will have through the remainder of 2020 and beyond, it's clear e-commerce has emerged as a winner in an era of lockdowns and social distancing. E-commerce sales grew at an impressive 30% rate from 2018 to 2019, according to market research provider Euromonitor International. Market research firm Packaged Facts projects online sales to account for 27% of all pet product sales in the United States by the end of 2020, and 35% by the end of 2024.
Online retailer Chewy's Chief Executive Officer Sumit Singh shared in the company's conference call on Sept. 10 that growth curves the company expected to play out over years have been compressed into quarters and even months. The company's second quarter revenue for fiscal 2020 was up 47% from a year ago. Chewy reported adding 4.6 million new customers in the quarter.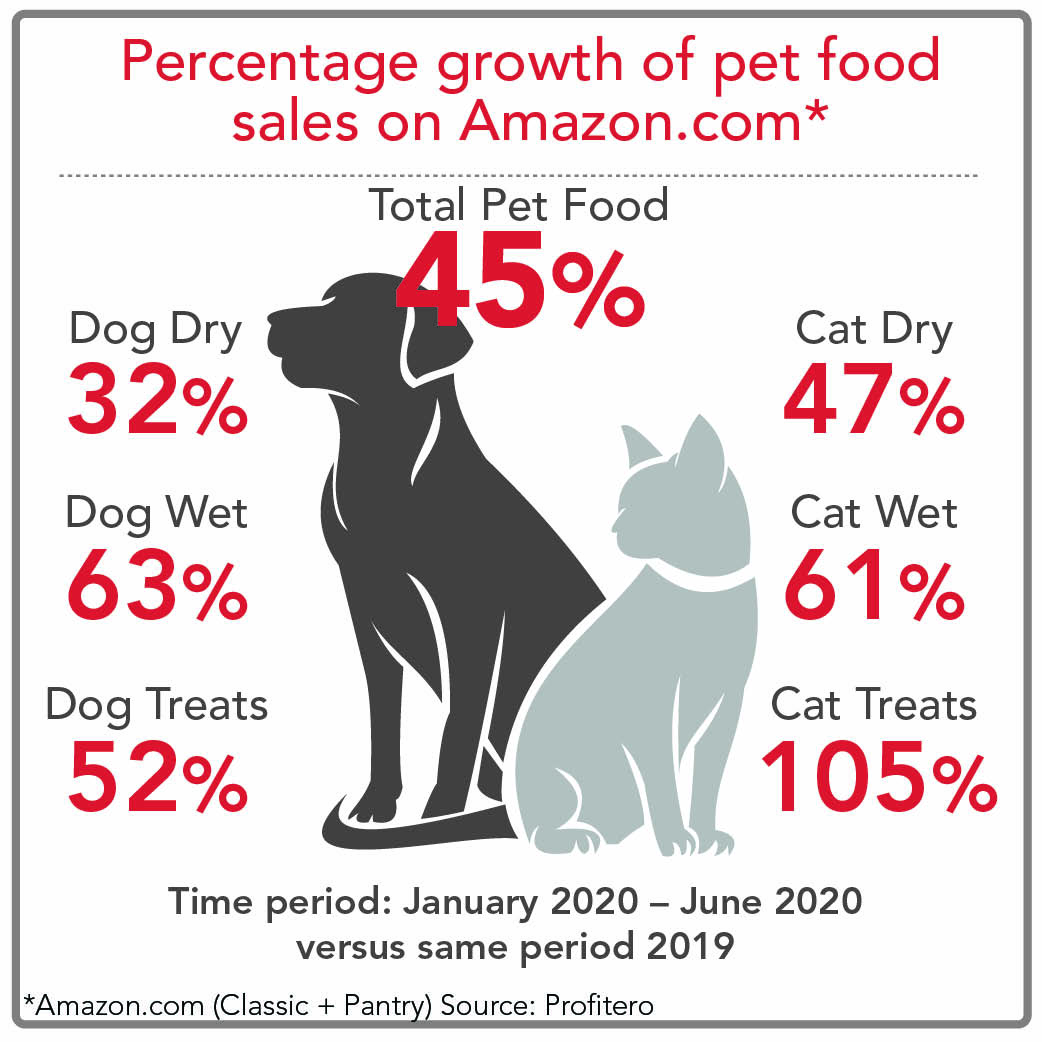 E-commerce performance analytics platform Profitero reports pet food sales for online retailer Amazon.com are up 45% between January and June compared to the same time frame in 2019. During the first six months of 2020, $1.1 billion of pet food and treats were sold on Amazon, up from $878 million from July to December of 2019. The top performing pet food categories in terms of growth for Amazon so far in 2020 include wet dog food and wet cat food, each with an increased growth of more than 60%. Cat treat sales climbed to the top with 105% growth during the first half of 2020 for the online retailer.
Purina is the top selling brand on Amazon for dry dog food, wet dog food, dry cat food and wet cat food, according to Profitero. Greenies is the top selling dog treat and Temptations is the top selling cat treat. The pet food brands with the most sales growth in each category during the first half of 2020 compared to the last half of 2019 were Royal Canin in dry dog food with 83% growth, Pedigree in wet dog food with 179% growth, Iams in dry cat food with 72% growth, Sheba in wet cat food with 101% growth, Purina in dog treats with 86% growth, and Purina in cat treats with 237% growth. Greenies, Temptations, Pedigree and Sheba are all brands of Mars Petcare.
Succeeding in sales
A look at 2019 full year results reveals a picture of the US pet food and treat market, individual segment performance and the brands that dominate. According to Euromonitor International, global pet food sales totaled $93.9 billion in 2019, an increase of 6.5% over 2018. US pet food and treat consumers accounted for 36.5% of that by purchasing $34.3 billion of pet food and treats, of which nearly $6 billion was spent on dog and cat treats and mix-ins. US pet food sales grew in 2019 by 5.8% over 2018.
Despite the pandemic, market research firm Packaged Facts is projecting this number will increase by 4% in 2020. Pet food, which is the largest segment of the pet industry in terms of revenue, is not expected to be hit as hard as other pet product segments.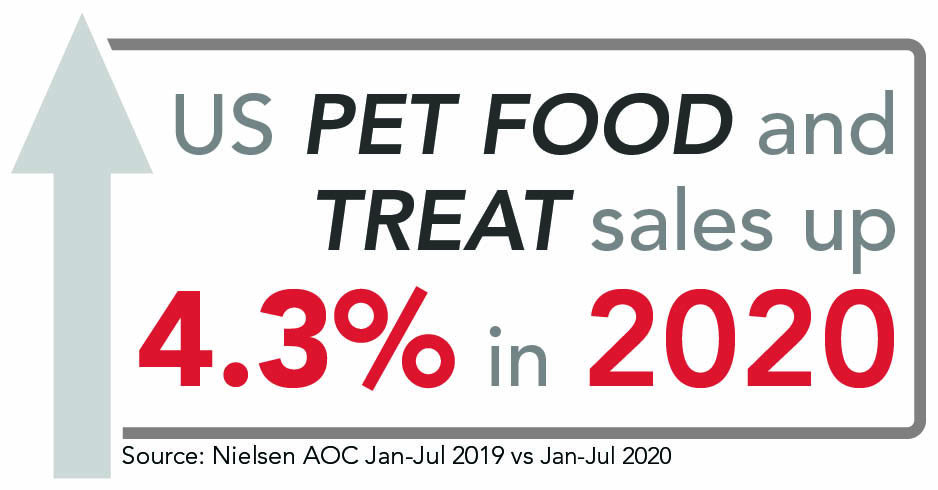 Wet pet foods seem to be on a roll. Chicago-based market research firm IRI reports wet dog food and wet cat food sales grew 7.7% and 7.2% respectively over the last 52 weeks ending Aug. 9 compared to the previous 52 weeks in the "US Multi-Outlet" channel, which includes grocery, drug, mass market, military, select clubs and dollar retailers.
As pets were promoted from an important member of the family to co-worker and constant companion, wet food and treats are increasingly part of the pet diet mix as either stand-alone complete-and-balanced meals, meal toppers, mix-ins, pour-overs, lickable treats, mousse textured supplements or frozen treats. Wet pet foods and treats promise the benefit of added hydration for pets as brands encourage pet owners to combine wet options with dry kibble.
In addition to the strong growth rate in the wet pet food category, treat sales continue to grow at an enviable rate. Euromonitor International reports dog treats and mix-ins grew 12% and cat treats and mix-ins grew 8.8% from 2018 to 2019 in the United States.
For more information on which companies currently hold the top spots, see the top companies by sales volume presented in the tables at the beginning of this article.
With a few notable exceptions, units sold have declined across the majority of pet food and treat categories, but the increase in the price per unit across all categories has provided the growth in sales. Refrigerated and frozen dog food, dog treats and cat treats increased in units sold during the last 52 weeks ending Aug. 9 compared to the previous 52 weeks in the "US Multi-Outlet" channel, according to IRI. Dry dog food had the largest price increase of $0.62 per unit, while wet cat food and cat treats tied for the smallest unit price increase of $0.10 each. This isn't surprising based on the difference in the typical unit size for cat products versus dog products.
Product trends
What is not increasing year over year is pet food product launches. As tracked through Mintel's Global New Product Database (GNPD), new pet food product introductions have decreased steadily since 2017. Through March of this year, Mintel reports 169 new product introductions. Some of those came during the last opportunity the industry had to meet in person at Global Pet Expo in February.
A few of the notable product trends at that show included grain-inclusive diets, the development of complementary dry and wet pet food formulas, whole-prey nutrition, the use of solutions-based ingredients and proliferation in wet, fresh and frozen pet food and treats. Other new product launches this spring and summer included fiber-rich ingredients, the convenience of bars for on-the-go pet owners, innovations to classic biscuit formats, creamy treats, and multiple variations on freeze-dried proteins and raw-coated offerings.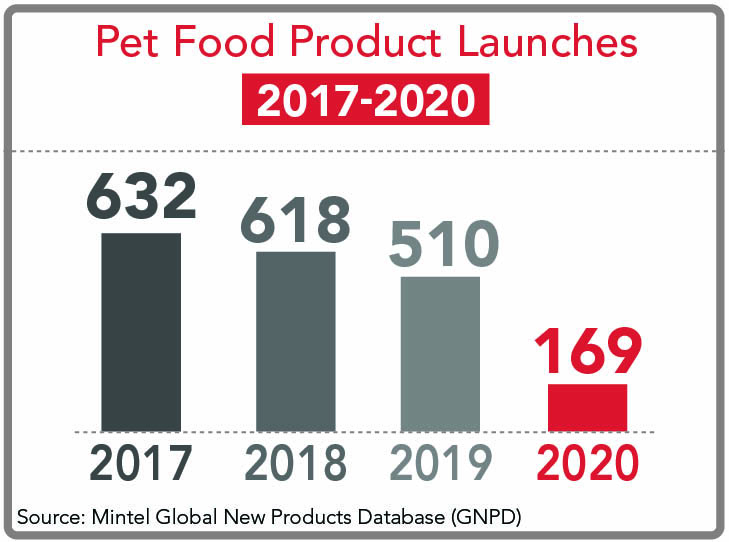 Despite new product introductions slowing, the push for pet owners to feed a wider variety of product formats — often referred to as rotational feeding — helps support the sales growth seen in formats other than dry kibble.
Good-for-the-planet brand claims seem to dominate the sustainability story of pet food, and novel proteins are becoming popular as a sustainable option. Consumers seem willing to feed their pets lab-cultured meats, yeast-derived protein as well as insect protein. The industry has seen the introduction of several product lines featuring these touted sustainable sources of protein.
On another side of the sustainability story, many brands are homing in on animal-based proteins and the utilization of other animal byproducts, such as organs, cartilage and bone, with some companies including the whole animal, or as much of the whole animal as possible.
Many brands have reintroduced or restated the importance of grains in pet diets by expanding lines with new grain-friendly recipes. In the solution-based arena, Purina debuted a veterinary formula to inhibit a major cat allergen. Consumers increasingly seem willing to invest in formulas that promise functional benefits, and this diet from Purina to address cat allergies is a first for the industry.
Some new products are supporting growth in wet pet food sales while offering more planning, thought and variety to pet mealtimes in popular, human cuisine-inspired formulas, such as Health Extension's Tuscan Style Quail and Italian Feast Venison canned formulas, as well as a variety of regional BBQ inspired wet dog food recipes from Merrick Pet Care. This allows pets to join in on the cuisine de jour the humans of the house are enjoying. Fresh and frozen pet diets continue to increase in popularity as well.
Supporting the supply chain
A joint study by the Pet Food Institute, the North American Renderers Association and the Institute for Feed Education and Research shows pet food is stimulating the US agricultural economy. In total, there are 519 US Food and Drug Administration-certified pet food facilities in the United States. These facilities purchased more than 8 billion tons of pet food ingredients at a value of $6.9 billion, including commodity crops such as whole grains and corn, meat and poultry products, rendering animal proteins and fishery products.
The research found the exchange of pet food ingredients led to the purchase of an additional $5.3 billion of materials and services for farmers and farm suppliers. This includes inputs such as seed, fertilizer, fuel, machinery and labor. In addition, farm suppliers bought $4.1 billion in materials and services, which they then provided for farmers.
The study also found that the use of leftover ingredients from other industries, such as commercial baking and brewing, as well as animal byproducts from the rendering industry, make the pet food ingredient supply chain more sustainable.
This proof that the US pet food processing industry positively impacts the overall agricultural economy, as well as other adjacent markets and communities, offer a bright spot in a complicated economic outlook.
All in all, the US pet food and treat market continues to prove its resilience by delivering growth year over year. Processors are learning how to navigate an increasingly complex market and safely produce products while top brands are continuing to innovate and steer their products into sales success.
Keep up with the latest pet food trends on our Trends page.