This article was published in the September 2021 issue of Pet Food Processing. Read it and other articles from this issue in our September digital edition.
In recent years, ingredients such as fish oil and avocado have been promoted as a part of a balanced diet for health-conscious humans. These foods are sources of healthy fats and important nutrients, which are also key in the diets of pets. The volume and value of oils and fats as ingredients in pet food, as well as new products with an emphasis on fats, demonstrates these ingredients' prevalence in the industry.
Fats by the numbers
In 2020, the Institute for Feed Education and Research (IFEEDER), Pet Food Institute (PFI) and the North American Renderers Association (NARA) released a report illuminating the prevalence of fats and oils as ingredients in the pet food industry. Statistics on these pet food ingredients in the United States coming from slaughter or rendering reveal that beef and animal fat are the fourth- and fifth-largest categories of animal ingredients by volume respectively, with more than 100,000 tons of beef fat used each year. Oils and fats also come from sources other than slaughter and rendering, including mill-based vegetable oil and fish oil, which is a fishery byproduct.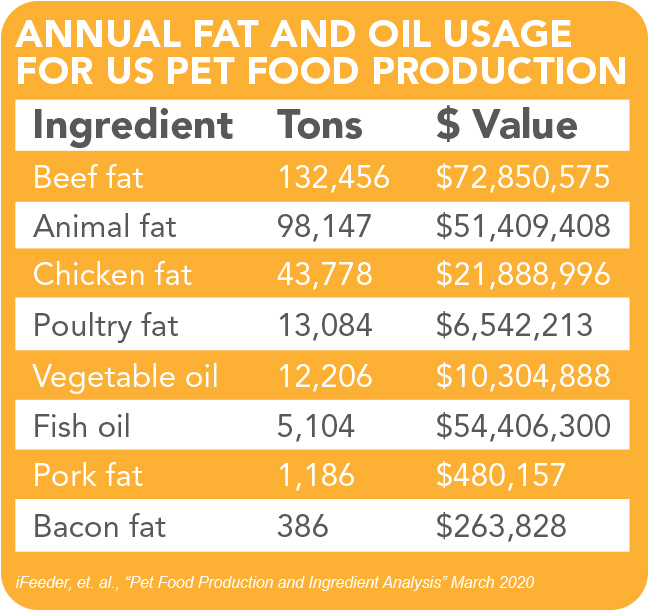 In total, oils and fats account for $218.1 million in value as pet food ingredients and consist of 306,347 tons of raw material annually. Fats rendered from animals contribute most significantly to this monetary value with an annual worth of $153.4 million. The yearly values of other oils are smaller but still significant, with vegetable oil having a dollar value of $10.3 million and, despite a smaller volume being produced yearly, fish oil as a pet food ingredient is worth $54.4 million annually.
Prevalence of certain fats differs slightly between cat and dog food. According to the IFEEDER report, "generic animal fat is the top animal fat choice used in cat foods with 24,992 tons used during the study period, followed by beef fat and chicken fat, with 23,851 tons and 6,301 tons, respectively."
Used in small volume but pricey, fish oil sold for use in pet food costs an average of $10,660 per ton. (Source: IFEEDER)
For dog food however, "beef fat is the lead ingredient, with 123,605 tons used for dog foods, followed by animal fat at 79,518 tons, and chicken fat at 42,268 tons."
In both cases, fish oil is the most popular source of fat derived from an animal following beef, animal and poultry fats, and if pet food trends follow those of pet parents, fish oil could be seen as an increasingly popular ingredient for people concerned about the health of their pets in the next few years.
Fashionable fish oils
In viewing oils and fats as a health ingredient, more formulators are choosing oils high in Omega 3 and Omega 6 fatty acids. Fish oil is often seen as a great source of some of these key nutrients.
"All Omega 3s are not the same and the specific fatty acids are used to target specific applications ranging from healthy heart to joints both in humans and pets," said Chris Klaska, product group manager of fats and oils for ingredient supplier Scoular, Omaha, Neb. "More people are recognizing pets as family members and the growing number of nutrition-conscious humans want their pets to have a long and rich life."
A variety of fish oils have been highlighted in new pet food products. Tiki Cats, owned by Whitebridge Pet Brands, St. Louis, has targeted skin and coat health in its new line of wet cat foods. Oils and fats are an important element in the company's Special Skin & Coat formula, which includes salmon and tuna oils to deliver Omega 3 fatty acids that aid in both skin and coat health. The formula also includes zinc and vitamin B, as well as coconut oil.
Fish oil is being advertised for other health benefits beyond the skin and coat as well. Stella & Chewy's wet food line for small breeds — Lil' Bites Savory Stews — includes turmeric, taurine, sunflower and salmon oil to provide anti-inflammatory and heart health benefits.
Salmon oil on its own is a product that has been released recently as a supplement outside of a pet food formula. One example, Chicago-based Hofseth BioCare's Brilliant Salmon Oil, has been rolled out in the United States and Canada for sale in the independent pet specialty channel. The product is a pet supplement with functional benefits, such as skin, coat and paw pad health, as well as increased energy and appetite. Other sources of fish oil are growing in popularity as well.
"We have seen a greater interest in wild Alaskan pollock oil both in pet food and human consumption," Klaska noted. "The Alaskan pollock fishery is the largest certified sustainable fishery in the world. It is a very clean and easy-to-work-with oil due to the minimal stearin and low melting point. It has a very similar nutritional profile and appearance to wild Alaskan salmon oil and is more abundant in supply, and more competitive in pricing."
Superfood status
A few non-animal-based oils have also achieved superfood status as ingredients able to provide important benefits to pets. Coconut oil is one such product. In addition to being used in Tiki Cats' Special Skin and Coat formula, Dogswell, also a Whitebridge Pet Brands company, includes coconut oil in its line of health focused jerky for dogs. Coconut oil and peppermint oil are contributing to pet oral health in products such as Brushy Sticks dog treats from Bocce's Bakery where these oils help freshen breath naturally.
"As humanization of pets continues to play a large role in pet parent purchasing choices, we do see some ingredients that are more common in the human industry gaining popularity, such as coconut oil and olive oil," said Natalie Asaro, nutrition manager at Petcurean, British Columbia, Canada.
Additives and coatings are an increasingly popular way for pet owners to supplement their pets' diets, and oils have seen success in this area as a viable way to control pet health and improve pet owners' relationships with their companions.
"Wet and dry coatings supply nutrients and build favorable relationships between an owner and their pets as they show appreciation for the food choices," said Dave Carney, area sales manager, Bühler Aeroglide, Cary, N.C.
Fats and oils that flavor the kibble with beneficial antioxidants are typically in liquid form, which can serve as a bonding agent for dry materials. Muenster Milling Company, a manufacturer of pet food and other animal feeds, offers a My Custom Dog Food™ service that allows autoship clients to customize their dry dog food orders with a range of coatings including bacon fat, salmon oil, coconut oil and freeze-dried proteins for added health benefits and the pet's overall enjoyment.
Oil innovations 
Alternatives to traditional oils are continually being evaluated for use in the pet food industry. Hemp products are as much of a rising trend in pet food as they are in the human world and approval of hemp-derived ingredients for use in animal food has been a hot topic lately.
The Association for American Feed Control Officials (AAFCO) looks to the industry to initiate ingredient evaluations through an ingredient definition submission process. Erin Bubb, president of AAFCO, reported a recent submission was provided for hemp seed meal in layer feed. She added, "There still seems to be a lot of interest in hemp seed oil and hemp seed meal for other animal species, so we are hoping to see some more ingredient submissions in the near future."
Although official approval for the use of hemp-derived ingredients in pet food is yet to be determined, a new source of oils received a ruling recently. AAFCO has approved marine micro-algae, an ingredient rich in Omega 3 fatty acids that has been shown to help support the health of aging dogs. The new ingredient offers a sustainable and cost-effective alternative to fish oil and may support brain function in older dogs in addition to providing other nutrients important for maintaining the health of senior pets.
The fish oil-alternative algae ingredient is considered sustainable because it has a low carbon footprint and reduces the need for global wild fish populations for pet food. It offers approximately twice as much Omega 3 DHA than fish oil products, is grown in fermentation tanks with GMO-free cane sugar, and the entire process is powered by renewable energy.
"As a dedicated supplier of long chain Omega 3 fatty acids to the pet food industry, we are excited about the possibilities and sustainable aspects of algae DHA coming from AlgaPrime DHA," said Geert van der Velden, innovation manager at IQI Trusted Petfood Ingredients, Amersfoort, Netherlands.
Corbion, Lenexa, Kan., has been producing Omega 3 feed ingredients commercially since 2016, and is now looking to offer clean, sustainable sources of the fatty acids for pet food manufacturers.
Delft, Netherlands-based Veramaris, a joint venture of DSM and Evonik, has also added its name to the list of pet food ingredient suppliers offering a fish oil alternative derived from natural marine micro-algae.
Industry best practices
Maintaining the integrity and health benefits of oils and fats in pet food requires following industry best practices in selecting, storing and processing.
Care is put into the integrity and source of these oils. Hofseth manufactures its salmon oil in Norway using Norwegian Atlantic salmon and a patented extraction process. It is a single-ingredient product and does not contain any additives. The simplicity of oils is important in keeping the labels of healthy foods direct and understandable by pet parents.
Rick Cummisford, director of quality control, Columbus Vegetable Oils, Des Plaines, Ill., spoke to his company's clean-label oils, saying, "Our oils are simple, usually only one ingredient or perhaps a few if a blend is needed for the formula. This simple approach helps keep product labels clean."
Maintaining the quality of oils as an ingredient means fighting oxidation, according to Klaska. Some higher-end oils are prone to oxidation, so formulators claiming no preservatives often include natural antioxidants in the pet food, such as rosemary extract.
"When storing or processing fats and oils, you want to limit the oxidation," Klaska explained. "Oxygen, UV light and high temperatures will increase the rate of oxidation, which negatively affects the fat or oil's odor, flavor and shelf life, and could affect the palatability for pets."
"One of the challenges with including fats and oils in wet pet foods is ensuring that the final formulation is not too high in fat," said Natalie Asaro, Petcurean.
When including oils and fats in pet food formulas, balance is also an important challenge for delivering healthy products.
"One of the challenges with including fats and oils in wet pet foods is ensuring that the final formulation is not too high in fat," noted Asaro. "Wet pet foods often contain large amounts of fresh meat, which contributes both protein and fat to the recipe. When formulating a wet food, the goal is to create a complete-and-balanced recipe that provides all the essential fatty acids in adequate amounts, while keeping the fat level controlled."
Read more about product development, ingredients and formulation.