KANSAS CITY, MO. — In 2020, pet food shoppers spent 46% more dollars online compared to 2019, shared Brad Boldridge, retail client director for NielsenIQ.
Last week at Global Pet Expo Digital Access, Boldridge and Sam Smith, client manager for NielsenIQ, shared key pet industry retail trends and how they have — and will continue to— impact pet food and treat purchases.
Accelerated e-commerce growth
While the mainstream retail channel — which includes grocery, mass, club, dollar and military outlets — is still the largest point of sale for pet food and treat products and actually grew 3% last year, e-commerce sales for these products hit $9.4 billion in 2020, officially overtaking brick-and-mortar pet specialty, Boldridge said.
This shift increased e-commerce's share from 21% of the pet food and treat retail market in 2019 to 27% in 2020.
"When it came to pet specialty, [this channel] finished the year down 1.5% versus the prior year," Boldridge said.
He was keen to point out that the pet specialty channel actually performed well in the last four months of 2020, and a month-over-month perspective for this channel showed "good growth coming out of 2020 and walking into 2021."
"E-commerce growth occurred not only at the total pet food level, where sales were up 47% versus a year ago, but online sales increases versus the prior year happened for dry food, it happened for wet food, and it happened for treats," Boldridge added. "Treats had the benefit of seeing the strongest trend overall in terms of growth."
On average, total pet food volume sales on e-commerce grew 47.4% from 2019, with dry food volume sales growing 43.1%, wet food sales growing 49% and treats leading the growth at 58.7%.
Through its NielsenIQ platform, Nielsen was able to pinpoint where e-commerce gained market share from other retail channels.
"We found that 40% of e-comm's growth was the result of shifting activities," Boldridge said.
Of that 40%, he said, 46% came from mainstream retail and 43% came from pet specialty in terms of pet food volume sales alone.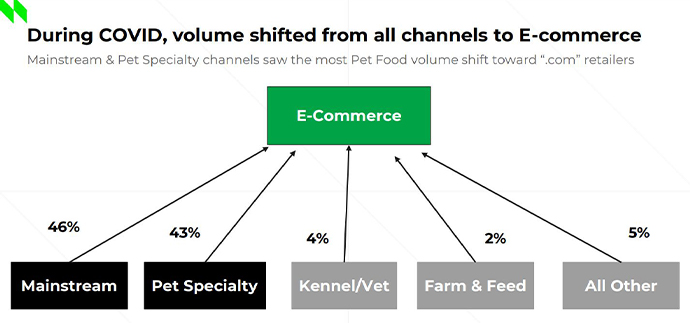 In 2019, pet industry e-commerce sales were between $1.6 and $1.9 billion from the second to the fourth quarter of the year, but in 2020 sales never dipped below $2 billion. E-commerce sales started the year at $2.2 billion in the first quarter and totaled $2.8 billion in the third quarter.
"Right now it's mid-March, so we don't quite have the full quarter yet, but when we look at January and February data, we see that we're already at $1.8 billion for the quarter [in e-commerce sales]," Smith said, "so if you compare that back to 2019, only two months of this quarter has made up as much sales as the fourth quarter of 2019, which was the largest quarter of the entire year," Smith said.
Opportunity for private label
Private label pet food and treat products were listed as an opportunity for the industry in 2020 and 2021, and the prospect is certainly still viable, according to NielsenIQ.
"The vast majority of private label volume does come from mainstream and, while it grew in 2019, it was flat in 2020, down about 0.5% but still well over $2 billion as a brand category," Smith said.
Private label sales in the pet specialty channel have slowed from more than 15% growth over three years to 4.6% in 2020. Smith said while the trend decelerated in 2020, it was still positive overall.
"A large part of that for 2020 as an anomaly in a lot of different ways is between the stocking outages or the inability to get resources to produce those or, again, several states had to shut down or stores were going out of business or switching to a curbside type of mentality," Smith explained. "There was a transition that did hurt private label."
In 2018, private label sales accounted for $2.49 billion overall, with roughly $2.02 billion in sales in mainstream retail channels and $470.5 million in sales in the pet specialty channel. In 2019, these numbers jumped to $2.64 billion overall, with roughly $2.05 billion in mainstream retail and $591.8 million in pet specialty.
Private label pet food sales in the mainstream channel fell slightly in 2020 to $2.04 billion, but sales in the pet specialty channel grew to $618.9 million.
"We fully expect in 2021 for it to come back," Smith said. "The fact that the trend was still positive for pet specialty and it was only flat at worst for mainstream shows the resilience of private label, so there's definitely going to be a bounce-back in 2021."
CBD in pet specialty
Smith also highlighted trends in CBD pet product sales in the pet specialty channel, drawing on all products with hemp-CBD claims including pet treats, supplements, grooming products, and other related goods.
Total sales for CBD pet care products in 2020 grew 50.5% to $11.7 million, with an average price per lb of $37.73. Pet owners made an average of 2.1 trips to the store for CBD pet care products, spending $32.96 on average on these products alone.
NielsenIQ provided some insight into the demographics behind the consumers of CBD pet care products, revealing they are most likely to have an annual income over $100,000 (51.7% of households), Caucasian (81.3%) and dog-only owners (65.8%). These pet CBD buyers are also likely to have smaller households of just one or two (73.1% of households), live in "prosperous cities and suburbs" (43.7%), and are between the ages of 35 and 44 (16.9%).
Of these demographics, smaller households of one or two people and dog-only owners are the most likely to purchase CBD pet care products, respectively making up 84.3% and 71.3% of the total dollar value for this category. Caucasian pet owners make up 67.5% of CBD pet care purchase dollars, and households with an annual income over $100,000 make up 63.5%.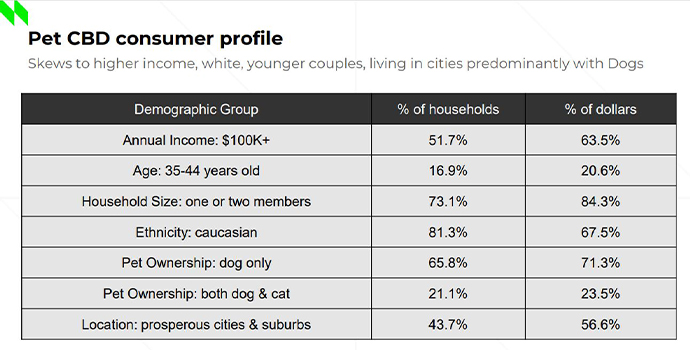 In conclusion, Smith and Boldridge reiterated a few key takeaways from their presentation, including leveraging the overlap of pet food and treat purchase rates and preferences of owners, the embrace of e-commerce, and focusing on high-growth segments such as frozen, freeze-dried, meal toppers and CBD.
"The pet space is a growing and booming industry," Smith said. "There were plenty of mergers and acquisitions last year, retailers are expanding… across the board, everywhere you turn, there's something being invented or something being launched, so it's a great space to be in."
Read more about pet food and treat purchasing, product and ingredient trends from NielsenIQ's Global Pet Expo Digital Access presentation.
Keep up with the latest pet food trends on our Trends page.