WASHINGTON — Japan remains the second largest market for US pet food exports, totaling 16.4% of the market, supported by a booming pet population and four consecutive years of pet food sales growth.
This data comes from a voluntary report recently released by The US Department of Agriculture (USDA) Foreign Agricultural Service (FAS) and the Global Agricultural Information Network (GAIN). The report provides a detailed picture of the Japanese pet food market and the state of US pet food exports to the country.
Thailand leads the US in terms of pet food exports to Japan with 33% of the market, and France follows close behind the US at 16%. These three exporting countries combined make up roughly 65% of Japan's total pet food imports in 2019.
In 2019, imported pet food accounted for 263,494 metric tons, or 44.4% of total domestic pet food consumption in Japan. A preference for domestically produced pet food products has caused a rise in market share for domestic pet food exceeding 50%.
Pet food sales in Japan
Pet food sales in the country exceeded $3 billion in 2019, driven by value-added products, premium and super-premium foods, medical and therapeutic functional formulas, and a growing variety of pet treats and supplements. This represents 3.5% growth from 2018 and marked the fourth year in a row that pet food sales have increased. Volume sales of pet food declined less than 1% between 2018 and 2019, remaining steady at roughly 594,000 metric tons and illustrating across-the-board price increases for pet food products.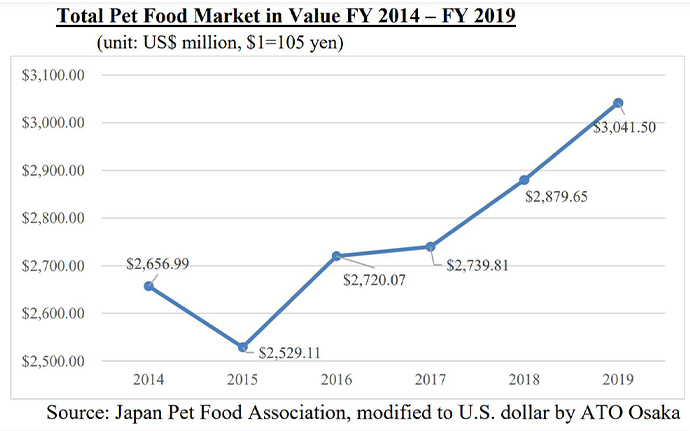 Dry dog food volume sales totaled 176,609 metric tons and represented a 67.3% share of the pet food market volume sales in 2019, down 5.1% compared to 2018. Volume sales of soft-dry (21,570 metric tons) and semi-moist (5,104 metric tons) dog foods declined 3.2% and 1% respectively, while wet dog food volume sales (34,017 metric tons) increased 4.1%.
In terms of value, dry dog food sales accounted for $718 million in sales, a 5.6% increase from 2018. Wet dog food sales increased 8.1% to $207 million. Soft-dry and semi-moist dog food sales also increased to $64 million and $27 million respectively between 2018 and 2019. Dog food sales in Japan totaled $1.36 billion in 2019.
For cats, dry cat food volume sales represented 63.9% of the cat food market in 2019 at 194,078 tons, growing 2.1% since 2018. Although it remains a small and newer category at just 33 tons in 2019, semi-moist cat food saw the greatest increase with 365% growth since 2018. Wet cat food grew 2.1% to 106,463 tons.
Total overall value for cat food in Japan grew 7.9% to $1.59 billion from 2018 to 2019. All other cat food product categories saw increased sales in 2019, except for soft-dry cat food, which decreased by 33.3% to roughly $200,000 total. Semi-moist cat food sales soared 9.795% to roughly $900,000, and wet cat food sales grew 8.6% to roughly $725 million.
These increases in semi-moist and wet pet food sales represents a global shift toward wet diets and nutritional products for dogs and cats alike.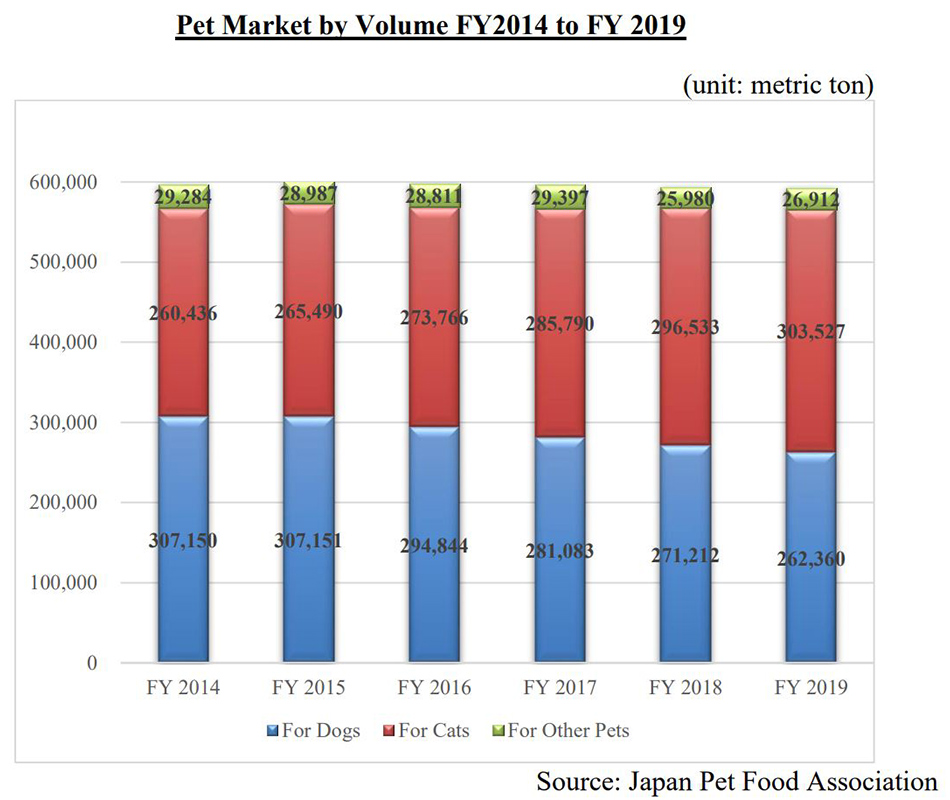 Pet ownership in Japan
According to the report, the population of dogs and cats in Japan (18.13 million) outnumbers that of children 15-years-old or younger (15.3 million). This was attributed in part to the COVID-19 pandemic, during which time the number of new pet owners increased.
However, the report states that the overall pet population in Japan is declining, as the decreasing dog population overshadows the increasing cat population. This shift began in 2017, with the population of cats growing past the population of dogs for the first time since 1993, when the Japan Pet Food Association began collecting pet ownership data.
As of October 2020, there were 8.5 million dogs and 9.6 million cats living in Japanese households.
The report also revealed the most popular pet food distribution channel is specialized pet product wholesalers, and the most popular pet food retail channels include home centers, discount stores, supermarkets, drug stores and pet shops. E-commerce has grown steadily for this category as well.
The life expectancy of dogs in japan is 14.5 years, and the life expectancy for cats is roughly 15.5 years. This is attributed to the fact that 84.7% of dogs and 90.4% of cats are kept indoors year-round, resulting in reduced risk of sickness.
Japan's four most popular dog breeds in 2020 were Toy Poodles (13.1% of the total dog population), Chihuahuas (12.8%), Shibas (11.8%) and Miniature Dachshunds (11.3%). These breeds have been the top four most-popular since 2016. They are all considered small breeds, which tend to be easier to care for in highly urban environments compared to larger breeds.
On the feline side, a majority (75.5%) of cats are crossbreeds, followed by American Shorthairs (4.8% of the total cat population) and Scottish Folds (3.4%).
Stay up to date on news about the pet food processing industry on our News page.