WASHINGTON — As the third largest South American market for US agricultural products, Peru provides many trade opportunities for dairy, meat and pet food processors, as well as other consumer goods producers, according to the US Department of Agriculture (USDA)'s Foreign Agricultural Service (FAS).
Following the establishment of the US-Peru Trade Promotion Agreement (PTPA), US consumer goods exports to the country have increased 423% from $65 million in 2009 to $340 million in 2021. According to Peru's Statistics Office, the United States holds 20% of the market share of Peruvian consumer-oriented agricultural imports, while the European Union holds 18%, Brazil holds 10%, Chile holds 11% and the rest of the world holds 40%.
With exports to Peru anticipated to continue this growth, thanks to reductions and the elimination of some agricultural tariffs, US pet food products have experienced significant success in the Peruvian market.
From 2010 to 2019, Peru witnessed an 4.5% average in economic growth, as well as a reduction of poverty, according to FAS. The country also saw a 13% economic growth in 2021 following an increase in COVID-19 vaccination rates, causing consumer demand to rebound from 2020. According to the National Statistics Institute of Peru, the country currently has 32 million citizens, 45% of which are considered middle class.
Though the country has recently experienced turmoil, facing high prices on imports, a decreasing value in its currency, and several political issues, Peru's economy continues to flourish. Last year, the country's economy grew 2.7% and is projected to grow an average of 3% every year through 2027.
According to the USDA's GAIN reports, Peru's retail food market was estimated to increase 5.3% in 2022, amassing more than $26 billion in overall sales. This growth is driven by an increase of supermarkets, particularly around the country's capital, Lima, as these outlets typically import and sell US-based products. Currently, Peru is home to about 320 supermarkets and 1,000 convenience stores.
Though street vendors and bodegas remain top-dog in the country, accounting for 75% of the retail market, the COVID-19 pandemic enabled many large commercial retailers to expand. According to the FAS, Peruvians favor fresh products over frozen ones, driving the popularity of traditional street vendors.
According to Euromonitor International, pet ownership is increasing throughout Peru, leading to an increase in demand for pet food. More than half of Peruvian households own a dog and more than one third own a cat. In fact, dog ownership increased nearly 20% in the past five years.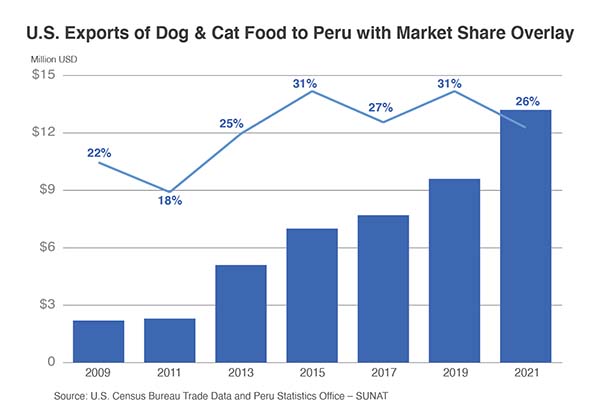 Along with increases in pet ownership, Peruvians are beginning to view pets as part of the family and becoming more interested in pet health, driving the demand for more premium pet food products. US dog and cat food exports to Peru increased from $2.2 million in 2009 to $13 million in 2021. According to the FAS, wet food is currently the fastest growing segment for both dog and cat food, as a result of increased awareness in pet health and wellness.
Retail sales of dog food increased 11% and those of cat food increased 9% in the last year alone. Combined sales of dog and cat food products are expected to rise 57% in the next five years.
Regarding its overall trade policy, Peru has established several free trade agreements during the past 20 years with the United States, China, the European Union and Japan. The country's free trade partners currently account for more than 75% of global gross domestic product, according to the USDA.
In 2021 the country amended its Labeling Act, which now requires food packaging to carry country of origin designations. Though this move was established to help promote domestic purchasing, it may prove to benefit US food and pet food producers, as US-made products are believed to carry a higher quality in Peru.
With an expanding economy and middle class, a growth in pet ownership, and an increase in demand for more premium pet food products, US pet food processors have an opportunity to enter and expand their presence in the Peruvian market, facing a relatively low barrier of entry.
Find more articles related to pet food export opportunities and trade.