This article was published in the September 2020 issue of Pet Food Processing. Read it and other articles from this issue in our September digital edition.
In the past, cat food and treat products have been an afterthought, overshadowed by the larger and more proliferated dog food and treat market. Today, processors are prioritizing innovative nutritional products for cats to create a more diversified portfolio and overall market. 
Cats are a member of 42.7 million households in the United States alone, according to the American Pet Products Association's 2019-2020 National Pet Owners Survey, and the US Food and Drug Administration's (FDA) Center for Veterinary Medicine (CVM) estimates a total of 58.4 million cats live in the United States.
"Cats are unique pets, and they need their own unique products," said Catherine Lenox, DVM, DACVN, Royal Canin.
This vast market is a largely untapped opportunity for many pet food and treat processors, following what some say is historic neglect for cat food innovation compared to dog products.
"There are millions of cats in the United States and cat owners are becoming more vocal about the fact that their cats are not small dogs," said Catherine Lenox, DVM, DACVN, scientific affairs manager, Royal Canin USA, St. Charles, Mo. "Cats are unique pets, and they need their own unique products."
Émilie Mesnier, director of technical sales, BSM Partners, Bentonville, Ark., said there has been a "lack of pure innovation in the cat space," meaning most "new" products in this category are merely spin-offs of successful products that were first introduced in the dog food market. In opposition, BSM Partners thrives to develop research-based options for cats and their specific needs.
Nevertheless, companies are churning out cat products that meet demands for variety and function.
"Pet food owners are prioritizing their pet's health more than ever and we are seeing this through new and increased expectations in the food they choose to invest in," said Alisha Brassard, product development and innovation manager, Petcurean, Chilliwack, British Columbia.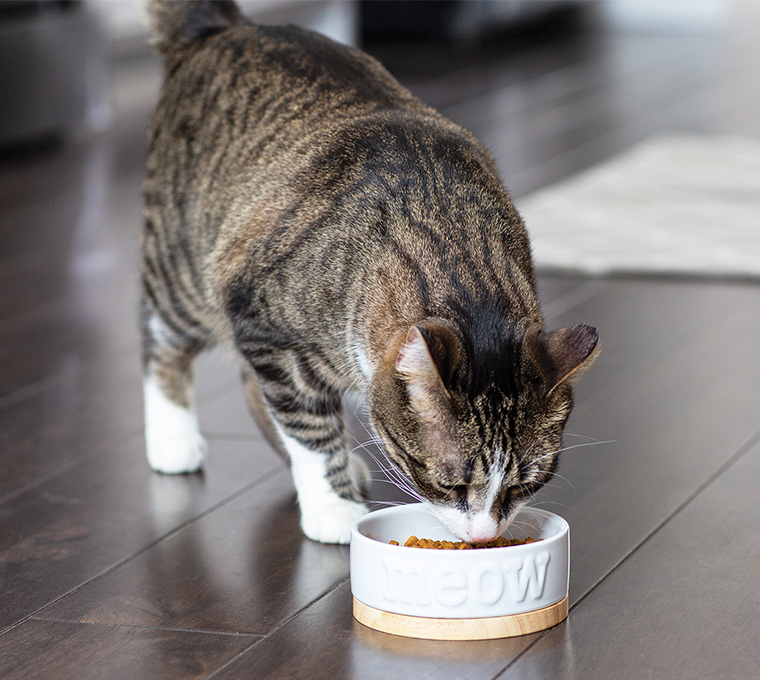 A wet market
There are several notable trends driving innovation in today's cat food and treat market. This comes as a benefit to cat owners looking for a wider variety of healthy, wholesome and functional nutrition options, but also to manufacturers looking to boost their top lines.
"Pet food manufacturers have recognized that a strong cat portfolio is critical to sustained growth, so I think there will be more cat-only brand launches and fewer introductions that are cat sub-ranges of a dog brand," said Tim Koester, global product manager, AFB International, St. Charles.
Wet cat foods and treats in particular are becoming more popular, according to Joe Toscano, vice president, trade and industry development, Nestlé Purina PetCare, St. Louis, Mo.
"Overall, our sales data shows a rise in the purchase of wet cat food and treats," he said. "Sixty-three percent of the 41 million cat food buyers have added wet cat food to their regular shopping lists… Wet cat food is currently the second fastest-growing segment within the cat food category, and it's expected to grow approximately 6% over each of the next three years."
"Gone are the days of hard, crumbly biscuits as the only options available to felines," said Adrian Pettyan, Caru Pet Food Company.
Petcurean has innovated in this space with its GO! Solutions wet diets for cats, which feature minced animal proteins as opposed to the traditional pâté texture. Additionally, Caru Pet Food Company, Vero Beach, Fla., recently released several new wet cat food and treat options, including its human-grade Daily Dish Broths and Smoothies, which can both be fed as meal toppers or treats.
"Gone are the days of hard, crumbly biscuits as the only options available to felines," said Adrian Pettyan, chief executive officer and co-founder of Caru Pet Food Company. "Month over month, there have been new innovations for cat treats from freeze-dried bites to squeezable snacks, and also savory broths that allow pet parents to choose new offerings for their cats to try."
Variety continues to be a vital part of any pet food portfolio, but it's especially important in the cat food and treat space. This includes offering variety packs of different protein and texture options, as well as portfolios that can be utilized for combination feeding.
"Besides adding variety and offering a more personalized mealtime experience, wet with dry combination feeding is also a great way to help cats get more water in their diets," said Natalie Asaro, companion animal nutritionist, Petcurean. "Some cats are particularly water-adverse, which can contribute to struvite crystal formation and urinary tract infections, so helping them get extra moisture in this way is a great way for pet parents to help."
Function first
Solution-based formulas have taken the market by storm as cat owners increasingly consider functional benefits when making pet food purchasing decisions.
One notable innovation paying homage to function is Purina's LiveClear line, which is helping pet owners manage a major concern: cat allergies.
"Backed by a decade of Purina research, Pro Plan LiveClear is the first and only cat food that has been shown to reduce allergens in cat hair and dander," Toscano said. "It's an entirely new way to help manage cat allergens for the as many as one in five adults worldwide who are affected."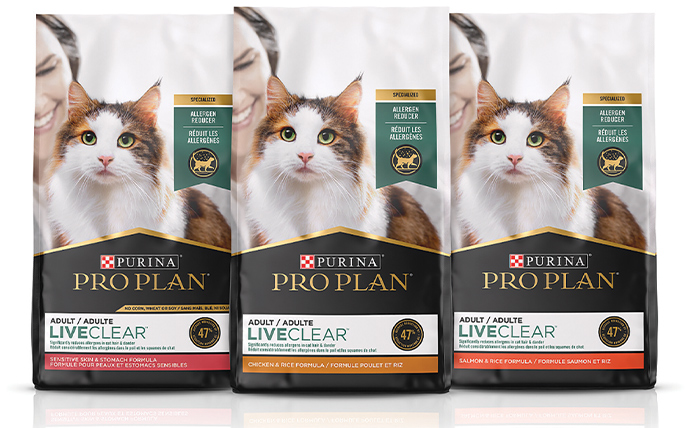 The groundbreaking diet uses a specific egg-based protein to neutralize Fel d1, the major cat allergen cats produce in their saliva that causes reactions in humans.
"By reducing active Fel d1 in the cat's saliva, it reduces the allergen that is transferred to the cat's hair and dander when they groom, ultimately reducing the allergen in the environment," Toscano explained. "When fed daily, LiveClear significantly reduces the allergens in cat hair and dander in as little as three weeks."
The quest for functional cat foods may have started with diets formulated specifically for indoor cats, but now include a vast selection of diets that target urinary health, hairball reduction, skin and coat health, mobility, food sensitivities, life-stage and countless other categories of health and wellness.
Royal Canin, a Mars Petcare brand based in St. Charles, is an industry veteran of solutions-based formulas for dogs and cats.
"One example of a new formulation that supports health in cats is Royal Canin's Feline Care Nutrition Urinary Care Dry Cat Food," Lenox said. "This product is formulated for adult cats and promotes a healthy lower urinary tract. There are other formulas that support urinary health in cats; the reason this one is truly innovative is that Royal Canin uses a different method of determining how the diet impacts lower urinary tract health. Instead of ensuring a lower urine pH and lower dietary magnesium compared to maintenance diets, Royal Canin measures the concentration of ten urinary ions as well as urinary pH."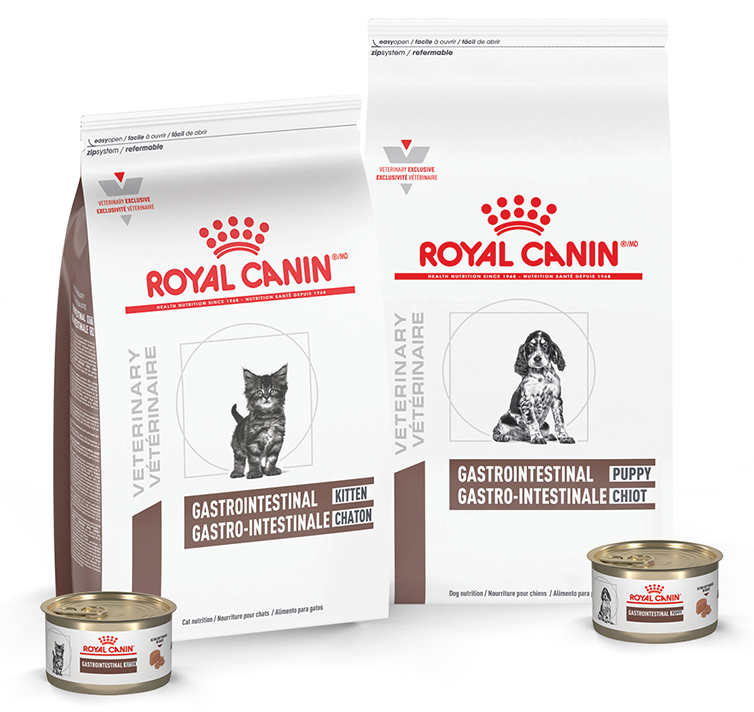 Royal Canin has also launched a digestive health diet and a pill-pocket treat for cats so far in 2020.
"Royal Canin recently launched Gastrointestinal Kitten Ultra-Soft Mousse and Dry," Lenox shared. "These are the first diets specifically and exclusively designed to support the gastrointestinal health of growing kittens. The texture of these foods is extremely unique. The dry kibble is rehydratable, meaning warm water can be added to make it softer and easier for kittens to eat. The wet food has a specific ultra-soft mousse texture, which can be easier for weaning kittens to consume."
The brand's Feline Pill Assist treat is designed to help cat owners administer pill medications, which can be "notoriously difficult," Lenox shared. A study by Royal Canin showed this solution was to enable daily pill acceptance in 91% of cases.
"While many ingredients are not new to the pet food industry, we are noticing that more cat parents are looking for recipes that include ingredients that have functional benefits," Asaro said. "Examples of the ingredients people are looking for include cranberries, which provide antioxidants to support immune function and urinary tract health, chicory root to offer prebiotic fiber that supports sensitive tummies, and taurine to aid with vision and heart function."
"While many ingredients are not new to the pet food industry, we are noticing that more cat parents are looking for recipes that include ingredients that have functional benefits," said Natalie Asaro, Petcurean.
Pettyan pointed to several superfoods being more widely used in cat food and treat products.
"Kale, turmeric, pumpkin and apples are among some of the superfood ingredients we decided to include in our new Daily Dish Broths," he said. "These ingredients not only enhance the flavor but also provide a variety of nutritional benefits."
The trend toward function has given way to a lucrative new ingredient taking the entire pet industry by storm: CBD. Although it is not yet fully regulated or approved by the FDA for use in animal food and treat products, the use of hemp is spreading like wildfire in the pet treat and supplement category. Another ingredient looking for approval by the FDA is insect protein.
"CBD oil, along with many insect-derived proteins and even grocery leftovers, are hot topics in the industry right now," Koester said. "Each comes with a wide array of regulatory hurdles to overcome, including safety, efficacy, and labeling; however as these materials overcome the regulatory challenges and are approved for use, you will see them quickly work their way into a wide variety of food, treat and supplement formats due to the benefits that they provide."
As this subcategory gains momentum, it will become important for brands to differentiate their products.
"There's a strong trend toward function," Mesnier said. "And because everybody's trying to get up to speed, you have to be truly innovative so you're not just one more dental treat. That's why our product innovation team works closely with our board-certified veterinary nutritionists, because you need both to be successful."
Getting greener
Among many other industries, sustainability is becoming a focal point for pet food and treat brands. Utilizing alternative protein sources, such as insects, is one way to achieve it.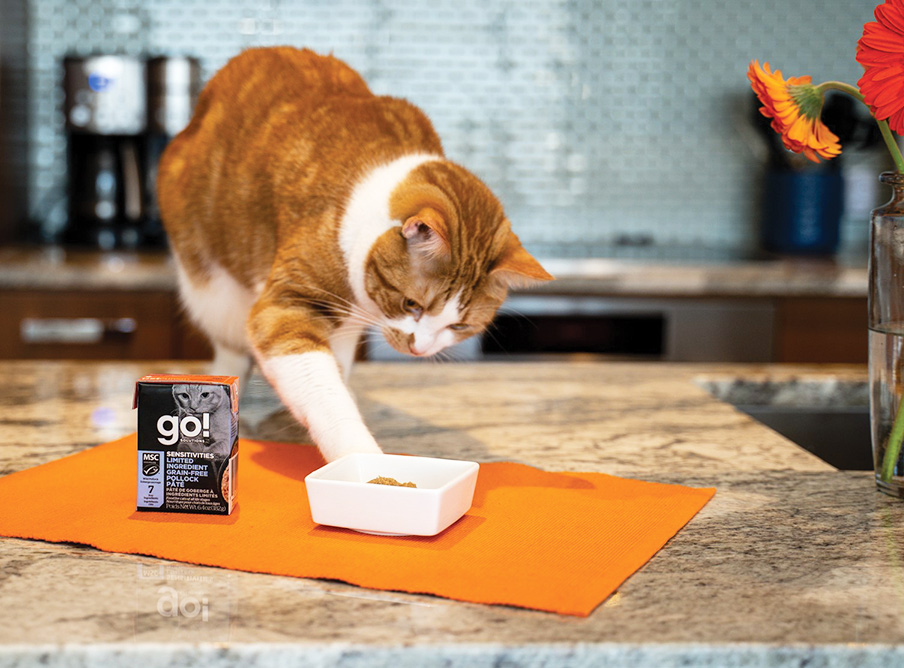 "Novel protein sources have moved from being positioned as limited ingredient diet options for perceived food allergies to a responsible sourcing message centered on sustainability," Koester said. "Insect protein and invasive species are two examples that a few manufacturers have introduced, and it will be interesting to see how they grow as sustainability continues to grow in importance with pet owners."
Mesnier added, "Our product innovation team is getting an increasing number of requests for more sustainable options. The market is still small for truly sustainable alternatives, but we are happy to contribute in helping companies that are willing to invest in the future, through sourcing of ethically raised animals, finding recyclable or upcycled packaging alternatives, or partnering with solar or wind-powered manufacturing facilities. Right now, of course, the costs are still prohibitive, but it will get better as demand from pet parents increases."
Not just for the dogs
Another trend seen first in the dog food market has begun to seep into cat products: the emergence of customizable diets for cats, delivered direct-to-consumer and often on a subscription basis.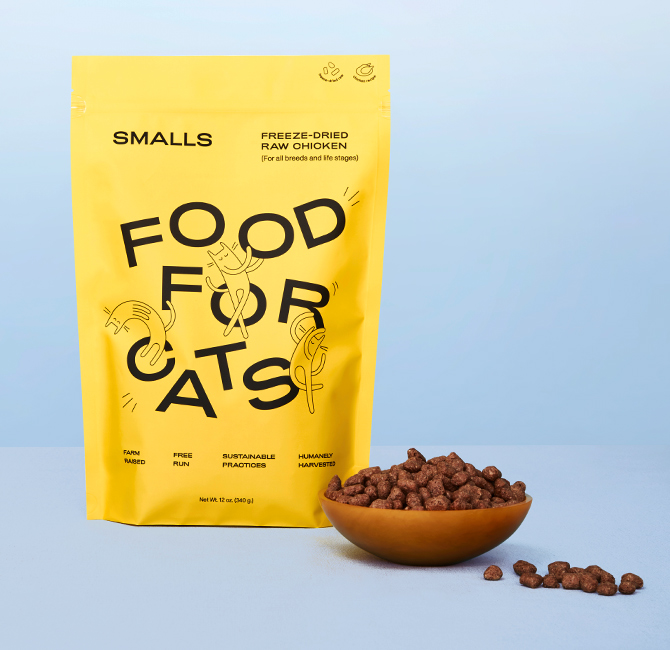 New York-based Smalls, for example, is offering personalized nutrition for cats through a variety of formats and proteins and customizes diets based on age, weight and current diet. These types of services are a step in the right direction for innovation, as cat owners search for new and more convenient ways to shop for pet food that meets their felines' specific needs and preferences.
Additionally, as processors look for alternative protein options, many are begging the question: Can cats be vegan? Although this concept seems to be nonsensical at face value — given that cats are obligate carnivores and need very specific proteins to synthesize certain essential amino acids — it hasn't been ruled out entirely. Some larger companies are invested in discovering plant-based sources of amino acids to create meatless — and more environmentally friendly — cat foods.
Catering to cats
With novelty and innovation in mind, the most important consideration for processors is supporting cat health.
"It's important to always source the best ingredients with science-proven macro and micronutrient profiles that will keep cats thriving," Brassard said. "Another factor to keep in mind is that cats are becoming increasingly more popular, and that means that consumer preferences will continue to shift over time."
Processors should be on the lookout for shifting consumer demands and preferences, as well as opportunities to offer something fresh and uniquely catered to the growing feline population.
"Cats are not small dogs," Koester succinctly pointed out, "so you really need to view them separately from a feeding experience, nutritional needs and consumer perception perspective."
Read more about product development, ingredients and formulation.