Putting cats and dogs first is the central focus for Royal Canin, which was founded in the late 1960s by a veterinarian and is now a major subsidiary of Mars Petcare. The company develops nutritional solutions for dogs and cats that cater to specific, functional health needs.
This manufacturer is not typically concerned with the latest ingredient and formulation trends driving the pet food market because it is hyper-focused on delivering consistently balanced, tailor-made nutrition for cats and dogs. For example, some Royal Canin products include breed-specific formulas, life stage and lifestyle-specific diets, and nutrition for animals with sensitivities or health concerns, such as digestive, skin or oral issues. The company also manufactures therapeutic diets, available exclusively through veterinary clinics, that target health concerns.
"We never stop learning and never take anything for granted," said Andrea Goldstein, external communications manager for Royal Canin.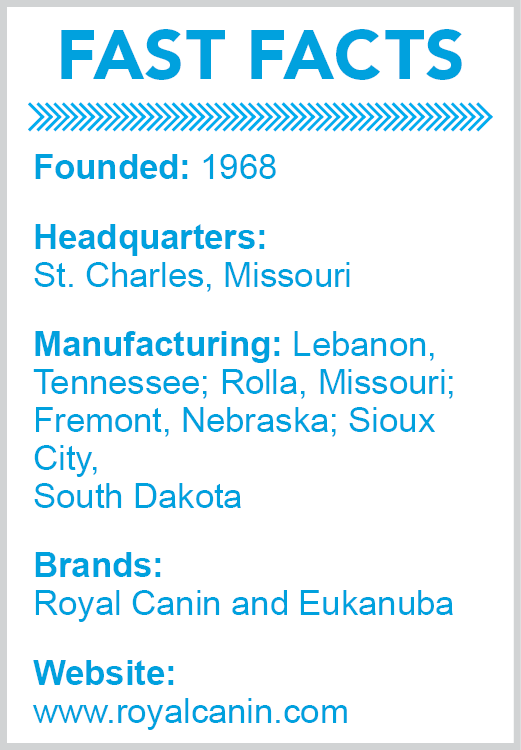 Eukanuba, the other pet food brand manufactured by Royal Canin, has a similar nutritional philosophy but is more focused on incorporating high levels of meat to create dog foods that are reminiscent of an ancestral, carnivore diet. Animal proteins, most commonly chicken or lamb, are the number one ingredient in all Eukanuba formulas, which boast a range of health benefits from oral health to mobility and digestion support.
Overall, Royal Canin's goal is to provide effective, palatable and science-backed formulas. To achieve this, it continually partners with leading scientific, veterinary and behavioral experts to improve its formulations, said Andrea Goldstein, external communications manager for Royal Canin.
Royal Canin believes one way to earn consumer trust is by being meticulous in formulating and developing pet food, then backing up its formulations with research and science backed by industry
experts. Royal Canin prides itself on its precisely and intentionally balanced formulas. To make sure that nutrients meet the manufacturer's high quality and safety standards, all its ingredient suppliers are carefully vetted, and each shipment is tested against rigorous standards.
Production is also closely monitored at Royal Canin. Its state-of-the-art systems and food safety standards utilize modern technology, for example. Each individual diet is formulated to deliver the exact level of natural antioxidants, vitamins, fiber, prebiotics and minerals that are essential to a pet's unique health needs.
Additionally, Royal Canin has established robust sustainability goals to prove its dedication to pets, people and the planet by reducing environmental impacts, improving workers' lives along its value chain, and pushing for scientific advancement to help pets live longer and happier lives, Goldstein said
Read other pet food and treat company profiles featured in our 2019 Resource Guide.