KANSAS CITY, MO. — Alternative proteins aren't new to the food industry. Alternative dairy products have filled the refrigerated cases of the dairy aisle for decades and plant-based protein options have been competing with traditional animal protein meat products since they hit the grocery cases years ago. Add to those options fermentation-derived proteins and cultivated meats, and the size and reach of the alternative protein market expands even more.
With the demand for sustainable protein on the rise, food and beverage manufacturers are taking a close look at ways they can get involved. After releasing its first "Horizons: Alternative Proteins" report in 2021, Kansas City, Mo.-based CRB, a provider of sustainable engineering, architecture, construction and consulting solutions to the food and beverage industry, is taking another look at the market and how it has evolved in just two years.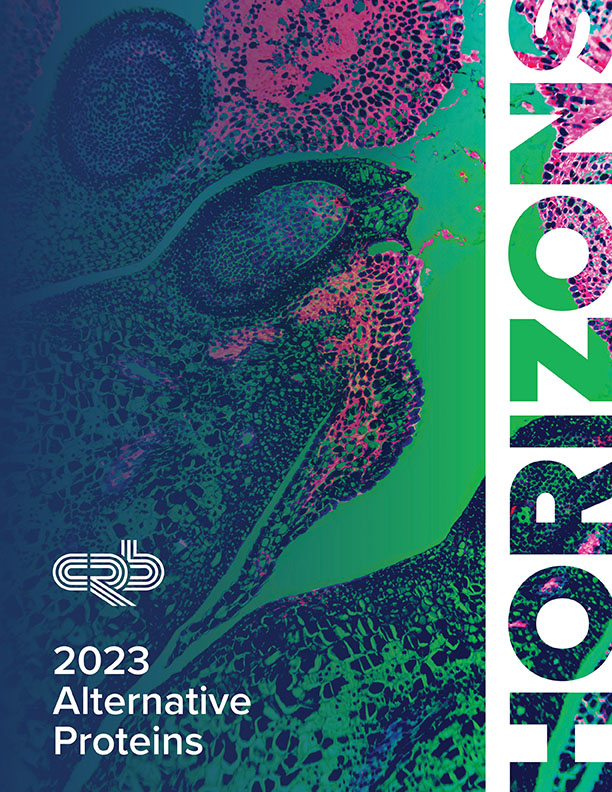 Source: CRB"When we last surveyed on this industry in 2021, we found both optimism and uncertainty among manufacturers, often in equal measure," said Jason Robertson, vice president of food and beverage for CRB. "Test kitchens were generating innovative products and processes, but the challenges of commercial scale-up were frustrating even for the most well-established operators.
"I find myself particularly impressed by today's manufacturers of alternative proteins," Roberston added. "They're relatively new to the scene, they're competing in an unproven marketplace, and they face regulatory and commercial challenges that the traditional food and beverage industry can't necessarily solve for them. Despite all of this, they're persisting — thriving, even. This year's 'Horizons: Alternative Proteins' report, based on detailed survey responses from more than 150 manufacturers in operation today, is proof."
The 2023 "Horizons: Alternative Proteins" study, consists of responses to around 100 questions by 150 alternative protein manufacturing leaders. Respondents represented companies with annual sales between $10 million and $20 million to those with more than $500 million in annual revenue. They were asked about a number of topics relating to production including business drivers, capital spending, regulatory challenges and sustainability.
The report surveyed manufacturers involved in the production of plant-based meat, cultivated meat, mycelium-based meat, plant-based dairy and precision fermentation. The overall impression drawn from the research is one of optimism for and confidence in the future of the industry.
Since CRB's 2021 Horizons report, nearly 60% of survey respondents now report that they are manufacturing their alterative protein product at commercial scale, up from 25% in 2021. And 66% of respondents report an increase in sales volume over the past two years.
"To operate successfully at a commercial scale, manufacturers of alternative proteins need a strategy that integrates both consumer expectations and the realities of operating a large-scale food and beverage plant," Robertson said.
Cultivated meat
While still in its infancy when it comes to having product on the shelves, the cultivated meat side of the alternative protein industry is maturing quickly. According to CRB, investments in the cultivated meat industry escalated from around $60 million three years ago to close to $1 billion today.
With the increase in investments in the cultivated meat segment of the industry comes advancement in the technology and the products that result.
At the time of the 2021 Horizons report, the price of a single cultivated meat burger was around $100; now the price has dropped to an average of $3.67 per pound. According to CRB, one of the likely factors helping the industry close the gap on price parity between cultivated products and traditional meats is the use of cell suspension as the primary manufacturing process. Seventy percent of respondents reported using this method. This method isn't effective for producing high-end premium cuts of meat, but is ideal for lower priced ground meats.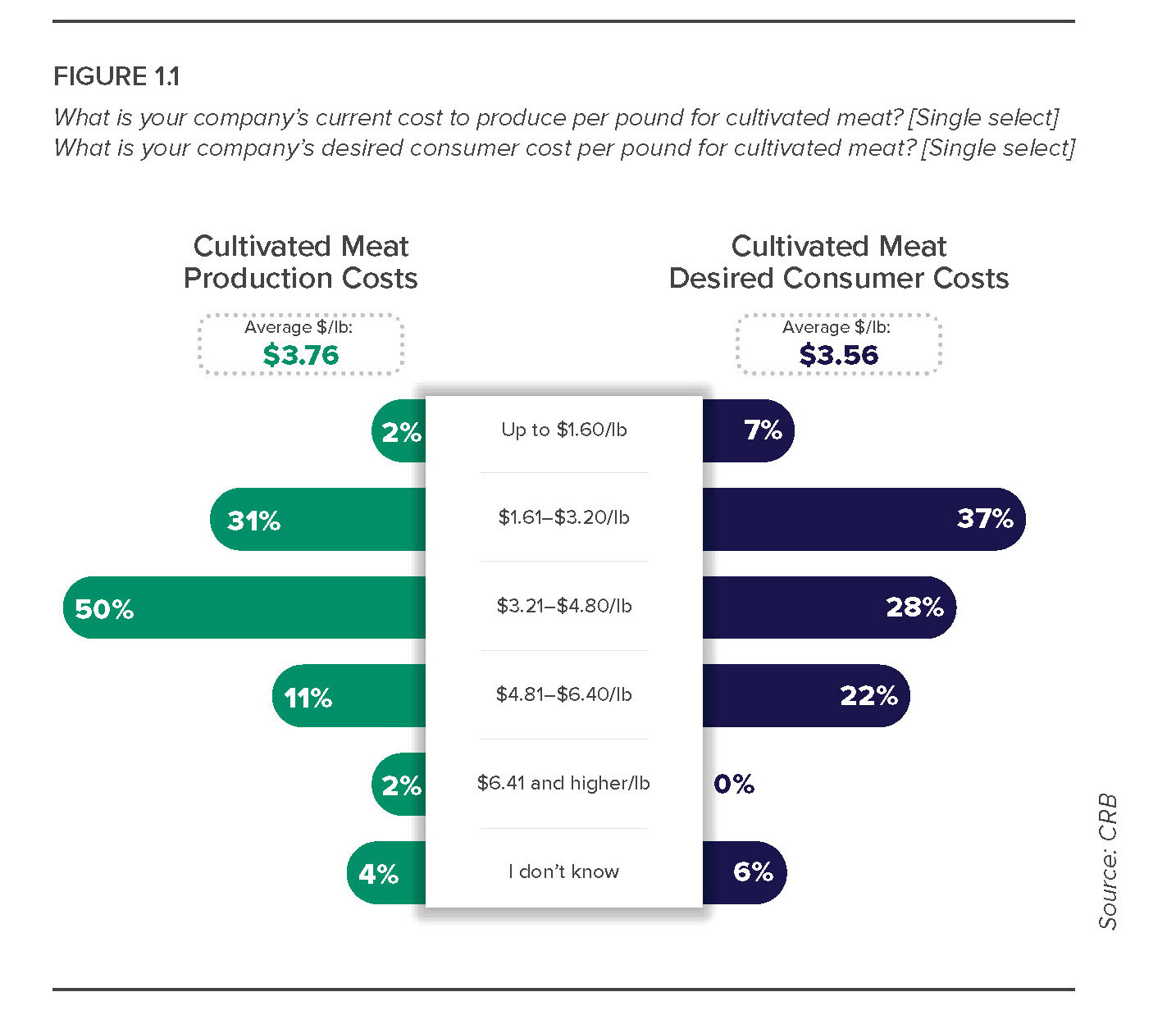 "While it is more efficient, allowing greater cell densities than adherent cell cultures, it [cell suspension] can't be used to form the higher-end structured meats that require forming, scaffolds, or 3D printing — techniques that are not yet proven at scale," said Sebastian Bohn, sub market leader of  alternative proteins for CRB.
Almost three-quarters of respondents predict their first sale of cultivated meat will occur within the next two years, which is an optimistic report on the state of the industry. However, for that to happen, production costs need to continue to decrease, and yield needs to increase.
More optimism from survey respondents comes from their responses regarding regulatory approval. Both the US Food and Drug Administration (FDA) and US Department of Agriculture (USDA) are responsible for the regulation of cell-based proteins. The FDA regulates the collection, growth and differentiation of animal cells, as well as animal cells that don't fall under USDA jurisdiction (such as some seafood and game), and pet food. The USDA regulates the processing, packaging and labeling of cultivated meat products, and requires an on-site inspector for cultivated meat processing.
Sixty-nine percent of survey respondents anticipate regulatory approval of their products within two years, according to the report.
"Since our last survey, cultivated meat has evolved with respect to price parity and the exponential increases in production volumes; this indicates the industry is moving toward sustainability and profitability," Bohn said.
Sustainability
In addition to analysis of other segments of the alternative proteins industry including fermentation-derived proteins, plant-based "meats," mycelium-based proteins and plant-based dairy, the 2023 Horizons report took a look at the impact of sustainability on the sector.
Fifty-five percent of respondents said their companies have sustainability budgets; however, only 45% have sustainability goals and even fewer (41%) have plans in place to reach those goals.
"This data suggests that while there is desire to move forward with sustainability, many are not applying available resources to achieve management's goals," said Aaron Kilstofte, PE, mechanical engineer at CRB.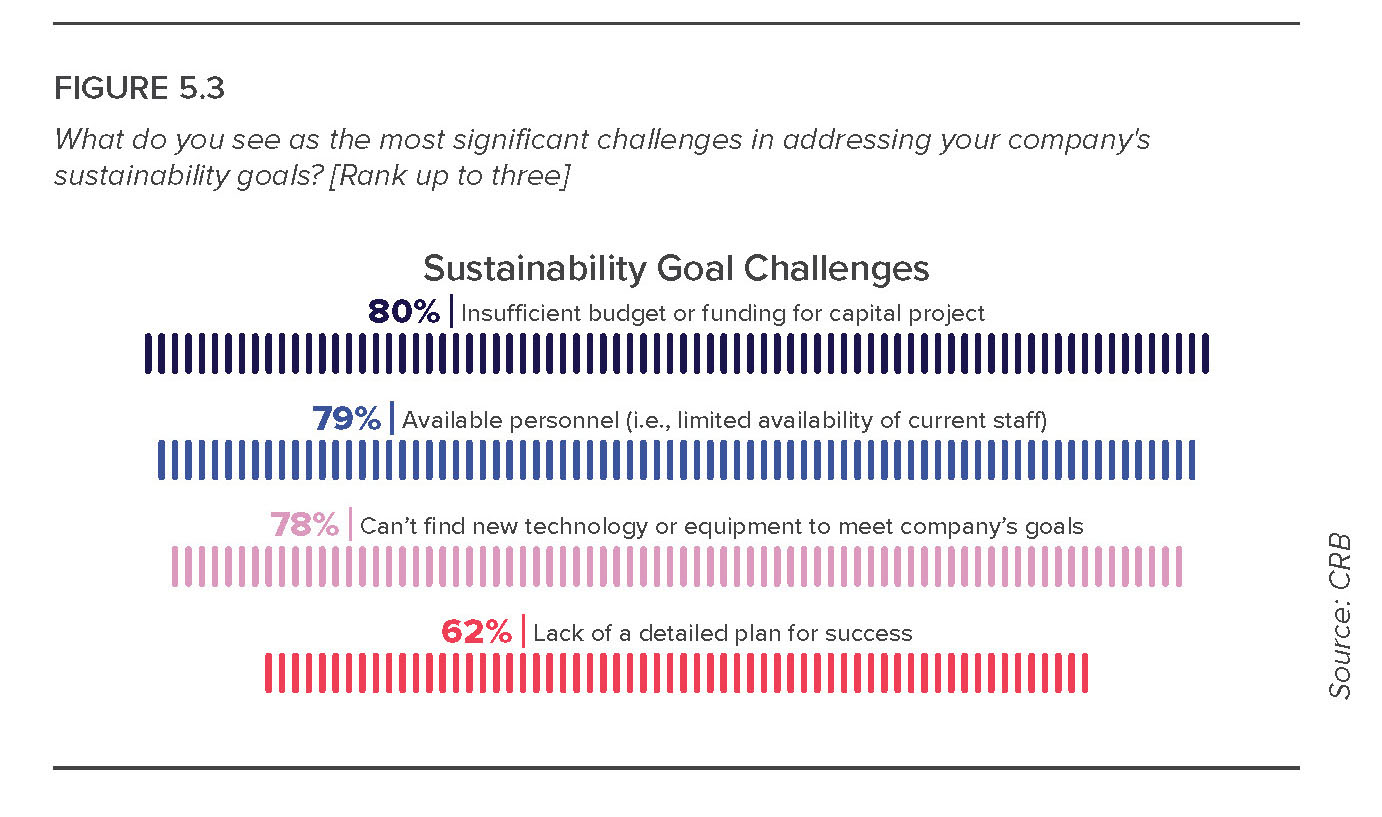 Even though many companies have established sustainability budgets, 80% of respondents believe those budgets may be insufficient to address their company's goals. Other obstacles include available workforce and the inability to find new technology or equipment.


At the top of corporate sustainability goals across all manufacturing sectors is the goal to become carbon neutral or net-zero, and the alternative protein industry is no different. When asked about their company's timeframe for developing a carbon neutral or net-zero plan, almost half (48%) said it would happen in two to five years. However, these expectations might be overly optimistic.
"With limited capital budgets, achieving net-zero takes planning several years in advance and intermediate action over time," Kilstofte said. "To achieve these goals, intermediate milestones are key to tracking initiative progress and ensuring that you are on a realistic path to meeting your metrics.
"Unfortunately, having long-term milestones might reflect a desire to put off difficult decisions until the future," he added. "And many lack a timeframe for intermediate milestones within those five years. At least some of the initiatives should be planned for the next two years, as long as they are actionable."
Technology or systems used to help reduce energy costs and improve environmental impacts for alternative protein companies include recycling, compost/food waste reuse, energy/water/steam/air conservation measures, water reuse, onsite energy storage, onsite renewable energy generation (i.e. solar, wind, thermal), power purchase agreements (PPA) or community choice aggregation (CCA), and combined heat and power (CHP). More than half of the respondents are already implementing recycling, compost/food waste reuse, energy/water/steam/air conservation measures, water reuse and onsite energy storage methods.
"Those furthest along the adoption curve are looking at the items easiest to implement and the quickest to see a return, such as recycling, composting, water reuse and utility conservation measures," Kilstofte said. "It may be wise for companies new to this game to follow their lead, aiming for quick gains with recycling and utility efficiencies while simultaneously planning for larger long-term capital-intensive changes."
Read the full report.
Keep up with the latest pet food trends on our Trends page.