This article was published in the December 2022 issue of Pet Food Processing. Read it and other articles from this issue in our December digital edition. 
Dogs and cats have graduated from outdoor pets to household companions to members of the family, and pet owners are seeking nutritional products that reflect this humanization. The independent pet retail channel offers pet owners a unique opportunity to shop such ultra-premium products in a setting that is distinctly designed to showcase just how much people care for their four-legged family members.
"Pet parents look to specialty retailers to have very knowledgeable staff to assist in their purchasing decisions, like the right kind of food or treats to feed their pets," said Larissa Wasyliw, vice president, e-commerce and marketing, Ren's Pets, Guelph, Ontario. "Compared to a mass retailer or grocery store, specialty and independent [retailers] tend to carry more premium pet food and treats from more prestigious brands. There are often higher quality ingredients in specialized formulas."
Seth Kaufman, co-founder and partner at BSM Partners, Bentonville, Ark., described the pet specialty channel as "the nursery for brands and product forms." According to Kaufman, broader platforms — such as e-commerce options like Amazon and Chewy, or FDM retailers — can offer a broader opportunity for brands to tap into pet owners' hearts, minds and wallets. But these opportunities also come with broader risk. While dramatic growth in the e-commerce space has changed this dynamic in recent years, the more concentrated pet specialty space gives emerging brands with true innovation the chance to incubate before making their next move.
"Pet specialty retailers are more likely to carry niche items that cater to consumers who are proactively approaching their pet's health and wellbeing, while in other markets, pet owners might be more focused on price than product," said Jorge Martinez, president, ADM's Pet Nutrition division, Decatur, Ill.
Most — if not all — trends seen on pet food and treat shelves today are extrapolations of two macro trends driving all others: humanization and premiumization.
"The next phase of humanization is obviously on the fresh side," said Seth Kaufman of BSM Partners.
"As more consumers elevate pets to the status of family members, it's an increasingly common belief that pets' lifestyles, health care and nutritional needs mirror our own," Martinez said. "This trend correlates with growth in premiumization, as pet parents want foods, treats and supplements to be on par with human offerings. That means more pet owners are shopping for tailored solutions that will address their pet's individual needs and preferences."
In speaking to pet industry professionals, two trends stood out under the umbrella of humanization and premiumization. One is an increased interest in function, through which countless supplement brands and solution-based pet food and treat formulations have emerged. The other is a growing demand for fresh, frozen and raw diets, which speaks to pet owners' desires to present their pets with food that resembles their own.
Supplements and tailored nutrition
Martinez shared the US market for pet supplements and functional treats is forecasted to grow at 6.1% through 2025, citing data from market research firm Euromonitor. According to a survey of 506 pet owners conducted by MarketPlace, 46% give supplements to their pets on a weekly basis, and 30% of pet owners are seeking specific health benefits in the supplements they buy.
"Right now, we are still seeing a trend toward 'feeding better' with pet parents looking for the healthiest, most nutritious options of food for their pets," Wasyliw said. "They are also now adding supplements into the mix as well."
Some of the most popular pet supplements seen on shelves today are those that address digestive health, mobility, or calming formulas that address behavioral issues. For example, Wasyliw noted calming biscuits have been one of the most popular treats at Ren's Pets of late, as consumers are noticing their pets' anxious behaviors and actively seeking out products that reduce stress.
As pet owners become more attuned to their own microbiome and how to best support it, they are becoming more curious and concerned about the gut health of their four-legged companions, as well.
"Microbiome health has the potential to impact overall wellbeing in both humans and their pets," Martinez said. "From immune function and digestive health to oral care and skin condition, pet foods, treats and supplements are more frequently touting benefits that can address a variety of concerns for pets of all ages."
This functional focus is evident in the countless supplement products found across retail channels and does not stop at supplements. Pet food brands are keeping their fingers on the pulse of pet owner demands and coming up with ways to incorporate active or functional ingredients into complete-and-balanced diets to address common need states, food sensitivities and preferences.
"With alternative proteins and flexitarian lifestyles trending in human diets, many pet owners are also seeking out plant-forward foods and treats for their pets," Martinez added. "From a return to highly palatable legacy ingredients like soy, corn and wheat to wholesome ingredients like ancient grains, beans and pulses, the options for pet food are as varied as what may be found on their owners' plates."
"With each channel, the experience to buy the product should be easy, convenient and positive," said Larissa Wasyliw of Ren's Pets.
Opportunities for improvement remain in the supplement space, one of which is prioritizing scientific validation of active ingredients and formulation matrices that offer proven health benefits to a pet.
"Under the auspices of healthfulness and nutrition and other components, we continue to believe that there's a lot of room for growth for peer-reviewed science-based alternatives," Kaufman said. "A lot of the work that has been done, frankly, has been more window dressing than actually bound up with sound science."
Raw, frozen and fresh
Gently cooked or minimally processed pet food and treat formats still make up a small fraction of the total US pet food market, but this category is growing both in popularity and accessibility.
According to Chicago-based market research firm IRI, refrigerated/frozen dog food sales in the US multi-outlet channel — which includes grocery, mass market, select clubs, military and dollar stores — grew 35.8% from August 2021 to August 2022, with refrigerated/frozen cat food sales up 22.5% over the same period.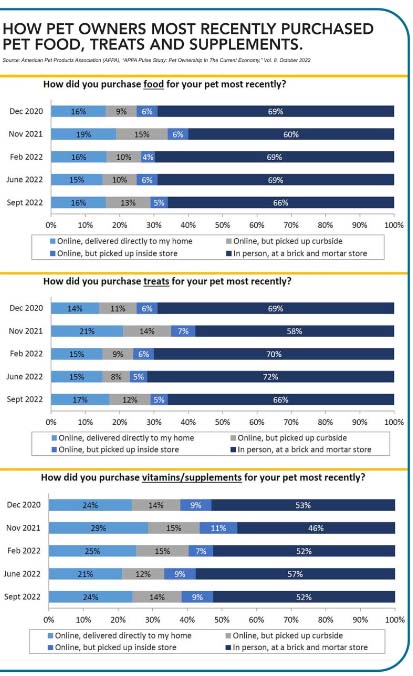 "The next phase of humanization is obviously on the fresh side," Kaufman said.
The outgrowth of the cold chain has made these formats more accessible to both brands and retailers. Several brands competing in the fresh and frozen space are offering their products in branded refrigerators, and retailers are investing in their own fridge displays to showcase the growing number of products entering this category.
"We expect raw frozen food to continue on a fast-growing trajectory as more pet parents learn the benefits of feeding raw," Wasyliw said. "Ren's Pets carries an extremely wide selection of raw frozen pet food, with up to 32 feet of walk-in freezers in some stores. Often, mass retailers aren't investing in this area, but it's our fastest growing category."
Petco and JustFoodForDogs have taken this concept in stride. The retailer and fresh pet food company have partnered on several fronts, including creating "store-in-a-store" concepts where pet owners can purchase JustFoodForDogs recipes in a specially branded part of a Petco store, as well as exclusive distribution rights and the development of co-created private label products.
Omnichannel opportunities
The pet retail environment has shifted dramatically in favor of convenience, and in part due to the necessity of contactless delivery or pickup in the eye of the COVID-19 pandemic. Traditionally brick-and-mortar retailers such as those in the independent pet retail channel were forced to adapt — or die trying — to stay competitive in the aftermath.
"More pet owners are shopping for tailored solutions that will address their pet's individual needs and preferences," said Jorge Martinez of ADM.
Several entities have stepped up to bridge the gap and support pet specialty retailers' omnichannel endeavors. One example is eTailPet, a full-service B2B platform founded by an independent pet store owner in 2018. eTailPet offers point-of-sale and plug-and-play e-commerce solutions as well as social media marketing tools, all to help level the playing field for smaller independent pet stores.
"Clearly, independent pet stores have to find solutions to avoid losing customers to e-commerce and other, larger retailers," Kaufman said. "The traditional ways that they have engaged with their customers are changing — at least for some — and this creates a need and opportunity that innovative companies are seeking to fulfill."
According to the American Pet Products Association's (APPA) latest Pulse Study, "Pet Ownership In The Current Economy, Vol. 8," 66% of pet owners most recently purchased pet food in person at a brick-and-mortar store, while 18% of pet owners opted to purchase pet food online and pick up either inside the store or curbside. Despite the evolving ecosystem of pet retail, it is clear pet owners have not abandoned the brick-and-mortar pet retail channel.
For many independent retailers, omnichannel investments go hand in hand with brick-and-mortar investments. Having a comprehensive strategy for reaching consumers — whether it be in the store, online or somewhere in between — is key to staying agile. For example, Wasyliw noted Ren's Pets is planning a heavy investment in its brick-and-mortar presence in 2023, with plans to open at least 10 new stores. The company will also, however, continue to invest significantly in its website and tech-enhanced offerings, she added.
In today's proliferated pet marketplace, it is important for retailers to offer consumers multiple ways to browse and buy, but it is also crucial to keep product assortments up to date, on brand and in line with pet parents' expectations.
"It's really important that you always stay true to your brand with assortment," Wasyliw said. "At Ren's, where we've focused in on is making sure our current assortment is in stock and available to shop online, in any channel a customer may want (in-store, click-and-collect, DoorDash, ship to home, etc.). We believe that with each channel, the experience to buy the product should be easy, convenient and positive."
Read more about pet retail trends.