ST. CHARLES, MO. — Eukanuba, a Royal Canin brand for active and sporting dogs, launched a new line of performance diets tailored to activity duration and intensity on Sept. 28. Each diet offers targeted support for canine athletes.
"It's impossible to quantify the depth of science and technology that goes into the Eukanuba Premium Performance line," said David Everson, chief marketing officer for Eukanuba and Royal Canin. "Athletic dogs are truly remarkable and we continue to define ways Eukanuba nutrition can help unleash their innate abilities not just as athletes, but also as working partners. 
Eukanuba's new Premium Performance line features four activity-based formulas, each with a targeted blend of carbohydrates, protein and fat to match individual dogs' performance levels.
 "There is a misconception that performance nutrition is all about protein and fat," Everson said. "It's much more than that. The Eukanuba Premium Performance line is formulated to fuel different activity levels, support post-exercise recovery and help optimize nutrient delivery."
Premium Performance diets include 21/13 SPRINT, 26/16 EXERCISE, 30/20 SPORT AND 30/28 WORK formulas, each targeting a different area of performance.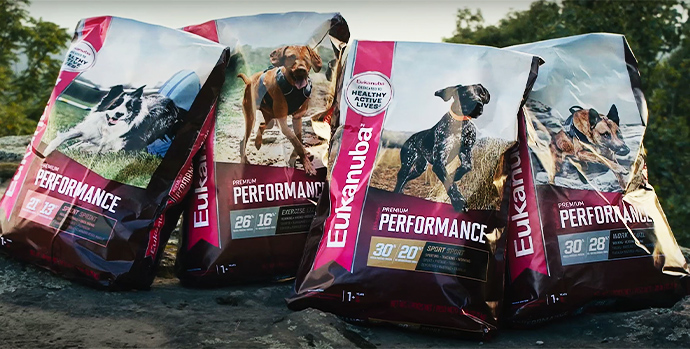 The 21/13 SPRINT diet is formulated for dogs that perform in short, intense bursts for up to three minutes at a time, requiring a focus on carbohydrates. The diet features 21% protein and 13% fat, including 43% of caloric energy sourced from carbs. Eukanuba recommends this diet for dogs that perform anaerobic activity such as agility, flyball or dock diving. 
Eukanuba's 26/16 EXERCISE diet is designed for aerobically active dogs that need sustained energy for up to two hours. These dogs need more fat and higher protein to support muscles, the company said. The diet features 26% protein, 16% fat and added nutrients to maintain performance and health during and after regular exercise. Caloric energy sourced from fat makes up 41% of this diet, which is recommended for dogs performing aerobic activities such as running and hiking.
The 30/20 SPORT formula is designed for dogs needing energy for up to four hours and features 30% protein and 20% fat for sustained energy and muscle oxygenation. It includes 47% of caloric energy sourced from fat and recommended for sporting, tracking and working dogs.
Finally, Eukanuba's 30/28 WORK formula offers an even higher fat percentage to accommodate dogs exercising for longer than four hours at a time. The diet is 30% protein and 28% fat for sustained energy, with 51% of caloric energy sourced from fat. Eukanuba recommends this diet for dogs performing "extreme or continuous high-intensity activity," including working, heading or mushing.
"Eukanuba Premium Performance products are setting a new standard in performance nutrition, and we are proud to make these diets available to discerning owners and handlers of the most active and performance-focused sporting and working dogs across the country," Everson said.
In each of the four Premium Performance formulas, Eukanuba took three perspectives: recovery, digestion and whole dog nutrition. Each diet features a custom blend of antioxidants to fuel recovery by reducing oxidative stress, as well as enhanced blends of fiber and prebiotics for healthy digestion.
Eukanuba also formulated the dog foods with key vitamins and minerals to support overall performance and wellbeing, including healthy cognitive function, muscle development and mobility, healthy skin and coat and reduced tartar buildup.
"The same approach means the same results," added Russ Kelley, scientific services nutritionist for Eukanuba Pro and Royal Canin USA. "That's why we imagined a new kind of canine nutrition more than 50 years ago and why we continue to do so now with a continued passion and investment in further science for the sporting, working and service dogs. The new Premium Performance line harnesses the power of nutritional science to help deliver limit-pushing performance fuel."
Read more about new pet food and treat products.