This article was published in the June 2020 issue of Pet Food Processing. Read it and other articles from this issue in our June digital edition.
There are numerous cold extrusion applications in the pet food industry that can be broken down into different segments such as products (animal feed, treats, supplements and medicines), formats (fresh, shelf stable, wet, semi-moist, dry, freeze dried or dehydrated), and shapes (kibble, balls, chubs, cubes, coins, strips, bites, sticks and bones).
"Cold extrusion is applicable for a wide variety of animal and pet feed, treats, supplements and medicines," said Jeff Zeak, pet food and treats application specialist for Canton, Mass.-based Reiser & Co., Inc. "Cold extrusion is very useful when additive ingredients are sensitive to heat as can be the case with some types of supplements, vitamins, minerals and medicines."   
Eric Altom, Ph.D, technical nutritionist, animal health and nutrition for New Hampton, N.Y.-based Balchem Corp., explained cold extrusion is primarily leveraged to properly mix and form products prior to a final cooking and/or drying step. This may be a cold, co-product extrusion with two components combined into a single product or a treat with high fresh meat content.
"Cold extrusion is necessary in the use of fresh meats in treats and dietary supplements," Altom said. "High fresh protein treat products can be a challenge in product development. These products usually contain very high concentrations of meats, and meats are highly susceptible to oxidation (proteins, amino acids, fats, and fatty acids). Leveraging organic trace minerals to limit metals from being available for chemical reactions, and using encapsulated acidulants to better control pH, can help as a foundational part of the shelf-stable platform in cold formed products cooked via smoke houses."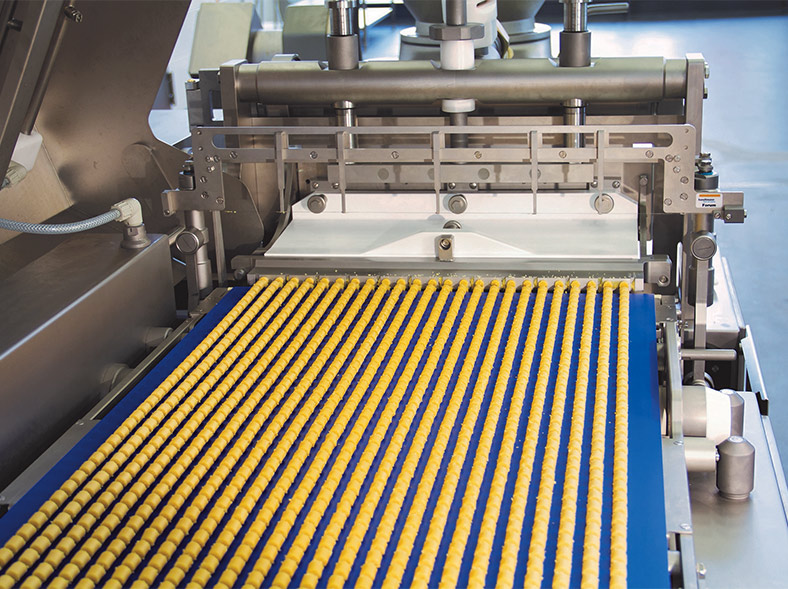 Proteins, amino acids, fat, and fatty acids are highly susceptible to degradative reactions prior to cooking. When added to the matrix and thermally processed, the encapsulated acid is released, thereby reducing the pH of the matrix.
"Certain microbes and pathogenic bacteria cannot survive and/or replicate at low pH concentrations," Altom said. "This pH reduction will control microbial populations by providing a stable, targeted pH level in the material. Encapsulated acids are encapsulated to prevent any pre-reactions with the matrix's composition, whether that is protein denaturation (otherwise known as shocking or acid shock), purging of moisture, or discoloration/off-flavors."
Tim Spannbauer, engineering services manager for Handtmann, which manufactures vacuum stuffers/formers used to extrude pet foods and treats, explained the company's role with cold extrusion pet food processing is focused in two areas: mixing and emulsifying with smart technologies by Inotec, and high volume extruding with its vacuum fillers and multilane extruding solutions.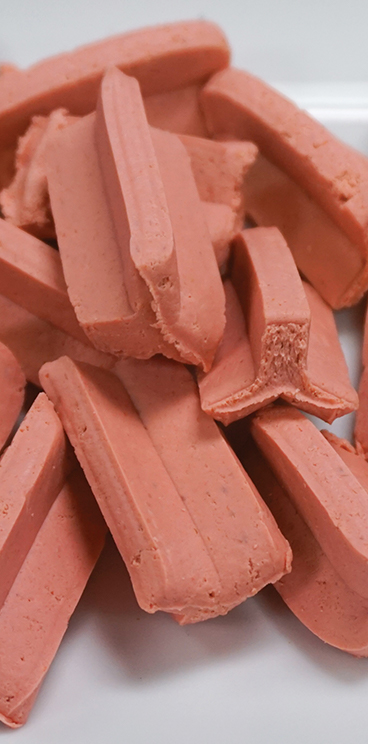 "The cold processing of pellets is a growing segment because of the public's concern for the quality and nutritional content of the kibble, bites and treats they are feeding their pets," he said. "So, the ability to manage critical formulation parameters in the mixing and/or emulsifying processes is becoming more and more important, and exactly hitting those parameters from batch to batch is now also critical to brand management."
Mike Jacko, vice president of applications and new product innovation for Chesterton, Ind.-based Urschel Laboratories, Inc., said the company's equipment is an integrated part of the formulation process before extrusion, as well as reduction of the formulated product after extrusion. 
The Comitrol Processor line of Urschel milling equipment effectively reduces these ingredients down to micro-dimensions without significantly increasing the temperature to preserve nutritional value. 
"With pet food we take fish, chunks of pork, beef, poultry and other ingredients including bone matter and size reduce the proteins into emulsion small enough so the extruder nozzles will not clog-up," Jacko said. "After the extrusion process, Urschel dicers/slicers produce shreds, slices or dices based on customer objectives. Sometimes we take whole muscle liver or lung and dice for freeze-dried pet snacks."
Preston Munsch, chief executive officer of Fort Collins, Colo.-based PetDine LLC, which specializes in the production of functional soft chews through cold extrusion, noted its process not only avoids the use of heat but also uses no water. 
"With the introduction of water, you add an additional element of risk with the potential growth of yeast and mold," he said. "In order to control that you have to use a fairly aggressive level of preservatives to maintain a 24-month best-by date. Water is often used to hydrate or 'activate' gumming agents that are commonly found in soft chews. For these reasons, we avoid both water and heat to make the cleanest and most safe product possible."
"From start to finish, it takes up to 15 different pieces of equipment to produce a finished product through cold extrusion," said Preston Munsch, PetDine LLC.
"Cold extrusion is ideal for these products as it eliminates any barriers that may negatively affect the performance of the product such as heat or water," Munsch said. "We have invested heavily in the development of our cold extrusion production lines, which include many custom pieces of equipment. From start to finish, it takes up to 15 different pieces of equipment to produce a finished product through cold extrusion."
Equipment matters
Zeak noted some important equipment in cold extrusion includes an AMFEC paddle and ribbon blenders, Seydelmann bowl cutters and mixer grinders for mixing ingredient materials for extrusion purposes.
"In-line grinding systems can be inserted into the extrusion machinery process to modify the appearance and texture characteristics of the finished product," he said. "Hard-particle and bone-separation equipment features can be added to extrusion grinding systems in order to remove hazardous particles to make the resulting product safer for consumption. Artery particles in pet foods and treats become very sharp once dried."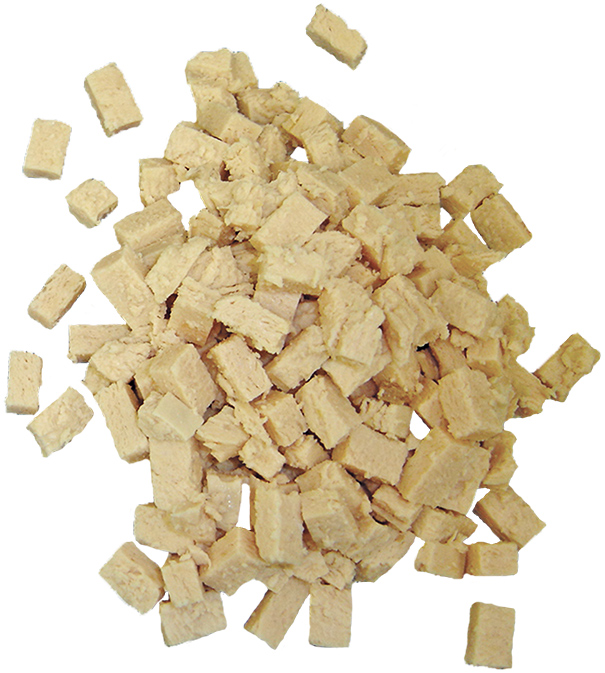 Additionally, AMFEC vacuum tumbler massagers and Famaco injectors are used for yield improvement of ingredient materials prior to extrusion. Vemag vacuum extrusion systems are used for reduction of air in extruded product and increasing density of product during forming of chubs and link shapes.
"Single- and multi-lane shape and ball forming attachments can be added and interchanged on the front of the Vemag extruder for creating a variety of sizes and shapes," Zeak said. "Holac slicers and dicers can be used for further processing of extruded product for shape formatting."
Sam Pallottini, director of pet sales for Reading Bakery System, an equipment supplier in Reading, Pa., noted the company's Low Pressure Extruder (LPE) utilized for pretzel equipment is a perfect machine for producing baked pet treats. The design enables the company to push stiffer doughs through a die to produce a wide range of shapes and has been used to co-extrude treats as well.
"Coextrusion is the most common application into an oven for developing a two-dough type pet treat," Pallottini said. "Coextrusion for pet treats normally requires a similar inner filling and outer jacket in order to create a nice-looking product. If you do go with a jelly-type inner filling, this needs to be heat stable in order to prevent bleeding."
Mark Martin, test lab supervisor for Urschel Laboratories, said Urschel cutting machinery can produce clean-cut strips and dices and irregular shaped strips and shreds, which is achieved with a series of rotating spindles.
Spannbauer said the adjustable vane cell design of the Handtmann vacuum filler is well suited to cold extrusion because, among other reasons, friction is reduced with the product path being much shorter than with auger systems. 
"Handtmann fillers also operate very efficiently at -2 C to +5 C, and minimize temperature rise to help maintain consistency and quality," he said.
Additionally, Handtmann Rotary Cutting Systems for pet food offer knife and wire cutting options in configurations up to 24 lanes and speeds up to 1,440 cuts per minute. Handtmann Multi-lane extruding solutions produce dimensionally stable kibble and treat products with gram-sensitive accuracy across all lanes at up to 250 cuts per minute.
Unique challenges
Cold extrusion formulating and processing for pet food and treats does not come without some issues, Zeak shared. Challenges can include the temperature of material being extruded, which can affect the viscosity or consistency of the product and its ability to hold its own shape, thus impacting the performance of the machinery and the extrusion process. Extremely viscous formulations can be difficult to feed into the double screw and bridging can occur with just gravity alone. 
Spannbauer noted as well that a key challenge is getting and keeping the material stiff enough through the entire process so it can form and maintain shape.
"Having equipment that can distribute binders evenly and efficiently to thicken up the filling material is important, as is the ability to accept CO2 snow and distribute it efficiently to chill product to optimal levels for forming," he said. "Creating reliably homogeneous batters is important to keep the smaller extrusion ports open and production moving." 
"Creating reliably homogeneous batters is important to keep the smaller extrusion ports open and production moving," said Tim Spannbauer, Handtmann.
Altom noted product stability and moisture loss in fresh meats prior to processing can also be a challenge.
"This is because of a potential delayed time between batching, extrusion, and the final cooking step of the total process," he said. "Therefore, specifically designed microencapsulated ingredients can help deliver the best options for product stability to ensure the fresh meat."
To support proper shelf life and long-term stability for various cold extruded products, Altom noted it is critical to control numerous oxidative-reduction reactions in the products prior to the final steps. 
"One way to support this foundation is to provide organic trace minerals, which are minerals bound to a ligand (protein or amino acid), thus reducing the antagonistic effects in a diet matrix and increasing mineral bioavailability," he said.
Cold extrusion can be challenging depending on the goals of the formula and the target nutrients being delivered in the finished product, but those processors that embrace cold extrusion open up a broad range of innovative product possibilities.
Read more about product development, ingredients and formulation.