MONTREAL, CANADA — PureBites announced May 12 it has donated more than $500,000 worth of its freeze-dried pet treats and meal toppers to the Toronto Humane Society and the American Society for the Prevention of Cruelty to Animals (ASPCA) to support pet owners in Canada coping with COVID-19.
"We are currently living through an unprecedented time in our lives," said Marc Cathcart president of Pure Treats Inc., the makers of PureBites. "People are going through financial hardship and social distancing, but one bond that holds true during good and bad times is the one between a pet and their family."
This is PureBites' first collaboration with the Toronto Humane Society and the ASPCA.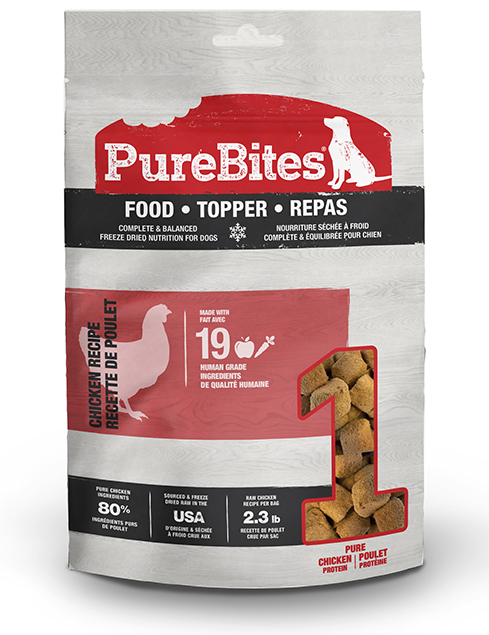 PureBites products feature several single-ingredient, freeze-dried animal proteins to supplement a complete-and-balanced diet or be served as a treat. PureBites' newest product is a complete-and-balanced freeze-dried option that can be fed as a regular diet or as a meal topper. The products, available in chicken, beef and lamb for dogs and chicken, salmon and turkey for cats, were launched in September 2019.
"The impact that this donation has is massive. Our animals, and the animals across the GTA [Greater Toronto Area] thank PureBites," said Hannah Sotropa, public relations specialist for the Toronto Humane Society. "Toronto Humane Society is a non-profit organization that relies solely on donations and public support. Because we have no government contract, when we are lucky enough to receive donations like this, we are so abundantly grateful. All of our animals receive enrichment 365 days a year which includes positive reinforcement training with our robust training department; this involves a lot of praise and a lot of treats!"
PureBites was founded in 2005 in Montreal, Quebec. Its products can be found in pet specialty stores across North America.
Read about other pet industry companies giving back to support people impacted by COVID-19.