BERKELEY, Calif. — Holistic Hound, a pet health and wellness company offering hemp-infused pet supplements, is one of the first in the industry to release a pet supplement fortified with cannabigerol (CBG), a complementary phytocannabinoid to the more well-known cannabidiol (CBD).
According to the company, CBG is known as the "stem cell" of CBD and tetrahydrocannabinol (THC) and one of five major cannabinoids occurring in hemp plants: CBD, CBG, THC, cannabichromene (CBC) and cannabinol (CBN).
"CBG is not 'the new CBD' or a replacement for CBD, but rather an amazing complement to it," said Heidi Hill, certified homeopath and founder of Holistic Hound. "Although there are some similarities with other cannabinoids, CBG has its own unique healing benefits and is an exciting new product option for pet parents looking for natural alternatives to improving the health, wellness and longevity of dogs and cats."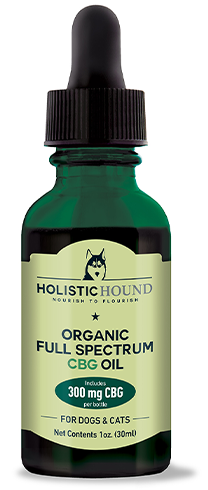 Although still in the early stages of research, Holistic Hound said it believes CBG provides anti-inflammatory and analgesic benefits, can ease anxiety and depression, and has a more energizing effect, rather than the calming effects associated with CBD. The company suggests this could be beneficial for training dogs that may have behavioral or physical issues.
"CBG has great synergy with CBD and can be very balancing," Hill said. "We believe they can be used together to address an even wider range of health concerns." 
Holistic Hound's new CBG oil can be used with dogs and cats and is expected to launch later in September 2019.
"We look forward to partnering with Holistic Hound on launching its new CBG oil," added Brian Little, director of supply brands for Animal Supply Company, a nation-wide pet product distributor.
Read more about new pet food and treat products.