WASHINGTON — As pet ownership throughout the world continues to rise, as does the demand for more pet food products, representing a wealth of trade opportunities for US pet food processors.
According to Euromonitor International, global pet food sales are expected to grow to $123.6 billion in 2022. The United States is currently on-track to achieve pet food and treat sales of $45.4 billion by the end of the year, representing about 37% of global sales. Aside from consumer demand, these sales continue to be driven by exportation.
According to the US Department of Commerce, US pet food exports increased 19.8% from 2020 to 2021. This makes the United States the second largest global supplier of pet food, accounting for 17% of global exports, just behind the European Union, according to Gina Tumbarello, senior director of international policy and trade for the American Feed Industry Association (AFIA).
To become top dog globally, the US Department of Agriculture (USDA) highlighted a country showing significant promise for US pet food exports: Canada. The United States is the top supplier of pet food to Canada, holding 90% of the import market, followed by Thailand, which holds 4%, and China and the European Union, which both hold 2%.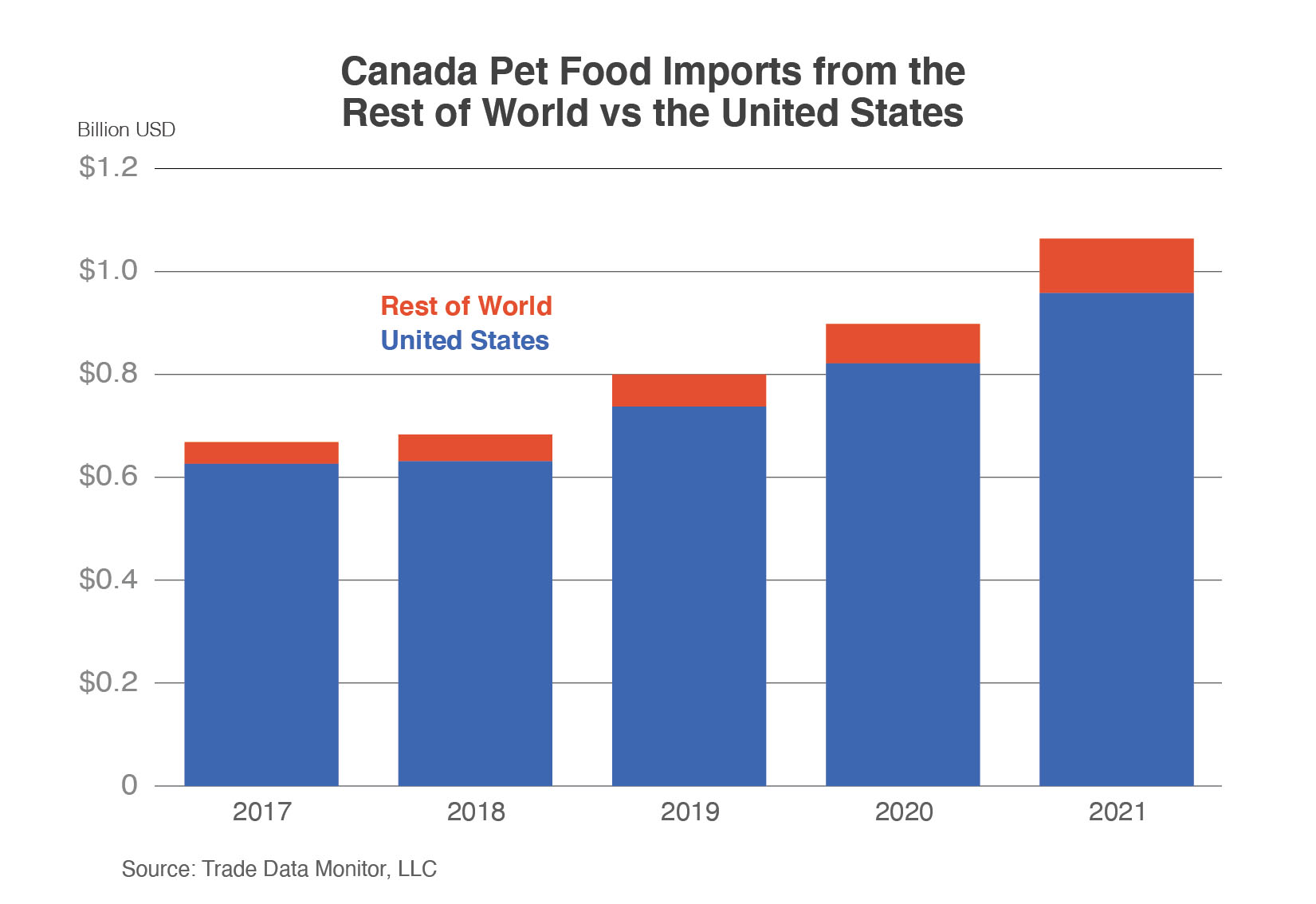 According to the USDA, Canada is currently the largest export market for the US pet nutrition industry. In 2021, the United States exported nearly $1 billion of pet food to the country, marking Canada as the third largest export destination for all US agricultural products. This is due to Canada's proximity to the United States, high pet ownership rate, high disposable income, consumer pet health consciousness, and a preference for e-commerce shopping.
Demographic details
According to the Global Agricultural Trade System (GATS), the United States exported more than $18 billion of high-value consumer-oriented agricultural products to Canada, enabling the United States to amass a 55% market share of these products. Canadian consumers are drawn to US agricultural products due to production quality and high standards.
Canadian consumers also have a relatively high disposable income, allowing them to spend more on pet food and supplies and enabling them to purchase more premium, functional products. According to The World Bank, the country's real gross domestic product (GDP) per capita surpassed $52,000 USD in 2021.
These consumers also live within close proximity to the United States, allowing for quicker shipping of US pet food products. According to the Global Agricultural Information Network, 34.2 million Canadians, about 90%, live within 100 miles of the Canada-United States border.
Canadian consumer trends
According to the USDA, pet food has become Canada's fastest growing imported product within the consumer-oriented category. The retail value of pet food sales in Canada is expected to exceed $6.7 billion by 2027, according to Euromonitor.
Fifty-six percent of Canadian consumers have at least one pet in their homes, with the pandemic causing an additional 1 million Canadians to become pet owners. This has led to a significant increase in pet nutrition demand.
With pets becoming an important part of Canadians' lives, these owners are particularly interested in healthier pet food products, including those touting organic, plant-based, natural ingredients and clean-label claims. Canadian consumers are also interested in products that boast sustainability benefits, like those in sustainable packaging.
As US pet food processors continue to innovate their formulas and incorporate sustainability into their packaging, exports to Canada continue to rise. In 2021, Canada imported about $958 million of pet nutrition products from the United States. During the first eight months of 2022, the value of US exports to Canada increased 19.6% compared to the first eight months of 2021, according to Trade Data Monitor, LLC.
Dog and cat nutrition
According to data by the USDA and shared by the AFIA, US dog and cat food exports increased from $692.86 million in 2021 to $832.82 million in 2022, representing a 20.2% increase.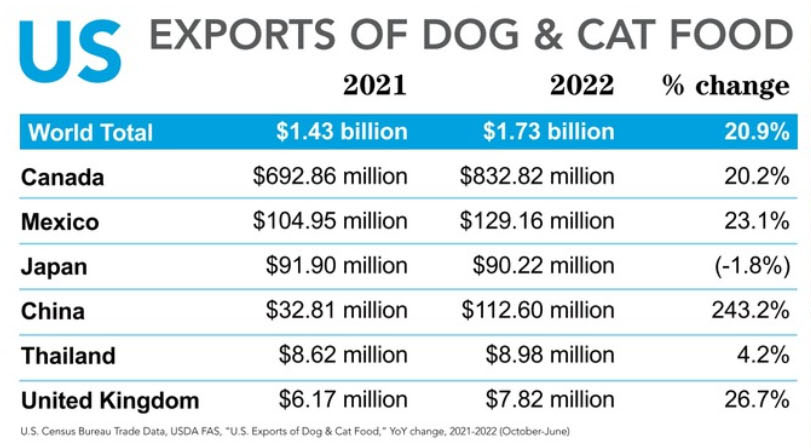 Within Canada, dry dog food is one of the fastest growing consumer products, far surpassing sales for other pet care supplies, packaged food and beverages, according to Euromonitor. Premium dry dog food sales are 14 times higher than premium wet dog food sales and are estimated to achieve $1.9 billion in sales by 2027.
Regarding dog food, Canadians are more interested in high-quality and eco-friendly products that align with trends in premiumization and humanization. Consumers are seeking dog food diets that are formulated with high-quality ingredients that benefit their dogs' overall wellbeing.
Though there are more cats than dogs in Canada, according to Euromonitor, cat nutrition products follow many similar trends seen within dog nutrition. By 2027, retail sales for cat food are anticipated to exceed $1.7 billion, with premium dry cat food as the leading product within the space.
Though in-store purchasing remains the most popular shopping method for pet food among Canadian consumers, e-commerce continues to rapidly grow. According to Euromonitor, from 2019 to 2021, cat food sales decreased 15.9% to $582 million in grocery stores and  increased 92.3% to $262 million in the e-commerce channel. For 2022, grocery sales have been gradually decreasing and e-commerce sales continue to increase.
Canadian cat parents are seeking products that feature fresh and high-quality ingredients, as well as those that come in more sustainable packaging, similarly to dog owners.
Policy problems
Though Canada clearly represents a large export market for the US pet food and treat industry, trade policy can prevent many US processors from taking advantage of opportunities in the Canadian market. Agricultural products are currently duty-free per the US-Mexico-Canada Agreement, however, US products must contain a certification of origin required by the Canada Border Services Agency to be imported.
Organic pet food products, which have grown in consumer interest in Canada, must be approved by the USDA's National Organic Program or by the Canadian Organic Standards to be marketed and sold as organic within Canada.
In April 2022, the Canadian Food Inspection Agency (CFIA) introduced new microbial requirements for pet chews, which may prevent some processors from exporting their products into the country. However, the CFIA dropped import permits that were once required for processed, shelf-stable pet diets, chews and treats, with the exception of those treated by heat.
Find more articles related to pet food export opportunities and trade.