ORLANDO, FLA. — Walking the Global Pet Expo show floor, evidence is everywhere that the pet food and treat industry is evolving. Consumers are seeking specific product attributes, and brands are delivering. Pet owners are also changing the way they shop for products, shifting increasingly toward omnichannel options and e-commerce outlets.
Three market research experts at NielsenIQ presented their pet industry findings at Global Pet Expo 2022, held March 23 to 25 in Orlando. Sam Smith, client director, shared top-level pet care spending data, specifically focused on shifting dollar sales from in-store to online purchasing.
"Online is just completely eclipsing brick-and-mortar sales across the pet industry," Smith said.
Both in-store and online pet care spending outpaced all other store categories in 2021 in terms of dollar sales, topping $66.4 billion across all channels. According to NielsenIQ, in-store dollar sales for pet products were up 9.8%, while online dollar sales were up 26.4%, compared to 2020. Online sales growth in the pet space was rivaled only by growth in baby care dollar sales (up 21.4%) and human food sales (up 23.1%) over the same period.
"What's amazing about pet is that it's leading both in-store brick-and-mortar as well as online sales growth," Smith said. "Pet is an extremely valuable thing for retailers to carry, and it's a driving force for retail stores."
The online marketplace for pet products is only projected to grow from here, gaining 3.2 share points from 2020 to 2021. In 2021, NielsenIQ estimated 65% of total pet care sales were from in-store purchases, with the remaining 35% representing online sales. This trend can be seen across pet food, pet supplies and pet treatments.
"Online, again, is growing at such a pace that it's actually stealing share away from brick-and-mortar, so both sides are growing but online is outpacing it, leading to an overall two-point share change over towards online," Smith said.
NielsenIQ recorded pet food sales in 2021 totaling $41.8 billion, up 13% from 2020. In 2021, pet food saw a 10% shift away from in-store dollar sales and toward online purchasing.
Most product categories saw an increase in dollar sales growth both in-store and online in 2021, including dry dog food, dry cat food, wet dog food, wet cat food, dog treats and cat treats. The only pet product category to see sales growth online and a sales decline in-store was flea and tick treatments.
"A great story for pet is not a single category is falling into the bottom quadrant, where they're both [online and in-store sales] declining," Smith said. "Pet across the board is an extremely healthy industry to be playing in right now."
While e-commerce continues to steal share from the brick-and-mortar channel for pet products, many consumers are using both online and in-store options to purchase their products.
In 2020, pet owners made roughly 2.01 billion "trips" to the store, including traveling to a brick-and-mortar store or visiting an e-commerce site for purchase. This number rose 5.9% in 2021 to 2.18 billion, with approximately 75.6 million more "trips" representing online only purchases, and 122.5 million additional trips for both in-store and online purchases. On the flip side, pet owners made 46.8 million fewer trips to brick-and-mortar stores only, indicating the already well-known shift toward omnichannel purchasing.
Interestingly, existing pet owners seem to be spending more than new pet owners, according to NielsenIQ data. Existing pet owners spent 16.2% more in 2021 compared to 2020, while newer pet owners spent 2.4% more.
What pet owners are searching for
Hannah Polk, RD, solutions consultant at NielsenIQ, took a deep dive into trending search queries in the pet space. This research pointed to several growing and emerging categories in what pet owners searched online between March 2021 and February 2022.
According to Polk, this data does not speak necessarily to attributes that have the highest search volumes, "but the ones that are moving the needle and increasing drastically… more of those long-tail searches that we want to be sure to keep an eye on," she said.
Looking specifically at the top-searched attributes for dog food and treats, the terms "dental and breath health" and "calming" grew the most. "Dental and breath health" searches were up 34% with 578,000 queries in February, and "calming" searches were up 42% with 170,000 queries.
"The top two search terms for calming are 'calming chews for dogs' as well as 'dog calming treats,' and both search terms had a 15% to 17% conversion rate," Polk shared. "So, indicating that the shoppers that are seeking out these calming products are also purchasing and creating a conversion event when they're searching."
"Wet" pet nutrition products remain the top-searched query by pet owners, with 1.2 million searches and 24% growth in searches over the year. "Dehydrated/Dried" searches were up 12% with 194,000 searches.
In terms of search query growth, the top-trending search was "pea free," up 836% over the year, although the search volume was one of the lowest with just 543 searches over the year. Polk shared she believes this uptick in pea-free interest stems from the purported correlation between grain-free diets and dilated cardiomyopathy (DCM) in dogs pushed by the US Food and Drug Administration (FDA) between 2018 and 2020.
Searches of "grain-free" dog food products are "constantly evolving," Polk shared. From 2019 to 2020, searches for "grain-free were up by more than 100,000 queries but have since deescalated through 2022 to below 2019 search levels. Small spikes in "grain-free" searches were seen in 2021 and early 2022, but the general trend for these searches is downward.
"…We can see, overall, that announcement left distaste in the customers," Polk said. "We see that since 2019, overall, those trends have been declining up until 2020. As a result, many customers and dog owners are now seeking out these healthy and better-for-you grain products that are formulated with things like ancient grains."
Continuing for the dog food and treat category, searches for "protein" were up 146% with 13,000 searches; "real meat" was up 79% with 10,000 searches; "refrigerated" was up 61% with 89,000 searches; and human-grade was up 44% with 8,000 searches.
Turning to cat food and treat searches, "wet" nutrition tops the charts here as well, with 47% growth to 4.6 million searches from March 2021 to February 2022. "Canned" also grew significantly, up 66% with 2.1 million searches, alongside "paté" up 53% to 1.1 million searches.
Other growing search terms included "gravy," up 36% with 327,000 searches; "for indoor animals," up 7% with 181,000 searches, and "lickable," up 6% with 132,000 searches.
"Similarly to dog food, cat owners are also seeking out those 'food as medicine' attributes like dental and breath health," Polk said. "The top [search term] is 'urinary tract cat food' with a 25% conversion rate, meaning that one in every four shoppers that is searching for urinary tract cat food… is resulting in a conversion event."
Search query growth in cat nutrition indicated strong growth for "refrigerated," up 922% with 6,000 searches over the year. "Venison ingredients/flavors" is the fastest-growing ingredient term for the cat category, according to NielsenIQ, up 78% with 5,000 searches. "Grilled" products were searched 85,000 times, up 68% over the year, and "shredded/shreds" was searched 117,000 times, up 63%.
"Venison is often a sought-out protein for cats because it's more sustainable," Polk noted. "It's higher in protein and lower in fat than other red meat ingredients, like beef."
Trending product attributes
Sherry Frey, health and wellness industry leader at NielsenIQ, took the stage to dive deeper into specific product attributes seen in sales data across the pet food market. This includes both stated attributions, which are listed clearly on the label, and qualified attributions, which may not be defined on the label but are reflected in the product.
Frey shared human-grade and ancient grain attributes have shown the most significant growth. In 2021, ancient grains cropped up 213% more often compared to the previous two years. This category accounts for roughly $30.4 million in sales, according to NielsenIQ.
 "[Ancient grains] is an area that we are seeing strong growth across the board," Frey said.
Products with human-grade ingredients grew in the upper 40% range over this same period, and attributes related to protein source, although a small category on its own, have grown as well.
Clean label attributes are also expanding and accounting for a larger share of dollar sales in today's pet food market.
"[Attributes like] no artificial colors, no artificial flavors, no artificial ingredients, [are] very much growing across the store, whether it's in food and beverage, whether it's in beauty – but also you can see very strong here across the categories of the pet space," Frey said.
According to NielsenIQ, plant-based formulation claims, which account for $9.4 million in sales, were flat at -0.2% in 2021. However, products claiming alternative protein attributes are growing. Wheat protein, protein from chia, millet and coconut are all showing growth, although these remain small segments of the market for now.
Frey pointed to three high-growth alternative protein attributes in particular – tapioca syrup, up 497% and found in products accounting for $1.3 million in sales; collagen, up 324% and found in product making up $6.1 million in sales; and multi-grain proteins, up 184% and found in products representing $938,000 in sales.
Pairing specific product attributes with repeat purchase rates, NielsenIQ uncovered some interesting data around seven specific attribute groups. This data showed pet food consumers purchasing products with certain attributes are more likely to buy those products more than five times per year. This includes purchases of products made in the USA (43.1% of consumers in this category), products with natural positioning (40.8%), products that are free from artificial flavors (40.5%), and products with immune system health benefits (30.4%).
"Made in the USA, natural positioning, free from artificial flavors – those are ones… [where] we see the consumers that are consistently repeat purchasing those areas," Frey said.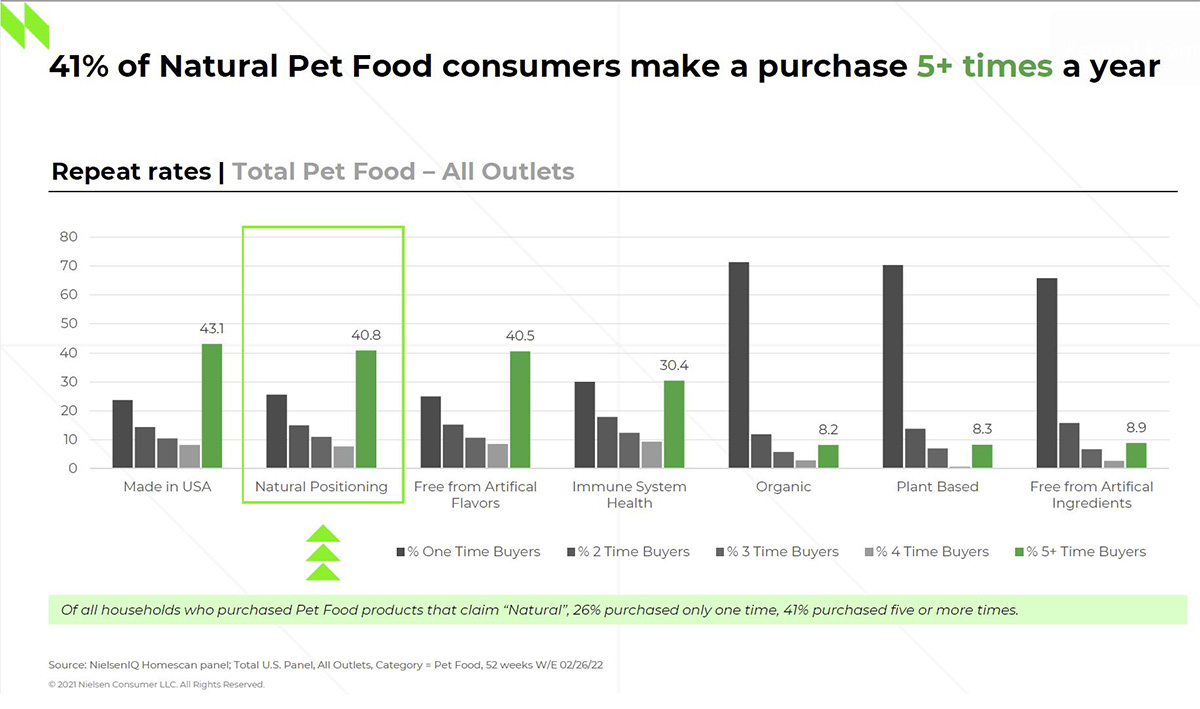 Adversely, consumers are more likely to make one-time purchases of products with attributes speaking to organic, plant-based, or free from artificial ingredients.
Pet food products with natural claims are being driven primarily by mass merchandise retailers and online marketplaces, although pet stores and conventional grocery outlets also account for a sizable share of sales for the natural category.
"It's this realization that [natural] is an important attribute, it's a key area for the pet industry, and it's growing across the board," Frey said. "It really is becoming an omni attribute."
As pet owners continue searching for functionality in their pet products, it comes as no surprise that NielsenIQ research indicated several growing "food as medicine" categories in pet food. The presence of products claiming to support mental health is up 101% since 2019, with those supporting cellular function up 56% and products catering to physical performance support up 40%.
Products with brain health attributes are growing at 28%; kidney health at 27%; joint health at 20%, heart health at 19%, and eye health at 15%. Appetite control products are also on the rise, showing 22% growth since 2019, and digestive health products are cropping up more often at a 13% rate.
"…From a pet perspective, we're humanizing, and we're looking at ailments very specifically, and we're recognizing [that] both in our own food and in what we feed our animals," Frey said.
Segway to sustainability
The topic of sustainability is becoming more and more prevalent in the pet care space. NielsenIQ highlighted product attributes speaking to sustainability, specifically in the areas of sustainable packaging, social responsibility, environmental impact, sustainable farming or animal welfare.
Sustainable packaging seems to be the most commonly seen attribute across the pet food category, with these claims up 92.3% since 2019. Sustainable farming claims are up 205% but, according to Nielsen, this product category currently has a low sales volume. Pet food claims for environmental sustainability are up 5.1% since 2019, but claims of social responsibility are down 28.2% and animal welfare claims are down 3%.
"The one area where we're seeing the strongest growth from the pet industry is on the packaging front," Frey said. "That's pretty consistent with what we see across the store. Packaging seems to be that first thing that consumers [see]… It makes sense to them. It's where, across the store, we're seeing the greatest share in terms of sustainable attributes."
In the total pet care space, however, claims within all five sustainability areas are on the rise. Products with animal welfare claims are up 24.3%; environmental sustainability up 17.1%; sustainable farming and sustainable packaging are both up 13.4%; and social responsibility up 10.7%.
"I think we're really recognizing sustainability is probably a misnomer, because really, as we're watching what's happening, it's becoming much more around not just sustaining or minimizing the impact of what we're doing, but how do we think about regeneration? How's the world better? How's the planet better because my company, my business, was here?" Frey said.
Other attributes indicating sustainability have been seen increasingly in the pet food space, including certifications by Tetra Pak, the Forest Stewardship Council and other eco-friendly organizations, NielsenIQ shared. Pet food products with sustainable packaging claims are up 769% since 2019 and account for $899,000 in sales. Products from B Corporation-certified brands are showing up more as well, with 593% growth since 2019 and accounting for $3.8 million in sales. Plastic-free attributes, which account for $11.3 million in sales, are up 387%, and USDA Certified Biobased product attributes are up 329% and make up $2.5 million in sales.
Keep up with the latest pet food trends on our Trends page.