ORLANDO, FLA. — As David Sprinkle, research director at Packaged Facts, said in his presentation during Global Pet Expo 2022, the pet industry is rewiring itself in many ways to reflect a crossing of borders. This border-crossing is not only referring to the increasingly omnichannel retail space, but also to the nature of products and services seen on the market today.
With pet technology booming and pet insurance becoming more mainstream, the idea that pet products can not only improve the lives of pets but also the lives of their owners is embedded in some of the latest product innovations. Purina's LiveClear cat food line is just one example. Formulas in this line feature an egg-based protein that acts as an antibody for a common feline allergen: Fel d1. This diet has been shown to decrease the presence of Fel d1, which originates in cats' saliva, to reduce spread of the the allergen via cat hair and dander to the environment, which decreases and even alleviates allergic reactions among humans.
Following this trend is the company's new Calm & Balanced dog food formula, which is designed specifically to support calm behavior. Ingredients include EPA and DHA from fish oil and glucosamine to support a calm demeanor and cognitive health. This innovation, along with the LiveClear line and the deluge of hemp- and CBD-based supplements flooding the marketplace today, caters not only to pet health and nutrition — since stress can negatively affect a dog's health — but also to pet owners looking for ways to mitigate behavior that could be in turn stressful or challenging for themselves.
Aside from the further humanization of the pet product marketplace, Pet Food Processing observed several other trends on the show floor. Among them, five major trends stood out: revitalized branding and package designs, more brands entering the alternative protein space, innovation in wet pet food, new entrances to the fresh category, and continued proliferation in the supplement and meal topper space.
Revitalized branding
Whether the goal was to revitalize an age-old brand, present consumers with a more cohesive presence or stand out on increasingly crowded store shelves, several pet food and treat companies showed off their new looks at Global Pet Expo this year.
Wellness Pet Company, formerly WellPet, rolled out one of the most comprehensive rebrands at the start of 2022, changing its name in part to appeal to "the next generation of pet parents." New package designs will be seen across its central Wellness brand, and the "by Wellness" tag will now appear on the front of its WHIMZEES and Old Mother Hubbard bags. The company has also modernized the logo for its Old Mother Hubbard dog treat brand.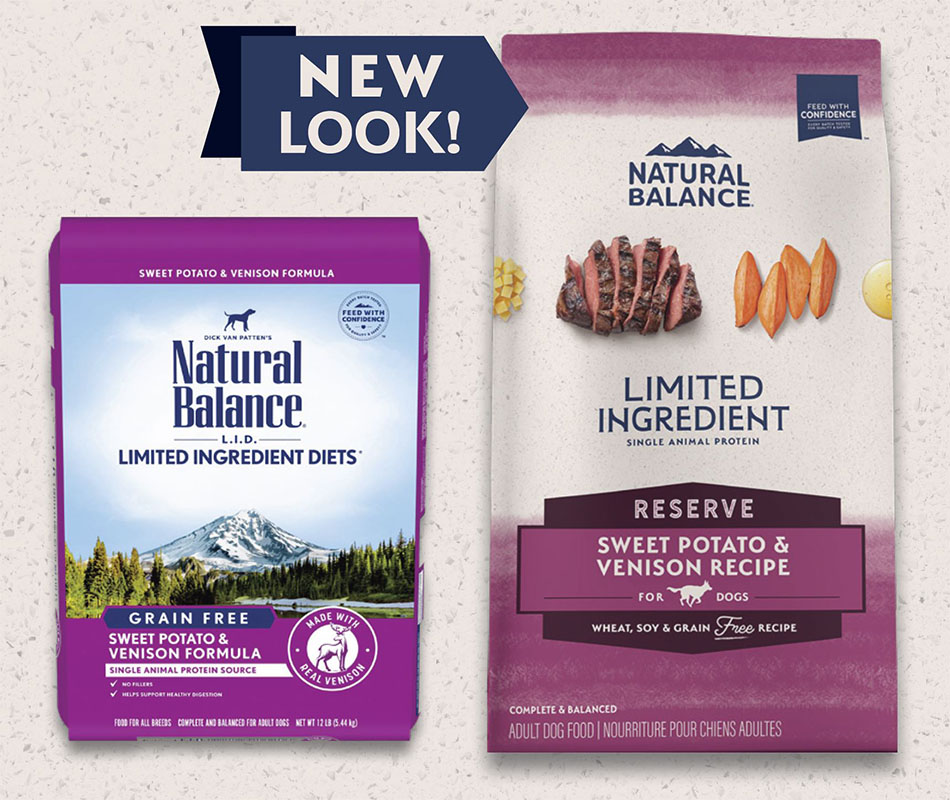 After being acquired by Nexus Capital Management in January 2021, Natural Balance — a longstanding brand in the limited ingredient pet nutrition category — is also undergoing a comprehensive rebrand alongside the launch of two new product formats. The mountain scene featured on the old package designs is now featured in the new Natural Balance logo, and package designs have been updated to reflect a full-scale brand refresh. This includes callouts on the front panel to indicate exotic proteins under its Reserve line, small breed nutrition, and an extension of its plant-powered diets to include the words "vegan friendly."
Wet Noses, a human-grade processor, introduced a new brand identity and packaging for its baked dog treat line, emphasizing the company's commitment to using only human-grade ingredients and feeding dogs only products that meet the company's golden rule — if you wouldn't eat it, you shouldn't feed it to your dog. Additionally, the company's Doggy Delirious brand announced an official rebrand and launched two new treat flavors in January, including a new logo, product packaging, brand mascot and website.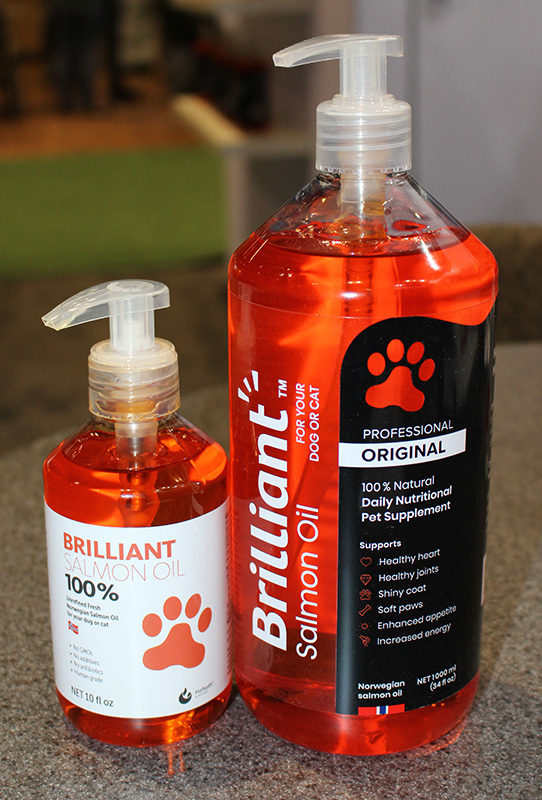 Hofseth BioCare's Brilliant Salmon Oil brand of human-grade, sustainable Norwegian salmon oil for pets showed off a new package design at Global Pet Expo 2022. The new package for this liquid dog and cat supplement also features a QR code, which speaks to another emerging trend noted on the show floor. Brilliant Salmon Oil and Open Farm were two brands to incorporate QR codes on product packaging, which links to additional product information and traceability data.
Better Choice Company showcased its newest product line and a full rebrand for Halo. The new line, Halo Elevate, includes 39 SKUs of dry and wet dog food, including grain-free and grain-inclusive formulas and a variety of protein choices, each formulated by veterinary and nutrition experts. The diets include 610 million live probiotics (CFU/lb) to support digestion, taurine and antioxidants to support immunity, high levels of animal-based protein (90%) to support strength and energy, and Omega fatty acids to promote healthy skin and coat. The launch of Halo Elevate was also accompanied by a new Halo website redesign that launched this spring.
Plants and insects as protein
Speaking of Open Farm, the company announced its first foray into the alternative protein space with the upcoming launch of its Kind Earth line. The line will include two formulas — Plant Recipe and Insect Recipe — both "inspired by nature with 100% traceable ingredients," according to the company.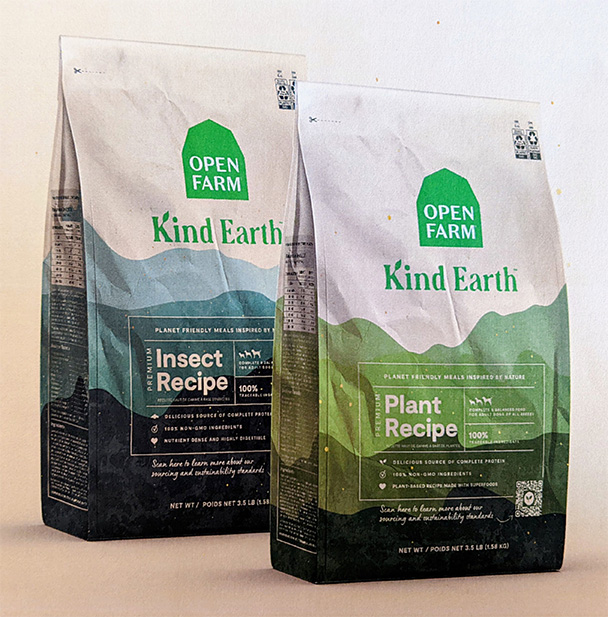 The first few ingredients of the Plant Recipe are whole grain barley, fava beans, oats, dried yeast, sweet potato and potato protein, while the first few ingredients of the Insect Recipe are dried black soldier fly larvae (BSFL), whole brown rice, whole grain barley, oats and dried yeast. Both new Kind Earth recipes are being marketed as highly digestible, superfood formulas with Omega 3 and 6 fatty acids for dogs with food sensitivities.
Based on a consumer survey, Wellness Pet Company launched two new plant-based products: CORE® Digestive Health Plant-Based Kibble and Bowl Boosters® Immune Health Toppers. Both are formulated with protein from plants and eggs. These new products were designed to answer demand for more sustainable protein sources in pet products, and also address consumer interest in functional formulations to benefit digestive health and immunity in dogs.
Natural Balance is expanding its established vegetarian dry dog food offerings to now include a wet diet. The company's vegetarian kibble for dogs was first launched in 2003 and, given recent trends toward plant-based pet nutrition, the company is now extending this plant-powered formulation in a canned, wet format. Alongside its package redesign, these two vegetarian products now include the callout "vegan friendly" on the front label.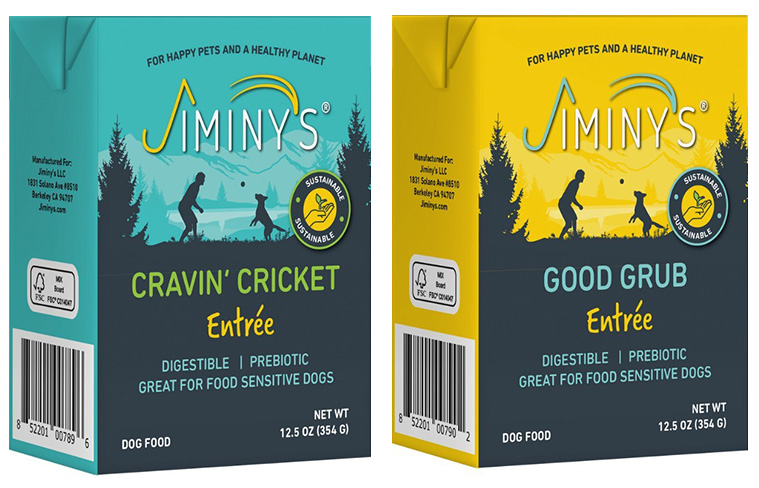 Building on its insect-based dog food and treat portfolio, Jiminy's has introduced two wet dog food formulas to complement its Cravin' Cricket and Good Grub complete-and-balanced dry diets. Both new wet formulas can be served as a full meal or be used as a meal topper. Cravin' Cricket includes carrots, green beans, garbanzo beans, pumpkin and crickets, while Good Grub contains carrots, green beans, sweet potato, flaxseed, pumpkin, and black soldier fly larvae (BSFL). Both wet dog food recipes are cooked at low temperatures and under high pressure to protect nutritional value and are packaged in recyclable Tetra Pak packaging.
Wet innovation
Jiminy's is one of many pet nutrition brands currently expanding their presence in the wet pet food space. Champion Petfoods, which already offers an extensive wet portfolio for dogs and cats within its ORIJEN and ACANA brands, will launch a new ORIJEN Premium Wet Cat Food line this summer. The new line will include five paté formulas — Original, Regional Red, Duck & Chicken, Tuna, Salmon & Beef, and Chicken & Salmon for kittens — each with 95% "WholePrey" animal ingredients in each recipe.
Merging its experience in wet pet food with a trend toward marine-based oils, Caru Pet Food introduced four new products at Global Pet Expo: two Balanced Omega Blend Stews and two Enriched Omega 3 Bone Broths. Marine microalgae oil makes an appearance in all four formulas as a source of Omega 3 fatty acids. This fish oil alternative is derived from a non-GMO, sustainable strain of algae and delivers EPA and DHA to dogs and cats. According to Caru, the ingredient supports immunity, heart and kidney health, joint health, skin and coat health and cognition.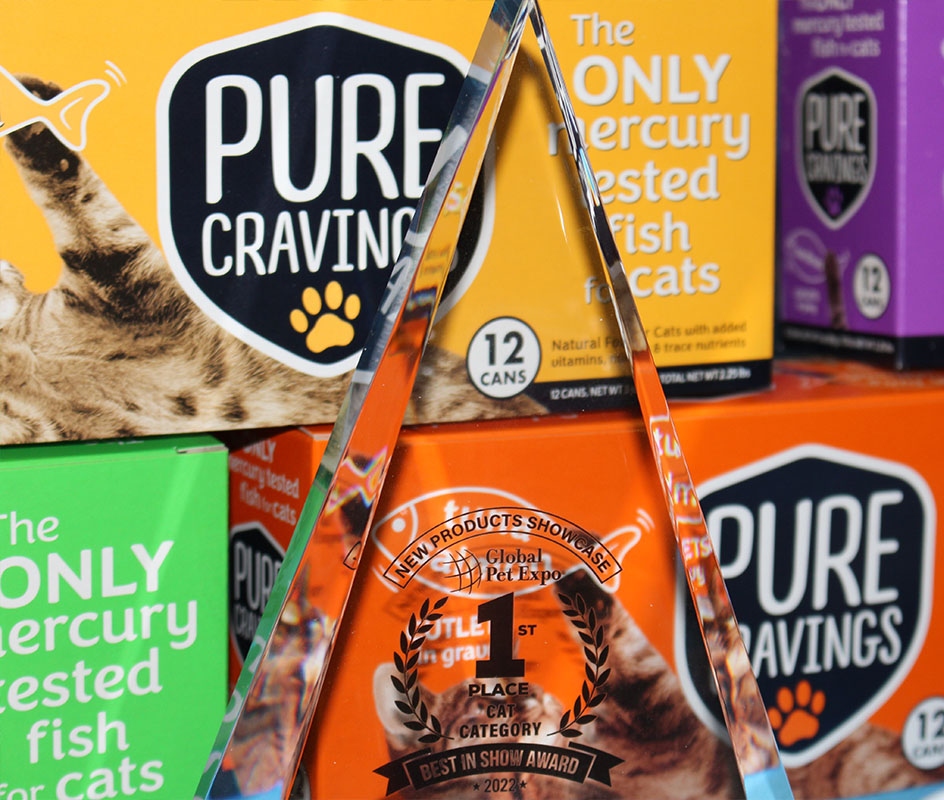 New brand Pure Cravings put its mercury-testing technology and seafood experience in the human space to work in the wet cat food arena. The brand will officially launch this summer. The key value proposition offered by Pure Cravings is its mercury-tested formulations, which address levels of this metal in common seafoods such as tuna, salmon, mackerel and sardines, each of which are featured in its cat food portfolio. Each formula is non-GMO, human-grade and vetted for sustainable sourcing by the Marine Stewardship Council (MSC). Pure Cravings uses its proprietary mercury-testing technology, which can deliver results in under 60 seconds, to test each and every fish used in its cat food recipes.
Pure Cravings took first place in the Cat Category of the New Product Showcase Awards at Global Pet Expo 2022.
Portland Pet Food Company entered the cat food market this year with two human-grade, shelf-stable Homestyle Cat Meals: Boots' Salmon N' Pumpkin and Luke's Chicken N' Pumpkin. Both new products are intended to be used as a rotational meal or topper to provide a fresh, natural boost to a cat's regular diet.
A fresh perspective
With a few fresh pet food giants currently dominating this category, others are just entering. What's most notable in this category is the emergence of shelf-stable diets that are fresh in appearance, offering the benefits of whole-food nutrition in a humanized format but without the need for pet owners to manage refrigeration and thawing.
In an effort to promote the limited-ingredient diet as a feeding system, Natural Balance recently extended its portfolio to include Platefulls Pouches shelf-stable fresh diets for dogs. The diets are cooked in bone broth — another format gaining traction in the pet nutrition space — for added palatability.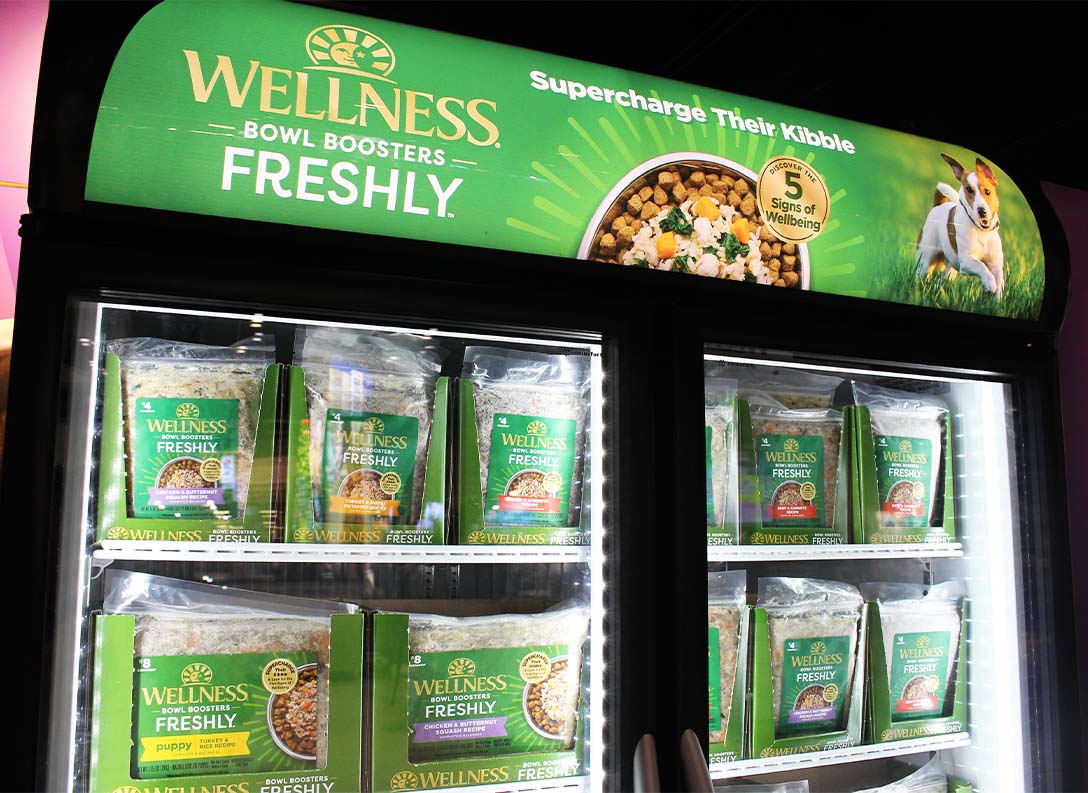 Wellness Pet Company will soon enter the fresh, refrigerated category with its new CORE Bowl Boosters Freshly line. These products are complete-and-balanced but will be marketed as meal toppers to entice pet owners new to the fresh category. The Freshly line will feature four formulas to "supercharge" a dog's kibble: Chicken & Butternut Squash, Beef & Carrots and Turkey & Sweet Potatoes for adult dogs, and a Turkey & Rice Recipe for puppies. These new products will be launched later this spring and sold in branded refrigerators at retail stores.
Supplements
One trend sure to endure the test of time is functional or solutions-based nutrition. Now that the vast majority of pet owners firmly consider their dogs and cats to be four-legged members of the family, pet health supplements are flooding the market with claims that often mirror those seen in human supplements.

Super-premium brand Nulo has taken this in stride with its new line of dog supplements, which features five "solution-focused formulations" addressing key areas of canine health and wellness. The line includes four functional supplements — Probiotic Chews, Calming Chews, Immune Chews and Mobility Chews — and one superfood chew recipe with Omega fatty acids targeting skin and coat health. Each supplement was developed in collaboration with veterinary professionals, animal nutritionists and companion animal dermatologists, according to Nulo.
Open Farm introduced a dog supplement line of its own — Pure & Purposeful — during Global Pet Expo, featuring five veterinarian-formulated options with 100% traceable ingredients. Three of the five formulas are plant powered.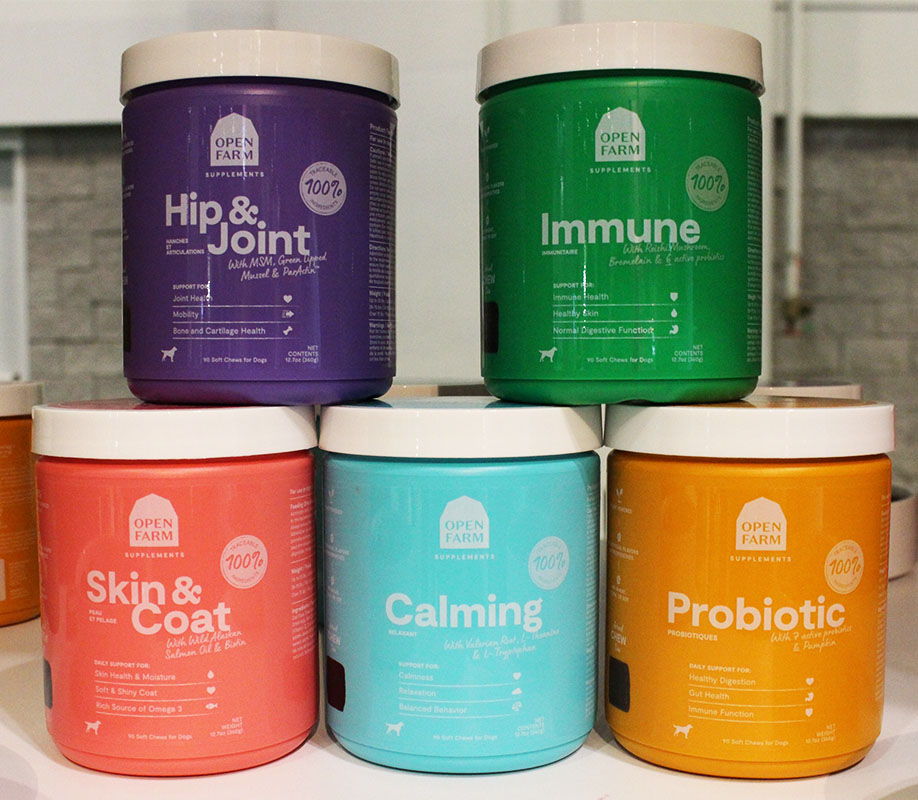 The soft chew supplement line includes a Hip & Joint option with methylsulfonylmethane, vitamin C, turmeric and Green Lipped Mussel to target joint health and mobility; a Skin & Coat formula with Omega 3 and 6 fatty acids and biotin; Calming Chews with hemp seed oil, passion flower, chamomile, valerian and ginger root, L-theanine and L-tryptophan; Probiotic Chews featuring several probiotic strains to support skin and coat health; and Immune Chews with turmeric, apple cider vinegar, Chaga and Reishi mushroom and a six-strain probiotic blend to address digestion, immunity and skin health.
Bocce's Bakery recently entered the cat treat category and continues to expand with the launch of its new dog and cat supplements line. These supplements took first place in the Natural Category of the New Product Showcase Awards at Global Pet Expo 2022.
Regardless of federal regulation, hemp- and CBD-based supplements will continue cropping up to address pet health needs, but other functional ingredients are becoming more mainstream to address common concerns in pet health and wellness.
These few examples barely scratch the surface of the now-saturated market for dog and cat supplements. As function remains a focus for pet owners, the onus is on brands and manufacturers to differentiate themselves in this space.
Honorable mention – collagen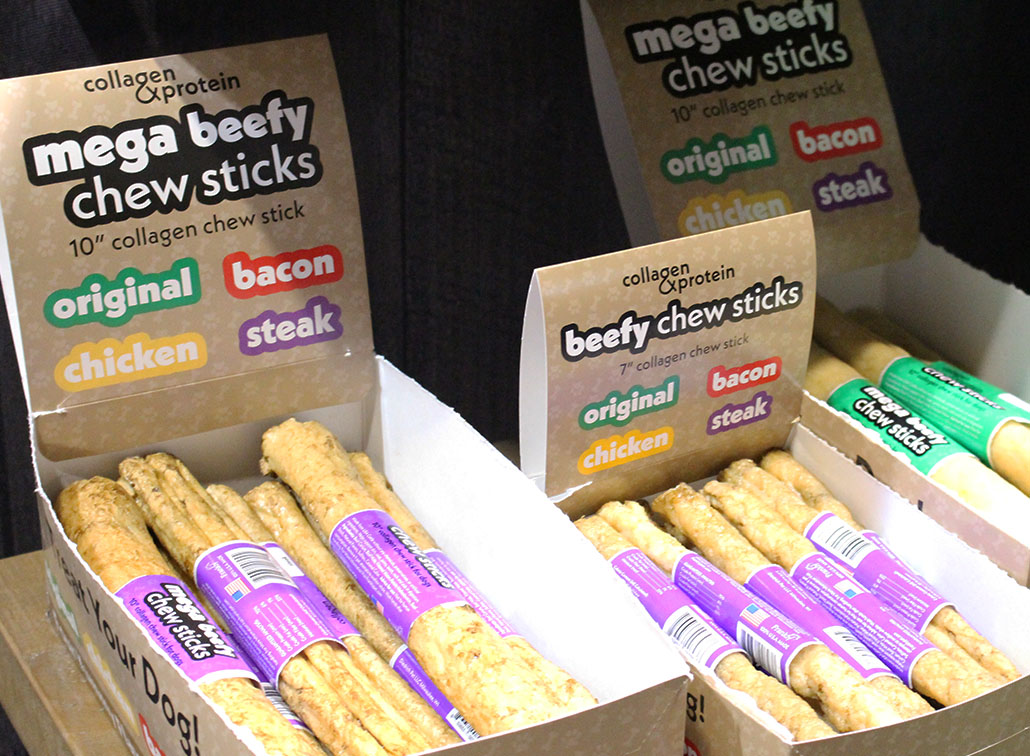 Showcased as a functional rawhide alternative by some brands and a category of its own by others, collagen is being seen increasingly among pet chew products. Brands like Frankly Pet, which now offers puffed collagen treats for dogs alongside a robust line of collagen chews for dogs, are translating the human health benefits of collagen to the pet nutrition space. According to Frankly Pet, the ingredient offers benefits for mobility, bone and nail strength, as well as coat health.
Barkworthies is also expanding in the collagen category with chews that are highly digestible, support dental health and promote overall wellness in dogs. The company, which also offers antler and bully stick chews, showcased bare, wrapped and flavored Collagen Beef Sticks and Collagen Braids at Global Pet Expo this year.
Overall, the continued focus on functionality, the adoption of novel ingredients and the proliferation of pet nutrition formats beyond dry and wet will all be trends to watch as the industry evolves.
Keep up with the latest pet food trends on our Trends page, and read more of our Global Pet Expo coverage here.