This article was published in the March 2021 issue of Pet Food Processing. Read it and other articles from this issue in our March digital edition.
Freeze dried pet foods, treats and added freeze-dried bits and inclusions to traditional kibble are very popular with the segment, increasing 13.3% since the COVID-19 pandemic began, according to Nielsen.
So, it's not too surprising that many manufacturers are investing in freeze-dried equipment and upping their production levels.
Helen Ashworth, business manager for New Zealand-based Cuddon Freeze Dry, noted the COVID-19 pandemic has highlighted the importance of business resilience, and the need for the company's pet food clients to have the right equipment and skills to deliver freeze-dried products to the market while being agile in the uncertain climate.
"Efficient working practices with a clear understanding of whole-of-life operational costs means you can hit the market with the right product at the right time, in sufficient quantity to meet demand," she said.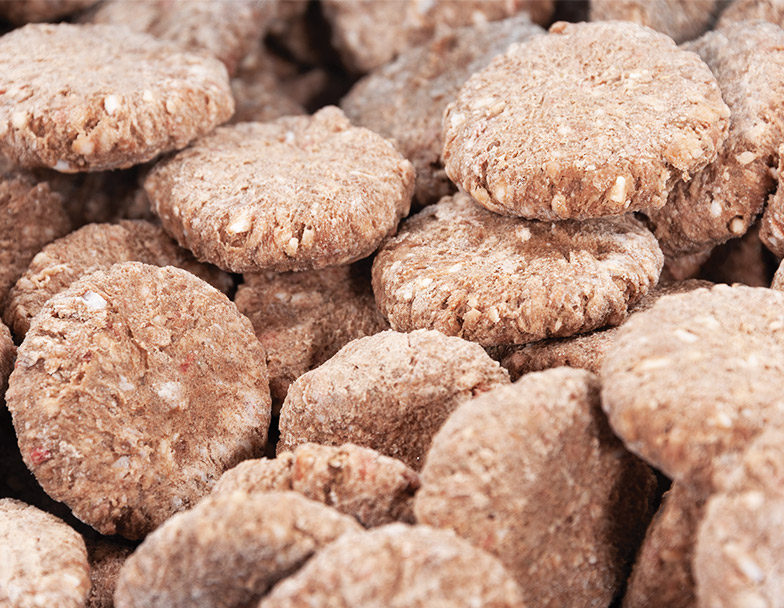 Ashworth noted there are two main growth areas for freeze-dried pet food product: taking the very best raw or pre-prepared product, harvested at its optimal time, and freeze drying it with minimal handling; and creating value out of waste products, producing a completely new set of ingredients for either whole foods, treats or health supplements.
"Therefore, these products need the range of functionality in the equipment used to produce them to allow product creators to explore the envelope and develop a production process that makes that product sing, and which end users are prepared to pay for in the marketplace," she said.
Steven Moore, director of food safety, quality and innovation for Omaha, Neb.-based Petsource by Scoular, said there has been an increased focus lately on whole-animal nutrition with a drive toward exact percentages of proteins and vegetables.
"We are also seeing more functional formulas for solutions toward a specific benefit, i.e. digestibility, coat health, weight control," he said. "We continue to see tremendous opportunities for innovation in the freeze-dried ingredient space, both within the complete meal and treat product offerings. Pet owners have a strong interest in providing their pets with feeding options which are high in protein and yet convenient to feed; freeze-dried provides a great solution for both of these preferences."
Jon Heussner, director of operations and engineering, Petsource by Scoular, added the company's freeze-dry chambers can process approximately 4,000 to 5,000 lbs per cycle, which can last anywhere from 10 to 18 hours.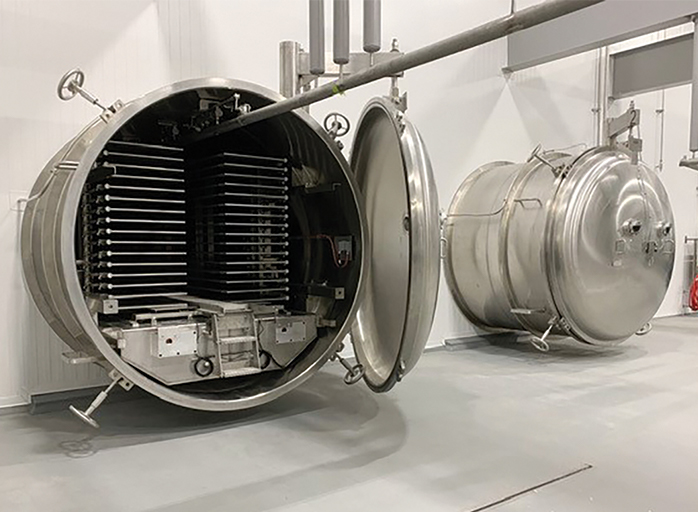 "There are many variables to consider when determining the correct size system for your operations, such as a company's growth strategy, markets to pursue, access to capital, and having a team that can execute," he said. "You want to make sound business decisions and not overbuy, and to make sure your return on investment meets your company's expectations."
Brian Mumford, chief operating officer, ProForm Fabrication, LLC, Winstead, Minn., parent company of Parker Freeze Dry, which produces freeze-dried equipment for the pet food industry, said the company has beefed up efforts to appeal to both processors and at-home producers.
That has led to the testing of its new Parker 16-R freeze dryer, which can handle approximately 4,000 lbs of pre-freeze-dried product per cycle, an increase of 1,500 lbs from its previous machines.
"One of the key challenges in freeze drying has always been the capital cost required to increase production volume," Mumford said. "Parker Freeze Dry offers its customers the opportunity to finance a freeze dryer through a lender that is familiar with the business. This has opened opportunities to more buyers and streamlined the qualification process. Parker Freeze Dry is also entering new niche markets by allowing opportunities to lease its freeze-dry technology."
Maintenance matters
During COVID, lockdowns made the ability to call in onsite support extremely limited, meaning reliable machinery with minimal maintenance requirements was as important as ever.
"Being able to produce consistent results every single time is the foundation to a quality freeze-dried product," said Helen Ashworth, Cuddon Freeze Dry.
"Being able to produce consistent results every single time is the foundation to a quality freeze-dried product," Ashworth said. "Operators and maintainers can already dial into their Cuddon Freeze Dryer from the computer or mobile phone, hence reducing the need for on-site monitoring and additional staff. We can also adapt our trolleys to match the optimal height for individual staff, and we have an automatic tray loader under development."
She added most maintenance routines can be carried out quickly by the maintenance team during the load/unload, so no time is lost to maintenance.
Going in-house
For pet food companies looking to expand in the freeze-dry category, having equipment in-house offers certain benefits such as the ability to monitor quality control and respond quickly to market demands. Those with their own freeze-dry equipment can rapidly prototype new products, tweak the product preparation and freeze-dry recipe as many times as they want to achieve the desired results.  
"An in-house system means you have total control over the product from start to finish and it also protects your intellectual property, which is the freeze-dry recipe developed specifically for your product," Ashworth said. "Anyone can freeze dry a product – it's easy, but your time and effort to develop a recipe to optimize your product is what differentiates 'good' from 'bad.'"
During the latter months of 2020, Grand Prairie, Texas-based Prairie Dog Pet Products, a manufacturer of freeze-dried, smoked and natural pet treats, invested heavily in its freeze-drying equipment and is allocating an additional $18 million this year. That money will go toward the installation of 300% more freeze-drying capacity at its Abilene, Texas plant, and Individual Quick Freeze (IQF) technology to support freeze-dried volumes and initiate frozen diets.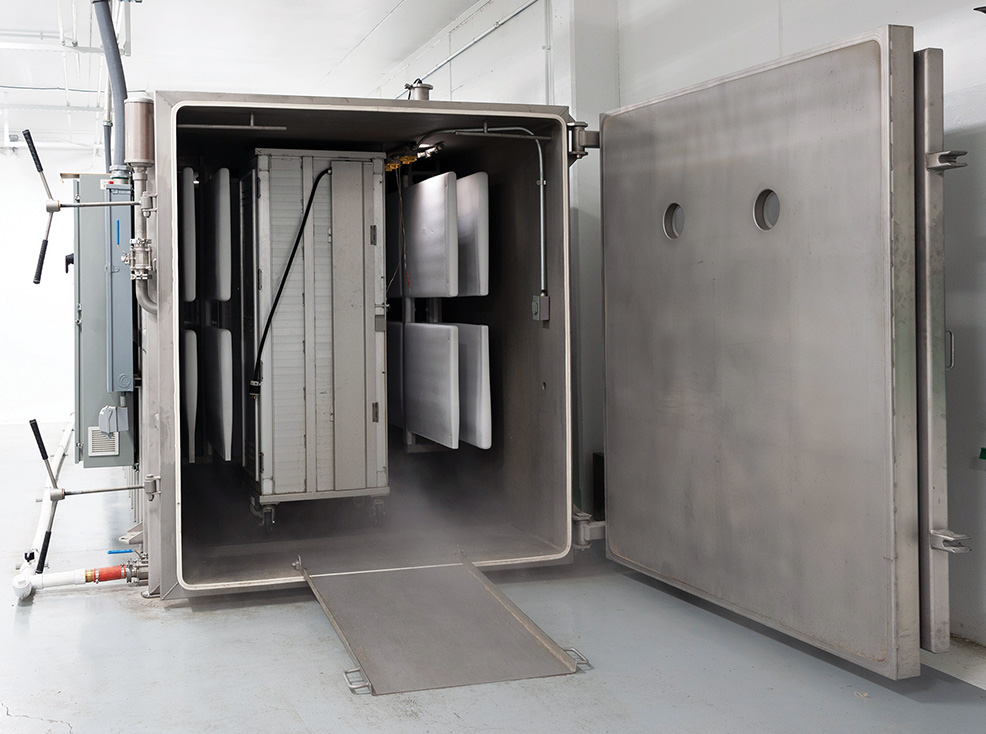 Ted Mischaikov, chief executive officer of Prairie Dog, noted the move was made to expand its output across its manufactured product lines while increasing food safety and innovation.
"These capital and process initiatives will increase our prowess and capacity to create the clean, healthy nutrition customers expect and their pets absolutely deserve," he said. "We're advancing aggressively into the future technologies and processes that best serve our brand partners and the pets they feed."
Mitch Felderhoff, owner and president of sales and marketing for Muenster Milling, headquartered in Muenster, Texas, shared the company uses a combination of large Parker freeze dryers and home-built units with custom control boxes.
"The customized units are smaller than the large units and allow us to produce a more diverse product mix as we can do batches as small as 800 lbs," he said. "It has worked great for us in the R&D phase as well, allowing us to perfect the recipe prior to scaling to larger production runs."
Streamlining the manual steps
Loading and unloading trays of freeze-dried products is typically a manual and time-consuming process. Ashworth said that by careful management of start times on each freeze-dry cycle, a company can optimize a cascade system whereby each machine finishes its cycle just as you are due to finish unloading the last one.  
"This means your loading/unloading team can move seamlessly from one machine to the next, with next to no downtime," she said.
Heussner said tray loading is a key step for successful freeze drying, not only in the physical handling, but in the product loading, uniformity in the tray and consistency.
"While optimization of this process is a key area for future innovation, we would never want to lose the personal employee oversight and examination of the product prior to and immediately after the freeze-dry process," he said.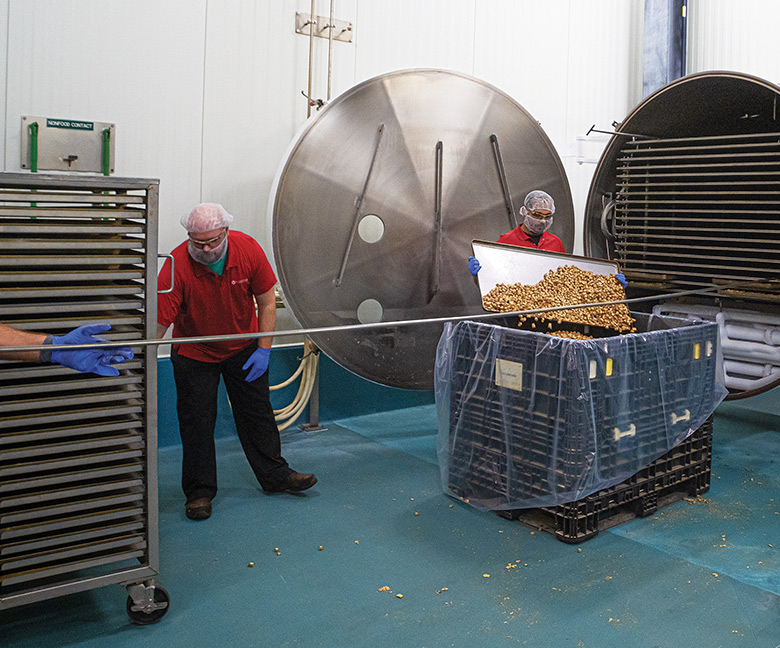 Looking ahead
Interest in environmental manufacturing and sustainability includes green manufacturing processes for freeze-dry equipment and machinery, low-energy operation and use of renewables, plus environmentally compliant refrigerant gases, oils and fluids.
Ashworth noted there are innovations around the efficiencies and environmental factors that go into the manufacture of a freeze-dry machine — such as the types of ice trap, refrigeration and vacuum systems used — but the biggest area of focus for OEMs right now is around refrigerant gases and the recent global initiatives to reduce global warming caused by these gases.
"There is a move toward lower GWP refrigerants, especially naturally occurring gases such as Ammonia and CO2," Ashworth said. "Our utopia right now is to develop a completely green freeze dryer using renewable resources in both manufacture and operation. Every step we take toward a more efficient and environmentally friendly machine is a step in the right direction."
Find more articles about the latest pet food processing technologies on our Equipment page.