LONDON — In more ways than one, the coronavirus pandemic acted as a catalyst propelling global pet care sales to new heights. The global pet food industry was already growing at a strong rate pre-pandemic, but certain COVID-19 repercussions accelerated this growth and are expected to sustain it for years to come.
Jared Koerten, senior head of pet care research at Euromonitor International, touched on some of these repercussions in an April 2021 presentation titled, "Pet Care Outlook: What trends will outlast the pandemic?"
"Historically, the industry has grown at about 5.5% per year," Koerten said. "Of course, we saw this massive spike during the pandemic where that number jumps up to a CAGR over 8% in 2020 and again in 2021 as that surge continues," he continued. "But even after this, we are expecting that growth from 2022 will remain significantly elevated relative to that pre-pandemic norm… to a 7% CAGR."
The continued premiumization and humanization of pet food and treat products is one key contributor to this unprecedented growth.

"Premium pet food surged again in 2020," Koerten said. "We saw premium food gain a ton of share over the mid-priced and especially economy-positioned products, not the trading down that we might have expected under a pandemic but, again, it's all about that shift in household ownership."
Koerten also mentioned branded products gained share over private label products in 2020, another unexpected result of a pandemic-era economy.
But it's not just premiumization that's driving the global pet food market forward. It's also due to an increase in pet population among higher-income households in developed countries, and the willingness of those households to spend increasing amounts on their pets each year.
"Pet ownership surged in North America, Western Europe and Australasia that had long seen sluggish pet population growth, but suddenly outperformed historic averages," claims Koerten.
On average, pet owners in Australasia spent roughly $275 on dog or cat food in 2020, while owners in North America spent $211 and those in Western Europe spent about $182.
Pet ownership among US households earning more than $150,000 per year grew by 8.6% from 2019 to 2020. Over this same period, US households earning more than $100,000 annually represented the most growth in pet ownership, while pet ownership rates of lower-income households declined or went unchanged.
"This is the highest growth we've seen on record for the global pet care industry," said Jared Koerten, senior head of pet care research at Euromonitor International.
Increased pet spending went hand-in-hand with people spending more time at home, increasing time spent with pets and the potential for treating opportunities, Koerten added.
"Treats are, by far, the leading segment for industry growth in pet food in 2020," Koerten said, growing in the double-digits compared to dry and wet foods, which grew in the high single-digits globally.
This uptick in pet spending resulted in more than $103 billion in sales for the United States pet care industry alone in 2020. A large portion of that revenue came directly from pet food and treat purchases, which weighed in at roughly $42 billion last year, according to the American Pet Products Association (APPA).
According to Euromonitor, global pet care sales grew 8.7% in 2020, with pet food sales growing at 8.1%, pet accessories growing at 10.3%, and beauty and grooming product sales up 11.3%.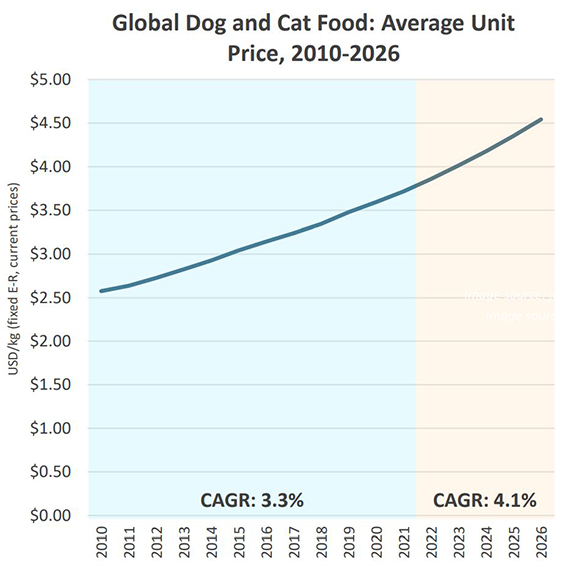 Koerten described these gains as a "historic, record-setting performance for the industry despite this massive economic downturn."
"In fact, this is the highest growth we've seen on record for the global pet care industry," he noted.
The average unit price for pet food products has been on a steady incline since 2010, representing a 3.3% CAGR over the last decade, according to Euromonitor.
"Moving forward, we're expecting that to accelerate to a CAGR of more than 4% as these premiumization trends continue to accelerate with this new base of higher-income households," Koerten said.
As we know by now, the retail environment for pet product was forever changed by COVID-19, according to several market research firms including Euromonitor.
"The pandemic accelerated ongoing channel shifts to e-commerce as owners avoided unnecessary trips to pet specialty channels," Koerten said.
E-commerce sales grew from 16% of the total market in 2019 to 21% of the market in 2020, which Koerten called "a product of the pandemic." This shift is expected to accelerate from this point. Euromonitor is projecting 7% sales growth for online pet care sales by 2026, which means nearly one third of all global pet care purchases (between 30% and 35%) would be made online.
"We obviously need to think about e-commerce, but we also have to think about this new era of digital engagement with pets and how we can reach pet owners through new types of media, whether it's livestreaming or social selling or digital influencers, these are all going to become much, much more important in the coming years," Koreten added.
Segments to watch
Koerten highlighted long-term shifts to watch in the premium pet food and treat space in three areas: digitalization, premiumization and sustainability.
Digitalization speaks to the rise in e-commerce, as well as pet owners' turning to the internet more often to conduct research about the products they purchase for their pets.
In the area of premiumization, he noted what he calls "the kibble disconnect" as a major driver behind the rise of new food formats, specifically fresh, freeze-dried and raw pet diets, and new wet options including stews, soups and broths.
"Premiumization is alive and well and will probably accelerate now moving into the future," Koerten said.
Koerten explained his kibble disconnect theory by saying, "What we've seen historically is a lot of great marketing on packaging with big images of fresh ingredients, or a wilderness scene, or these all-meat claims on the packaging, but then you open it and you get the same sort of processed dry kibble that doesn't really look like anything that the bag is claiming is in there in terms of final product format."
This is where new food formats are seizing the opportunity to produce more wholesome-looking pet food products that resemble or use similar marketing language as human food products.
He also said he believes fresh pet food and freeze-dried/raw options pose unique opportunities for e-commerce.
"The rise in e-commerce has now allowed these fresh food brands to sell directly to consumers on a subscription basis, and it really is revolutionary, I think, for the potential of these freshly cooked foods to drive a lot of growth in the future," he said.

Freeze-dried raw is another up-and-coming category, becoming more widely available and at a steep increase in price per lb compared to more traditional pet food formats.
"In the two largest global pet food markets — the US and China — freeze-dried products continue to reach out and gain more and more share in both of those markets over time, as this interest in raw food and the very premium nature of those products continues to accelerate," Koerten noted.
Premiumization also encompasses consumer demands for locally sourced and functional or solution-based pet products. According to Euromonitor, pet owners are more likely to look for locally sourced or manufactured products than non-pet owning consumers.
"Premiumization is alive and well and will probably accelerate now moving into the future," Koerten concluded.
Keep up with the latest pet food trends on our Trends page.