LONDON — The Pet Food Manufacturers Association (PFMA), a trade industry organization for pet food and treat manufacturers in the United Kingdom, has released the latest pet population data.
There are roughly 12 million dogs and 12 million cats living in the United Kingdom, which make up a majority of the total 34 million domestic companion animals living in approximately 17 million households throughout the country today. Roughly 3.2 million households acquired a pet since the start of the COVID-19 pandemic, with most (59%) new pet owners representing Gen Z and Millennial cohorts (ages 16-34).
"Our research confirms the belief that many more people are benefitting from pet ownership and we are reassured by the mental health findings," said Nicole Paley, deputy chief executive officer of PFMA. "However, it is clear that we need to consider the welfare of these new pets. As our survey highlights, introducing a pet to a household in Covid times can have repercussions or create some unexpected difficulties.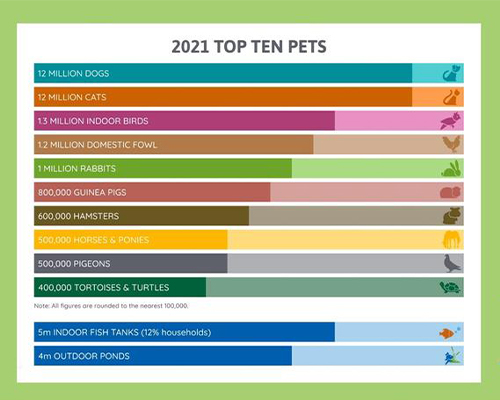 "Perhaps worryingly, although just 15% have a pet-friendly office environment, only 10% were concerned about returning to work and spending less time with their pet," Paley continued. "This figure rises among younger generations with 15% of 16- to 34-year-olds concerned about spending less time with their pet in the future. We must work together with the pet care sector to ensure the 3.2 million households with new pets get the support they need. This is in terms of access to educational material, training and adequate flexible working from home or pets in the office policies."
PFMA's pet study was conducted in partnership with Kantar and Soulor Consulting with a sample of 5,093 adults living in the United Kingdom. The survey is typically conducted in-person but, due to pandemic-related challenges, the 2021 survey was conducted online. This caused a discrepancy in comparison data, as the representative sample of pet owners was roughly 1,000 more than in previous years.
Stay up to date on the latest pet food processing industry headlines on our News page.