This article was published in the December 2020 issue of Pet Food Processing. Read it and other articles from this issue in our December digital edition.
Once siblings Sarah Barrett Reiner and Tom Barrett learned the used twin-screw extruder their father, Mike, had purchased to make organic fertilizer for golf courses was better at making premium pet food, their course was set. Both Sarah and Tom were in their early twenties when their father asked them to help with the family business in Brainerd, Minn. At that time — around 2007 — the family had one manufacturing facility built on the family's 2,000-acre farm and they were making extruded fertilizer with moderate success.
When Mike purchased the used equipment to manufacture fertilizer, he acquired a Wenger TX144 twin-screw extruder. Sarah, who studied agricultural engineering in college prior to returning to Brainerd to help her father with his new fertilizer venture, attended a Wenger training session in Sabetha, Kan., and learned that the equipment her family had was designed for pet food and human food manufacturing. At that point, it seems as though the pet food manufacturing industry found the Barrett family rather than the other way around, and Barrett Petfood Innovations (BPI) was born.
Tom joined his sister in the pet food business in 2009 and both Sarah and Tom credit much of their success to key mentors in the pet food industry who shared their knowledge and graciously helped them learn how best to use the equipment they had. Tom said their "aha moment" when they realized the vast potential of the pet food market was when they attended their first Global Pet Expo. Visiting that show for the very first time helped them meet key mentors who have continued to guide them along their journey.
"We challenged ourselves right from the beginning to make high-end product," Tom said. "Mostly because of the customer base. They would find out that these kids in Minnesota have a twin-screw and they would give us a call. Being so young, we were eager to soak up all that we could learn."
Sarah added, "We got a lot of advice based on the equipment we had. We said no to nothing and that taught us a lot."
"We got a lot of advice based on the equipment we had. We said no to nothing and that taught us a lot," Sarah said.
Business was not easy in the beginning but together the family found a path. Around 2010 they were very close to being out of business but were able to refinance and started to work with some promising customers. Between 2010 and 2011, they went from running production two days a month to running one shift a day, four days a week. The first pet product they produced was bird food, which they still manufacture today and accounts for about 5% of their business. They proudly point out they are still manufacturing products for their very first customer.
"I think our biggest success has been just taking all of the information that we learned from every different person that came through this facility, which would be hundreds over the last 10 years, and applying it to make us better," Tom said. "Changing and improving to meet our customers' needs has been one thing that sets us apart."
Both Sarah and Tom are heavily involved in the daily operations and each can run any area of the plant. Sarah was the first extruder operator for BPI and the lead boiler operator. Both she and Tom wear multiple hats.
"We are proud of the fact that we own the company and I could go run the meat room today, Sarah could run our mill," Tom said. "We know every piece of moving equipment in the facility and probably understand the equipment and the operation of our plants better than any CEO out there because we learned from the bottom up."
The company became profitable in 2011 and has doubled revenues every year since. Tom said the profit the company has made during the past nine years has been invested back into BPI with several expansions of the original facility in Brainerd that is now 140,000 square feet, and the new 170,000-square-foot plant in Little Falls, Minn., which went online in July. BPI currently employees more than 250 people, an increase of 120 in the past year alone.
In the early days, about 70% of BPI's production was bird and small animal food. Today, 85% of production is premium dog food, 10% is premium cat food, 5% is bird food, small animal food and some treats for cats and dogs.
Maximum capacity
As business grew, BPI invested in the Brainerd facility with several expansions that improved its milling, fresh-meat handling, drying, conveying and packaging capabilities. That investment in Brainerd has continued as the company just completed a mill addition that went online in October.
Early on, BPI expanded Brainerd's fresh-meat formulation capabilities so frozen meat blocks could be emulsified and blended in-house and then pumped to the extruder. The Brainerd facility can process 80,000 lbs of meat per day. A focus on high-end pet food with high meat content became BPI's specialty, primarily because they had the extrusion equipment that could deliver what the market was asking for.
"We were grain-free before grain-free was cool and high-meat before that was very popular," Tom said.
In addition to fresh-meat formulations, farming and milling their own ingredients also is a specialty and includes the crops Mike grows on the family farm. Current crops coming from the Barrett farm include millet, milo, chickpeas, peas, spelt, oats and sunflowers, which BPI has locally cold-pressed into sunflower oil for use in its pet foods.
The Brainerd facility can produce about 10,000 lbs per hour of extruded products. In addition to the Wenger TX144 extrusion system, this plant also has a Wenger sanitary dryer, a vertical cooler from Extru-Tech, Sabetha, a coating system from Automated Process Equipment Corporation (APEC), Lake Odessa, Mich., dense phase conveyance from Horizon PSI, Lawrence, Kan., and a hammermill from Bliss Industries, Ponca City, Okla.
The company's approach to milled ingredients is another area that sets BPI apart. The company brings raw materials in and mills it themselves. The recently finished milling addition also includes the new hammermill, all new filters, new air conveyance, an additional APEC micro-blender, and automation controls from NorthWind Technical Services, Sabetha. The milling addition gives BPI a blending capacity of up to 50,000 lbs per hour, increases the company's milling capabilities and supplies dry ingredients for both plants.
"For us, it was a natural decision to build a new plant knowing if we continue to grow with our customers, they'll stay with us," Sarah said.
While plant expansions and improvements at the Brainerd plant helped increase capacity, BPI couldn't keep up with orders. By 2018, BPI was running three shifts, did not have much capacity left and was manufacturing products for some of the fastest growing brands in America. This made it clear to Sarah and Tom that they needed an additional production facility to meet their customers' needs.
"We don't want to kick out customers because we're out of capacity," Sarah said. "It's a partnership. For us, it was a natural decision to build a new plant knowing if we continue to grow with our customers, they'll stay with us."
A penny deal
When BPI began to look for a location to build a second manufacturing facility, Community Development of Morrison County and the city of Little Falls, Minn. rolled out the red carpet.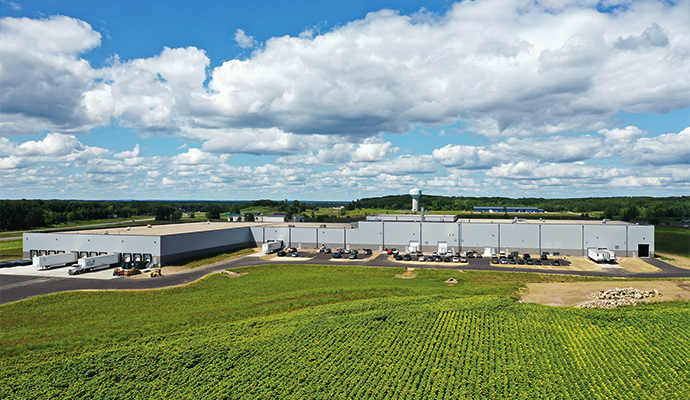 "Carol Anderson with Community Development of Morrison County in Little Falls organized a meeting with us and about 30 people from the county, the city, the mayor, USDA, the utility companies and about everyone else who would be involved if we built a facility in that town," Tom said. "The group presented a plan to us with an offer to sell us a 52-acre lot right on Highway 10 for a penny in addition to other economic incentives, making it clear they wanted us to build our new plant in Little Falls. So, that was it. We said okay and they have been excellent to work with throughout."
Located about 30 miles southwest of Brainerd, Little Falls made an offer BPI couldn't refuse. At that time, BPI had 170 employees in Brainerd, some of whom lived in Little Falls. Tom and Sarah knew it would be difficult to hire an additional 100 or more employees if they located the new plant in Brainerd. This fact also helped cement the decision to build in Little Falls.
In just 11 months from ground-breaking to product coming off the extruder — and during a pandemic — BPI built a new manufacturing facility designed for super premium, high-end pet food production. Sarah and Tom designed the new facility themselves. Actually, how they describe it is they designed the plant around the custom Wenger extrusion system and other processing systems they had selected and then hired a local contractor to build it. Tom pointed out that because he and Sarah have worked every area of the Brainerd plant, they know what works and what doesn't work for their company. The goal for the Little Falls plant was for BPI to have the capability to produce all the same products made in Brainerd but also to be able to produce innovative product formats.
The extrusion system they selected for Little Falls is a Wenger TT3630 thermal twin-screw and is the first of these systems in North America utilized by a contract manufacturer. The TT3630 feeds to a Wenger CVR convection roaster/pre-dryer and the combination of these two new technologies — the thermal twin-screw extruder and the convection roaster — has expanded the product formats BPI can offer to include extruded ultra-high fresh-meat formulas as well as lower-temperature extruded and baked pet food and treats.
Larger in Little Falls
BPI's new plant in Little Falls can produce 20,000 lbs per hour of extruded pet food, double the capacity of their Brainerd facility.
"One of our goals for Little Falls was to improve what we believe were the shortcomings of the Brainerd facility," Tom said. "One shortcoming being the meat room that is 5,000 square feet at best with 8-foot ceilings. For Little Falls, we designed the meat room we always wished we could have."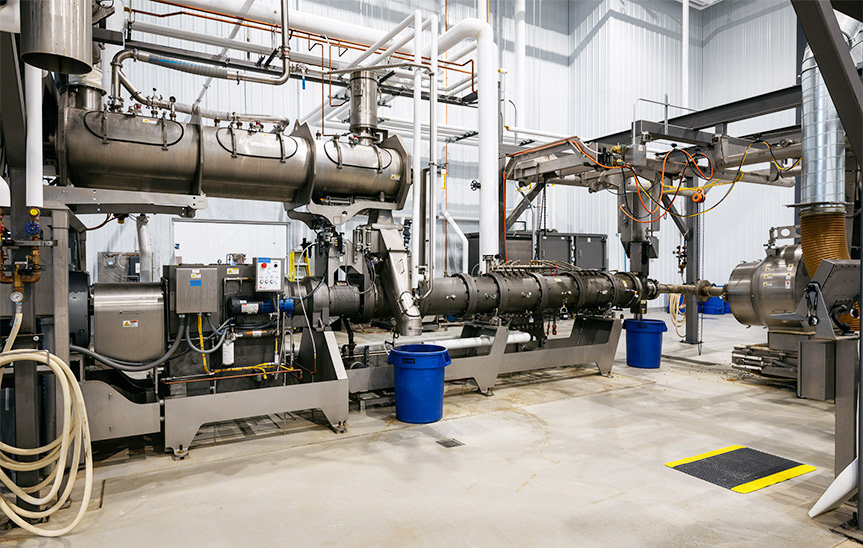 The new meat room in Little Falls is 25,000 square feet with 30-foot ceilings and much of the same top-quality meat processing equipment, but with much larger capacities. One example is they installed a much larger Wolfking frozen-meat grinder. The paddle blender they have in Brainerd has a batch capacity of 600 lbs, while the new Mepaco steam-jacketed paddle blender in Little Falls has a batch capacity of 4,000 lbs.
The Little Falls meat processing room also includes a large-sized Stephan emulsifier in addition to a larger meat feeder pump. The blending and grinding capabilities in the new plant allow BPI to incorporate different meats than what can be processed in Brainerd. The Little Falls' meat room has the potential capacity to process 200,000 lbs per day.
"We do meat a little bit different than most other facilities," Tom said. "We don't bring in a lot of slurries. We have massive freezers. We buy the raw material from the producer, bring it in frozen, grind it frozen and process meat from frozen to ready-for-the-extruder in 40 minutes. Just like the mill, we are producing that meat in real time on schedule with the plant, which gives us more flexibility."
"We do meat a little bit different than most other facilities," Tom said.
The system around which everything was built in Little Falls, the Wenger TT3630 thermal twin-screw extrusion system, is designed to handle ultra-high levels of fresh ingredients. The TT3630 feeds to a three-pass, three-section CVR convection roaster/pre-dryer, which allows for higher levels of fresh ingredients in kibble plus the addition of roasting and baking capabilities. The CVR removes moisture, increases the overall dryer capacity and prevents the dryer from being a bottleneck. The CVR is in the same room as the TT3630 extruder but sits in a pit to allow product to flow directly from the extruder on a very short conveyor into the convection roaster.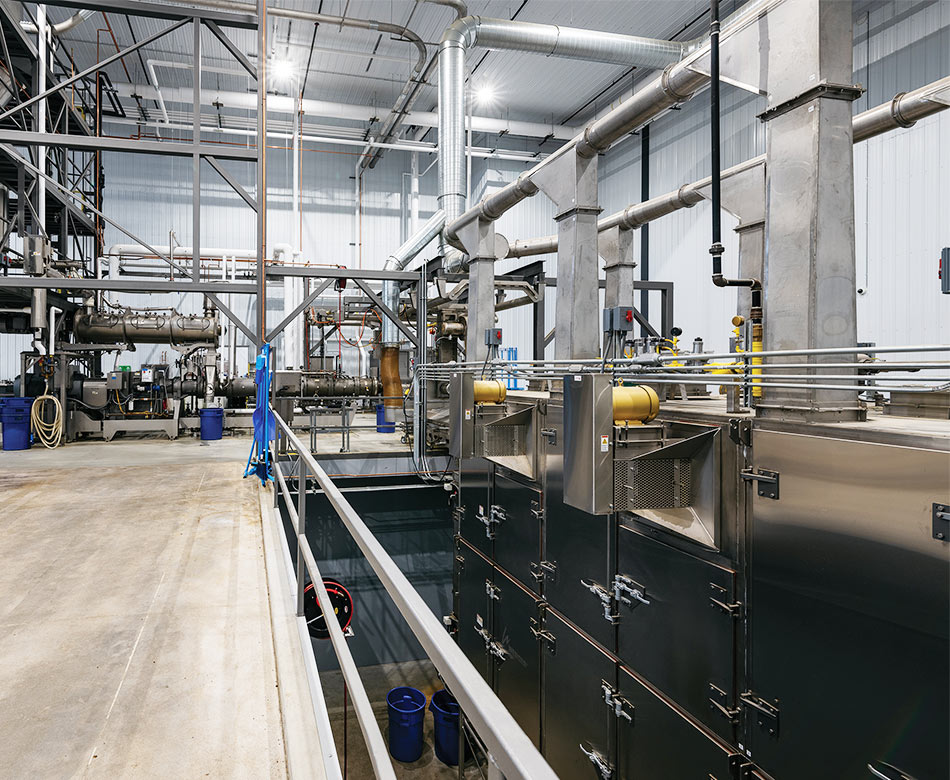 "With high meat, we can get some additional cook out of the CVR because product is delivered to the CVR so quickly after the extruder," Sarah said. "The CVR provides us with additional cook and case-hardening of those really high-meat, soft kibble that allows us to then convey it and transport it to our main dryer."
From the CVR, product goes to a Wenger three-pass, four-section sanitary dryer. The combination of the convection roaster/pre-dryer and the sanitary dryer more than doubles BPI's overall drying capacity.
From the dryer, product travels to an Extru-Tech vertical cooler then to a Wenger coating system. From the coating room, product is held in bulk totes until it passes all quality checks. After that, product is released for packaging.
Of the total 170,000 square feet in Little Falls, BPI devoted 60,000 square feet to processing, 30,000 square feet to packaging, 75,000 square feet to warehousing and 5,000 square feet to office and ancillary space.
On the packaging side, Tom said BPI is more manual than most manufacturers with the goal of being a flexible co-packer, able to efficiently handle small runs with many different SKUs. All of the packaging systems in Little Falls were provided by JEM International, Shawnee, Kan.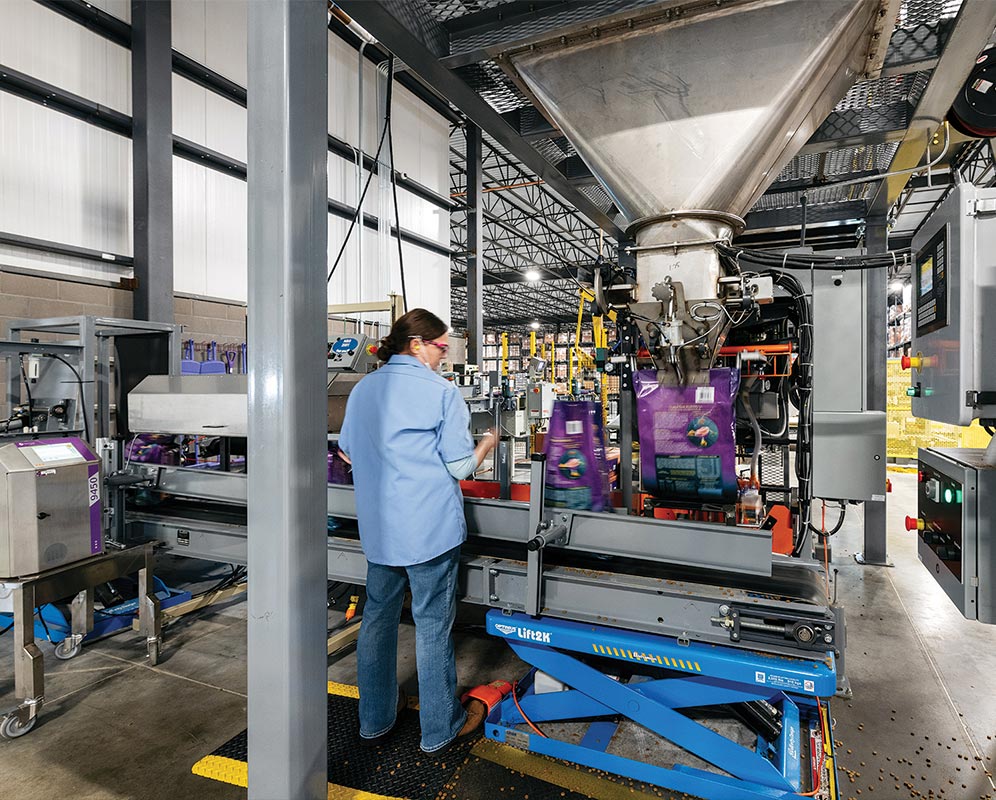 One of the packaging systems JEM International designed is a first-of-its-kind, small package auto-bagger that offers quick, 20-minute packaging changeovers. JEM International also provided net-weight scales for each line along with additional net-weight scales and vibratory conveyors to blend added ingredient inclusions with kibble prior to packaging.
BPI designed its large-bag packaging lines to include more automation with FANUC end-of-line palatizing robots also provided by JEM International.
Better flow
The new plant is much more streamlined and efficient – no offense to the Brainerd plant, which Tom said runs great and successfully produces a lot of product but has certain inefficiencies in its layout. Little Falls was designed to flow better and have greater separation between processing steps.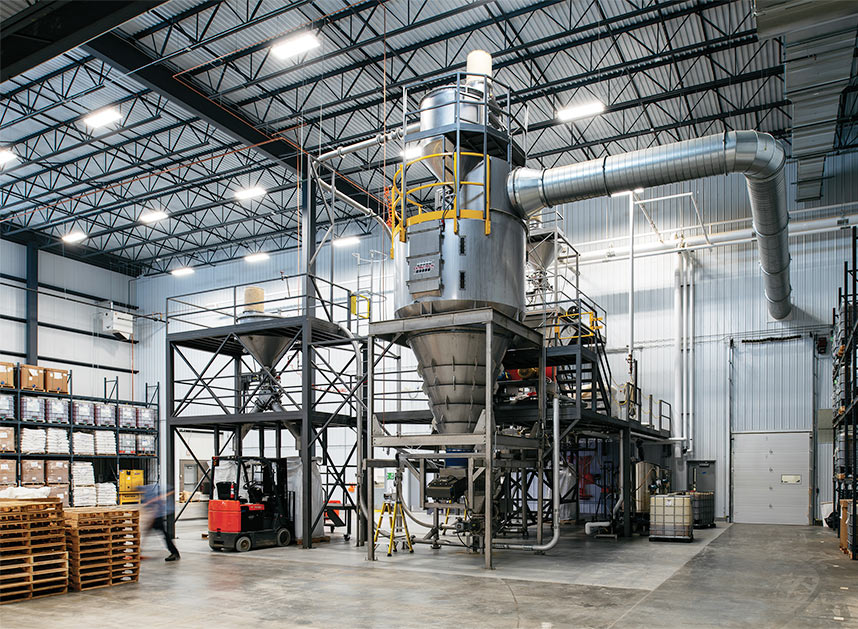 "The process flow in Little Falls is more linear," Tom said. "Flour and meat start at one end and flow right through to the warehouse dock. Also, we wanted a meat room that had enough space so that we could do more innovative things. Now we can do some cool blending in there. We can chop up pumpkins if we want to. We built this massive meat room because, honestly, fresh meat is our calling card. It is what we do."
In addition to optimizing the product flow through the plant, controlling the data flow was also important. BPI uses Plex, Troy, Mich., for the company's enterprise resource planning (ERP) system in both facilities to capture data starting from when a crop or ingredient is received and then tracking the product quality, traceability and overall plant efficiency all the way through to packaging and shipping.
"We can trace a bag to what minute it came off of our production line, where every one of the raw materials came from, and which people were working on the packaging line when it was filled," Tom said. "Our level of traceability is a true differentiator for us and our customers' brands."
Despite the fact that Little Falls was being built during the COVID-19 pandemic, Tom said they did not make any major changes to the plant's design because it already had the space needed to provide safe social distancing within the facility and foot traffic throughout the plant had already been strategically addressed for food safety purposes.
"We did not have to make major changes to the design," Tom said. "There are not many tight spaces in the plant, packaging is in a large area and is laid out nicely to allow for employee separation, and we manage the airflow and filtration within the plant."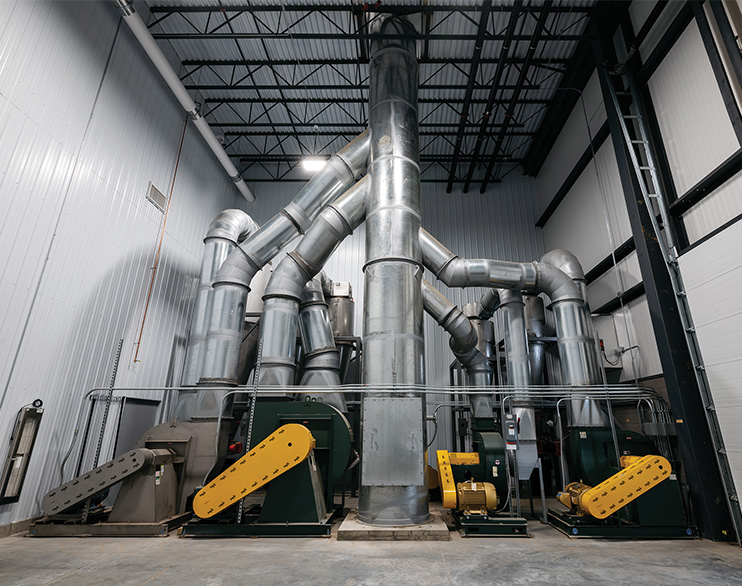 Bright future
With a brand new plant and mill expansion just completed in 2020, it would be understandable for Sarah and Tom to rest a bit. Instead, they say they are exploring options to expand but, as they have done in the past, they plan to do it within their means. Little Falls was designed with room to grow and ready to accommodate another processing line when the time is right.
Sarah said the company's focus will continue to be super premium. Although they produce products for every price range, the bulk of their output is in the super premium category sold in pet specialty, natural grocers and in export markets. The company is currently working toward EU certifications.
By continuing to meet the needs of customers and expanding into additional product formats, Sarah and Tom hope BPI will grow to be a generational business they can pass down to the next Barrett and Reiner clan – none of whom are older than six yet, so it will be a little while.
"We got here by being the twin-screw people," Tom said. "We hope to take that further. Innovation is in our name. We selected what we believe is the best equipment out there and we think it will help bring us to the next level."
Read more of our exclusive pet food and treat processor profiles.