Family-owned Barrett Petfood Innovations is a US-based co-manufacturer that ships globally and sources locally. The company produces more than 150 formulas of animal food for dogs, cats, reptiles, birds, fish, livestock and zoo animals. In the dog and cat food category, Barrett mainly produces super-premium extruded products, such as those with high fresh meat inclusions, as well as premium treats.
The company was founded by Mike Barrett, who passed down the business to his two children, Tom and Sarah Barrett, in the early 2000s. Tom is currently the vice president of business development and purchasing, while Sarah serves as vice president of operations and head of quality and regulatory affairs. Mike is still involved with Barret Petfood Innovations – his farm is one of the company's main ingredient suppliers.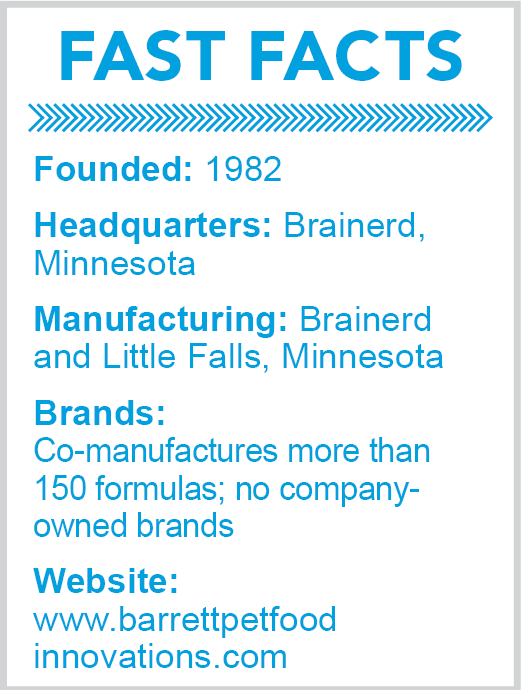 Barrett Petfood Innovations' nutritional philosophy is centered around "keeping it local" by sourcing fresh ingredients from local famers and suppliers whenever possible. Tom says the three most important factors for developing a product that is well-received by the pet owner and the pet are proper nutrition, palatability, and the right marketing and packaging.
Delivering proper nutrition and palatability are essential to helping that pet thrive and maintain a high quality of life, while well-targeted marketing allows that product to stand out on the shelf, Tom explains. As a co-manufacturer in an increasingly fragmented market, Tom says another key aspect of a successful pet food business is product differentiation.
In August 2019, Barrett Petfood Innovations broke ground at its second manufacturing facility in Little Falls, Minnesota. The 160,000-sq.-ft. facility will feature extrusion technology that will allow Barrett to "push the barriers further in fresh ingredients," including fresh meats, fruits and vegetables, Tom says. The Little Falls facility is expected to be fully operational by July 2020.
Read other pet food and treat company profiles featured in our 2019 Resource Guide.