This article was published in the March 2021 issue of Pet Food Processing. Read it and other articles from this issue in our March digital edition.
Occasionally when ingredients are delivered to Wet Noses in Monroe, Wash., the delivery person seems skeptical that the ingredients are indeed for pet food or treat products. This mission-driven processor has found success in only selecting ingredients and processing food that humans could eat as well. But the focus isn't human-worthy dog food, it's dog-worthy dog food. The company's golden rule is, "If you wouldn't eat it, don't feed it to your dog." In the spirit of inclusivity, the company follows the same mission-driven approach when creating products for felines.
Wet Noses currently manufactures private label dog food and treats for national and international retailers, as well as its own brands: Wet Noses, Doggy Delirious and Best Homies. Products are produced in a Safe Quality Food (SQF) Level III-certified, human-grade facility and all Wet Noses diets are formulated without GMOs, corn, wheat, soy, preservatives or artificial ingredients.
Staying true to the company's golden rule has led it along a sometimes-winding but nevertheless successful path since Wet Noses was founded by Jasmine "Jazz" Galligan in 1998. Galligan first started by baking peanut butter and molasses training treats for her own dogs. Then, she ventured into making treats for other people in the Seattle area. One of Galligan's customers happened to be a buyer for a large, 600-store retail company and put in a large order for Wet Noses treats. Galligan pieced together a processing line and produced baked dog treats in her 700-square-foot garage.
"I bought a very old Kook-e-King wire cut cookie depositing machine," Galligan said. "At that point, I turned my garage into a bakery. I would fill sheet pans and carry them across my yard and bake them in the double-sized rack oven in my garage.
"The challenge was always not being able to make enough," Galligan explained. "It was a battle between baking enough and being able to package enough. The recipe and what ingredients to use was never a challenge. Those standards were set in stone and they weren't going to change. I always used human-grade, always used organic and always bought the very best ingredients I could find."
In 2005, Wet Noses moved out of the garage and into its first commercial facility, which was 4,000 square feet of warehouse space. Within two years, the company took over the space next door, and by 2009 Wet Noses moved into a 15,000-square-foot facility and purchased its first tunnel oven which came from an old pita chip company.
"The tunnel oven changed everything," Galligan said. "Until you don't have to do it anymore, you don't realize how much time you're spending filling sheet pans, loading them into the oven, leaving them on racks to cool and then taking finished products off of the sheet pans."
"It was challenging and stressful at times but if the decisions I had to make were for better quality, better consistency, better experience for our customers and better nutrition for dogs, then I was all for it," said Jasmine "Jazz" Galligan.
With a used tunnel oven and an array of used restaurant equipment, Wet Noses continued to grow its baked treat business featuring human-grade and organic ingredients. By 2012, the company had expanded into a 30,000-square-foot space and added a second baking line. At the same time that the Food Safety Modernization Act (FSMA) was ramping up, Wet Noses was pursuing its first SQF certification. Galligan was all for this increased focus on food safety in the pet industry.
"The larger, national customers I was serving started requiring the food safety audits for SQF, BRC and GFSI (Global Food Safety Initiative)," Galligan recalled. "That was another big turning point for us. That changed everything, honestly, for the better. Addressing the whole process for food safety actually helped us become much more efficient. Having batch sheets, testing critical control points every 15 minutes, being able to trace ingredients – food safety is a whole way of thinking and that fit really well with quality being our number one focus."
Galligan described the early years as a blur but said she and the company were like a locomotive that just kept moving forward.
"It was challenging and stressful at times but if the decisions I had to make were for better quality, better consistency, better experience for our customers and better nutrition for dogs, then I was all for it," Galligan said.
Beyond baked
In the early years, Wet Noses was also making frozen food patties, but had to park that product line off to the side in 2005 due to space constraints. It was too challenging to make baked products and frozen products in a 4,000-square-foot space. Those two formats worked against each other in a small area.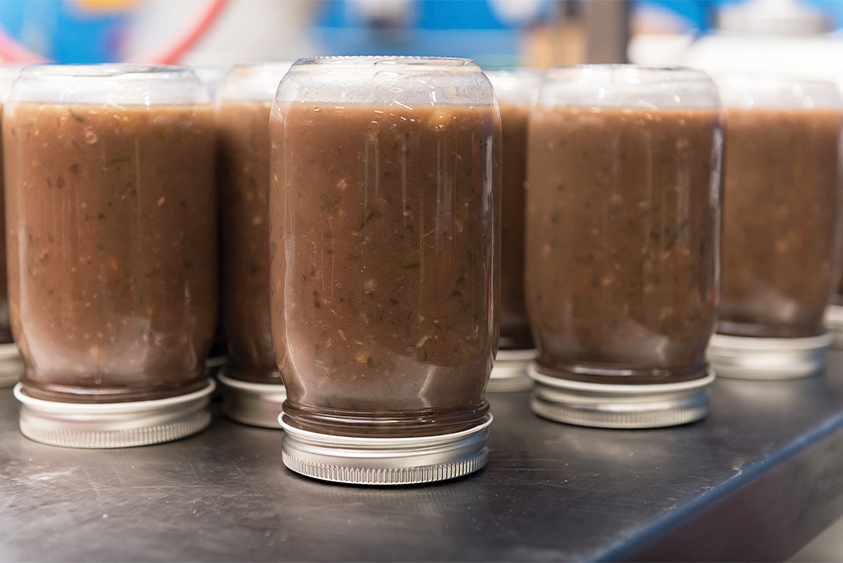 Today, Wet Noses manufactures product in an 87,000-square-foot facility, where 70 employees produce nearly 10 different formats of pet food and treats including the previously sidelined frozen dog food patties. The company's big jump into new formats came in 2014 when they introduced six new products at Global Pet Expo. Some of the new products launched in 2014 included: Wag Soup, a gently cooked shelf-stable stew sold in glass jars as a topper for traditional kibble; dehydrated dog food patties that rehydrate almost immediately; and jerky-style treats.
The company's current offerings under the Wet Noses brand include wet food for dogs, dehydrated food for dogs, wet dog food toppers, crunchy dog treats, big bones dog treats, dog jerky, CBD treats for dogs, and wet food for cats. Doggy Delirious branded offerings include two varieties of big bones — peanut butter and cranberry carrot — and seven varieties of baked dog bones — apple cinnamon, cheesy, cranberry carrot, pumpkin, sweet potato, peanut butter and grain-free peanut butter. Wet Noses' Best Homies branded products feature organic, grain-free, limited-ingredient formulas and include crunchy treats, big bones and jerky for dogs. In addition to healthy fruits and vegetables, Wet Noses' also manufactures products that include animal proteins, primarily beef, chicken, turkey, salmon and white fish.
Galligan said her head down, keep pushing forward style and her passion to provide pets the best quality products possible was a key part of the company's success during the past two decades. Because of that love and determination to see it continue on the same positive path, she recognized the company would benefit from a broader skillset than she could offer to take Wet Noses up a notch.
So, in 2020, Wet Noses brought on a new chief executive officer, Johnni Rodgers.
"I think I've done a good job of getting us to where we are right now," Galligan said. "It's going to take Johnni and her expertise and her training to take us to the next level."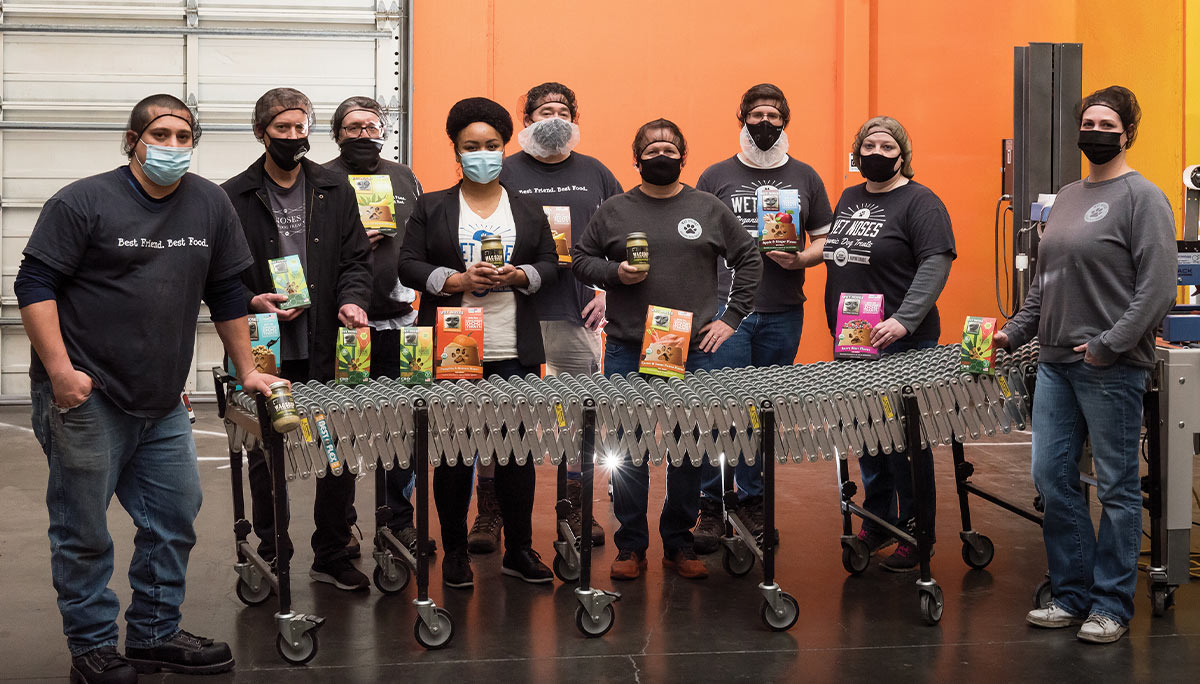 Rodgers joined Wet Noses with a strong background in consumer packaged goods, brand strategy, breakthrough innovation and sales in the grocery, mass and specialty retail channels in the human food industry. She said the opportunity for innovation and brand-building drew her to this opportunity.
"Jazz has built an incredible foundation that's uniquely in line with where consumers are going," Rodgers said. "I think we're in a great position to accelerate the business."
Wet Noses is currently producing nine different formats of pet food and treats in-house at the company's facility near Seattle. The formats include baked treats, enrobed treats, dehydrated treats, dehydrated dog food, baked dog food, jarred wet pet food and toppers, and frozen pet food and toppers.
Rodgers said she sees Wet Noses growth coming from four different areas: continued focus on distribution through pet specialty and expansion into the Food, Drug and Mass markets; building the Wet Noses and Doggy Delirious brands; a continued focus on new product innovations; and, lastly, establishing Wet Noses as a meaningful private label manufacturer.
"The fact that we make everything we sell just opens the door to so many possibilities for the future," said Johnni Rodgers.
"The fact that we make everything that we sell is a huge strategic advantage," Rodgers said. "We can take an idea and get something into the marketplace pretty instantaneously. With all the processes that exist within our plant, it's just a matter of bringing meaningful ideas to life and launching them in the right way."
Rodgers said the company currently has untapped capacity available on all of its processing lines. The operations team is responsible for keeping those lines running safely, efficiently and ready for the growth Rodgers is focused on delivering.
All under one roof
Currently, 85% of Wet Noses' production is focused on manufacturing treats and approximately 15% is pet food. The production is split between non-branded and co-manufactured products.
The company has six processing lines and seven packaging lines. The largest lines are two baking ovens that mix, bake and pack in one continuous process. Raw ingredients can be transformed into finished, packaged product within 45 minutes.
Adjacent to the baking lines is the company's enrobing line, where baked treats are coated or enrobed, decorated and individually packaged.
Separate from the baking lines is the company's food production area where fresh ingredients are prepped and cooked. Then formulas are either jarred or further processed into formed, dehydrated foods. Wet Noses' jarred products include Clearly Good food for dogs and Wag Soup dog food toppers in 15-oz jars and Wet Whiskers food for cats in 4-oz jars.
Another unique product is the dehydrated dog food formulas. Wet Noses cooks the protein for these formulas, then blends the shredded protein with fruits, vegetables and other healthy ingredients before shaping the products with an automated patty former. After the patties are formed, they are dehydrated. This unique product offering rehydrates in two minutes and grew out of the need for Galligan to feed her dogs as she traveled promoting Wet Noses. When not on the road, she still made frozen food for her dogs but that proved too difficult while traveling.
Wet Noses frozen dog food stayed near and dear to Galligan's heart and the company added a frozen food line back into the mix in 2021. Similar to the dehydrated foods, ingredients for frozen dog foods and meal toppers are cooked, blended and then formed. Next, these products are frozen and packaged.
Human quality
Choosing to maintain a human-grade facility to produce pet food means meeting human food processing standards as well as animal food processing standards. Between the US Food and Drug Administration, the US Department of Agriculture and SQF requirements, Wet Noses is typically audited four or five times per year. The company's processing is also certified organic, which brings an additional level of scrutiny. As capacity increases and the company adds new processing capabilities, Robert Prystash, vice president of operations for Wet Noses, will be tasked with maintaining operational safety and efficiency.
"A big part of who we are and what we do is hiring the right people and letting them do their jobs," Galligan said.
"We are implementing the World Class Operational Excellence program that utilizes Lean, Six Sigma and Total Productive Maintenance methodology and tools to deliver world class safety, quality, cost, productivity, service and employee engagement," Prystash said. "This program also differentiates Wet Noses from our competitors."
Maintaining a wide breadth of processing capabilities within one 87,000-square-foot facility does create some complexities in terms of ingredients, storage and scheduling, but Prystash said the company has a great team of hardworking employees that manage the complexities flawlessly day in and day out.
Wet Noses receives a lot of attention for its human-grade philosophy to making pet food and treats, but Galligan attributes a large part of the company's success to the employees.
"A big part of who we are and what we do is hiring the right people and letting them do their jobs," Galligan said. "A lot of our people have been with us for a very long time and that's a great thing. It's such a compliment to us when they stay here and when they introduce us to friends and family who want to join our team."
In addition to a robust training program and a focus on retention, an important component to help make Wet Noses a better place to work is a good sound system. All new employees are asked to share their favorite music, which is incorporated into the company's playlist that runs daily throughout the plant.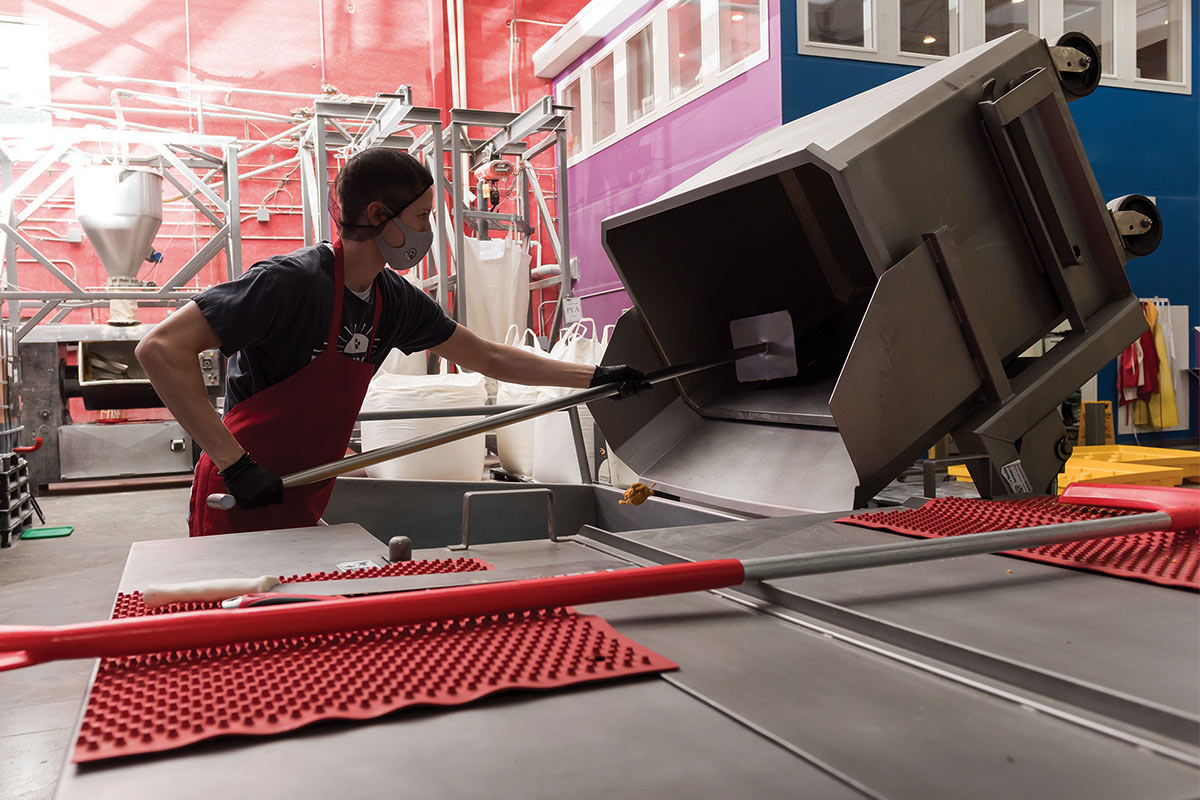 "Because we are growing and bringing in new people, it's that much more important to ensure new employees acclimate to our culture," Rodgers said.
That culture includes a clear path for employees to acquire new skills and increase their responsibilities, which is essential. Rodgers is forecasting Wet Noses will grow by 30% in 2021 and stay on that trajectory for the foreseeable future.
"What excites me the most about the future for Wet Noses is our starting point," Rodgers shared. "Often when I come into a new role, there are renovations to be made to base product, but that is just not the case here. This puts us in a great position to get a running start at innovation.
"The fact that we make everything we sell just opens the door to so many possibilities for the future," Rodgers said. "I'm excited about how well Wet Noses' values and processing standards align with where consumers are going. With the strategy we have in place and the talent we have on board, it will be a matter of time before Wet Noses is a household name."
Read more of our exclusive pet food and treat processor profiles.