NICHOLASVILLE, Ky. — Overall animal feed production fell 1% from 2018 to 2019, although pet food production was up 4% globally and increased by double-digits in some regions, according to Alltech's 2020 Global Feed Survey.
Dr. Mark Lyons, president and CEO of Alltech, on Jan. 27 presented results from the company's ninth annual Global Feed Survey, which draws data from 145 countries and approximately 30,000 feed mills around the world to provide an in-depth look at the global animal feed and pet food industries.
Aside from the data, Lyons and a panel of four feed industry experts discussed six major trends affecting the global market: African swine fever; changing consumer demands; geopolitical tensions; government regulations; environment and sustainability; and emerging technology.
Panelists included Jack Bobo, CEO of Futurity; Bianca Martins, general manager of Alltech in Mexico; Matthew Smith, vice president of Alltech's UK division; and Brian Lawless, North American species manager for Alltech USA.
The seemingly slight 1% fall in global feed production was attributed to several challenges faced by the industry in 2019, and marks the first time in nine years that Alltech has reported a falling global feed production rate.
"2019 presented extreme challenges to the feed industry, with one of the most significant being African swine fever. The regional and global implications are reflected by the Alltech Global Feed Survey and the decline in global feed production," said Lyons. "…The damage caused by ASF will have long-term implications, and we expect that the top protein sources will continue to shift as our industry adapts to the shortage."
Total feed production hit 1.126 billion tonnes (1.241 billion tons) in 2019, down 1% from 2018 production. Animal feed production exceeded 1 billion tonnes for the first time in 2017, according to Alltech, and has remained above that benchmark for the last three years despite the recent decline.
Pet food remained the smallest subcategory of global animal feed production. The sector grew 3% overall since 2018, topping 27.7 million tonnes in 2019. It represents approximately 2.4% of global feed production.
North America and Europe are neck-and-neck for the highest pet food production, both at 8.8 million tonnes in 2019. However, this production rate for Europe represents a 3% increase from 2018, while North America's growth rate was flat.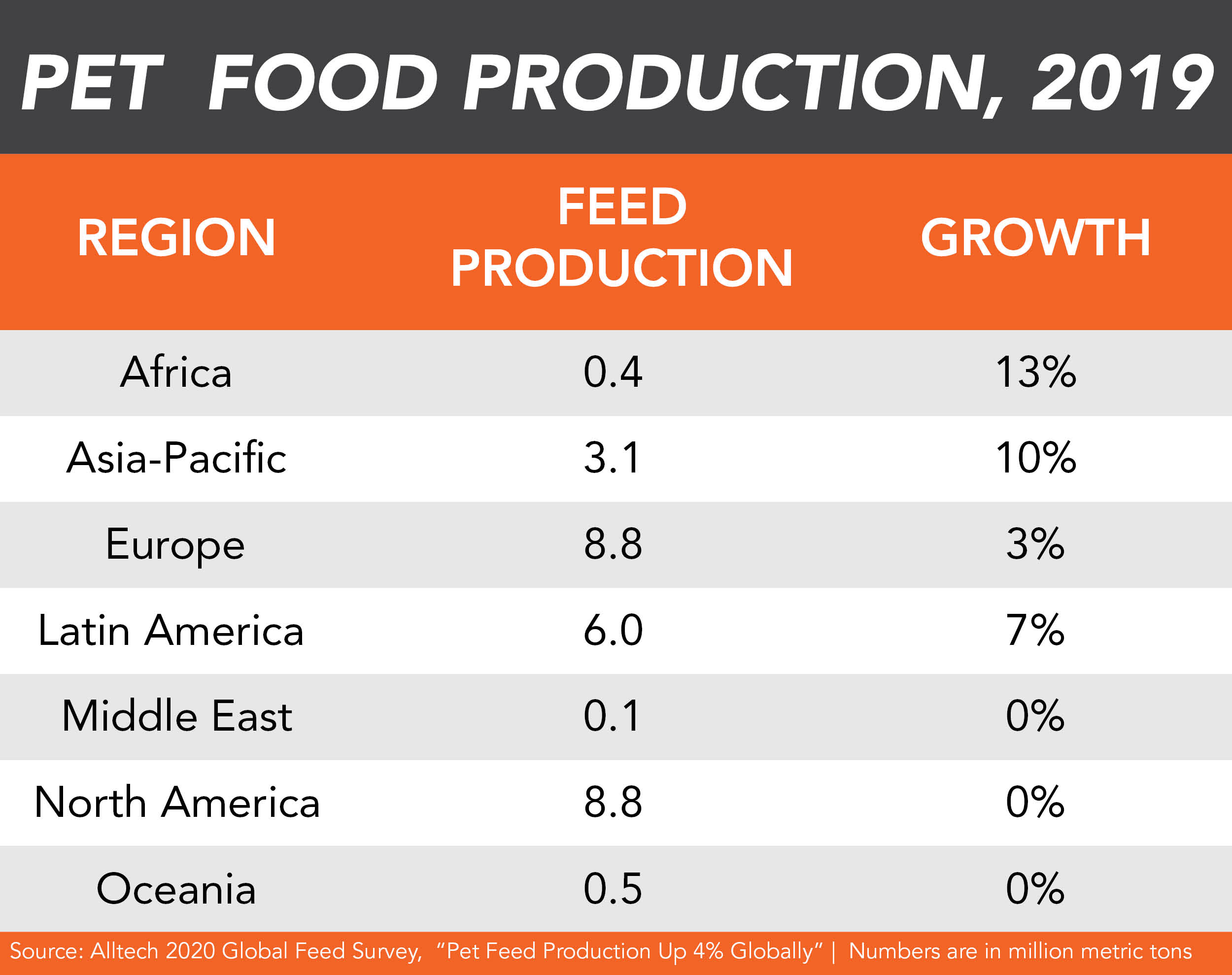 The Asia-Pacific region produced the largest tonnage increase from 2018 to 2019, up 10% and totaling 3.1 million tonnes with China and Indonesia leading that growth. China produced 588,000 tonnes of pet food in 2019, while Indonesia produced 720,000 tonnes.
In 2018, pet food production growth in the Asia-Pacific region was led by Indonesia, Taiwan, Thailand and Sri Lanka.
Latin America also experienced a notable tonnage increase from 2018 to 2019, producing 6 million tonnes of pet food at a 7% growth rate. The region bounced back from production declines in 2018, according to Alltech's 2019 Global Feed Survey. Tonnage increases in 2019 were led by growth in Ecuador, which produced 180,000 tonnes of pet food in 2019, and Argentina, which produced 710,000 tonnes.
In terms of total feed production, Africa saw the largest percent increase from 2018 to 2019, up 7.5% and totaling 43.7 million tonnes in 2019. Latin America saw the second-largest increase with 167.9 million tonnes at 2.2% growth; and North America produced 236 million tonnes at 1.6% growth.
Europe produced 279.2 million tonnes at 0.2% growth, but all other regions saw a decline of at least 1% in feed production in 2019. This includes the Middle East with a 5.8% decline; the Asia-Pacific region with a 5.5% decline; and Oceania with a 1.3% decline.
The United States leads global feed manufacturing, producing 214.4 million tonnes in 2019.The next highest feed-producing country is China at 167.9 million tonnes. Among the rest of Alltech's top 9 feed producing countries of 2019, measured in tonnes, are Brazil (70.4 million); Russia (40.5 million); India (39 million); Mexico (36.2 million); Spain (34.8 million); Japan (25.3 million); and Germany (25 million).
Read pet food and feed highlights from Alltech's 2019 Global Feed Survey.
Keep up with the latest pet food trends on our Trends page.