BRUSSELS, BELGIUM — Throughout the European Union, an estimated 85 million pet owners spent €21 billion ($23.6 billion) on pet food in 2019, according to The European Pet Food Industry Federation (FEDIAF).
FEDIAF quantified the impact of the pet food processing industry in its latest report, "Facts & Figures 2019."
"We are delighted – although not surprised – to read this positive pet data," said Thomas Meyer, secretary general of FEDIAF. "Pets are wonderful companions and enhance our lives in so many ways. In addition to offering unconditional love and companionship, science has proven the numerous ways pets are good for our health."
Note: Euro to USD conversions are based on July 1, 2020 exchange rates.
Pet food sales in 2019 remained relatively unchanged from 2018 revenue, according to historical data from FEDIAF.
"During recent months, we have faced unprecedented challenges to our physical and mental health," Meyer continued. "Through these tough times, 85 million European households / 195.5 million people will have been grateful for the love their pets provided."
There are 132 pet food producers operating an estimated 200 plants across Europe, according to FEDIAF. These plants directly employ approximately 100,000 European workers and indirectly employ approximately 900,000.
Additionally, an estimated 8.5 million tons of pet food are produced each year in Europe.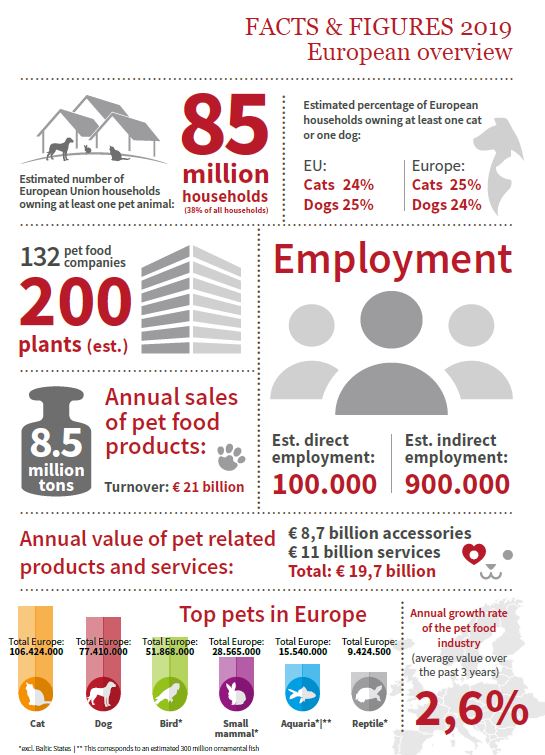 FEDIAF estimated the annual growth rate for its pet food processing industry in 2.6%, based on the average growth over the last three years.
Revenue from related pet services and accessories were estimated at €19.7 billion ($22.2 billion) in 2019, with pet accessories totaling €8.7 billion ($9.8 billion) in sales and pet services totaling €11 billion ($12.4 billion).
Compared to 2018 sales, this represents a 2.6% growth in pet accessory sales from €8.5 billion ($9.6 million) and a 10% increase in pet service sales from €10 billion ($11.3 billion).
"The term 'pet' has frequently been replaced by 'companion' over recent years, with their value recognized throughout the world," commented Joeri Van den Bergh of InSites Consulting. "Moreover, it is clear that pet owners have no intention of cutting back spending on their companions…Our latest research at InSites shows that we care for them as members of the family."
An estimated 38% of European Union households own at least one pet, according to FEDIAF. Across all of Europe, 25% of the population owns at least one cat and 24% of the population owns at least one dog. The total number of cats estimated to live in Europe is 106.4 million, while the dog population is estimated at 77.4 million.
Russia was home to the largest dog population in 2019 at 16.8 million, followed by Germany at 10.1 million dogs and the United Kingdom with 9 million dogs. For cats, Russia wins again with 22.8 million cat-owning households, followed by Germany with 14.7 million and France with 14.2 million.
Read about FEDIAF's Facts & Figures report from 2018.
Stay up to date on news about the pet food processing industry on our News page.