This article was published in Pet Food Processing's 2019 Resource Guide Read it and other articles from this issue in our Resource Guide digital edition.
On Sept. 19, 2019, the US Census Bureau released the first results from the agency's 2017 Economic Census. This data offers a comprehensive and detailed statistical look at employer businesses in the US and provides a perspective on the US business economy. Using the North American Industry Classification System (NAICS), federal statistical agencies classify business establishments for the purpose of collecting, analyzing and publishing data on various sectors and subsectors including NAICS 311111 – dog and cat food manufacturing.
While this first look provides data at the national level, later releases, starting in January 2020, will provide local area data. "The 2017 Economic Census First Look estimates provide an in-depth look at the economy as a whole," said Nick Orsini, associate director of Economic Programs at the US Census Bureau. "Future releases will provide data for local geographies including states, counties, metro areas and cities/towns."
The most recent data available prior to this release were the results of the 2012 Economic Census. In comparison to 2012, the US Census Bureau pointed out some notable sectors. Retail trade (NAICS 44-45) continued to account for the largest share of employer establishments, with almost 1.1 million, accounting for 14.0% of all employer establishments. The construction sector (NAICS 23) saw the largest increase in the number of establishments between 2012 and 2017, up 19.5% over this period; and the wholesale trade sector (NAICS 42) ranked 10th in terms of the number of establishments in 2017 but first in terms of total sales, with $8.5 trillion.
But enough about those other sectors. What did the data reveal about dog and cat food manufacturing in the US? The total number of companies engaged in the production of food for dogs and cats increased by 36.7% since 2012 for a total of 313 businesses. Those companies operate a total of 396 processing facilities, which reflects a 33.8% increase from 2012. The total number of paid employees across this sector grew by 33.4%. Along with more employees, annual payroll grew by 44.9% for a total of more than $1.3 billion. Production workers wages accounted for more than $1 billion of the total annual payroll and grew at an impressive 62.1%.
The growth this represents outperformed overall US manufacturing. The total number of companies across all US manufacturing sectors dropped by 3% and the number of establishments dropped by 2%. Growth in the number of employees, overall annual payroll and production worker wages in the pet food industry also outperformed the national average across all manufacturing sectors. One area of the US dog and cat food manufacturing that did not beat the average across all sectors was the total value of sales, shipments, receipts, revenue, or business done. The pet food sector reported more than $23.4 billion for this metric, which represented a 6.5% growth over 2012. All manufacturing sectors realized an overall growth in value of sales of 13%.
These strong growth numbers not only indicate a boom for those involved in pet food production, they have also been a treat to the US economy. A separate study — commissioned by the Institute for Feed Education and Research (IFEEDER) — sought to quantify the US animal feed and pet food manufacturing industry's contribution to the national economy. The economic analysis focused on 2016 and was published in October 2017. The study found that pet food processors contributed almost $126 billion in total sales within and related to the pet food and pet treat market in the US. The study also estimated that pet food producers were responsible for approximately $9 billion in local, state and national taxes.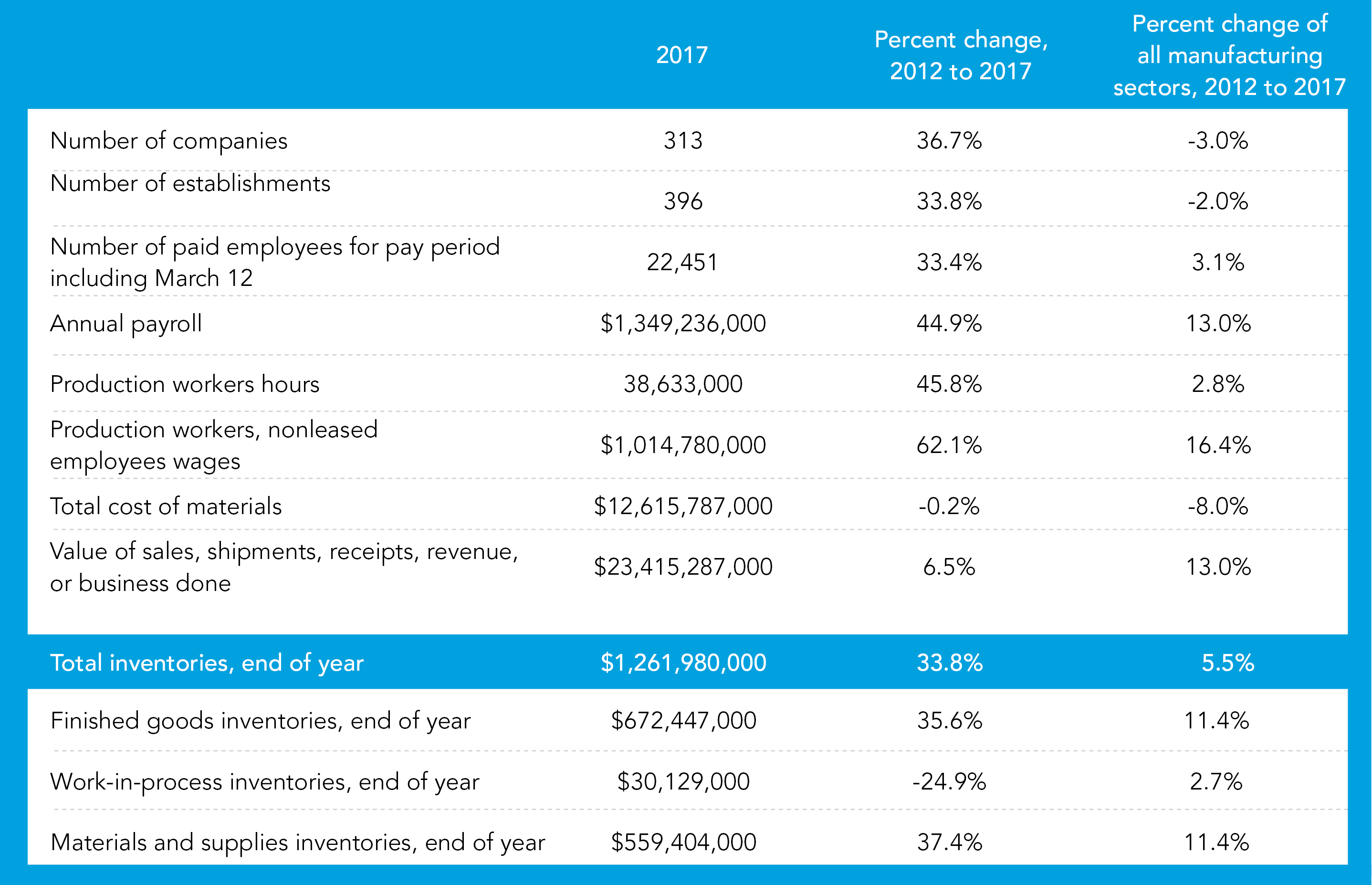 Clearly, the preliminary results from the census show that dog and cat food manufacturers are marking their spot in the US economy. Some of the more detailed results from the 2017 Economic Census, available starting in January 2020, will include geographically specific information, as well as data presented by legal form of organization, business size and other detailed dimensions.
The 2017 Economic Census is one of the first Census Bureau programs to be released on the new dissemination platform at data.census.gov. Be on the lookout for supplementary data on local statistics representing the pet food and treat manufacturing sector. 
Read more about pet food processing operations on our Operations page.