LEXINGTON, KY. — Pet food was regarded as one of the few sectors of global feed production to benefit from the COVID-19 pandemic, according to Alltech's 10th-annual Global Feed Survey. This recession-proof sector — especially the European, North American and African pet food markets — drove 8% growth in global pet food production in 2020.
The 2021 Global Feed Survey represented feed production across 142 countries, as well as a quantitative and qualitative survey of feed industry companies regarding challenges and trends seen over the last year.
"The year 2020 was challenging for many industries – and certainly, the feed, agriculture and food industries were no exception," Alltech stated in the report.
Global feed production
Globally and across all categories, feed production grew 1%, totaling 1.188 million metric tons, in 2020.
There are currently 6,732 feed mills across North America, making up approximately 23.7% of the total 28,414 mills globally. Alltech recorded 29,345 feed mills in 2019, which represents a 3% decrease in the number of global feed mills in 2020. Alltech estimated nearly 1,000 feed mills were closed in 2020.
China topped the list of countries in terms of feed production volume last year, producing 240 million metric tons at a growth rate or 5% compared to 2019. The United States was second on the list, with 215.9 million metric tons and 1% year-over-year growth, followed by Brazil with 77.6 million metric tons and 10% growth.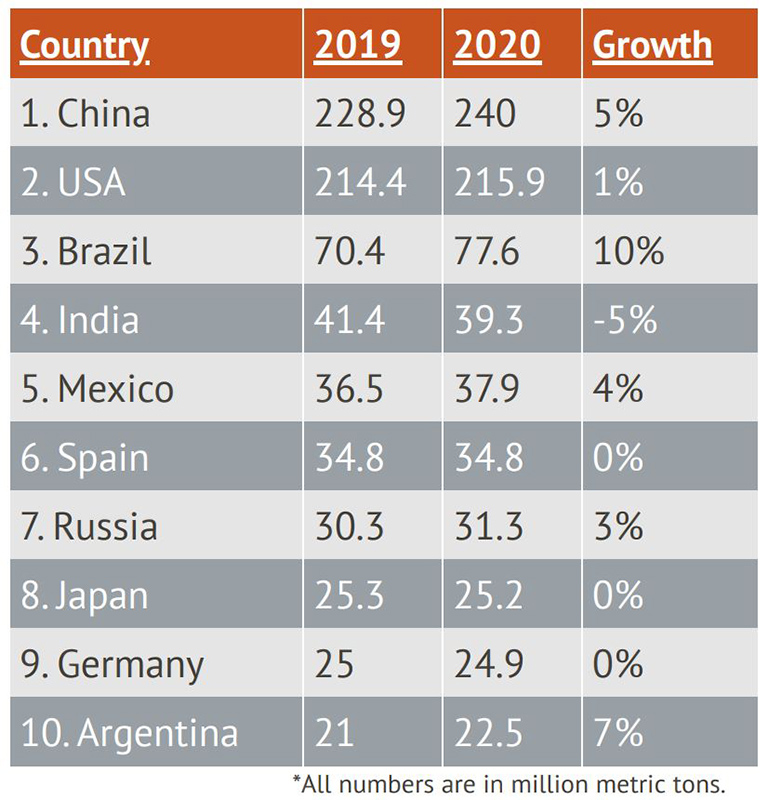 While India was No. 4 on the list with 39.3 million metric tons of feed produced in 2020, its output was down 5% from 41.4 million metric tons recorded in 2019.
Other companies in the top 10 included Mexico (37.9 million metric tons), Spain (34.8 million metric tons), Russia (31.3 million metric tons), Japan (25.2 million metric tons), Germany (24.9 million metric tons), and Argentina (22.5 million metric tons), respectively.
These top 10 countries were responsible for 63% of total global feed production in 2020 with a combined average growth rate of 3%. Interestingly, the average feed costs in these 10 countries were 9% lower than the global average, Alltech shared.
Global pet food production
Global pet food production grew 8% in 2020 to 29.33 million metric tons, driven largely by growth in Europe.
"The pet industry was one of the few industries that reaped benefits from COVID-19 and the related lockdowns, with pet adoption rates soaring," Alltech stated in the report. "As a result, the pet food industry experienced its largest growth in the past three years. Premium pet foods continue to see growth, although economic conditions also allowed for an increase in the purchase of lower-cost feeds as well."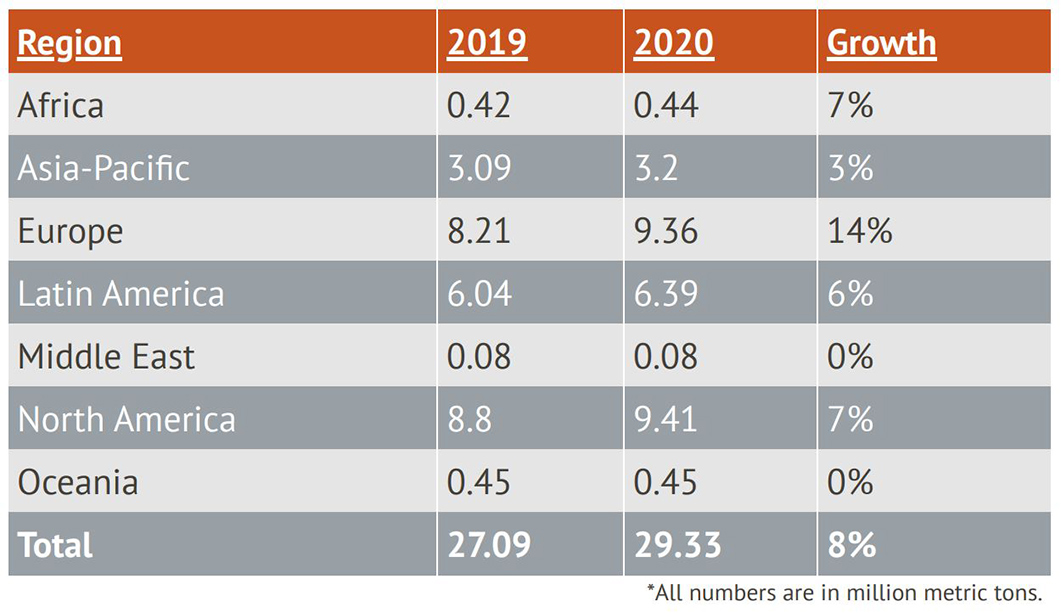 Europe posted the largest pet food production growth in 2020 at 14% over 2019, totaling 9.36 million metric tons produced in 2020. The United Kingdom, France, Spain, Turkey and Belgium were cited as the primary growth contributors in the region.
North American pet food production grew 7% to 9.41 million metric tons in 2020, growth which was primarily seen in the United States. Alltech estimated pet food production in the United States at 8.71 million metric tons, 1.23 million metric tons in Mexico, and roughly 700,000 metric tons in Canada.
Pet food production in South Africa alone grew 8%. Overall, pet food production in Africa grew 7% to 44,000 metric tons in 2020.
In Latin America, pet food production increased 6% to 6.39 million metric tons in 2020. The Asia-Pacific region also saw increased pet food production, up 3% to 3.2 million metric tons. Pet food production in the Middle East and Oceania regions were both flat compared to 2019, at 8,000 metric tons and 45,000 metric tons respectively in 2020.
Alltech noted an increased interest in alternative ingredients, such as insect proteins, in the pet sector, although some countries still have not approved the use of insect-based ingredients in animal feed products, including the United States.
Additionally, Alltech provided pandemic-era insights regarding global feed production as part of its Global Feed Survey as well. Roughly 59% of ingredient suppliers surveyed said they were moderately or significantly affected by the COVID-19 pandemic, and 85% reported the price of ingredients impacted the industry.
"Our survey showed that, regionally, COVID-19 had varying effects," Alltech stated. "Some regions, such as Africa, cited more challenges than others, and in many cases, this was a country-by-country determination."
Additionally, 77.4% of those surveyed reported moderate or significant increases to e-commerce last year.
"The rise in e-commerce was seen around the world and is expected to be an ongoing avenue for food-purchasing into the future," Alltech stated.
The company also listed government regulations driving more sustainable practices came as another challenge to feed producers globally in 2020.
Read our past reports of Alltech's Global Feed Surveys from 2018, 2019 and 2020.
Stay up to date on news about the pet food processing industry on our News page.