This article was published in the September 2019 issue of Pet Food Processing. Read it and other articles from this issue in our September digital edition.
Seeking out enhanced nutrition in pet food and treats continues to be a trusted path for a growing number of pet owners who wish to improve their pet's health. Producers of pet food and treats are capitalizing on the ongoing appeal of high-nutrient inclusions and so-called superfoods. This includes a desire for pet food products that support health and wellness, according to Lynn Dornblaser, director, innovation and insight for Mintel, Chicago, Illinois. She reports pet owners are closely reading labels, looking for simple ingredients, fortified nutrition and information on sourcing.
Nutritious fortifications often come in the form of particulate and inclusion technologies that originate from human food manufacturing. The inclusions and particulates used in pet food and treats offer producers a way to create new products and line extensions, deliver a consistent burst of color (flavored or unflavored) and provide visual appeal for the pet owner who wants to treat their animal. The sensory appeal of inclusions and/or particulates in a product can provide variety for the consumer purchasing the product and enrich special times with pets, according to Grace Mackie, product development scientist, Balchem Corp., New Hampton, New York.
Replicating look and smell
Sensory interest is something that appeals to both humans and their pets. While humans rely on the eyes to interpret their surroundings, dogs trust their extraordinary sense of smell. Dogs have two air passages, one for breathing (respiratory) and one for smelling (olfactory). Their continually wet noses help trap scent particles and each nostril can capture a different smell, according to scienceabc.com.
The discerning qualities of dogs could be why there seems to be greater emphasis on particulates in dog food, according to Gerardo Perez, vice president of R&D, Freshpet, Secaucus, New Jersey. "We are always experimenting with new foods," Perez says. "But at the end of the day, it doesn't matter how great we think these ingredients are, we have to ask the experts. We have to ask the cats and dogs and they will tell us. I have seen many people produce a formula and take it to the dogs and they won't touch it. They are the boss."
Achieving acceptance with animals means considering their taste and texture preferences, but aroma also plays a direct influence on whether an animal will accept a product, according to Mackie. "Many pet owners forget, or may not know, that the first step in product palatability is using the olfactory sense," she says. "Therefore, maintaining acceptable and consistent product aroma throughout the shelf life of the product is critical."
Balchem employs olfactory benefits in its specialty PetShure line of inclusions. The products feature a blend of lipids and other ingredients to form a matrix-style encapsulation. This lipid matrix allows the ingredients to retain aroma and appearance and helps protect colors and flavors, resulting in better flavor and color retention, according to the company. Because certain manufacturing processes or equipment can damage the inclusions and particulates, impacting the final product attributes, Balchem recommends adding inclusions at the end of the mixing cycle to retain product functionality.
"Many pet owners forget, or may not know, that the first step in product palatability is using the olfactory sense," says Grace Mackie, Balchem Corp.
PetShure products are fully vetted and are created with Association of American Feed Control Officials (AAFCO)-compliant ingredients, natural colors and flavors. The non-GMO, non-grain offerings are available in bacon, cheese, pumpkin, blueberry, cranberry, cinnamon and peanut butter.
Naturally nutrient enhanced
Treats that closely resemble the look and smell of human-type products generate positive responses from humans and pets alike, including the addition of nutritious fruits and vegetables. Known for its apple-based products, Tree Top, Inc., Selah, Washington, is applying its grower-owned, high-quality standards to food for humans and pets. This includes assisting pet food manufacturers in using recognizable ingredients. Working with Tree Top's R&D department, manufacturers can create prototypes and packaging alternatives that capitalize on the fiber- and vitamin-packed profile of apples to produce antioxidant-rich applications.
Fruits and vegetables have long held a halo of health and blueberries continue to earn their superfood status as one of the most nutrient-rich berries. Containing fiber, manganese, and vitamins K and C, blueberries are a popular inclusion in a variety of pet food, treats and toppers in the form of particulates, puree, drum-dried, freeze-dried, juice, concentrate and Individual Quick Freezing (IQF) formats. "Blueberries on the label and real blueberries in the product itself showcase goodness," says Tom Payne, industry consultant to the US Highbush Blueberry Council. "Adequate amounts of real blueberries assure owners their pets are receiving the goodness associated with blueberries."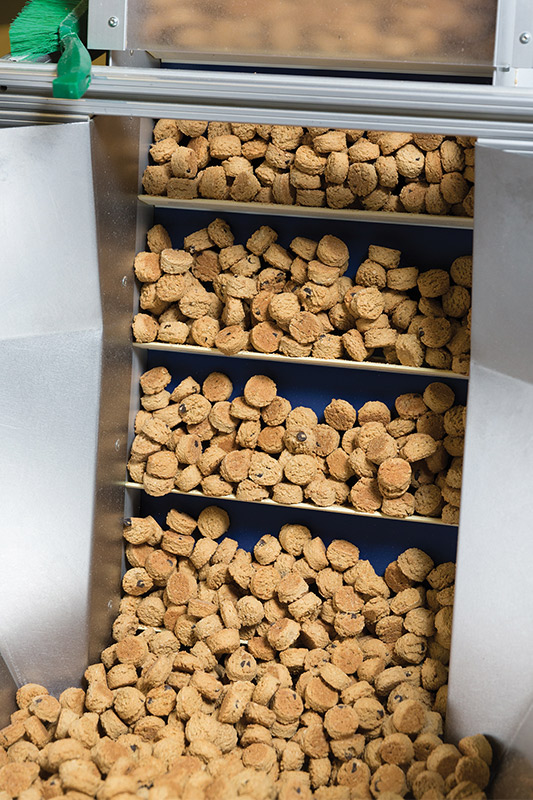 Promoted by the US Blueberry Council, San Mateo, California, highbush blueberries not only add nutritional benefits, they're also visually appealing for the human consumers doing the purchasing. Principle Solutions, West Bend, Wisconsin, works with organizations like the US Highbush Blueberry Council to provide domestically manufactured or processed ingredients with complete traceability. Its farm-direct organic and conventional ingredients include blueberries, cranberries, carrots, green beans, sweet potatoes and potatoes that use no additives or fillers in their processing. The low-temperature dried potato products and sweet potato meals offer highly functional starch content while the low-heat dried cranberry, blueberry, raspberry and strawberry products provide high phenolic values. Phenols, a class of organic compounds, can reportedly help prevent cancer, provide protective antioxidants and promote healthy aging, all attributes pleasing to a growing number of pet owners.
"I believe pet owners are the ones that truly drive the products," says Kevin Zimmer, owner and president, Principle Solutions. "It's the typical human consumer that the market is trying to appeal to. Look at kibble shape as an example. It's all about catching the eye of the pet owner."
Eye of the beholder
Pleasing aesthetics can sometimes entail retaining a product's recognizable shape by using fruits and vegetables in whole and chopped dehydrated form, as well as fresh, frozen and less recognizable powdered formats. The variety of options offer manufacturers numerous ways to boost color, enhance fiber content and provide a range of health benefits. For example, blueberry particulates can enhance the look of dog biscuits and the berry can also be used as a substitute for fillers and stabilizers, further enhancing the clean-label image of a product.
Calculating cost benefit
Beyond providing nutrition, manufacturers of pet food and treats must also consider the cost involved in adding particulates and inclusions to a formula. Cost is often the deciding factor when it comes to which inclusions and particulates to include and how many, according to Zimmer.
Produce Processors, Principle Solutions' manufacturing facility in Plover, Wisconsin, supplies its customers through two separate dehydrating plants. One line is designated to dry pieces of fruit or vegetable, often whole items, and a second line uses a high-capacity, triple-pass, food-grade dryer for ground raw material. Zimmer explains the dried ground material is often more economical and tends to cost less than whole or pieces of whole product. The company has also launched a cost-saving micro pellet particulate for use in pet treats and canned pet food.
"Offering a micro pellet particulate reduces costs and adds variety and originality while still offering visibility and functionality in the finished product with uniformity in size and color," says Kevin Zimmer, Principle Solutions.
The micro pellet particulate is made using a higher steam temperature. It retains color and smells and tastes the same as the dried whole powders or pieces the product it aims to replace. The product also retains 100% of the content of the respective berry or vegetable, minus any binders or fillers. Micro pellets offer manufacturers better product densities per lb., easier and safer storage and handling options, faster manufacturing flow rates, and uniformity of color and size. Use of the micro pellet could also decrease the risk of airborne exposure and the safety issues incurred by conventional fruit or vegetable powders, according to Zimmer.
"There's a continuous drive in the feed marketplace for value-added inclusions of highly functional dried fruits and vegetables, as well as for new items never seen in the pet food industry," he continues. "Offering a micro pellet particulate reduces costs and adds variety and originality while still offering visibility and functionality in the finished product with uniformity in size and color."
Multi-use applications
Florida Food Products is another manufacturer supplying natural fruit and vegetable ingredients for premium pet nutrition products. The Eustis, Florida-based company uses produce to replace chemical-based cure accelerators, stabilizers and sodium nitrate/nitrite in human and pet foods.
Applying the power of plants, Florida Food Products produces Veg Stable, an all-natural powder that replaces the need for synthetic meat ingredients. The product, derived from acerola cherries, celery and Swiss chard, accelerates curing processes, promotes cure color stability, contributes antioxidants and enhances antimicrobial effects, according to the company.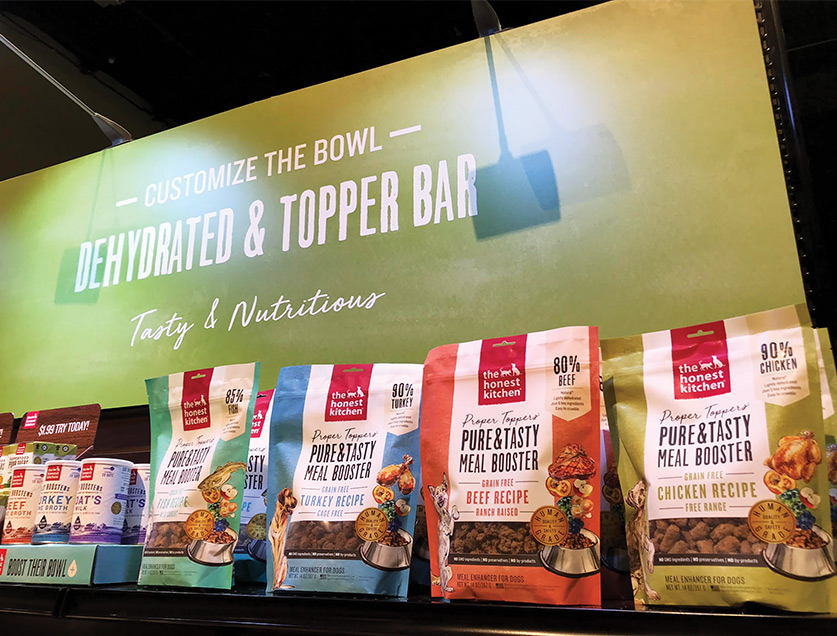 VanDrunen Farms, Momence, Illinois, provides whole food fruit and vegetable ingredients in organic, drum-dried, freeze-dried and low-micro processing options, providing manufacturers with clean labels and traceability from a fully transparent supply chain, according to the company.
Because drum-dried ingredients reconstitute quickly and keep much of their flavor, color and nutrition, this format is popular in a variety of pet food products. VanDrunen Farms employs a drum-drying process with its pureed raw ingredients. Fruits and vegetables are ground until they produce a slurry, which is then dried over two rotating, high-capacity drums. The thin sheet produced by the drum can be ground into a powder or flakes.
"As more food ingredient companies are embracing the growth of the pet food industry, the difference between human food ingredients and AAFCO-compliant ingredients, and the nuances therein, are critical for manufacturers to clearly understand the production of pet food and treats. Not all human food ingredients are safe and appropriate for pets." Mackie concludes. "Selecting and tailoring treats to the unique needs of animals enriches the human-animal bond and the resulting special times pet owners spend with their pets."
Read more about product development, ingredients and formulation.