BOSTON — Rising average global temperatures and shifting weather patterns are placing an unprecedented strain on the world's water supply and quality. Fresh water is becoming more scarce and agricultural production more volatile, ultimately threatening the profitability of the $5 trillion global food sector.
Food and beverage companies are among the first to be exposed to problems caused by water scarcity, according to a new report from Ceres.
The report used the Colorado river, which has long suffered from historic drought conditions, as an example of the immediate threats facing food companies. Agriculture currently uses approximately 80% of the Colorado river's water to irrigate 15% of the nation's farmland. Next year the Federal Bureau of Reclamation will require several states to reduce their withdrawals for the first time. Many companies will be indirectly impacted, the report said. Others, including Conagra Brands, General Mills, J.M. Smucker Co., Kellogg Co. and Kraft Heinz will be directly exposed to water supply disruption.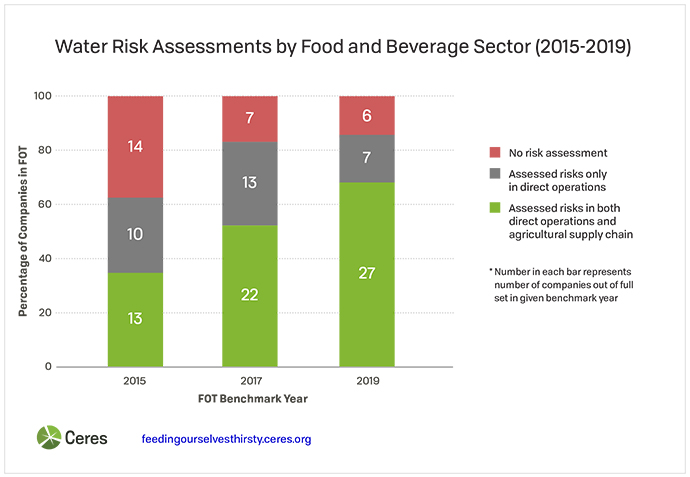 Industry leaders are starting to take these risks seriously. Seventy-seven percent of food companies cite water as a risk in their financial statements, according to the report. A third now charge boards and senior executives with overseeing water risks and strategies, up from just 10% of companies two years ago.  
Ceres singled out Unilever as a leader in water-risk mitigation. The company has taken several steps to strengthen its board's oversight of water risk. Executive compensation is tied to meeting water reduction targets, resulting in a doubling down on efforts to protect watersheds critical to its agricultural supply chain. Unilever also conducts an annual water risk assessment using on data gathered from more than 10,000 growers.
"There is always much more to be done and we cannot succeed without accelerating collective action," said Peetra Meekers, global head of sustainable sourcing at Unilever. "Global corporations have an important role to play in making agricultural supply chains more resilient, including finding ways to support farmers to use water more efficiently and sustainably."
The report ranked companies on the effectiveness of water mitigation initiatives. Unilever earned the top spot, followed by Nestlé, General Mills, The Coca-Cola Co. and PepsiCo.
Mars Inc. made the most progress since Ceres' 2017 water risk report. The company rolled out a new set of context-based water reduction targets with the goal of halving the gap between its 2015 water use and sustainable water use in five years. It has even more ambitious goals for facilities in water-scarce regions.
The meat industry has made the least progress in managing water risk, Ceres said. Sanderson Farms, Pilgrim's Pride, Perdue Farms, Tyson Foods and Hormel Foods were among the lowest ranking, joined by Monster Beverage, Hershey, Hain Celestial, Dean Foods and Flowers Foods.
Read more about the pet food and treat supply chain on our Operations page.