PHILADELPHIA — Earth Animal announced at Global Pet Expo it has partnered with Braskem, a leading thermoplastics polyolefins and biopolymers producer, on the release of its newest sustainable packaging initiative in packaging its Wisdom dog food line. The pet food packaging will use Braskem's sugarcane-based I'm green polyethylene biopolymer.
"Earth Animal has always been passionate about how, why, and what we do, and for us, we have felt that sustainability is a major part of our DNA," said Stephanie Volo, VP of marketing and sustainability for Earth Animal. "For over 40 years, our promise has been to preserve and enhance the quality of life for animals, people and the earth. And, partnering with Peel Plastics and Braskem to design and develop our Wisdom™ Dog Food packaging using the I'm green™ polyethylene biopolymer was a natural fit given each company's commitment to sustainability. We couldn't be happier with the result."
Earth Animal will include a minimum of 30% bioplastic material in its packaging of Wisdom Dog Food. The company has also partnered with TerraCycle to help consumers recycle the used bags of Wisdom and further its mission of providing environmentally friendly packaging.
The Wisdom line was launched at Global Pet Expo in Orlando, Florida March 20-22, 2019.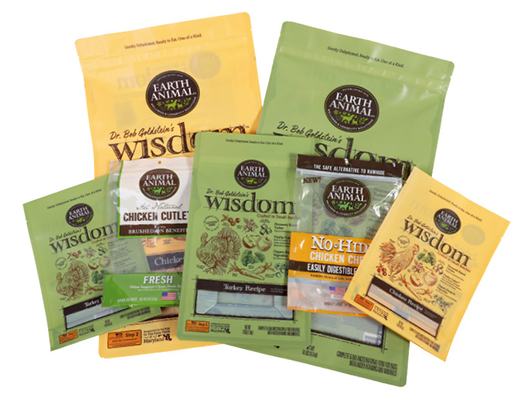 The dog food is formulated with Vitality Cubes, a proprietary nutritional component that provides essential vitamins and minerals for the diet. Other ingredients include US-sourced poultry and organic fruits and vegetables. Wisdom is manufactured in small batches and air-dried using patented wind technology to provide optimized nutritional quality.
The new dog food line is available in turkey and chicken recipes in the New England, Mid-Atlantic and Pacific Northwest markets at pet specialty retailers. Wisdom will be sold on Earth Animal's website beginning in April 2019.
Packaging for the Wisdom line was developed by Earth Animal and Braskem with the help of Peel Plastic Products, a flexible packaging company based in Canada. Peel Plastics helped integrate Braskem's polyethylene biopolymer into the new flexible packaging solution for Wisdom products.
"With Earth Animal's passion for sustainability and Peel Plastics' expertise in packaging innovation, we are excited to partner with them both to bring the benefits of Braskem's I'm green polyethylene biopolymer to Dr. Bob's Wisdom product launch," said Joe Jankowski, commercial manager for Braskem's North American Renewables division. "Because transparency, quality, and sustainability are at the core of Earth Animal's business, we are pleased to help bring that same approach to an exterior product packaging that resonates with consumers increasing desire for more sustainable materials and recyclability."
Read more about new pet food and treat products.