While the growth of the US pet food market has brought a proliferation of specialized formulations and packaging options that mirror human food trends, a competitive omnichannel retail landscape and the maturing of the US market challenge both large and small processors trying to gain market share.
Fortunately, North American processors hold a strong position in pet food markets across the globe, and the US economy is benefitting from that. North American food companies are expanding in pet food as well. General Mills, Inc., Minneapolis, and the J.M. Smucker Co., Orrville, Ohio, made acquisitions this year while Mars, Inc., McLean, Va., owns Mars Petcare, which has about 50 brands.
Domestically, the majority of Americans own a pet. The American Pet Product Association 2017-2018 Pet Ownership Survey found that 68% of US households own a pet and spend an average of $300 annually on pet food and treats. The US pet food market is expected to reach $30 billion in 2022 and is anticipated to grow at a compound annual growth rate (CAGR) of 3.36% between 2017 and 2022, according to Zion Market Research.
The total dog and cat population in North America is estimated at 178 million, and the average price per pound for pet food and pet treats has risen 46% since 2011, according to market research company GfK.
Pet food and treat options available to US pet owners have exploded in recent years. GfK reports the number of brands has increased 71% since 2011 and now totals 630. The number of stock-keeping units (SKUs) is up 88% over that same period and tops 22,000. It's not surprising then that food companies have noticed the category.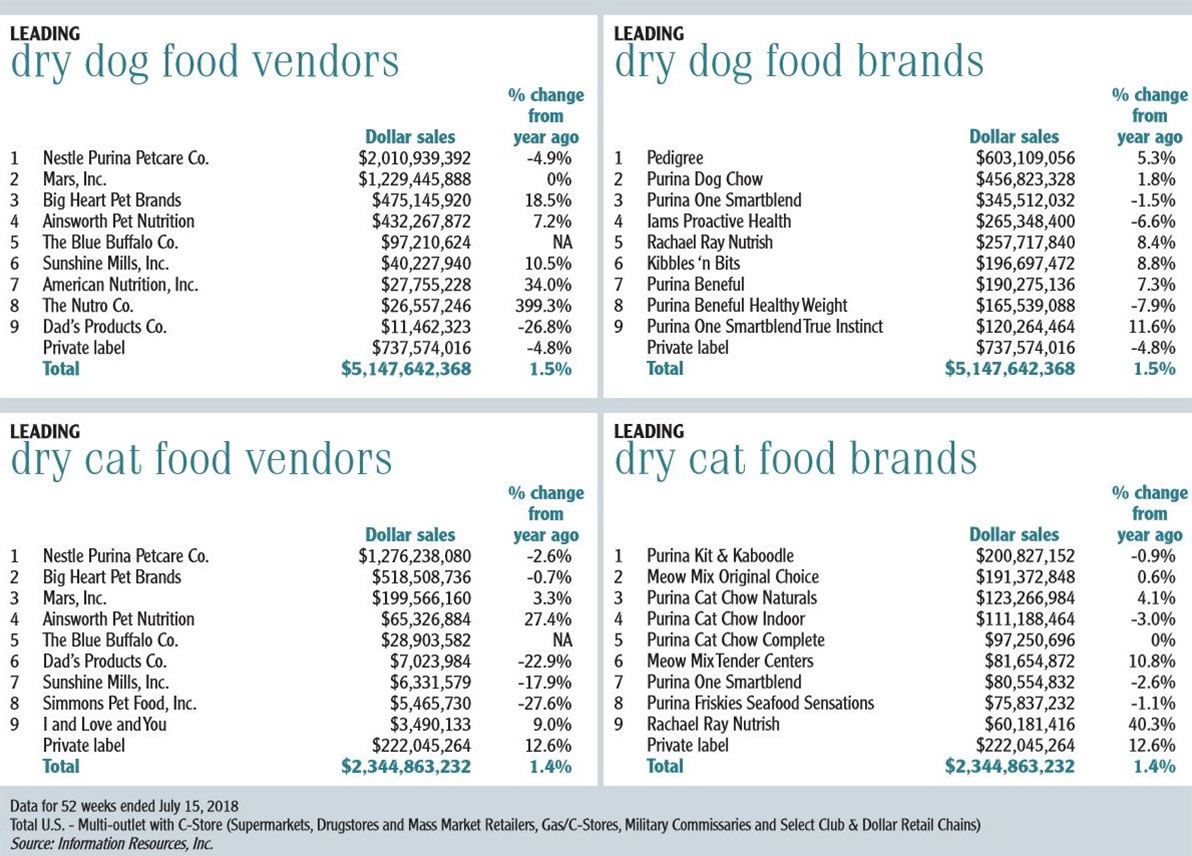 General Mills in April completed its acquisition of Blue Buffalo Pet Products, Inc. for $40 per share in an all-cash transaction, which represents an enterprise value of approximately $8 billion. The addition of Blue Buffalo establishes General Mills as a leader in the wholesome natural pet food category, the fastest growing portion of the $30 billion US pet food market.
The J.M. Smucker Co. this year agreed to acquire Ainsworth Pet Nutrition in a transaction valued at about $1.7 billion, after an estimated tax benefit of $200 million. Ainsworth produces, distributes and markets premium pet food and pet snacks, predominantly within the United States. Approximately two-thirds of Ainsworth's sales are generated by its Rachael Ray Nutrish brand. Ainsworth also sells pet food and pet snacks under additional branded and private label trademarks.
Pet food and pet snacks has become the largest center-of-the-store category in the US food and beverage market, Smucker said, generating more than $30 billion in annual retail sales across all channels.

Changes in the air
Packaging plays a key role in how brands differentiate product lines in this exploding market. Dry pet food processors report that the net-weight bag size is consistently getting smaller with a larger percentage of production runs going into bag sizes of less than 10 lbs. and a smaller percentage going into bag sizes of more than 20 lbs.
Consumers are embracing convenience over cost resulting in a demand for single-serve and convenience packaging in both pet food and pet treats. The increasing number of relatively small-batch or per-diet production runs requires more product and packaging changeovers.
The complexity of today's pet food formulas – the high-meat, high-fat, low-starch formulas – are challenging to process and require specialized processing equipment and premium packaging features that offer product stability and protection, shelf appeal and sustainability.
Processors increasingly are required to address the sustainability of product packaging. From post-consumer waste recycling to zero waste at the processing facility to the packaging material's effect on the product's overall carbon footprint, processors are evaluating materials based on their impact on the environment.
With trends emerging twice as fast as they have in the past from human food to pet food, brands today must be prepared to pivot and adapt to stay competitive.
Pet owners are clearly passionate about their pets and look for products that mirror the pet owners' belief systems. The highly competitive and dynamic pet food and treat market follows food and health trends seen on the human-food side. Mars Pet Nutrition tracks human food trends as they emerge into the pet food arena and reports that human trends are cascading into pet food and treats within a year and a half to two years after appearing on the radar. This transition previously took five to seven years.
With trends emerging twice as fast as they have in the past from human food to pet food, brands today must be prepared to pivot and adapt to stay competitive. Pet owners are paying much closer attention to the health and welfare of their pets as well. This increased attention is resulting in more specialized pet food and treat formulations for life-stage, health issues and species-specific.
A changing retail landscape
Packaged Facts reports the retail landscape is changing for pet food and pet treat products. In the new omnichannel era of pet product shopping, the internet represents the fastest growth channel for pet product sales. Packaged Facts projects sales of pet products sold online will double between 2017 and 2022.
In addition to shopping online in greater numbers, pet owners are doing so frequently. Packaged Facts' first-quarter 2018 online survey of US pet owners shows that 14% of online pet product shoppers have made a purchase within the last seven days, and another 31% have done so in the last 30 days.
As more premium specialty brands such as Blue Buffalo enter the mass market, the clear divide between pet specialty and mass market is crumbling. According to Packaged Facts' US Pet Market Outlook, 2018-2019, the internet is recasting channel shares in terms of pet product sales. E-commerce made enormous strides between 2014 and 2017, reaching a 12.5% market share in 2017, and Packaged Facts projects it to grow to 20% of the market by 2022, surpassing pet specialty chains (excluding their online sales) and food stores in the process, and nipping at the heels of discount stores and superstores.
Packaged Facts predicts the shift in where and how consumers purchase pet food and treat products will result in an increase of private label and exclusive brands as retailers hope to establish loyal followings for in-house premium offerings. Private label has long been a huge part of the pet market and private label sales of pet food and supplies combined for nearly $3 billion in sales in 2017, with pet food comprising about three-fifths of the total. Private label is also strong in pet specialty big boxes and independents, as well as non-traditional channels looking to capitalize on the higher margins and product exclusivity.
Sustaining the growth
International exports also offer US processors growth opportunities. North America is responsible for 31% of pet food production globally, according to the Alltech Global Feed Survey 2018. Pet Food Institute (PFI), the national trade association for US pet food and treat processors, reports that the maturing of the domestic pet food and treat market will have processors looking to increase exports in order to grow.
Data from American Pet Products Association and market research firm GfK show that manufacturers have seen a predictable and steady increase in domestic sales over the past 10 years while total volume of pet food sales has experienced a slight decrease, indicating that pet ownership rates have held relatively steady while demand for premium pet food has grown. This new reality means that access to foreign markets will be critical for future growth for US pet food and treat processors.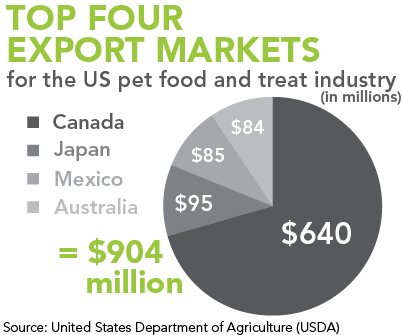 According to the US Department of Agriculture, the top export markets for the US pet food and treat industry are Canada ($640 million), Japan ($95 million), Mexico ($85 million) and Australia ($84 million). With the exception of Mexico, these are developed markets, and, while growth in these countries will continue, opportunities for significant growth will be in new and emerging markets, PFI explained.
The United Nations notes that urban populations worldwide are growing, resulting in increased economic opportunity and smaller family units. Paired with a cultural shift in which pets are increasingly part of the household, PFI predicts these developing markets are where many US pet food processors will be looking for sustained business growth in the coming decades.
Sustained business growth of US pet food and treat processors contributes significantly to the US economy. The Institute for Feed Education and Research (IFEEDER) commissioned a yearlong research project to quantify the US animal feed and pet food manufacturing industry's contribution to the national economy. This first-ever economic analysis focused on 2016. The study found that a total of 517 US pet food manufacturing facilities contributed $126 billion to the US economy and more than 398,000 jobs.
US processors are a key contributor to the global pet food processing equipment market as well. North America accounts for 41.1% of global equipment sales, which are predicted to reach $4.27 billion by 2022, according to the Food Processing Suppliers Association's Pet Food Processing Equipment Market – Global Forecast to 2022. The pet food processing equipment market is projected to grow at a CAGR of 3.5% in the next six years. Although global demand for pet food processing equipment is expected to increase from growing economies such as China, Brazil, Argentina and India, the North American market will lead the pack with the baking and drying equipment segment, which is projected to be the fastest-growing segment in North America.
The US also leads the pet food ingredients market, holding about 30% share globally and about 80% share in North America, according to research company Markets and Markets. The US pet food ingredients market is projected to grow from $10.4 billion in 2018 to $13.3 billion in 2023 at a CAGR of 5%, which is faster than both the overall pet food market and the pet food processing equipment market.
One factor driving demand for processing equipment as well as production improvements in the pet food and treat industry is the Food and Drug Administration's Food Safety Modernization Act Preventative Controls for Animal Food rule. These FDA rules are shrinking the gap between the sanitary requirements of a human food processing facility and an animal food processing facility.
Consumer demand for safe pet food and treats that mimic the diets humans consume is shrinking the gap even further. In the fractured and increasingly sophisticated pet food and treat market, processors have the benefit of a growing market but face steep challenges to stay current, relevant and competitive. For the US pet food and treat processors that can continually adapt, the future looks bright.
Find more articles related to pet food and treats on the Pet Food Processing landing page.