A report by Nielsen indicates pet food and treat spending has increased 5% from one year ago, representing a $1.5 billion increase in sales to total $32.7 billion from June 2017 to June 2018. Particularly, this segment of the pet industry has driven sales growth in the online retail landscape.
E-commerce sales of pet food and treats increased a whopping 53% in the past year, although it is apparent that consumers are still choosing brick and mortar stores over other points of purchase, with Nielsen reporting 51% of pet owners have not and do not plan to purchase pet food items online. Mainstream retail remains the largest portion of pet food and treat sales in the past year, totaling $16 billion, compared to $3.6 billion in online sales.
"In many cases, this uptick in sales can be linked to the influx of premium pet food brands on mainstream store shelves. Much like we see across the grocery channel, consumers no longer have to go far to find a premium assortment of pet products," the Nielsen report stated. "Demand for pet food in stores has continued, thanks to educated consumers seeking healthy formulas (with higher price points) at mainstream retail."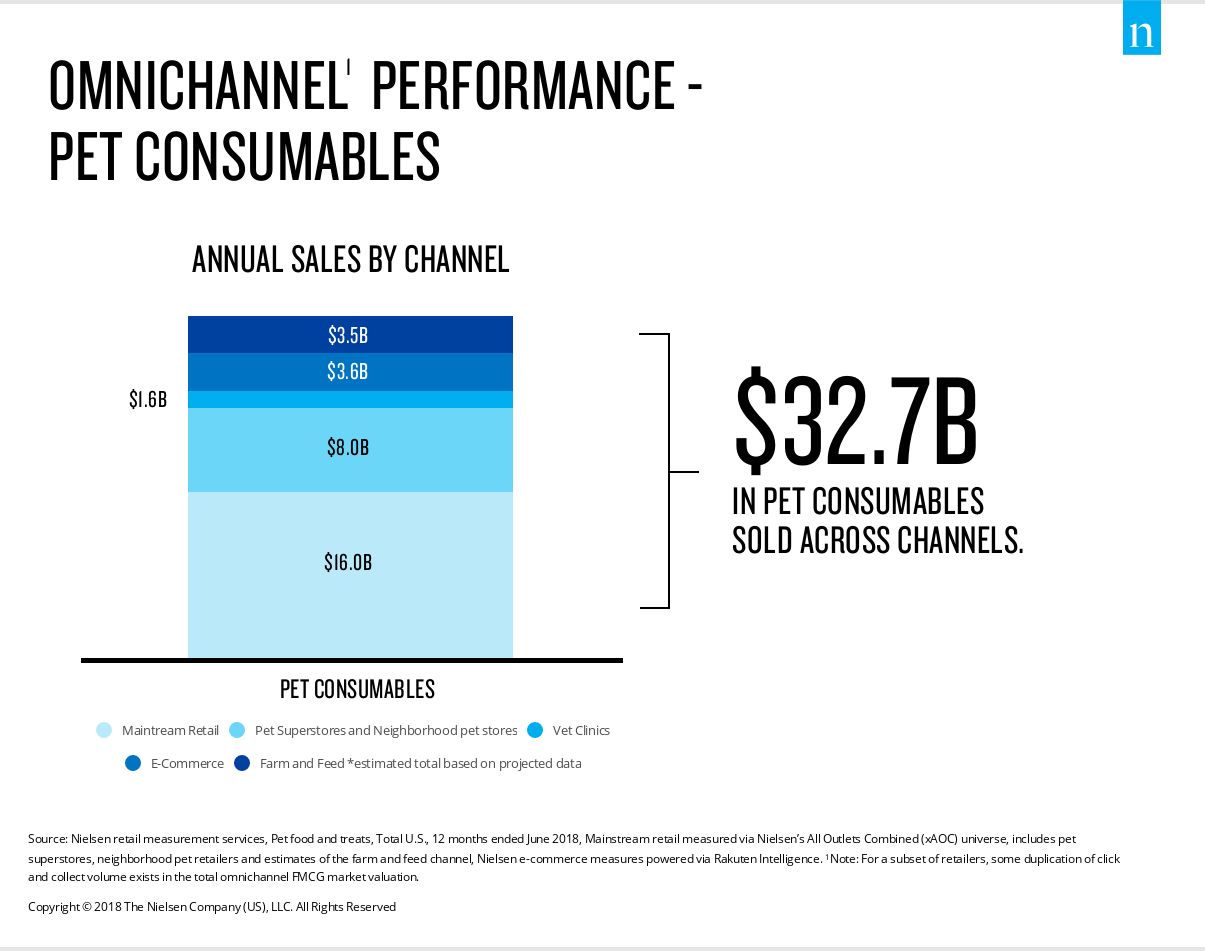 Dog food sales overall are up 2% from the previous year, driven by a 4.7% increase in wet dog food sales, a 43% increase in natural dog food sales and a 27% increase in dog food sales for products not containing artificial colors. While growth has stagnated, dog food is still the leading sales category of pet food and treats, according to Nielsen.
As pet superstores are on the decline, neighborhood pet shops continue to see dollar and volume growth. Combined, these two categories make up $8 billion in sales, which has increased 0.7% over the past year. Specialty features and unique services offered by neighborhood pet shops support growth in this category, while pet superstores are struggling to compete with online product variety, according to Nielsen.
High quality pet food has given way to growing popularity of meal enhancers, including dry, wet and liquid toppers or mixers, representing a 21% growth to $84 million in annual sales for specialty pet retail from last year. Nielsen stated bone broth and stews sold in cartons and pouches have especially contributed to this growth.
Veterinary clinics are experiencing declines in prescription pet foods, as well as diminished overall pet food sales totaling $1.6 billion, down 6% over the past year. Wet pet foods purchased at veterinary clinics are still competing, though, with a higher share of those sales compared to other pet food retailers.
Keep up with the latest pet food trends on our Trends page.