ORLANDO, FLA. — Packaged Facts shared its "U.S. Pet Market Outlook 2023" during Global Pet Expo held in Orlando from March 22 to 24. According to David Sprinkle, research director at Packaged Facts, rising inflation and steady growth in cat ownership will drive the industry in the coming years.
Consumer sentiments
Consumers continue to treat pets as members of their family, a sentiment that is no longer unusual and only continues to grow. When considering the statement, "I consider my pets to be part of the family," a total of 96% of pet parents strongly and somewhat agreed, according to research from February 2023. Diving deeper into this sentiment, 90% either strongly or somewhat agreed with the statement, "My pets are central to my home life."
Not only are pets considered integral to consumers' families and their homes, but they have also become important to consumers' mental health. According to Sprinkle, the awareness of pets' mental health benefits is climbing higher than those for physical health benefits. Further examining the tie between mental health and pet ownership, in February 2023 research, 67% of Millennials and Gen Z, 70% of Gen X, 68% of Boomers and 62% of Seniors (75 and older), strongly agreed that their pets are important to their mental health.
For reference, in January 2022, 66% of Millennials and Gen Z, 65% of Gen X, 62% of Boomers and 58% of Seniors (75 and older), strongly agreed with the statement, highlighting that older pet parents are beginning to see the effect pets have on mental health.
As consumers continue to consider their pets part of their family and recognize the mental health benefits of pet ownership, demand for products that support pet health begin to skyrocket.
Pet products
Overall, pet products have historically witnessed significant growth, however pet food always remains king in the space.
Packaged Facts compared the sales of pet food and treat products with pet supplies, detailing that sales from 2021 to 2022 increased 11.9% for pet food/treats and sales for pet supplies increased 9% for the same period.
"For a long time, pet market growth... has been driven by premiumization [and humanization] of products and services..." revealed David Sprinkle. "Now it's being driven by inflation rather than humanization, which is a different story."
According to Sprinkle, pet food remains the most important product to pet health in 2023. Eighty-four percent of cat owners and 78% of dog owners believe pet food is most important for their pet's overall health. Not too far behind is pet treats, with 44% of cat owners and 43% of dog owners considering treats to be important to pet health. Behind that are non-prescription pet vitamins and supplements, of which 35% of cat owners and 40% of dog owners consider to be important to their pets' health.
"Pet food is first, which is not surprising" Sprinkle shared. "[Consumers also consider the most important pet health products to be] pet treats and supplements. The latter a very hot category along with fresh pet food."
Interestingly, consumers consider pet treats and non-prescription vitamins and supplements to be more important than pet grooming, bathing or first aid products.
"Consumers themselves have an increasingly holistic view of what pet health is," Sprinkle added.
The report also detailed the slight difference for consumers between wellness and pampering. Sixty-eight percent of dog owners and 67% of cat owners purposely look for products to help improve their pets' health and wellness, whereas 53% of dog owners and 55% of cat owners look for products to pamper their companions.
Though it's clear that pet nutrition products are extremely valuable to consumers in maintaining their pet's health, their high costs have become the most significant challenges for consumers when it comes to pet ownership. Forty-two percent of dog owners and 44% of cat owners reported high costs of pet food in February 2023. Also, 25% of dog parents and 32% of cat parents shared that they experienced pet food shortages, preventing them from being able to get the products they usually purchase.
"This is the first year that I can remember where high cost of pet food actually trumps high cost of healthcare, and that is because of their recent inflation," Sprinkle shared.
High costs are no longer just impacting pet food, but the entire pet market as a whole, from healthcare and veterinary services to grooming and boarding.
"For decades, the pet market has long been famous for being recession [resistant], not quite recession proof," he explained. "…The market remains resilient; people aren't getting rid of their pets. But we can see how inflation and other economic concerns are beginning to affect even the more prosperous households that have long and increasingly been responsible for the gains in dollar growth.
"For a long time, pet market growth, which has been pretty fabulous, has been driven by premiumization [and humanization] of products and services, not by unit growth or growth in number of businesses," Sprinkle added. "Now it's being driven by inflation rather than humanization, which is a different story."
Despite inflation, pet parents continue to purchase various pet products, viewing them as more integral to pet ownership. Among these are pet treats, which have significantly expanded into various types. According to Packaged Facts, the purchasing rates for types of pet treats are all across the board. For example, 40% of both cat parents and dog parents purchase indulgent pet treats, whereas only 7% and 9% purchase rawhide or another form of long-lasting chew.
"Even the most indulgent pampering pet product category is not simply about indulgence," Sprinkle shared. "The cat treat market is a little more conservative, but the dog treat market has really been functionalized. Even dog biscuits, the most traditional dog treat, are very much fortified and supplemented and even extended into supplements. You can see how important pet health and wellness is, even in a pampering category like treats."
E-commerce battles brick-and-mortar
Brick-and-mortar has long been king in pet product purchasing, but the steady rise in e-commerce continues to gain share in pet product sales. According to Packaged Facts, brick-and-mortar pet product sales share has decreased from 84% in 2017 to 65% in 2022, while e-commerce has increased from 16% in 2017 to 35% in 2022.
Alongside the battle between in-store and online, the growth in the pet specialty retail channel remains steady, holding around 34% to 35% of share of pet product sales from 2017 to 2022. Determined to make its mark, the pet specialty channel has combined its specialty know-how with the boom in e-commerce, taking a chunk of online share. Pet specialty e-commerce pet product share has increased to 41% in 2022 from 35% in 2017, whereas all other e-commerce channels have decreased from 65% to 59% during the same period.
With both brick-and-mortar and e-commerce representing large opportunities for pet products, Sprinkle highlighted the importance of utilizing an omnichannel strategy, as well as boosting direct-to-consumer delivery.
Purchasing trends
According to Packaged Facts, consumers are constantly changing their shopping methods, with 34% of Millennials and Gen Z, 21% of Gen X and 14% of Boomers reporting that their shopping patterns changed significantly from 2021 to 2022, likely due to COVID-19 and constantly rising costs.
"Consumers are shopping everywhere," Sprinkle revealed. "They're also constantly changing their shopping, and this especially is most recent with the inflationary concerns."
Shopping attitudes and consumer purchasing behaviors also continue to shift throughout pet, as well as all product categories. Remaining loyal to a brand has become less common place, as consumers hone their purchasing efforts on price comparing, online reviews and free shipping offers.
According to data from MRI Simmons shared by Sprinkle, the percentage of adults who agree that they read online reviews before buying products online jumped from 59% in 2012 to 81% in 2022. The percentage of adults who agree that free shipping offers attract them to an e-commerce site increased from 62% in 2012 to 81% in 2022. The percentage of adults who compare prices before buying online also increased from 63% in 2012 to 78% in 2022.
Remaining loyal to a brand, buying US-made and free shipping offers are more likely to influence older shoppers, Gen X, Boomers and Seniors. Whereas, free shipping offers, reading online reviews before purchasing, and comparing prices online remain strong habits within younger shoppers, Millennials and Gen Z.
Not only are there generational differences in consumer purchasing behaviors, but consumers are also committing to cross-shopping at various retailers. For example, of the consumers that purchase pet food products at Petco, 40% also purchase pet foods at PetSmart. Of the consumers that purchase pet food through a veterinarian, 33% also purchase from Chewy; and of the consumers that purchase pet food via Amazon, 42% also purchase from Walmart.
To the future
Looking to the future of the pet food and product industry, Sprinkle shared two large trends that are expected to impact growth — inflation and attritions in ownership.
Coming off COVID-19 shutdowns, consumers continue to face job insecurity and record price hikes that increase in wages have failed to fully offset, according to Sprinkle. Inflation will undoubtedly continue, likely making many consumers rethink their pet food and treat purchasing habits.
As many Boomers and Seniors age out of pet ownership, according to Sprinkle, the number of dog-owning households is steadily decreasing, while cat-owning households remain steady and face growth. According to Packaged Facts dog-owning households have decreased from 42% in 2018 to 38% in 2022, whereas cat-owning households have increased 1% during the same period. The market research firm projects that the percent of dog households will hit 40% in 2026 and those with cats will hit 25%.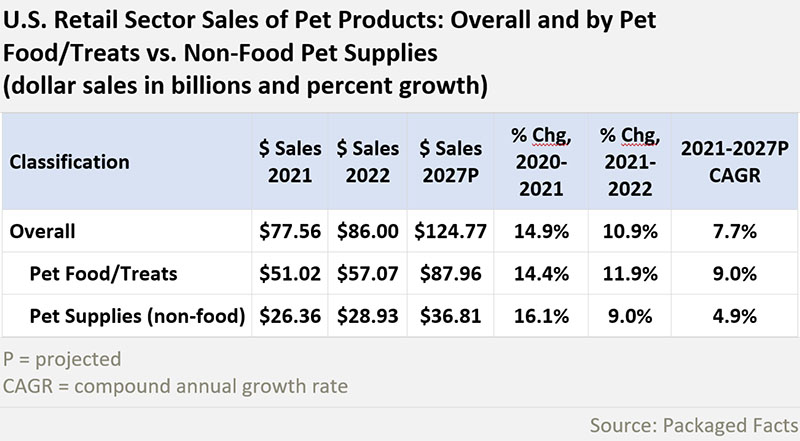 "Cats have long been treated somewhat as second-class citizens in the US market, and that might even be a little bit generous," Sprinkle said. "The industry has gotten much better in the last few years, but cat parents are aware.
"I think it is important to keep in mind that the US market in particular has been so dog-centric for so long, but now it's not just about dogs," he added. "[The cat population] is inching up; the percentage of households that have cats has always been very stable. So [it's important that] cat parents get the products and services they need, and to keep in mind that they're the growth market."
Packaged Facts projects that US pet food/treats sales will achieve $124.77 billion and pet supplies sales are projected to reach $87.96 billion by 2027, overcoming inflationary pressures, changes in consumer purchasing behaviors, adjustments in pet ownership and more.
Read more of our Global Pet Expo coverage.