OAK CREEK, WIS. — Stella & Chewy's, a raw-focused pet nutrition brand based in Wisconsin, has announced the launch of its first-ever national advertising campaign, "All You Need Is Raw." The campaign, which will celebrate "the raw, unfiltered love" between pet owners and their pets and the role nutrition plays in bolstering the human-animal bond, follows double-digit sales growth for the company since 2019.
According to David Campbell, chief marketing officer at Stella & Chewy's, this growth has been driven by the intersection of several trends: pet humanization, pet product premiumization and a swell in pet ownership in the United States.
"We've done several studies recently, and one of the stats that popped out was that 98% of pet parents surveyed see the relationship with their pet as one of the strongest emotional relationships they have in their lives," Campbell told Pet Food Processing. "That really encompasses our target audience."
Stella & Chewy's was founded in 2003 by Marie Moody out of her apartment in Brooklyn, NY. The brand has since scaled and moved its operations to Wisconsin — first to Muskego, then Milwaukee, then Oak Creek — and implemented a 140,000-square-foot expansion in late 2018 that elevated the company's kibble and freeze-drying capabilities.
The innovation pipeline at Stella & Chewy's includes a gently cooked product to add to its existing refrigerated/frozen portfolio, as well as several other innovations targeting feedback from the company's pet parent community.
"We actually have a pretty large pet parent community, and we tap into them quite a bit for ideas," Campbell said. "What are they looking for? What is needed? Where is there a gap in the market? And that's how we try to inform and shape our pipeline."
The company's omnichannel strategy includes neighborhood pet stores and e-commerce giants Amazon and Chewy. Its "All You Need Is Raw" campaign represents the company's largest advertising investment to date.
"The raw pet food space continues to rapidly expand as more pet parents strive to feed their pets as they would themselves — with real and less processed foods," Campbell said. "With this new campaign, we aim to raise awareness of the Stella & Chewy's brand and portfolio, which offers a range of dog and cat food products to meet varying pet parent needs."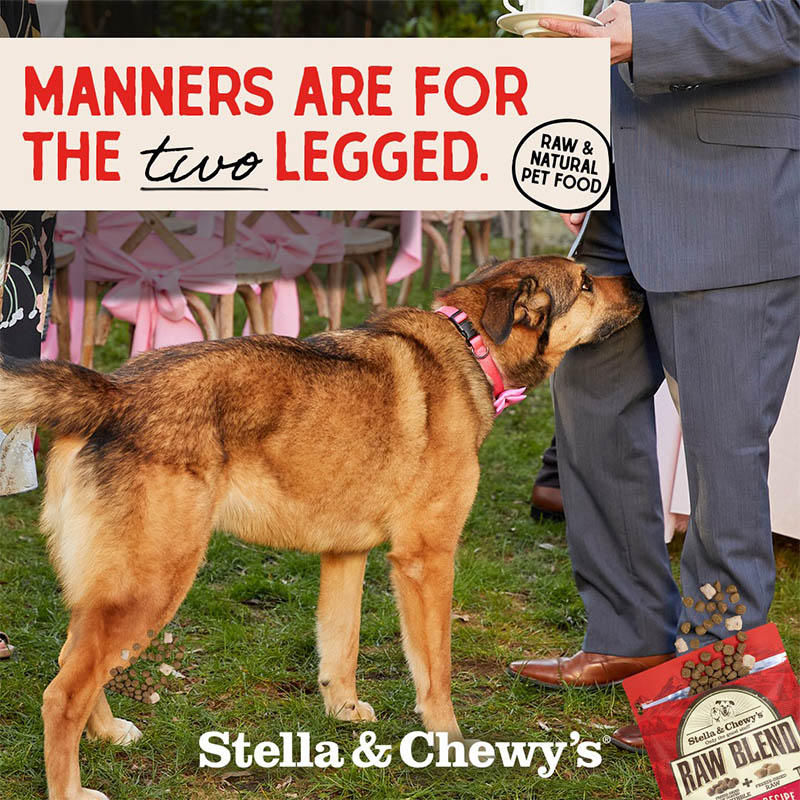 Stella & Chewy's partnered with Chicago-based Highdive Advertising to develop several 15- and 30-second ads to run across several platforms, including television, audio, social media, custom content, mobile media and influencer relations.
"We're so excited for this partnership with Stella & Chewy's," said Mark Gross, chief commercial officer and co-founder of Highdive Advertising. "As many of us at Highdive are pet parents or lovers ourselves, we appreciate Stella & Chewy's commitment to providing pets with healthier, less processed foods. For their first-ever national brand campaign, we knew we had to go bold and candid with these spots to show exactly how raw pets can be — and why we simply love them for it. We thoroughly enjoyed collaborating with the Stella & Chewy's team to bring this campaign to life and can't wait for what's to come."
Paid media for the campaign will be managed by Exverus Media to help Stella & Chewy's expand its household penetration and attract new customers.
"Our consumer insight is that pet parents want shared experiences with their pets," said Tasha Day, vice president of media at Exverus Media. "So, the media placements had to support 'co-viewing' opportunities: think Animal Planet and Bravo, pet music playlists on Spotify and pet Reddit communities."
Aside from the company's recent growth and advertising campaign, Stella & Chewy's continues to support its Journey Home Fund, which senior pet adoptions during Senior Pet Adoption Month in November and donates meals to shelter pets.
Stay up to date on the latest pet food processing industry headlines on our News page.