BOULDER, COLO. — Amidst a nationwide shortage of wet cat food, "I and love and you" has launched two new lines of wet cat food to meet consumer demand: XOXOs and Feed Meow. Both product lines feature the company's core ingredients of real meat and fresh ingredients along with non-GMO, grain- and carrageenan-free protein.
 "Our new lines are great for cats who are picky eaters or need variety at mealtime," said Lindsey Rabaut, vice president of marketing at "I and love and you." "The diverse blend of high quality, sustainably sourced meats are something you and your cat will feel good about. Each serving delivers a wealth of flavor to delight your cat, while mixing in added nutrients for a shiny coat and a happy tummy."
According to the company, XOXOs and Feed Meow wet pet food formulas are veterinarian approved and formulated with premium ingredients and sustainably sourced meat. XOXOs and Feed Meow also uses Terra-Cycle 100% recyclable packaging.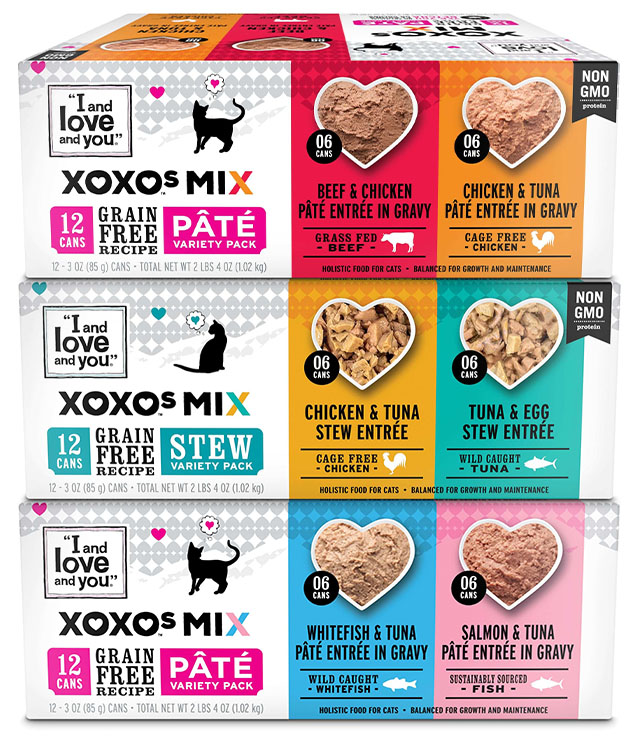 The XOXOs line is formulated with cage-free chicken and wild-caught tuna and comes in 3oz cans with six flavor options. The line offers two stew flavors: Chicken & Tuna and Tuna & Egg; and 4 pâté flavors: Salmon & Tuna, Chicken & Tuna, Beef & Chicken and Whitefish & Tuna. The line also offers several variety packs.
The Feed Meow line contains fiber, vitamins and antioxidants to support digestion, healthy skin and shiny coat. Coated in gravy, the food is formulated with wild-caught tuna, salmon and cage-free chicken and comes in 3oz pouches. The Feed Meow line offers three flavors: Feed Meow BOOST with Cage Free Chicken, Feed Meow TUMMY with Wild Caught Tuna and Feed Meow SHINE with Salmon + Tuna. The line also features a variety pack.
XOXOs and Feed Meow by "I and love and you" are available at grocery stores and online at Amazon, Chewy and Thrive.
Read more about new pet food and treat products.