MONROE, Wash. — Wet Noses Inc., a human-grade pet food and treat manufacturer, has introduced three new product lines featuring locally sourced cat food, grain-free dog treats and CBD dog treats. All are formulated with locally or domestically sourced human-grade ingredients.
Wet Whiskers locally made food for cats provides a fully balanced diet free from artificial ingredients, hormones and antibiotics. It is available in four recipes: fish, chicken, beef and turkey. This is the first cat food product by Wet Noses.
"We have been innovating and have perfected the dog food and treat market since 1998 and have reached a point where we would like to offer the same healthy, limited ingredient options for all pets that all pet parents can trust," Galligan said.
Wet Noses Grain-Free treats are made with organic pea flour and other organic, locally or domestically sourced ingredients. They are available in seven flavors: berry blast, peanut butter and banana, hemp seed and banana, peanut butter and molasses, apple and ginger, carrot and sweet potato, and pumpkin and quinoa.

"We wanted to offer dogs with allergies, sensitivities, sicknesses and even healthy dogs with a limited ingredient treat that included healthy carbohydrates to keep them healthy, energetic and satisfied," said Jasmine Galligan, founder of Wet Noses.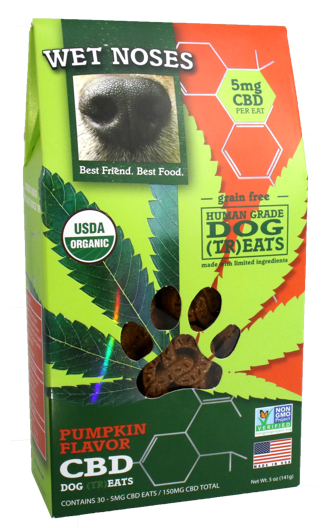 Finally, Wet Noses CBD (TR)EATS for dogs are formulated with CBD oil extracted from US hemp. According to the company, they are non-psychoactive and THC-free. Galligan added, "We all know the CBD market is ready for some stability and we're in a position to bring our vast experience to this market with our new human grade CDB EATS for dogs." The CBD treats are available in four flavors: peanut butter, pumpkin, hempseed and banana, and sweet potato.
Wet Noses produces 100% human-grade treats and food for dogs and cats using non-GMO, natural ingredients. Its formulations are free from corn, wheat, soy, preservatives or artificial ingredients. The company aims to be environmentally sustainable by sourcing all its ingredients locally or domestically. Wet Noses is based in Monroe, Washington.
Read more about products and brands shaking up the pet food and treat market.