ROCKVILLE, MD. — Dog and cat food sales in the United States are expected to hit $37.1 billion in 2021, according to Packaged Facts. This represents a 6.4% increase compared to the market research firm's sales count for 2020.
What's more is this seemingly recession-proof pet industry category is projected to reach $47.9 billion by 2025 with a strong and steady compound annual growth rate (CAGR) of 6.6%.
David Sprinkle, research director at Packaged Facts, noted the COVID-19 pandemic has accelerated investment, product development, marketing and retail trends seen in this category. These "fast-forwarded" trends include super-premium, natural and science-based formulations, non-traditional formats such as fresh, refrigerated/frozen and alternative proteins, increased demand for sustainability and ethical sourcing, and the erosion of conventional point of sale boundaries.
Stronger bonds with companion animals and attention to emerging formats has resulted in some category usage shifts. While dry dog food continues to lead the pack in terms of sales, refrigerated/frozen dog and cat foods are gaining speed, along with cat treats and wet dog food, according to Chicago-based market research firm IRI.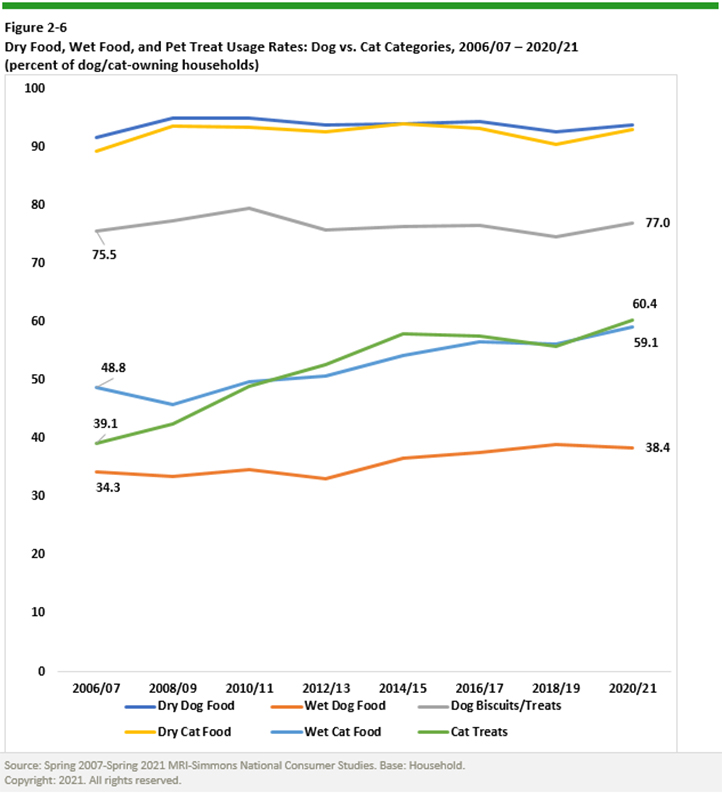 According to Packaged Facts, cat treat usage rates are up from 39% in 2007 to 60% in 2021, and wet cat food purchase rates are up from 49% to 60% over the same period. The firm noted that historical purchasing rates for wet cat food are continuing at a higher rate than that of wet dog food, even as wet dog food usage rates climb. The same is true for dog and cat treats – cat treat purchases have surged, but dog treats still have the leg up.
Earlier this year, Packaged Facts shared insights pointing to a burgeoning pet e-commerce space. The top three players in this space are currently Amazon, Chewy and Walmart. Additionally, the firm predicted the overall retail pet product sector will reach $94.6 billion in sales by 2025, with e-commerce making up 53% of sales in the total market by that time.
The market research firm also noted independent brick-and-mortar pet retailers are increasingly adopting new ways for pet owners to shop for and receive products to stay competitive, including buy online, pick up in-store options, curbside pick-up, and quick delivery programs.
Packaged Facts shared these pet food projections and takeaways in its U.S. Pet Market Focus: Pet Food Update, released November 2021.
Keep up with the latest pet food trends on our Trends page.