SAN DIEGO — Petco Health and Wellness Company, Inc. launched Petco Whole Health on March 29, its new framework for helping pet owners improve holistic health and wellness for their companions.
The framework includes five pet health perspectives, which Petco says are interconnected and "strengthen one another when addressed as a whole." The areas include physical, mental, social, home and accessible health.
"The Whole Health philosophy is at the core of our journey from pet specialty retailer to a 360-degree health and wellness partner," said Tariq Hassan, chief marketing officer of Petco. "We know pet parents want to do the best for their pets; they just need support to know how. This provides a clear framework for pet parents to act in the best interest of their pets, further defines our mission to improve lives for pets and pet parents, and sets a baseline for what's to come from Petco in the health and wellness space."
According to Petco, physical health relates to nutrition, activity and preventive care; mental health addresses boredom and anxiety concerns; social health addresses comfort with other animals and humans; home health means creating a safe and stimulating environment for the pet; and accessible health relates to affordability and convenience of pet products and services.
This week, April 5, the retailer will kick off a three-week campaign, called the Petco Whole Health challenge, to recognize and reward pet owners for taking holistic health action for their pets. The retailer will provide five tips each week to engage pet owners with the campaign and its new philosophy.
"The simultaneous launch of our new creative campaign and strategy – it's what we'd want if we were pets – brings it all to life by confirming our commitment to delivering the same, if not better, care for the well-being of pets that we expect for ourselves as humans," Hassan added.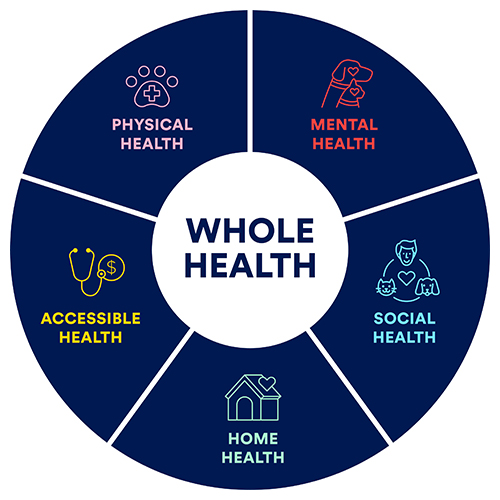 As part of this new Whole Health philosophy, Petco is also reevaluating some of its pet treat products. The retailer shared that 71% of pet owners it surveyed report having concerns about traditional rawhide pet chews. To address these concerns, Petco has removed all 32 traditional rawhide products it previously stocked, and is restocking in-store and online shelves with rawhide alternatives.
"In line with veterinary recommendations, Petco is choosing to focus on safer alternatives to rawhide and steer pet parents away from the digestibility health concerns associated with the traditional products," said Dr. Whitney Miller, head of veterinary medicine at Petco. "While many dogs enjoy traditional rawhide, the fact that they pose even a minimal risk to pet health led to the conclusion that we should exclusively focus on products that better align with our mission and Whole Health philosophy."
Some pet owners' concerns around rawhide chews include choking, digestibility issues and the origin of ingredients used in these treats. Petco has added new options, ranging from highly digestible rawhide, plant-based alternatives and rawhide-free meat chews.
The retailer has added a webpage full of educational materials to help pet owners choose the right rawhide alternative dog chew.
This is Petco's latest move in a series of improvements aimed to solidify the retailer as a complete health and wellness partner for pets and pet owners. In May 2019, the company purged dog and cat food products with artificial ingredients from all in-store and online shelves.
The company rebranded as "Petco Health and Wellness Company" in October 2020, went public on the Nasdaq Global Select Market and collected $939 million in its initial public offering on Jan. 19, 2021, and recently appointed three new board members to further its diversity and digital-driven brand strategy.
Stay up to date on the latest pet food processing industry headlines on our News page.