As in the human food marketplace, concurrent trends driven by taste, convenience, lifestyle and interests impact the pet food marketplace. For one thing, sustainable packaging is a growing focus of today's consumers, including pet parents. On the other hand (or other paw, as it may be), interest in wet pet food, particularly among discerning millennial-aged shoppers looking for premium products for their pets, is holding and evolving; consumers spent $3.92 billion on wet cat food and $2.62 billion on wet dog food in 2017, according to data from Packaged Foods.
If consumers are looking for alternatives to non-recyclable materials and are concerned about excessive waste from plastic packaging, where does this leave cans?
Cans, which have been edged on many store shelves by dry dog foods and wet pet foods packaged in chubs and other flexible, plastic-based formats over the years, continue to have a place in the increasingly competitive pet food market, spanning specialty brands and channels as well as traditional brands and stores, say those in the industry.
The ongoing appeal of cans comes from a variety of attributes, says Jilliann Smith, director of communications for Merrick Pet Care, Amarillo, Texas. "The primary benefit of introducing canned food recipes into a dog's diet is to strengthen pet parents' relationship during feeding time," she adds.
Annabelle Immega, trade marketing manager for Petcurean, with US headquarters in Houston, Texas, notes that package design for pet food isn't an all-or-nothing proposition. "While the convenience of dry food still makes it the most popular choice for pets, there are numerous benefits to wet food. For pet parents, wet food is a great solution for those interested in rotational feeding. Whether used as a complete and balanced meal, a topper or a treat, wet food makes it easier for pets to sample different flavors and textures, ensuring they are getting nutrients from a variety of sources," she explains.
"While the convenience of dry food still makes it the most popular choice for pets, there are numerous benefits to wet food," says Annabelle Immega, trade marketing manager for Petcurean.
From a product composition and quality standpoint, wet pet foods packaged in cans offer certain benefits. "Because wet food is soft, it is very easy to eat, making it a great option for pets who have dental issues — for example, with teething puppies or older pets who have pulled teeth. And of course, there is the extra benefit of acting as an additional source of hydration, which is key for typically water-averse pets such as cats and small breed dogs," Immega remarks.
Smith echoes that kind of benefit associated with canned foods. "Canned food is also soft on a dog's teeth, easy on the stomach and adds moisture that supports digestive system health," she says.
The can format can be attractive to consumers from a practical perspective as well. "Wet food is also convenient to store in the home due to the packaging size and ability to stack," remarks Immega.
At a time when consumers are concerned about plastic waste impacting the environment, most steel and aluminum cans can be recycled. If consumers recycle other steel cans, such as soup and coffee cans, through their local recycling program, pet food should also be accepted.
At Merrick, Smith reports that the company's cans are made of tin-coated steel with an organic coating on the inside of the can. "As with other steel items, they can be recycled," she says.
Brands have worked to share such recyclability messages with their pet parent consumers. Petcurean, which has a stated commitment of sustainable business practices and a goal of 100% recyclable materials, explains to consumers that its GO! Line of canned foods is totally recyclable.
St. Louis-based Nestle Purina, citing a recycling industry statistic that less than 20% of aluminum pet food cans are recycled compared to 54% of aluminum cans for human use, launched its "Together We Can" initiative a few years ago to educate pet parents about the recyclability of pet food cans. 
In a big picture way, cans aren't relegated to the pet food industry's trash heap or recycling bin; canned pet foods are part of many pet food processors' product mix. At Merrick, Smith says that canned pet food has a role in the general product line. "Cans, as well as pouches and individual serving dishes such as our Lil' Plates for smaller breeds, offer convenient and right-sized portions in packaging that is easy to open and serve. It helps pet parents control the portion size and assists in maintaining their pets' optimal weight," she points out.
Variety Show
Several manufacturers, including major companies, offer canned products in their respective portfolios. As smaller, specialty and niche brands within the pet food industry grow, they, too, produce food in cans, including natural and organic foods.
The can is also important to some cooking methods. For instance, Merrick's slow-cooked whole chicken wings and thighs feature marinated tender chicken cooked on a softened bone. "The food is pressure cooked inside the can and this process is what softens the bones. This special cooking process makes the bone mushy and safe for dogs to enjoy — the bones also provide the full flavor that dogs love," Smith adds.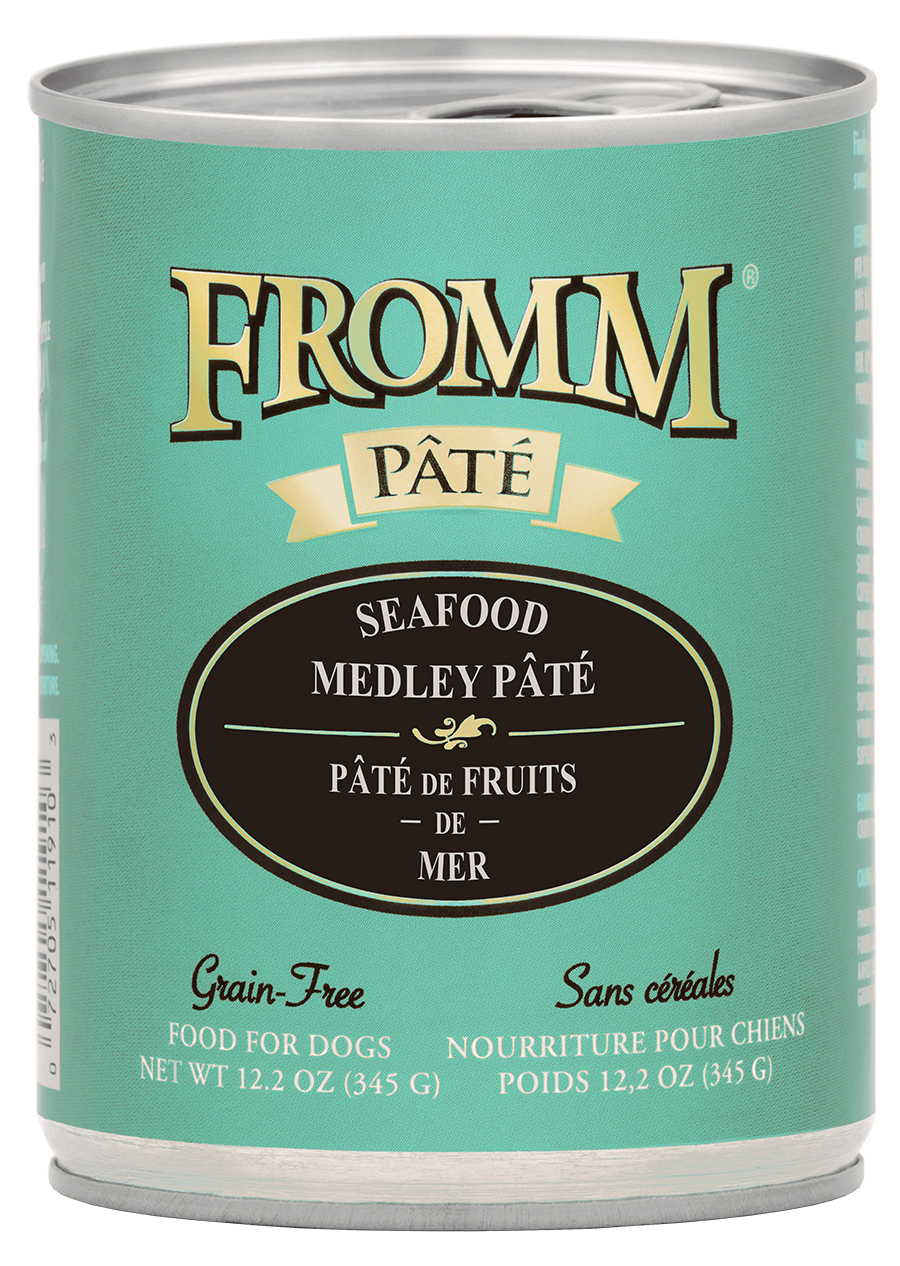 Natural pet food processors continue to roll out cans of natural and organic foods. Bravo Pet Food, Manchester, Connecticut, recently complemented its line of frozen raw pet food with canned foods under the Canine Café and Feline Café label. Late last year, Fromm Family Foods, based in Mequon, Wisconsin, introduced Fromm Pâté, canned grain-free entrees sold in flavors like venison and lentil and whitefish and lentil, among others.
Also generating some excitement in the canned food segment are unique or seasonal flavors created to garner interest among pet parents looking for premium or gourmet foods for their dogs, cats and other animals. Merrick, for its part, offers seasonal recipes like Howl O'Ween Stew, New Year's Eve Paw-ty and its original seasonal flavors of Turducken and Thanksgiving Day Dinner recipes. The company recently sponsored a "Name-the-Can" contest to engage pet parents by giving them an opportunity to name a limited-edition recipe, according to Smith.
Increasingly, meal time for pets is becoming about the experience and the bonding opportunity between humans and their pets. Mars Petcare calls this food philosophy trend in the pet world culinary. Pet owners are focusing on both the health benefits of the food they feed to their pets and the enjoyable experience. In support of this trend, more brands are encouraging pet owners to combine wet pet food with dry kibble as toppers or special treats. A focus on food as an experience for pets will undoubtedly keep canned pet food in the mix.
For more news related to pet food packaging solutions, read about up-and-coming can alternatives.