VEVEY, SWITZERLAND — Like many companies in the era of COVID-19, Nestlé is adjusting and adapting to new market demands and challenges. The company released its nine-month financial results on Oct. 20, which show Purina PetCare's resiliency, the rise of e-commerce, and a continued decline for out-of-home sales.
Nestlé's overall net sales in the first nine months of fiscal 2020 were down compared to the first nine months of fiscal 2019, dropping 9.4% from 68.4 billion Swiss francs ($75.4 billion USD) to 61.9 billion Swiss francs ($69.2 billion). Sales by geographic zone and product category were down across the board, apart from a slight sales growth of 4.1% for Nestlé's Purina PetCare segment and another marginal increase for the company's "other businesses" zone.
Net sales for Purina PetCare reached 10.4 billion Swiss francs ($11.4 billion), representing the company's second-largest category in terms of sales so far in 2020, behind powdered and liquid beverages at 16.2 billion Swiss francs ($17.9 billion). PetCare sales are currently up 4.1% from 2019.
"Purina PetCare remained a standout contributor," said François-Xavier Roger, executive vice president and chief financial officer during Nestlé's Oct. 21 earnings call. "Growth continued to be driven by successful innovation, e-commerce and premium brands. As a result of increasing demand, we are further expanding our production capacity with an investment of $450 million in a new plant in North Carolina, which will be operational in 2022."
Purina PetCare posted 10% real internal growth and 10.6% organic growth over the nine-month period.
Note: Swiss franc to USD conversions are based on Oct. 22 exchange rates.
"Nestlé has remained resilient in a difficult and volatile environment," said Mark Schneider, chief executive officer. "Our people have acted in a responsible and prompt manner to mitigate the impact of the global pandemic and have adapted quickly to evolving consumer needs. Strong organic growth was broad based and supported by sustained momentum in the Americas, Purina PetCare and Nestlé Health Science, as well as the acceleration of our coffee business in the third quarter."
By product category, Purina PetCare's premium brands — such as Pro Plan, ONE and Felix — were the largest growth contributors for Nestlé over the last nine months. The company's dairy, coffee-at-home and Health Science segments also reported strong growth.
Purina PetCare sales grew at double-digit rates in the company's three main geographic zones, Zone AMS, Zone EMENA and ZONE AOA.
Purina PetCare was also the largest growth contributor in Zone AMS, which includes the United States, Canada, Latin America and the Caribbean. In North America alone, e-commerce, premium brands, veterinary products and supplement sales drove a double-digit sales increase for the segment, according to Nestlé.
Key growth drivers in Zone EMENA, which includes Europe, the Middle East and North Africa, include Purina's Felix and Pro Plan brands, as well as Tails.com. In Zone AOA, which includes Oceania and sub-Saharan Africa, infant cereals and Purina PetCare both drove double-digit sales increases. Purina was listed as a top growth contributor for this zone, alongside dairy, culinary products and coffee.
"PetCare continued to see outstanding growth globally, supported by momentum in e-commerce, premiumization and science-based offerings," Roger said. "Most segments grew at a double-digit rate with market share gains. We continue to bring innovation to the market, including Purina Pro plan LiveClear in North America and Europe and Purina Prime Bones in North America."
E-commerce proves to be a lucrative opportunity for the company. Nestlé reported online sales grew 47.6% over the nine-month period, making up 12.3% of total sales for the company so far this year. E-commerce sales made up 8.5% of overall sales in 2019.
According to Roger, Nestlé's Purina PetCare, coffee, nutrition and water businesses have driven strong growth in e-commerce so far in 2020.
"In about 60% of our business sales online, we have improved and maintained our market share, and the interesting thing as well is in about two-thirds of the cases, we have a better market share online than offline," said Schneider during Nestlé's Oct. 21 earnings call.
In emerging markets, Rogers said Nestlé's strategy is focused less on premiumization and more on category conversion.
"It's much more about category conversion, which we are actually driving in many of the markets," he explained, "…We are gaining significant market share as we speak in Eastern Europe, in Latin America as well as in Asia overall."
Nestlé's retail sales are on the up-and-up, growing organically from 6.9% in the second quarter to 8.6% in the third quarter. On the other hand, organic growth for out-of-home sales, which includes Nestlé Professional, foodservice activities of Nespresso, Starbucks products and water, travel retail and Blue Bottle sales, has been negative for the entirety of 2020, down 54.7% in the second quarter and 26.4% in the third quarter.
Compared to the first nine months of 2019, organic retail sales growth increased from 3.7% to 7.1% in 2020, while out-of-home sales went from 3.8% organic growth in 2019 to -31.5% so far in 2020.
"I think what you're seeing here is genuinely people staying more at home, consuming more at home and also now getting settled into that habit, which I think is going to be here to stay with us for a while, and I think that bodes well generally," Schneider said. "So, I see it as something positive."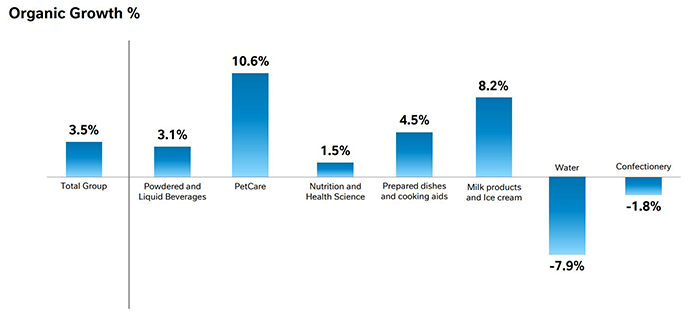 Despite falling short of net sales growth over the first nine months of 2020, the company reported "real internal growth" of 3.3%, organic growth of 3.5%, and increased its annual guidance. It expects full-year organic sales growth to reach 3%, as well as improved operating profit margins, underlying earnings per share and capital efficiency, Nestlé reported.
"We continue to develop our portfolio with speed and discipline," Schneider said.
Read more about corporate strategy, financial performance, mergers and acquisitions on our Business page.