VEVEY, SWITZERLAND — Purina PetCare was the leading business segment for Nestlé S.A. in 2020, which experienced across-the-board reported sales declines compared to its financial performance in 2019. Despite these numbers, the company reported 3.6% organic growth for the year.
"PetCare saw outstanding growth globally supported by e-commerce, premiumization and science-based offerings," said François-Xavier Roger, executive vice president and chief financial officer. "Most segments grew at a double-digit rate with market share gains. We continue to bring innovations to the markets, including Purina Pro Plan LiveClear and Purina Prime Bones."
By product category, Purina PetCare was the only business to post an annual increase in net sales at 14 billion Swiss francs ($15.6 billion USD), up 2.8% from 2019.
Overall, the company reported total annual sales of 84.3 billion Swiss francs ($94 billion USD), down approximately 8.9% from full-year 2019 sales. Real internal growth (RIG) was reported at 3.2% overall.
"The most significant contributor to growth was RIG, which accelerated to 3.2%, the highest level in the last nine years," Roger said. "Our strong RIG is largely made of positive product mix, which is a good illustration of our capacity to innovate on premiumized offerings. Pricing was 0.4% and improved during the year, particularly in emerging markets."
The company's Zone AMS operating segment — which includes North America, Latin America and the Caribbean — saw organic sales growth of 4.8%. Purina PetCare was the largest contributor to organic growth in this region, driven by strong e-commerce and science-based premium brand sales.
The company also announced two new Purina Petcare facilities — one in Ohio and another in North Carolina — and other expansions in the United States in 2020, doubling down on its operational investments in Zone AMS. These expansions represent an investment of $1.5 billion USD in new production capacity, Rogers shared.
Purina brands posted double-digit growth in Latin America in 2020.
Reported annual sales for Zone AMS totaled 34 billion Swiss francs ($37.9 billion USD), down 10% from 37.8 billion Swiss francs ($42.2 billion USD) in 2019.
In Zone EMENA — which includes Europe, the Middle East and North Africa — Purina PetCare was also a leading growth contributor, alongside the company's coffee and culinary segments. Portfolio expansions in this region contributed to growth, including the company's acquisition of Lily's Kitchen, a premium pet food brand based in London, in April 2020.
Purina also reported double-digit growth for its Felix, Purina Pro Plan, Tails.com and Lily's Kitchen brands in Zone EMENA.
Reported annual sales for Zone EMENA were 20.2 billion Swiss francs ($22.5 billion USD), down 5.8% from 21.5 billion Swiss francs ($24 billion USD) in 2019.
Zone AOA — which includes Asia, Oceania and sub-Saharan Africa — reported 0.5% organic growth and net sales of 20.7 billion Swiss francs ($23.1 billion USD), down 6.3% from 2019. Some segments of Purina PetCare saw double-digit growth in this region. Purina also led growth in Oceania, alongside coffee and confectionary businesses.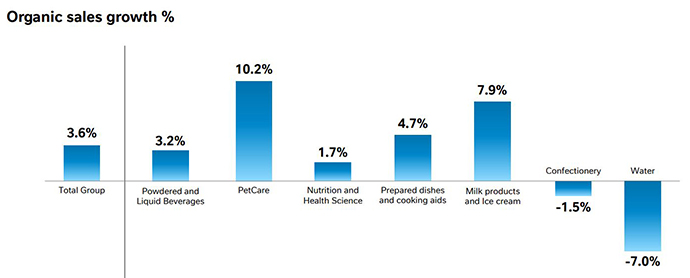 Impacts of the COVID-19 pandemic affected the company early-on and throughout the year.
"2020 was a year of hardship for so many, yet I am inspired by the way it has brought all of us closer together," commented Mark Schneider, chief executive officer. "I want to thank our employees and our partners — from farmers to retailers — who worked with us to ensure the supply of food and beverages to communities globally.
"Looking to 2021, we expect continued improvement in organic growth, profitability and capital efficiency in line with our value creation model," he concluded.
Read more about corporate strategy, financial performance, mergers and acquisitions on our Business page.