VEVEY, Switzerland — Purina PetCare continues to drive overall growth for Nestlé, as its nine-month sales report shows Purina's organic growth rate nearly doubling the company's overall organic growth rate. The company detailed its nine-month earnings Oct. 17.
"We are seeing good momentum in our largest market, the United States, and strong growth in our global Purina PetCare business," said Mark Schneider, CEO of Nestlé.
The company reported overall net sales growth of 2.9% from year-ago revenue, from $67.0 billion (66.4 billion Swiss francs) in the nine months reported 2018 to $69.0 billion (68.4 billion Swiss francs) in the nine months reported 2019.
Purina PetCare sales over this nine-month period totaled $10.1 billion (9.97 billion Swiss francs), ranking as Nestlé's third largest segment in terms of revenue behind powdered and liquid beverages ($17.0 billion) and Nutrition and Health Science ($11.8 billion).
Nestlé reported its Purina PetCare division was a key contributor to growth in all three of its geographic zones. Additionally, Purina's organic sales growth rate from year-ago trumped all others at 7.3%, compared to the company's total organic sales growth of 3.7%. The category with the next highest organic sales growth rate was Nutrition and Health Science at 5.2%.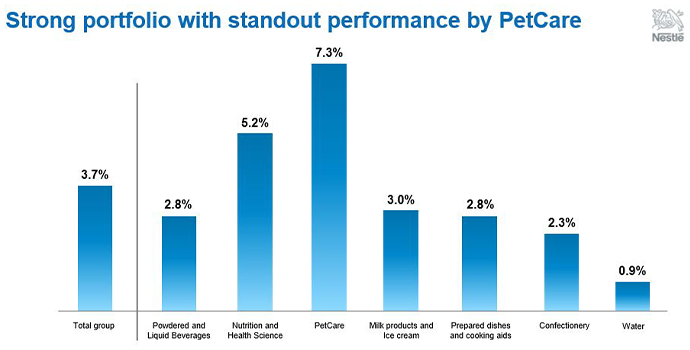 "The year-on-year growth acceleration was mostly driven by the United States and PetCare globally," said Nestlé CFO François-Xavier Roger.
Specifically, in North America, Roger said, "The largest contributor to growth was Purina PetCare which continued to see strong momentum in e-commerce and premium brands." Roger clarified later in the conference call that e-commerce sales growth for Purina has reached high single-digit in the US alone and is growing at above 40% across all regions.
Roger also said that Felix, Purina ONE and Tails.com were a "key growth platform" in Europe, the Middle East and North Africa (Zone EMENA).
"PetCare saw outstanding growth globally based on e-commerce, super premium and strong demand for science-based offerings. Purina ONE, Felix and Tidy Cats grew strongly," Roger added. Growth of these brands reflects a trend of strong growth for Purina One and Felix that Nestlé reported in April 2019 after the first quarter.
Overall, North and South America (Zone AMS) drove the most sales by far, at $31.5 billion, followed by Zone EMENA with $19.7 billion and Asia, Oceania and sub-Saharan Africa (Zone AOA) at $17.9 billion in sales for the first nine months of 2019.
Zone AMS also had the highest organic growth rate at 4.3% compared to 2.6% in Zone EMENA and 3.9% in Zone AOA, according to Nestlé.
Overall, Nestlé reiterated its environmental goals, which include achieving deforestation-free products, utilizing technology, supporting small shareholders and advocating for collective action and disclosure. So far, 77% of the company's key commodities are deforestation-free and Nestlé hopes to reach 100% within the next three years.
Read more about corporate strategy, financial performance, mergers and acquisitions on our Business page.