STAMFORD, CONN. — The American Pet Products Association (APPA) released its 2021 State of the Industry data on April 19, revealing the pet industry achieved its highest level of sales at $123.6 billion last year. According to the data, $50 billion was spent on pet food, accounting for about 40% of all sales within the industry.
This record-setting sales year follows another record set in 2020, when pet sales first exceeded $100 billion. For its 2021 projections, APPA expected 2020's sales growth to continue, estimating a 6% increase and bringing pet sales to $109.6 billion at the end of 2021. The actual data eclipses APPA's projections with 2021 pet sales increasing by 13.5%.
"The numbers don't lie: the pet industry has shown itself to be incredibly strong and resilient with a record-breaking two years," said Anne Ferrante, senior vice president of member relations and business development at APPA.
APPA's 2021 data revealed strong increases in every category of the pet industry, with pet food and treats topping the chart at $50 billion, a 13.6% increase from 2020. Pet supplies, live animals and over the counter (OTC) medications witnessed the largest year-over-year sales increase at 17.8% with total sales at $29.8 billion. Veterinary care and product sales increased by 8.9% with total sales at $34.3 billion, achieving the second-highest sales by segment in 2021. Pet services, including grooming, dog walking and boarding, reached $9.5 billion in sales, a 17.3% increase from 2020.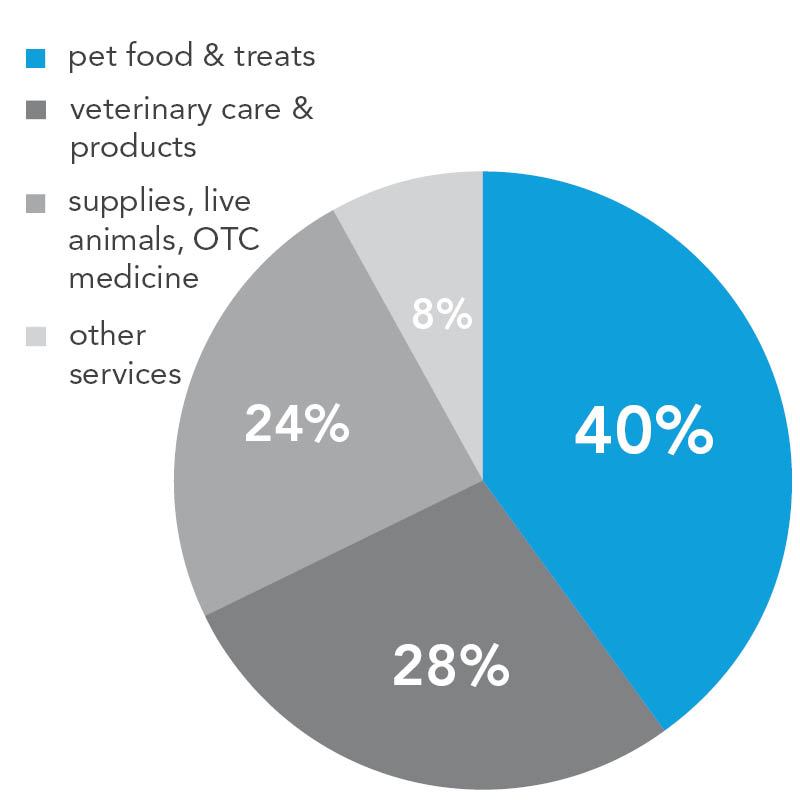 For 2021, pet food held the largest share of sales at 40.5%, while veterinary care and product sales held the second largest share at 27.8%. Pet supplies, live animals and OTC medications held about 24.1% of sales, and pet services held 7.7% of total pet industry sales.
"We expect continued growth as we look toward the remainder of 2022, although we anticipate it may be at a more moderate pace given the impact of volatile factors like inflation, supply chain issues and global relations," Ferrante said.
Stay up to date on the latest pet food processing industry headlines on our News page.