BRUSSELS — The European market for pet food has grown 2.8% to €21.8 billion ($26 billion USD), according to the European Pet Food Federation (FEDIAF)'s latest annual report. The association released its pet population and market overview on June 21, highlighting pet ownership data and how it relates to pet purchasing across Europe.
Roughly 38% of all households in the European Union own a pet today, a total of 88 million homes. Among these households live approximately 81 million cats, 71 million dogs and roughly 1 billion other companion animals, including 52 million birds, 30 million small mammals, 15 million fish and aquaria animals, and 9 million reptiles. Across all European households, there are more than 110 million cats and 90 million dogs.
Russia has the largest dog population at 17.1 million, followed by Germany with 10.7 million and the United Kingdom with 8.5 million. Russia also has the largest cat population, at 22.8 million, followed by Germany with 15.7 million and France with 15.1 million.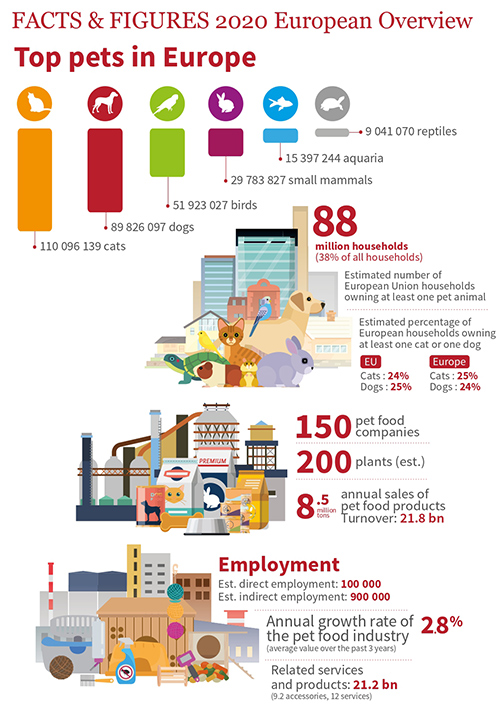 Across the European Union, 24% of pet owners own at least one cat, while 25% of pet owners have at least one dog. These numbers are reversed when looking across the entirety of Europe, with 25% of pet-owning households owning at least one cat, and 24% owning at least one dog.
Poland and Romania have the largest estimated percentage (42% each) of European households owning at least one dog or cat.
The European pet food market currently consists of 150 companies operating an estimated 200 plants across the region. Approximately 100,000 people are directly employed in this sector, with an additional 900,000 people indirectly employed.
Pet food volume sales totaled 8.5 billion metric tons last year.
Sales of related pet services and products totaled €21.2 billion ($25.3 billion USD), with pet accessory sales reaching €9.2 billion ($11 billion USD) and sales of pet services recorded at €12 billion ($14.3 billion USD).
"2020 was an extremely challenging year," said Raquel Izquierdo de Santiago, secretary general of FEDIAF. "At a time when so many of us were concerned about our health and faced social restrictions, it is reassuring that 88 million European households, approximately 202.4 million people, benefitted from the love and companionship of a pet.
"In addition to this much-appreciated friendship, research has proved that animal ownership has alleviated some of the detrimental psychological effects of lockdowns and social restrictions," she continued. "Research undertaken during the pandemic has shown 74% of pet owners believe their pet has helped their mental health and 86.5% agreed their animals had provided emotional support."
Read FEDIAF's full report, "Facts & Figures 2020, European Overview."
Keep up with the latest pet food trends on our Trends page.