This article was published in the March 2019 issue of Pet Food Processing. Read it and other articles from this issue in our March digital edition.
Everyone has a role to play in helping reduce, reuse and recycle to create a more sustainable environment, and that includes pet owners. Although eco-friendly — or at least eco-friendlier — packaging is not a new concept, it's become a greater priority as consumers seek to make everyday changes that add up in the big picture.
"I've been in this industry for over a decade, and sustainability was a buzzword when I first started and it never really went anywhere. But finally now, it's no longer a buzzword," reports Latricia Fry, director of marketing, Constantia Flexibles, with US offices in Blythewood, South Carolina. "You're seeing multi-national companies coming out with pledges to be 100% recyclable or sustainable by 2022 or 2025, and there has been an increase in recyclability and sustainability requests for packaging, especially in North America."
Others in the packaging and pet food processing industries agree that pressure is coming from many sides to find ways to reduce packaging and food waste. "Consumer interest in more sustainable or eco-friendlier packaging has led many of the large pet food manufacturers, as well as retailers, to actively seek ways to reduce costs and eliminate packaging waste. As pet food moves to mimic consumer food trends, so does its packaging," observes Sean Riley, senior director, media and industry communications, The Association for Packaging and Processing Technologies (PMMI), Reston, Virginia.
Consumer research backs up growing interest in more sustainable packaging for consumable goods, for humans as well as pets.  One of the top ten global trends for 2019 from research firm Euromonitor International is, "I Want a Plastic-Free World." In its recently published projection of 2019 trends, Mintel research firm underscored the importance of packaging in a product's sustainable lifecycle, calling out greater use of bio-based packaging materials, improved access to and incentives for package recycling.
Another trend dovetailing into sustainable packaging is burgeoning consumer interest in organic and natural pet products or items from niche brands that signal their commitment to certain practices. "Consumers want packaging that offers the same benefits they are accustomed to for their own food. The move toward convenient packaging and clean labels featuring organic and natural ingredients demonstrates this parallel market movement," Riley remarks.
At the same time — and arguably making package design more complicated for pet food companies and their packaging partners — manufacturers must consider other demands from pet owners shopping both online and in stores. Features like convenience, shelf life and premium shelf or screen appeal are perennial in nature.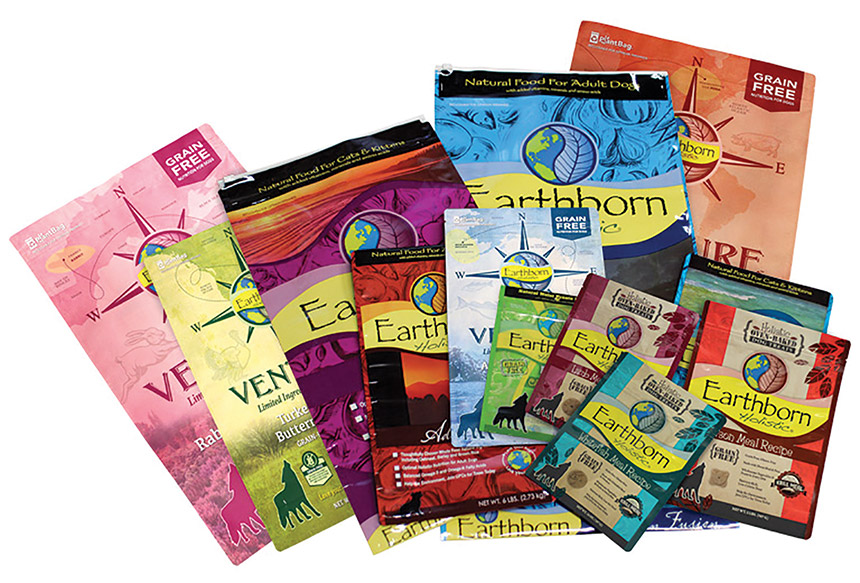 The advent of e-commerce and convenience-oriented packages like single-serve cups can cause a quandary, says David Foster, director of packaging development, Adept Packaging, a packaging engineering and consulting company in Bethlehem, Pennsylvania. "Both of those drivers have a conflict with sustainability," he points out. "But what is important is that brand owners, as a whole, are being driven by the larger community to improve the sustainability of their products."
The popularity of pouches is another sticky widget of sorts for this industry. "Wet pet food in a pouch would be more eco-friendly in terms of carbon footprint, but the recyclability portion isn't there yet for pouches. This is a major concern for the industry," explains Julian Stauffer, chief operating officer, Packaging Technologies and Inspection (PTI), Tuckahoe, New York. However, Mars Incorporated and global recycling company TerraCycle, Trenton, New Jersey, have made recycling wet pet food pouches possible in the United Kingdom, along with other flexible pet food packaging, through their recycling program.
There are other challenges within the industry, too. "Sustainable solutions are complex and contain many trade-offs. For example, there are some manufacturers marketing degradable plastics, but this has the risk of introducing microplastics into the environment over time. Recyclable packaging seems like a great solution but requires a concerted effort to introduce appropriate collection and recycling infrastructure across communities," says Weijia Zhang, business development manager, Peel Plastic Products Limited, Brampton, Ontario.
And it isn't just the consumer-facing package that should be scrutinized. "Pet food manufacturers should look at every aspect of their packaging," says Stauffer of further packaging for shipping and distribution like shrink wrapping and cardboard sleeves.
Sustainable solutions and innovations
There is an array of packaging, from leading brands and niche brands alike, that offers more than eye appeal, shelf life, convenience and other traditional packaging attributes. Many packaging suppliers are working with companies on innovations that can reduce the carbon pawprint, so to speak, of pet food products. Some of those solutions include bio-based materials.
For instance, the Boulder, Colorado-based Only Natural Pet brand has partnered with packaging suppliers Peel Plastics and Braskem to integrate 30% bioplastic packaging material into its Mindful Meals dry dog food bags. Riley cites that project as a successful collaboration to improve sustainability without sacrificing the quality appeal of the product. "Developed in conjunction with Peel Plastics, the new sustainable pet food packaging uses Braskem's sugarcane-based green biopolymer to support Only Natural Pet's commitment to environmental sustainability and carbon reduction," he explains.
Zhang says this joint endeavor is one example of future-focused packaging. "Peel has been very active with sustainable materials, having worked with several pet food brands in the past 15 months to launch portfolios with renewably sourced bio-based plastics," he says. "We're also very actively developing the next generation of recyclable flexible packaging, aiming to produce a commercially viable, 100% recyclable, side-gusset bag in pinch, foldover and flat bottom formats."
"A significant challenge is finding packaging that's food safe to keep our pet food and treats fresh, yet sustainably produced and recyclable," says Katie McNulty, Midwestern Pet Foods, Inc.
Another brand embracing bio-based materials is Earthborn Holistic, part of Midwestern Pet Foods, Inc., based in Evansville, Indiana. "A significant challenge is finding packaging that's food safe to keep our pet food and treats fresh, yet sustainably produced and recyclable. Polyethylene plastic, traditionally used in most pet food packaging, is conventionally produced using fossil fuels such as oil or natural gas," explains Katie McNulty, marketing coordinator. "Green polyethylene, used in all Earthborn Holistic Venture packaging, is a bio-based plastic made using Brazilian sugarcane."
According to McNulty, the cultivation of sugarcane utilizes carbon dioxide and releases oxygen, reducing greenhouse gas emissions and giving the plant-based plastic a negative carbon footprint. Earthborn's Venture PlantBag is also BPA-free and 100% recyclable through a recycling program between Earthborn ReBorn and TerraCycle, she adds.
Allure of aluminum
Constantia Flexibles has developed an aluminum-around, foil container system called EcoTainerAlu. The system, mainly used for pet food, has a water-based coating system that eliminates the emission of volatile organic compounds. The package is recyclable in the aluminum recycling stream, says Fry.
PTI offers another solution in a format for pet foods and treats. "Pet food in plastic trays with a foil lid is a sustainable avenue to help differentiate from the can. The plastic cup and the foil lid are recyclable like the can, and the carbon footprint should be lower in terms of logistical impact, like packaging weight, storage or shipping," explains Stauffer, who notes that the foil lid and plastic cup can go in the same recycling bin in most communities.
Some sustainable packaging forms and materials are already prominent in the pet food market. "In some cases, organizations are moving away from plastic and back to some of the paperboard solutions," reports Foster. Aluminum and metal are also getting a closer look – again. "A lot of products in the pet food market are aluminum-based, such as aluminum trays, and those are already recyclable. Aluminum lidding is already recyclable, too," notes Fry. The same is true for cans used for wet pet food. A can with a peel-off lid has long been recyclable.
The proverbial devil in the detail for these pet food products, though, is how consumers are required by their local municipalities to handle those items for recycling. As Fry points out, "Every local community is different. I can put clean aluminum in my recycling bin, but my friend who lives two miles from me cannot."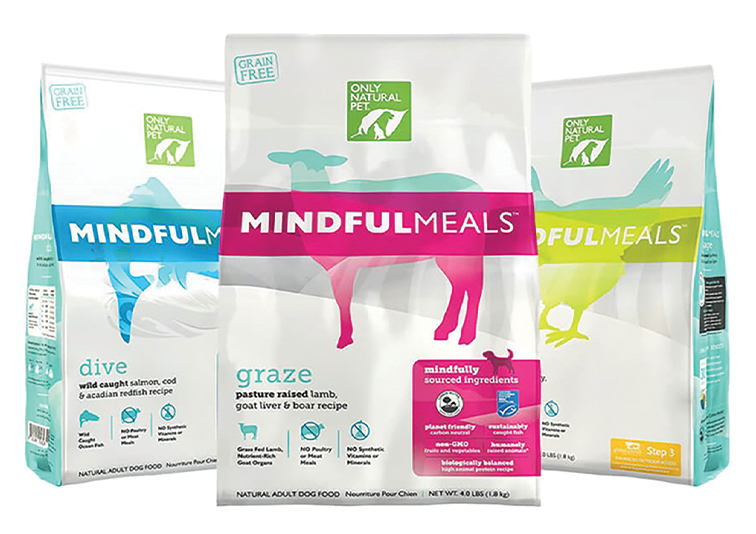 When it comes to recycling packages, whether they are made from aluminum metal, plastic, paper or another format, education is key, including information displayed on the package itself. The Sustainable Packaging Coalition provides resources to help brands inform consumers exactly how to recycle a package. The package label is one way to communicate that information, and so are virtual resources like websites and social media platforms. At Constantia Flexibles, Fry says that as a converter, the company can submit its package structure to ensure it qualifies for such instructions.
Stauffer says that consumers also need to be educated on how to handle pouches of pet foods and treats. "Some pouches do have recyclability signs on them and that means people will have to physically take them to the store and get them recycled a different way," he remarks.
To encourage recycling of materials that can't be handled by municipal recycling, Mars Petcare UK recently teamed up with TerraCycle on a recycling program in which pet owners drop off used pet packaging at designated location to be recycled. This is being done as Mars Petcare works toward its goal of 100% recyclable packaging by 2025.
Midwestern Pet Foods is also working with TerraCycle. "Consumers can search for the nearest pet store location on TerraCycle's website and drop off packaging in a designated recycling bin. The pet food bags can be recycled into a number of different products including dog frisbees, water bowls, benches and picnic tables," says McNulty.
Education and collaboration is also crucial within the pet food processing industry, points out Zhang. "If brands can work together to adopt an industry-wide solution, or standard, I think it will facilitate adoption of any sustainable package or program at the retailer and consumer level," he says.
Read about other sustainability efforts in the pet food and treat industry.