This article was published in the September 2020 issue of Pet Food Processing. Read it and other articles from this issue in our September digital edition.
As more consumers — including pet parents — are concerned about sustainability, they are taking a closer look at the environmental impact of the products they buy and, in particular, how they are packaged. As anyone who has emptied a 35-lb bag of dog food knows, it's not a small bag to dispose of or figure out how to recycle. The same can be said for cat owners, who go through several cans or pouches a week.
Earlier in 2020, a report from Trivium Packaging with Boston Consulting Group found that a majority of consumers identify as environmentally aware and two out of three said that environmentally friendly or recyclable packaging is important to them. Nearly three-fourths (74%) said they would pay for more sustainable packaging.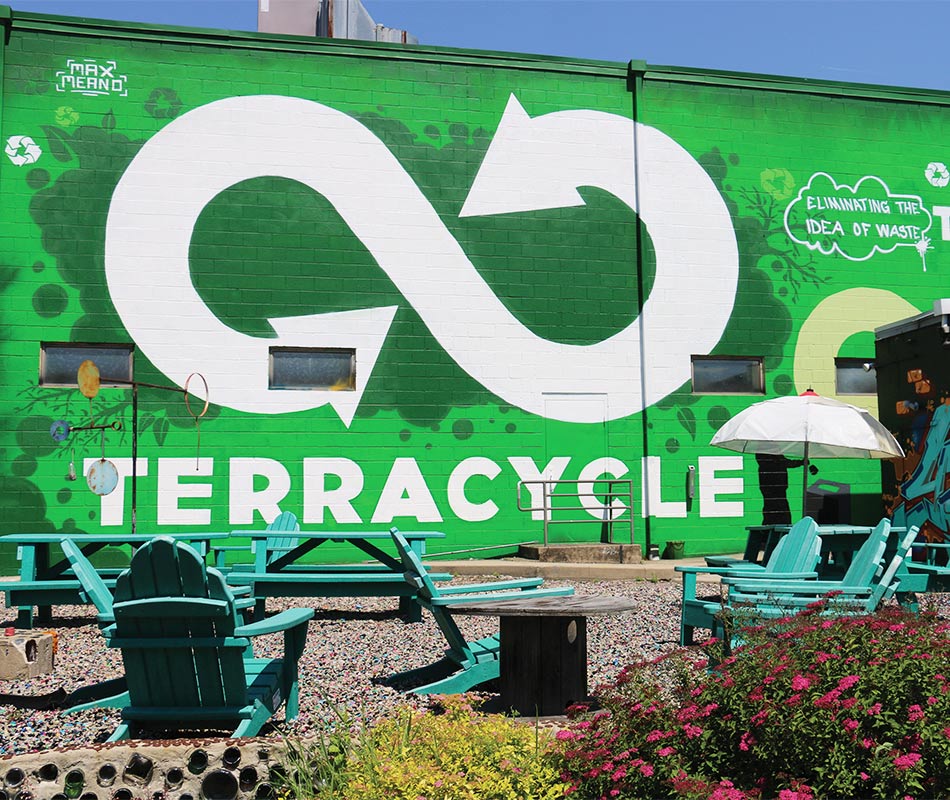 While the pandemic has shifted many concerns to safety and security, sustainability is still top of mind among the buying public. Research released in July from IRI and the NYU Stern Center for Sustainable Business shows that seven in 10 consumers are buying more or as many environmentally friendly products as they did before the COVID-19 outbreak. Minimizing waste and reducing negative environmental impact are among the top issues cited by consumers right now.
The pandemic may actually foster more actions to improve the health of the planet. More than 100 major manufacturers, including the chief executive officer of Mars, Incorporated, signed a statement earlier this year calling for governments to consider climate action a part of COVID-19 recovery efforts.
Melissa Bauer, director of sustainability for the Pet Sustainability Coalition (PSC), Boulder, Colo., agreed that current world events are spurring new efforts to improve the health of people and the planet.
"Not only has sustainability not fallen off, it's almost the opposite – there are a lot of environmental and social challenges that fall under the umbrella of sustainability that COVID has brought attention to," she said. "Also, consumers have much more time to research, ask questions and care about what they are doing with their purchase dollar, and that is showing up in buying trends."
"There are a lot of environmental and social challenges that fall under the umbrella of sustainability that COVID has brought attention to," said Melissa Bauer, Pet Sustainability Coalition.
As people have more time to make conscious decisions, they also have more time to spend and bond with their pets.
"Many of us have been staying home with our pets and we're with them 24/7," Bauer added. "Plus, there is an influx of new pet owners," she said, citing the dramatic increase in pet adoptions and pet fostering that has in turn fueled demand for more pet food products. 
Pet products are included in overall consumer interest in sustainability. According to a Rover.com survey, three-quarters of pet parents said they are interested in learning how to live more sustainably with their pets. Forty percent said those concerns impact the food they feed their pet and 35% said they have chosen more eco-friendly pet products.
Pet parents looking to reduce their environmental pawprint through packaging can choose from a range of options. Some manufacturers are packaging products in lighter packages. Others are developing packaging made from more sustainable materials or moving to recyclable or compostable formats.
Material issues
While sustainable packaging efforts used to focus on reducing the amount of material in a package, greener packaging increasingly encompasses materials sourced from the earth.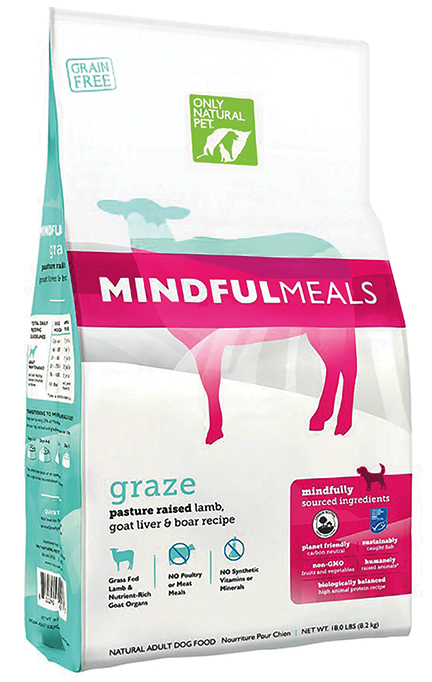 "There isn't a lot of conversation about reduced materials – it's about what type of packaging people are actually making," Bauer said, adding that PSC has created a webinar series on eco-friendly packaging and conducted lifecycle analyses of different packaging materials and types.
There are several marketplace examples of this emphasis on materials. Boulder-based Only Natural Pet uses a bag made of 30% bioplastic materials for its Mindful Meals products. The packaging was developed with Peel Plastic Products Limited, an Ontario-based provider of customer packaging solutions, and Braskem, which offers a sugarcane-based "green" polymer.
According to Mark Liberman, vice president, sales and marketing, Peel Plastics Ltd., the packaging for this line reflects the evolving nature of sustainable packaging across the board.
"The industry has been working on more sustainable solutions for years," Liberman said. "Initially, our efforts were focused on pack size reduction and using less material to make equally durable solutions. A number of individual brand owners have called out more sustainable packaging solutions as one of their top priorities for the next five years. As a result, the flexible packaging industry has intensified its focus on a wider breadth of solutions both in response to consumers and a desire to contribute to a brighter future for all of us."
"A number of individual brand owners have called out more sustainable packaging solutions as one of their top priorities for the next five years," said Mark Liberman, Peel Plastics Ltd.
Brazilian sugarcane is also used to create a PlantBag with up to 40% plant-based, BPA-plastic used for the Unrefined line of pet food products offered by Earthborn Holistic, a brand by Midwestern Pet Foods, Inc., Evansville, Ind.
Another pet food brand, The Honest Kitchen, offers boxes made from a blend of recyclable material and material certified by the Sustainable Forestry Initiative. The boxes are 100% biodegradable, recyclable or compostable.
Although smaller and mid-size brands that specialize in products that are organic, natural or produced in a sustainable way often "walk the walk," larger brands are also embracing eco-friendly packaging materials. St. Louis, Mo.-based Nestlé Purina PetCare is working toward a goal of 100% reusable or recyclable packaging by 2025. More than 80% of its current packaging by weight is recyclable, including wet pet food cans and materials made from paperboard. In 2020, Purina's Tidy Cats line introduced a Naturally Strong litter packaged in 50% post-consumer recycled plastic jugs and boxes made from Sustainable Forestry Initiative-certified material.
"To transform the remaining packaging and achieve our commitment, our teams are performing trials to explore the use of new innovative materials," said Diane Herndon, senior sustainability manager for Purina. "Our mantra is to design for recycling while continuing to protect our high-quality pet care products for the millions of pets that enjoy them. This means we are working to eliminate unnecessary packaging while phasing out materials that are not recyclable or are hard to recycle, and minimizing tertiary supply chain packaging including shrink film or stretch wrap."
Mars Petcare, McLean, Va., which is committed to the same 2025 time frame for reusable, recyclable or compostable packaging, has made nearly 20% of its plastic packaging recyclable, and is eliminating the use of PVC across all packaging formats. The company is working on improvements too, such as paper-based packaging material that is 100% sourced from certified, verified or recycled sources. 
Meanwhile, to meet accelerating demand, suppliers continue to develop and improve their sustainable packaging solutions. Peel Plastics, for its part, has been actively working on sustainable material suitable for pet food products, including bioplastics as well as the next generation of recyclable flexible packaging, according to Liberman.
Printpack, Atlanta, Ga., has signaled its dedication to more sustainable packaging solutions with an expanded "green team." The company's sustainable packaging experts are developing platforms for more eco-friendly flexible packaging options.
Another example is Emmerson Packaging, a Canadian packaging manufacturer based in Amherst, Nova Scotia. The company's PetPack BDG technology is biodegradable, breaking down only in an active landfill, not triggered by any moist or wet pet food inside the bag.
Innovations in packaging are coming from other sources, too, including academia. This summer, researchers at Purdue University announced that they have found a new way to use a nanomaterial derived from natural sources for food packaging.
Circular motions
Even as suppliers and brands are incorporating packaging made with bio-based or otherwise greener materials or using a reduced amount of materials, recyclability remains an important aspect of sustainability.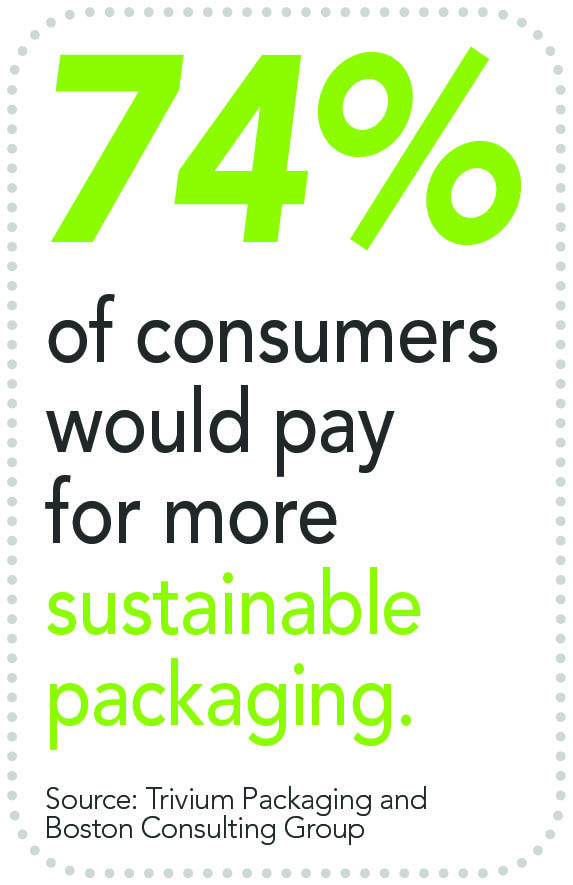 While it is fairly simple for consumers to recycle aluminum and tin cans, it's not as easy to figure out what to do with large, empty dry pet food bags or flexible pouches once those products have been consumed. Packaging suppliers, pet food companies, recycling companies and others are working on more and better recyclable packages for pet foods and treats.
In recent years, there has been a particular push to recycle flexible packaging.
"Last year, we announced that in addition to our bio-based solutions that we were now able to offer fully recyclable packaging solutions suitable for the pet food market," Liberman said. "This year, we continue to focus our efforts on refining our recyclable solutions and have started to develop recyclable solutions that include PCR. We're committed to meeting the challenge of developing flexible packaging solutions that are designed for the circular economy."
The Honest Kitchen has also focused on better recyclability for flexibles, offering a resealable stand-up pouch that can be recycled post-use. That lighter flexible package is accepted by many neighborhood recycling programs but, if not, The Honest Kitchen helps connect customers with other recycling programs that might work as an alternative.
Recyclability extends to different elements of a package. Mondi Group, the Vienna, Austria-based global packaging company, offers a mono-material, polyethylene-based FlexiBag with a fully recyclable barrier. Used by the German pet food company Mera, it is the largest bag of its kind for pet foods and features a re-closeable zipper.
Reusable containers are part of a circular economy, too. Through the Loop program developed by Trenton, N.J.-based TerraCycle, consumers can buy select brands of pet foods that are sent to them in durable containers that can be returned, refilled and reused. Mars Petcare, for instance, offers Perfect Fit products in stainless steel round containers through Loop. Open Farm also recently added three freeze-dried dog diets in stainless-steel packaging that are available through Loop.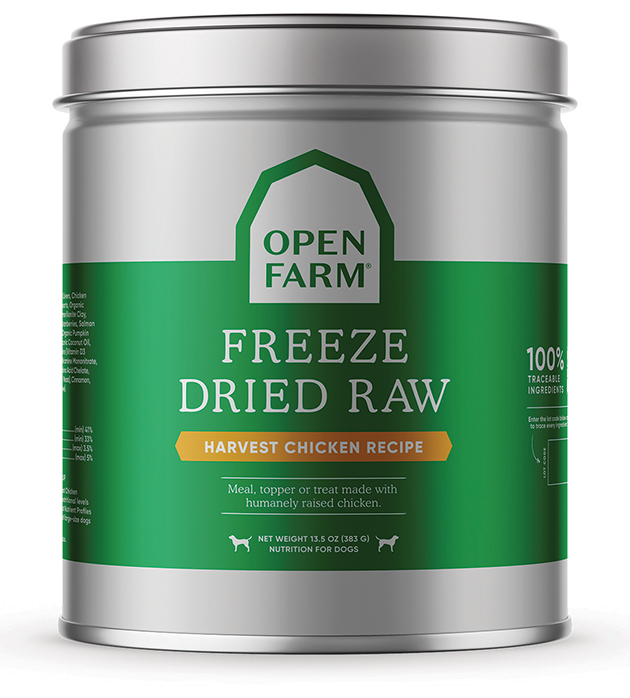 Other types of pet products can be paired with reusable packaging. For example, Bauer points to efforts to sell kitty litter in bulk, with people bringing in reusable containers to fill.
Finally, brands are minimizing their environmental footprint in other ways, such as internal sustainability improvements. Purina announced in July that the company has achieved 100% zero waste for disposal across factories and headquarters locations.
"Achieving zero waste for disposal means that all 21 of Purina's manufacturing sites and its St. Louis headquarters have found ways to derive benefits from materials that would have otherwise been discarded," Herndon said. "All locations now recycle, reuse, recover or compost waste from daily operations."
Brands are also getting active on the advocacy front. Purina is a founding member of Materials Recovery for the Future, a project promoting a circular economy and stronger recycling infrastructure. Mars Petcare is also working to incentivize recycling systems by supporting efforts to improve collecting, sorting and recycling.
Read more about sustainability in the pet food and treat supply chain.