FRANKLIN, TENN. — Mars Petcare and Postmates are bringing dog owners a "pup-up" mealtime experience inspired by its CESAR® brand Wholesome Bowls dog food recipes.
Mars Petcare first introduced CESAR Wholesome Bowls in spring of 2021. The wet dog food line includes four meat-first recipes with vegetable ingredients for small and large breed dogs. These include a beef, chicken, carrot and purple potatoes formula; a chicken, sweet potato and green beans formula; chicken, carrot, barley and green beans recipe; and a simple chicken formula.  
"The CESAR WHOLESOME BOWLS Canine Cuisine product line breaks the barriers of traditional wet food," said Rick Gotwald, senior brand manager for CESAR. "It was important for us to provide a convenient and easy-to-serve dog food that both dogs and their pet parents would love and feel good about."
To promote these new diets and bring dog owners into the fold, Mars Petcare has partnered with Postmates, a last-mile delivery app, to offer pet owners in New York City and Los Angeles the option to purchase "yours" and "theirs" meal duos dubbed Bestie Bowls.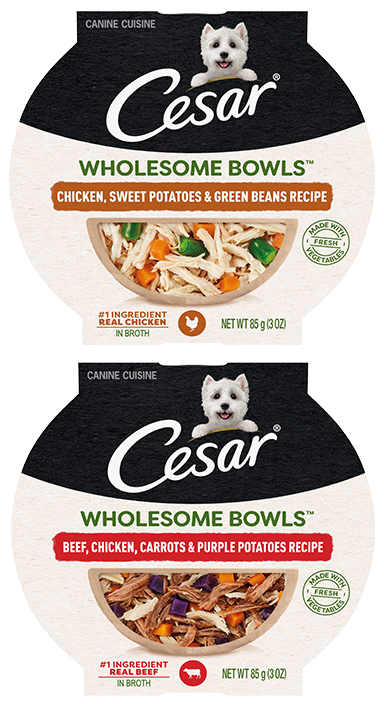 "Now that we have launched this new innovation for dogs, CESAR® WHOLESOME BOWLS™, we thought it was the perfect opportunity to offer pets and pet parents a delivery option they can both enjoy," said Craig Neely, vice president of marketing at Mars Petcare. "With the Bestie Bowls program, we can create even more moments of shared joy during mealtime, which is what the CESAR brand is all about."
Each Bestie Bowls order will include one Chicken & Hot Honey Sweet Potato Bowl for the pet owner and two CESAR Wholesome Bowls formulas — one chicken, sweet potato and green beans recipe and one beef, chicken, carrot and purple potatoes recipe — for dogs.
The Chicken & Hot Honey Sweet Potato Bowl was crafted by Jeff Mauro, a Food Network host.
"My partnership with the CESAR brand pairs two of my favorite things – spending time with my dogs, Pinot G and JoJo, and enjoying a savory, nutritious meal," Mauro commented. "I'm thrilled to have created the Chicken & Hot Honey Sweet Potato Bowl – a tasty and balanced bowl for pet parents to enjoy with ingredients like grilled chicken, hot honey sweet potatoes and pickled green beans, that's inspired by the CESAR WHOLESOME BOWLS recipes."
Additionally, pet owners across the United States can enter a Bestie Bowls giveaway by posting pictures with their canine companions on Instagram, tagging @CesarCuisine and #BestieBowls #Giveaway, or uploading the image to CesarBestieBowls.com, through July 30. Five winners will be selected each day to receive a custom prize package, and one winner will be selected overall to receive a $500 Uber Eats gift card.
Stay up to date on the latest pet food processing industry headlines on our News page, or learn more about new pet food and treat products.