This article was published in the December 2020 issue of Pet Food Processing. Read it and other articles from this issue in our December digital edition.
Walking through the pet aisle or scrolling through an e-commerce site might set some tongues — if not tails — wagging. There is a slew of innovative packages mixing up the traditional look of pet food departments.
Indeed, if one were to compare pet food packaging from a decade ago to now, they would find significant differences. From the rise of refrigerated pet foods to single serve portions to large bags packaged in an eco-friendlier way, new materials and formats are literally changing the shape of the market. Improvements in graphic design and a focus on eye-appeal in a competitive category are also a focus of innovations.
Such innovations come at a time ripe with opportunity for pet food manufacturers. For one thing, the COVID-19 pandemic has led to an increase in the number of households with pets, through adoption, rescue and fostering. Between new pet parents and existing pet parents spending more time at home with their pets, sales of pet products have risen in 2020, including spikes in pet foods in spring, according to market research from Nielsen.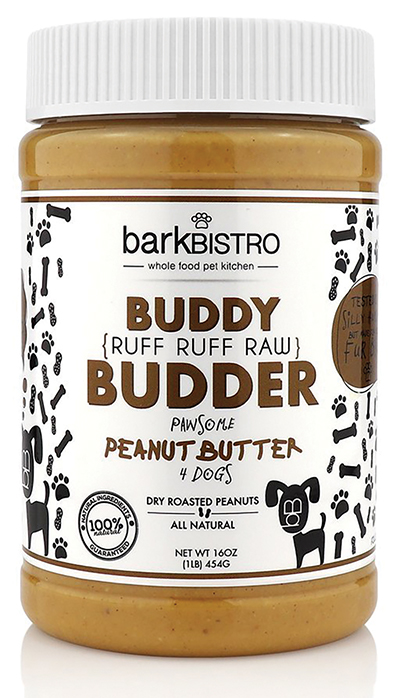 With more pets in homes in 2021, the upswing is poised to continue, along with higher consumer interest and expectations when it comes to product quality and variety. The trends toward humanization in the pet market, growing at a good clip before the pandemic, will likely continue, according to industry experts.
"What's driving all this innovation is the consumer," said Rudolf Schaich, market development manager, Printpack, Atlanta. "People are mirroring their own consumption with their pets, and humanization is driving everything."
Along with humanization comes an element of premiumization, as pet parents look at products through a new and more personal lens.
"The last several years have seen tremendous sales and SKU growth in the premium pet food segment," reported Bill Kuecker, vice president of marketing, Mondi Consumer Packaging, Jackson, Mo. "As brand owners seek to differentiate themselves in this hyper-competitive market, they often turn to their packaging partners for assistance. This trend has evolved over the last several years."
That assessment is shared by Peter Fox, senior vice president of sales, SOMIC America, Eagan, Minn., which also supplies packaging solutions to the pet food and treat industry.
"From an end-of-line machine perspective, our view is that the driving force behind the pet food category is the differentiation of the product presentation on-shelf to the consumer – that is, a way to visually communicate it is a premium product and you should select it because it looks very elegant," he remarks.
In rare form
Pet food companies' desire for their products to look different for the sake of looking different (among other reasons) is evident at the point of sale, where a greater array of package formats is diversifying displays and offering choices to choosy pet parents. Reflecting the adage of form-follows-function, innovative packaging is effective in introducing and marketing unique and premium products to the consumer.
These innovative formats include packages like refrigerated cups and chubs and stand-up flexible pouches. Given consumer interest in convenience across the spectrum, many of these formats include recloseable or resealable features. Such packages increasingly include windows for product transparency, as buyers want to see the quality of the product up front.
Enhancements in flexible packaging continue. At All Packaging Machinery, Ronkonkoma, N.Y., Sales and Marketing Manager Lynn Miranda cited the growing use of terminated pouches.
"These pouches have the look of a side gusset pouch/stand up pouch," she said. "This actually makes sealing the pouches easier, because you only need to seal two layers of film instead of four as you would with a side gusset pouch."

Miranda pointed out that innovations in pouch packaging also are designed to make it easier for pet food and treat producers.
"Our vertical conveyorized band sealers are manufactured with custom infeed guides to allow operators to load the pouch the same way each time, thus helping to have the seal zone in the same location each time," she explained.
As demand grows for wet dog food, packaging formats are evolving in that segment as well.
"At SOMIC, we are seeing a significant uptick in the premium wet product category," Fox said. "These premium positioned products are being packaged in high end foil pouches as well as rigid, foil formed 'cans'. From gravure printed foil to e-flute laminated trays with premium process graphics, the focus is on upscale premium products for your pet."
In addition to flexible packages, other formats are emerging that mirror the human market. Pet parents that nosh on protein bars might hand a canine version to their pet. NOBL Vegan Canine Food Bars and Plato Pet Treats' On-The-Go Energy Bars, for example, are available in individually wrapped portions for feeding pets that are out and about.
Akin to a gourmet human bakery, some pet treats are being sold in box form. The Sojos brand, for example, sells Good Dog treats in a pink-handled box.
Another innovative package format that aligns with human trends is a single-serve flexible tube of Brutus on the Go Instant Bone Broth for Dogs. Sold in packages of five, the bone broth tubes are designed to be easily opened and mixed with water to pour over dry dog food.
In a different twist on toppings, the Open Farm brand now offers 16- and 30-oz bottles of organic grass-fed cow-milk kefir that can be poured on top or mixed in with a pet's everyday meal.
Dogs that love peanut butter, meanwhile, can get a pet-friendly version in a format that looks just like containers of peanut butter for humans. The Bark Bistro Company has created a line of Buddy Budder sold in a 17-oz jar, which can be enjoyed right out of the package or used as a topping on other treats.
Looking good
While form and shape distinguish a package, both new and traditional kinds of packages need visual appeal to pop on the shelf or screen.
"Consumers respond best to visual presentation, which is why we are seeing such high-end graphics on display packages around the world, from the United States to Germany and Russia," Fox shared.
"Consumers respond best to visual presentation, which is why we are seeing such high-end graphics on display packages around the world, from the United States to Germany and Russia," said Peter Fox, SOMIC America.
Just as technologies are improving the versatility and efficiency of packaging machines that allow for many different kinds of formats, advances in graphics are spurring creative package designs in the pet food sector. Better digital and HD capabilities are resulting in enticing photos, graphics and colors on an array of materials that can be produced cheaper than other printing methods.
"With digital now, when you look at the package, it has the same visual quality as something made with a flex or roto printer, even using the same materials," Schaich said. "You can also move to conventional printing without any change in structure or appearance."
In the era of ever-savvy pet parents, having clear and ample information is a common priority in package design. Information that's important to the consumer — whether it's nutritional content or information about specific ingredients in those kinds of products — needs to be clearly conveyed.
Visual appeal extends to how products are merchandised. To that end, Fox said that SOMIC is focusing many of its innovations in making pet food packaging more retail ready.
"The primary focus in this category, from an end-of-line packaging perspective, is the premium shelf presence: vis-à-vis upscale display trays for retail presentation," he explained.
According to Fox, SOMIC's tray and cover solutions allow for a premium display that's easier than rip-and-tear options and can be used for products lying flat or standing upright.
"Our machines have the capability of packing one or the other — or both — of these orientations on the same machine," he said.
Greener pastures
As a new year approaches, the ongoing drive for more sustainable packaging is set to continue in the consumer marketplace. Greater sustainability, to different and varying degrees, is the goal of many innovations in pet food and treat packaging.
"We need to pay attention to how we package goods and the waste involved," Miranda said. "We only have one earth and we need to be better stewards. I am seeing more reusable packaging and paper bags being introduced as we move towards reducing our carbon footprint."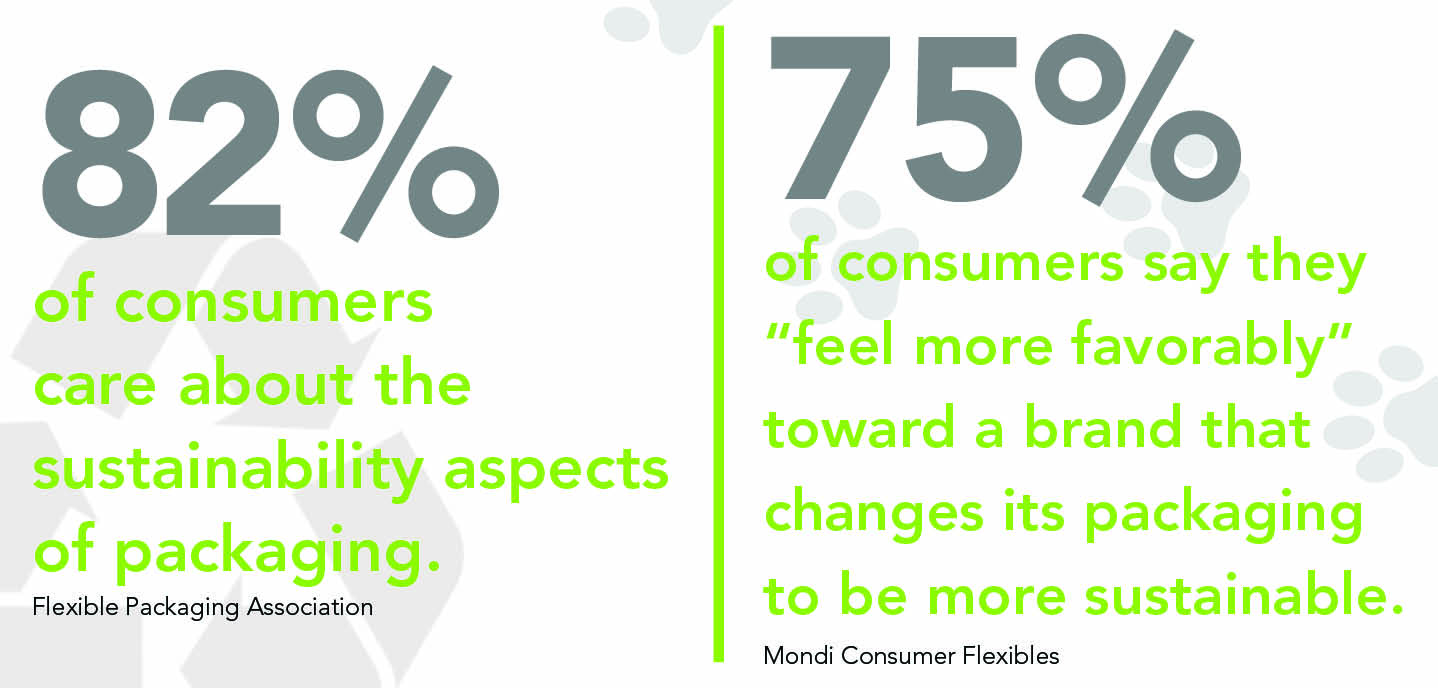 Consumer research bears this trend. According to a 2019 survey conducted by Mondi, 75% of consumers say they "feel more favorably" toward a brand that changes its packaging to be more sustainable. Another study commissioned by the Flexible Packaging Association showed that 82% of consumers care about the sustainability aspects of packaging.
Kuecker agreed that sustainable packaging is a hotbed of innovation.
"In the early days of premiumization growth, the changes were largely in packaging format and appearance," he said, citing growth in formats like flat-bottom plastic bags and the use of matte finished printing. "This has further evolved recently to include sustainable packaging materials."
One of Mondi's innovations in sustainable packaging is BarrierPack Recyclable, a plastic laminate for FFS roll stock and pre-made pouches that is fully recyclable in areas where flexible packaging is accepted and qualifies for store drop-off labeling.
At Printpack, Schaich likewise reported progress in sustainable packaging for pet food products. The company recently launched a Preserve line of recyclable pet food packaging including packaging that meets design standards through How2Recyle, packaging that contains post-consumer recycled materials, and packaging made from renewable sources like corn, sugar cane or trees.
Although there have been challenges across the industry in developing a recyclable package for larger bags of dry dog food, innovations are extending to those items as well.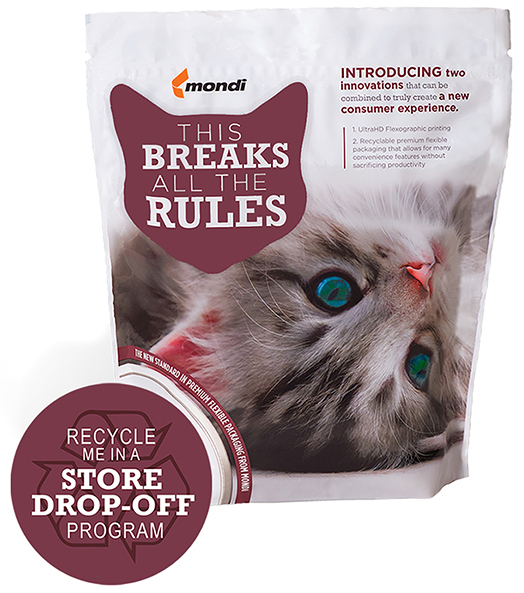 "We've invested a lot in that, and expect a full line of recyclable material, including a fully functional larger bag with barriers," Schaich added.
Especially within the last year or so, many new pet food and treat items are packaged in an eco-friendlier way. For instance, the all-natural dog and cat food company Honest Kitchen has launched recyclable packaging made from post-consumer material; packages also meet the bar for visual appeal with hand-painted artwork of ingredients and depictions of company employees' pets.
Earthborn Holistic is another example, developing packaging made from renewable plant-based resources and using clean natural gas as an energy source. The brand's products are shipped to retail customers in 39% post-consumer, corrugated, recycled cartons made from Sustainable Forestry Institute-certified fiber.
Meanwhile, global manufacturer Nestlé teamed up with packaging supplier Amcor this fall to roll out the industry's first recyclable flexible retort pouch, a high-barrier package for pet food that will first appear in stores in the Netherlands.
Looking ahead, customization may join humanization and premiumization as a factor that impacts package design. In its recent report on the hottest trends in the pet industry, Chicago-based data technology company SPINS projects that customizing pet diets will propel further innovations.
Read more about packaging solutions and trends for pet food and treats.