This article was published in the March 2020 issue of Pet Food Processing. Read it and other articles from this issue in our March digital edition.
Good things come in small packages, right? That adage has extended into the pet market driven by the demand for convenience and portion control, underscoring both the humanization of pets and pet parents' own ongoing quest for ease of use.
According to Mintel's GNPD (Global New Products Database), 18% of new pet food products introduced in 2018 had some kind of convenience claim. A 2018 report on pet product packaging innovations from Packaged Facts confirms that pet parents are interested in convenience.
"This is a growing business," reported Julian Stauffer, chief operating officer for Hawthorne, N.Y.-based PTI, Packaging Technologies and Inspection. According to Stauffer, the company's pouch and cup solutions are generally single-serve, whether for human or pet meals.
Lori Gobris, senior marketing manager for Amcor Flexibles North America, Oskhosh, Wis., agreed that there are new formats and opportunities for single-serve packaging in this industry.
"The addition of single-serve portions in pet food is starting to be seen on shelf, such as a larger bag with individual pouches of a single serving of dry food," she said. "This is only to be expected as pet parents want to take their pets along with them in their active lives and start to look for that type of convenience for their pets as well.
"This is only to be expected as pet parents want to take their pets along with them in their active lives and start to look for that type of convenience for their pets as well," said Lori Gobris, Amcor Flexibles North America.
"This could be for a long day of hiking where their dog needs some additional hydration or a weekend away where they want to have only the right amount of food along," Gobris added, saying that this will likely be a niche area to complement the current variety of sizes in the market.
Nibble meets kibble
Indeed, various aspects of convenience have propelled the launch of more single-serve pet food and treats, sold individually or in multipacks. Pet snacking is one of those aspects.
"A major trend in the food industry is more snacking versus regular meals," observed Joel Schmidt, director, business development for Austin, Texas-headquartered ePac Flexible Packaging, which produces stand-up pouches, flat pouches and rollstock for flow-wrapped items for single-serve and sample items. "A recent study by Mondale International and The Harris Poll found that snacking is preferred to eating meals for 59% of adults worldwide. For millennials, that figure jumps to 70%. So, I think we will definitely see the snacking trend increase for pets, too."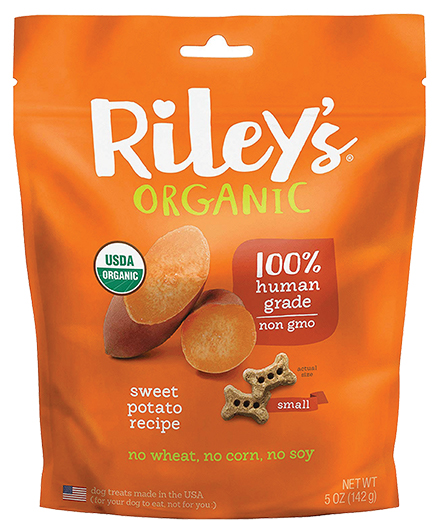 While many pet treats have long been merchandised in single-serve form, including individual rawhide rolls or shrink-wrapped bone-shaped treats, there are a host of innovative snacks on the market today.
Plato Pet Treats, Fresno, Calif., offers products like THINKERS meat sticks in single-serve packaging designed for sales at the checkout counter, something they launched in 2016.  According to Co-Founder and Chief Executive Officer Aaron Merrell, the snack sticks have been among the brand's top sellers for the past several years.
"Single-serving packaging makes treating your pet a lot more convenient and a lot less messy when on a trip or a walk, and customer feedback shows that convenience seems to be a major driver," he remarked. "But I believe the novelty and the fact that it's a lower-cost trial opportunity play major roles as well."
Another novel concept is nutrition and meal replacement bars for dogs, similar to those consumed by pet parents. Examples include a line of Power Bark dog food bars from an entrepreneurial brand in Minneapolis, Minnesota and the OUT Bar from The Great Outdogs, based in Denver, Colorado.
Beyond treats and meal replacement bars, various manufacturers are mixing up their portfolios by offering complete-and-balanced, single-serve pet foods. The Purina brand, for its part, includes Bella single-serve adult wet dog food products and topper/mixes in savory juices. Contract packager Hearthside Foods developed Grab 'n Go single-serve cups to meet this need for a convenient, high-value design.
Beverages for pets are also taking this kind of single-use form. A brand called Slurps offers nutritious dog drinks with Omega 3 fish oils, available in single-serve plastic pouches. And, yes, there is a "beer" for dogs – chicken-flavored non-alcoholic Bowser Beer for Dogs sold in six packs.
Fresh take
In addition to convenience, the desire for freshness is another factor in pet parents' choice of single-serve packages. Single-serve, fresh or raw products cut out some of the portioning work for pet parents.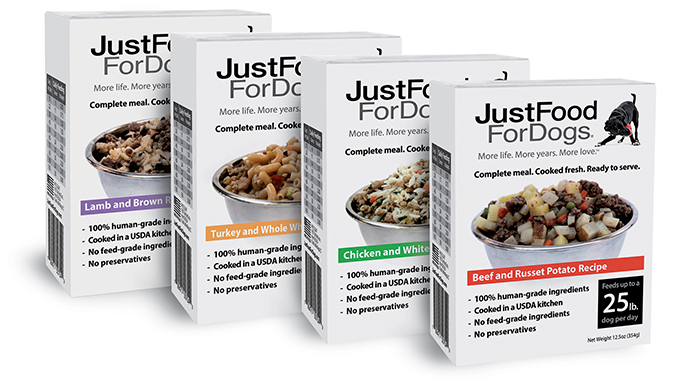 Schmidt reported growing interest in single-serve fresh items.
"It is pretty typical for trends in human food to translate over to the pet food industry," he said. "This includes tremendous growth in healthier, natural and organic fresh food options, which due to their shorter shelf life, are typically packaged in smaller quantities."
Here, too, there are some newer and notable products in the single-serve format. The JustFoodForDogs line of fresh dog food includes items like Pantry Fresh Beef and Russet Potato, which retails for a bit over $5 and is billed as a solution for "travel, convenience or a quick meal on the go."
Try, try again
Single-serve packaging also spans sample packages. Especially for newer brands and small pet food companies, sample packages help drive sales through appealing, convenient trial. Rick Ruffalo, president and chief executive officer of Phelps Pet Products, Rockford, Ill., said that these items are a good way to engage pet parents and spur future loyalties.
"We work with dozens and dozens of customers as a contract manufacturing partner, and the main driver of single-serve packaging has been for consumer trial or sampling events," he remarked.
"Sampling helps create awareness, lowers the barrier to try a new item and, if the product is really differentiated, it can be a great way to convert new users," said Rick Ruffalo, Phelps Pet Products.
Those introductions can take many forms, Ruffalo added.
"Sampling can be done via e-commerce initiatives, in-store activities or other event-based programs," he noted. "Sampling helps create awareness, lowers the barrier to try a new item and, if the product is really differentiated, it can be a great way to convert new users."
Another brand delving into sample packaging is The Honest Kitchen, which offers single-serve cup variety packs, something they bill as "the perfect size for trial before investing in a full-size box." The packs, with four single-serve cups merchandised in a larger box with colorful graphics, come in Whole Grain, Grain Free and Limited Ingredient assortments.
Plato, for its part, has added a single-serve option for another treat format besides its meat sticks. These "On the Go" packs are likewise sold in a checkout counter display box, merchandised with a $2 bounce-back coupon that can be used for the purchase of a larger pouch of treats.
"We have seen a tremendous impact in our sales of our other THINKERS SKUs, and our On-the-Go packs are starting to have a similar effect," Merrell reported. "In fact, we're working on some new items that will take us wider and deeper into the single-serving category in 2020 that we'll be launching in the coming months."
Some retailers have distinguished their businesses by carrying more samples. Luke's All Natural in Coral Springs Florida, which also has a robust online store, offers sampler bags of all of its dog foods and sells a mix of pre-packed samples from different manufacturers for $19.99. As the company explained on its website, "We know some dogs are picky and many owners don't want to invest money in pet food their loved ones just won't eat."
Small challenges
While single-serve and sample-sized products meet a need in the marketplace, they can pose challenges.
"Due to the fact that the machinery and packaging are so tightly fitted to the product, these smaller portions can be more difficult to package and they require high levels of product quality and consistency," Merrell explained, adding that such challenges at Plato are addressed through the technical expertise of its team members.
Because this can be challenging, Plato provides single-serve packaging services for other brands through its contract manufacturing program.
Stauffer agrees that smaller portions can pose some challenges.
"The filling of sample-size pet food packaging is not an easy task. Pet food is a very messy product when being filled," he said. "You need to have a very accurate fill and a clean fill, otherwise you're asking for trouble on single-serve or sample-size products. The accuracy of the filling also eliminates product waste or product giveaway."
"You need to have a very accurate fill and a clean fill, otherwise you're asking for trouble on single-serve or sample-size products," said Julian Stauffer, Packaging Technologies and Inspection (PTI).
Ultimately, pet food and treat manufacturers that want to give customers variety will optimize their product lines and packaging systems.
"Single- or sample-size packages are a good fit for VFFS [vertical form-fill-seal] packaging as this can provide a cost-effective solution for a larger branded package filled with many single-serve pouches," Gobris said.
"These films can also deliver easy-open benefit for the consumer," she added, also noting that packaging designed for single human beef sticks or jerky such as forming films can easily be transitioned for single-serve pet treats. "These are only a few possible packaging solutions."
Continue reading about pet food and treat packaging trends in our Operations section.