This article was published in the December 2019 issue of Pet Food Processing. Read it and other articles from this issue in our December digital edition.
Pet food processors don't have a tin ear when it comes to shifting consumer preferences and operational realities; many companies are diversifying beyond traditional tin and aluminum cans to utilize other packaging types.
Reasons vary for the rise of alternatives to cans. The groundswell of support for reduced packaging among sustainability-minded consumers and manufacturers is one factor in the segueing of can to pouch, cup, chub or another format.
"There has been some moving away from cans, and I think it has to do with everything we're hearing about how customers are interested in sustainability – they're asking, 'How else can we package things?'" reported Christine Duncan, marketing manager for the ProMach Flexibles business line of Matrix Packaging Machinery, Inc., Saukville, Wis.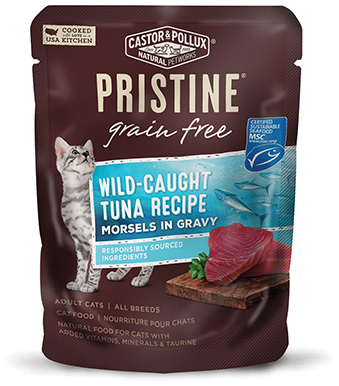 Possibly greener?
Although pet food cans may be recycled, the format can pose some challenges to recyclability given the differences in local recycling programs.
"When people find out that cans might end up being put in the dumpster if they haven't been washed, they are upset. It's important to them to have something that takes up less waste in landfills," Duncan said.
Rudolf Schaich, market development manager for Atlanta-based Printpack, agreed.
"Sustainability is always on top of consumers' minds, but the conventional approach toward recyclability may not be the best in wet food applications because of the required barriers, regulations and limitations of the current recyclable stream," he explained.
Sustainability encompasses other factors beyond the waste stream.
"It's also the transport and inventory aspects, with the weight of the can. You have to ship cans in a lot more truckloads. Having fewer trucks on the road with the use of plastic cups is a lower cost and lower impact on the environment," said Julian Stauffer, chief operating officer, PTI Packaging Systems/Waldner North America, Tuckahoe, NY.
The market includes an array of can alternatives to appeal to environmentally conscious consumers. Duncan cites the use of pre-made pouches and rollstock for formats such as flat-bottomed bags that merchandise well at retail.
Printpack's eco-friendlier options include retortable thermoformed containers and pouches.
"We have also taken an intermediate step toward sustainability in retort structures by developing an optimized lamination that eliminates one of the traditional film layers without compromising barrier or performance, either in foil or non-foil options," Schaich explained.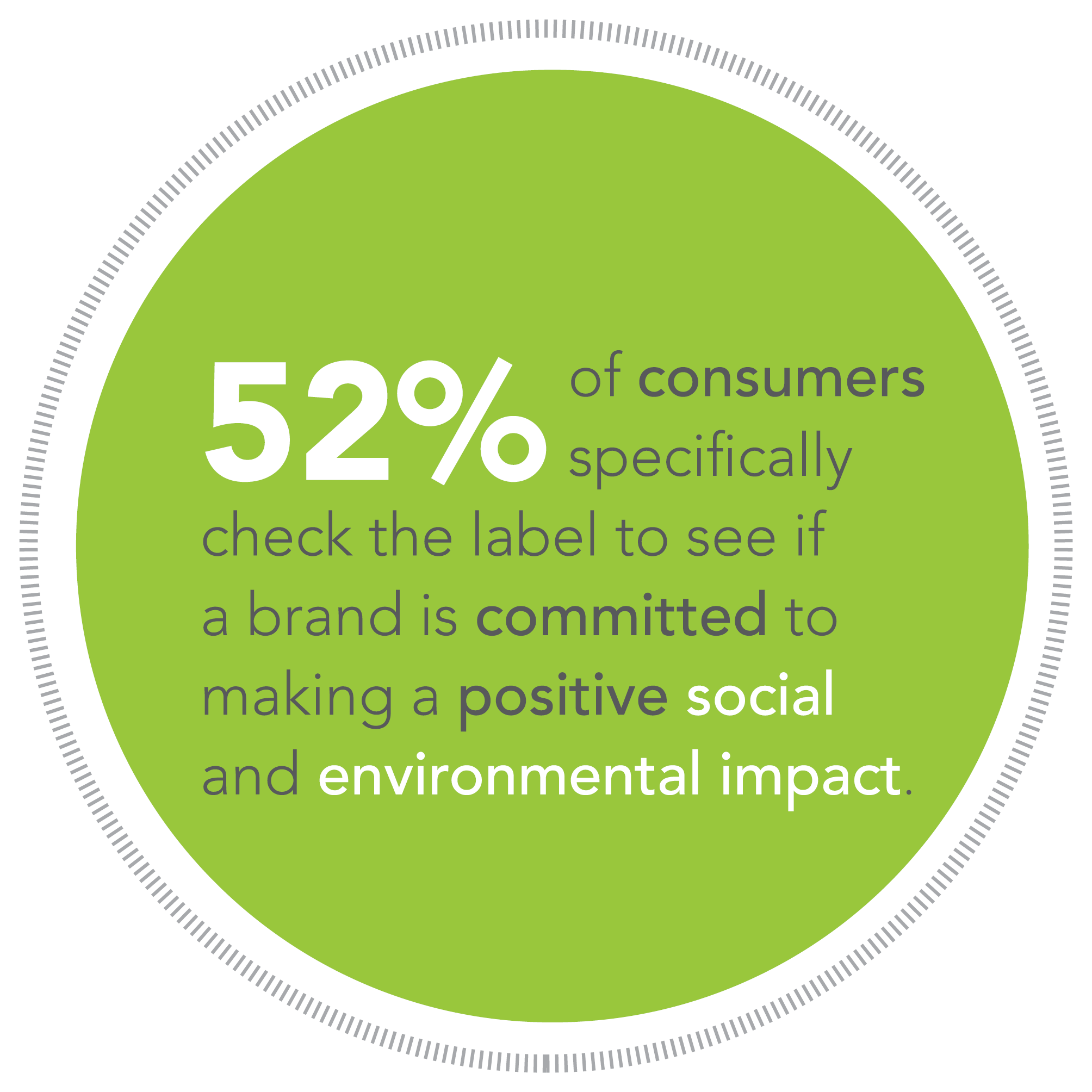 That feature is available for both pouches and lidding applications as a complement to Printpack's thermoformed containers.
Paper is another alternative that can be touted for its environmental impact compared to cans. For example, Vernon Hills, Illinois-based Tetra Pak offers an alternative package made from a renewable and recyclable paper-based material. 
"We have the Tetra Recart, the first retortable carton package designed for shelf-stable products traditionally filled in cans or glass jars," said Larine Urbina, vice president of communications, adding, "Sustainability is definitely influencing packaging trends across all products."
Urbina cited a Nielsen study showing that 52% of consumers specifically check the label to see if a brand is committed to making a positive social and environmental impact.
The Caru Pet Food Company, Vero Beach, Florida, has been using Tetra Pak cartons since 2014 for sustainability's sake and for other reasons, said Founder and CEO Adrian Pettyan.
"Not only have we noticed that many pet owners are kicking the can-buying habit, but we're pleased to have started the trend. We simply knew that pet parents would be receptive to an eco-friendly alternative that protects freshness better than conventional cans," Pettyan said.
Canadian-based Petcurean is another company that was an early adopter of cartons as an alternative to aluminum cans.
"We are constantly striving to do our part to be more sustainable across our company, and the choice to use Tetra Pak cartons instead of cans for our wet food recipes is an important example of how these values guide the business decisions we make," said Annabelle Immega, trade marketing manager.
Petcurean introduced its NOW FRESH line of wet food in Tetra Pak cartons in 2017 and transitioned its GO! SOLUTIONS wet food recipes from cans to cartons just this fall.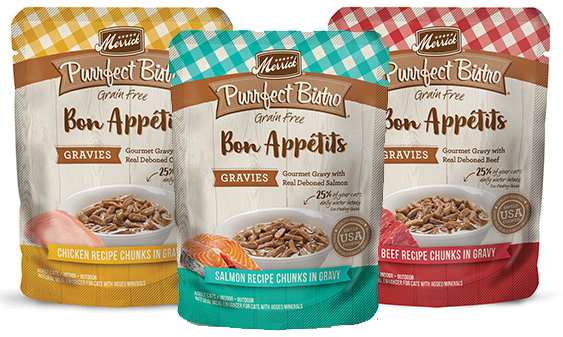 Easy does it
Convenience — that all-important driver of product and package development across the consumables industry — has also influenced the use of can alternatives in the pet food marketplace. For instance, while Matrix's premade pouches use less packaging material than cans, they are also convenient.
"Pet food processors are being more consumer-friendly to make it easier for people, with pouches and features like handles. A lot of consumers are seeing how they can go from cans, which are time-consuming, to something so simple and easy," Duncan said, noting that pouches are especially big in cat food right now.
Portion control is tied into convenience in the sense that serving sizes are based on occasion.
"Consumers are interested in convenient solutions that support portability and portion control, and are more open to new packaging formats that support their active lifestyles," Schaich said.
An example of that is Printpack's new line of barrier single-serve thermoformed containers.
"They can be detachable for portion control and convenience, as well as produced in different shapes, for better branding," Schaich added.
Duncan said, "With wet pet food, many consumers want a package to contain individual servings, so they aren't opening a can and putting plastic wrap over it to use again later."
Stauffer, too, underscored the point that single servings fit well with today's pet parent lifestyles.
"There is a convenience factor. Do you open up a 12- or 13-oz. can to take out a spoonful or use smaller 3-oz. or 1.5-oz. cups of wet pet food? It's also much easier to peel a lid off a plastic cup," he pointed out.
"Consumers are interested in convenient solutions that support portability and portion control, and are more open to new packaging formats that support their active lifestyles," said Rudolf Schaich of Printpack.
Likewise, Urbina emphasized the convenience-oriented features of carton alternatives to traditional cans.
"Pet parents are also looking at pet food products that offer functionality and convenience – from easy-to-open and space-efficient options that allow for simple storage, to single-serve and re-closable carton options," she said.
Immega of Petcurean added, "With an easy-to-open tear-off strip and no sharp edges, Tetra Pak cartons are also much safer to handle and are re-closable for easy storage in the fridge."
Convenience can be an important feature for more than just the consumer; alternative packaging formats can be more convenient for processors as well.
"You can buy one machine and do different multi-packs, flavors and sizes. It's a matter of changing your film and adjusting your machine to run various sizes and flavors," Duncan said.
Delivering food safety
Alternatives to cans still accomplish the goal of preserving the integrity of the product. Pettyan said cartons keep Caru's stews fresh without preservatives and he believes deliver a better taste.
"Pets can simply enjoy the savory flavor of these homestyle, truly human-grade foods without any metallic aftertaste," he noted.

Immega, too, said that cartons work well for quality purposes.
"In addition to being a more sustainable packaging option, the use of Tetra Pak cartons offers Petcurean a number of additional benefits in terms of recipe formulation, including smaller batch production, better ingredient selection and the use of cutting edge equipment to produce innovative textures including shredded, minced and pâté recipes in addition to stews," she remarked.
All of this is not to say that the can is going the way of the black and white television or buggy whip. Canned pet foods remain a staple on store shelves and on e-commerce sites. Metal cans, which date back more than a century, have good barrier properties for long product shelf life and are easy to store and stack.
"I don't know if it's a total shift away from cans or if it's a growing pet food market. Businesses seem to be staying the same in cans, while companies are also adding can lines – they are trying to find ways to grow by putting new products out there. A cup format is a way to do that," Stauffer suggested.
Read more about pet food packaging trends on our Operations page.